Search engine optimization is impossible without SERP analysis. Search query results display differs for various content categories. It often depends on the niche and competitors' behavior. It may or may not include paid search (such as pay-per-click (PPC) ads, advertising in Google Maps, Google shopping), product carousels, and video previews featured snippets, and knowledge graphs, as well as much more. Knowing how to analyze SERP for each particular case is the basis of SEO. This is where search engine optimization specialists start and this is what should be monitored really often.
This article will not only explain how to perform SERP analysis but also guide you through tips and tricks for regular monitoring of SERP reports and offer recommendations on how to use them for better optimization of your online content.

- Checking the intent
- Analyzing optimization and extra-optimization opportunities
- Checking the SERP competitiveness
- Important to do it regularly
We have already written a bit about SERP SEO previously. So, what is SERP analysis? The SERP abbreviation refers to the "search engine results page." Because Google search engine remains a monopolist on the search services market and holds 80% of usage, SERP analysis usually means analysis of Google search results page for a chosen group of keywords.
SERP analysis includes:
Checking what content pieces and links are displayed and in what sequence;

How they are displayed (title tag, description, URL, snippet, content type: text, video preview, image, what parts of text are marked bold, etc.);

How this display changes over time.
Accordingly, all this information is then used by specialists to influence the display by performing SEO optimization of their content. The more regularly and accurately SERP analysis is done, the better results in SEO practices it ultimately brings.

Why Is SERP Analysis Important?
The importance of Google SERP analysis is explained with its three main functions:
Check keyword relevance. Often, web business owners and SEO specialists believe that a particular keyword is relevant to a certain webpage. Yet, the reality may be that the true search intent of this webpage does not match the search results or that the keyword was clustered falsely. In this case, SERP analysis will help to match the keyword to the correct webpage or will indicate the need to create a new webpage from scratch.

Add/improve the snippet. SERP analysis can be a way to see new ways of improving your featured snippets such as "People Also Ask" and "FAQ" or create them if they are missing. Spotting new ways to display content (e.g. video carousels and image packs), adding more FAQ questions and answers, improving their wording, adding schema markups, or just editing a title and description to sound more catchy - these are actions resulting from a proper SERP page analysis.

Check competitiveness. Using different browser extensions, for each line of SERP results you can immediately see the most important SEO characteristics. These include the number of domains linking to this webpage, the exact number of backlinks, their domain authority (DA), and page authority (PA). With these characteristics, one can assess the competitiveness of the keyword to be optimized.
How to Perform SERP Analysis?
Performing online SERP analysis can be done in different ways. They depend on the goals you want to pursue.
Checking the intent
The checking intent strategy is suitable in the early stages of any web project before SEO optimization started. For example, you want to check the keyword intent, and understand what the user really seeks. Search intent can be navigational, informational, transactional, or commercial. Each of these types leads to different visitor behavior, which means the webpage content should fit the corresponding marketing funnel and be optimized in a different way. Search intent has already been discussed by us in earlier blog posts here. In SEO, understanding the initial search intent is essential because this term explains why, for example, people searching for "tomato sauce" query want to see recipes for tomato sauce and not its culinary history or the word's etymology. Anyway, if you're going to understand the search intent for a chosen keyword and track it, the perfect choice for you is SERP Checker by SpySERP.
Let's suppose you own an online education platform for home studies. The new service you are now launching is learning gamification. You have created a new category of web pages with fun games for math, English, science, etc. What you need is an SEO strategy for this category. The semantic core is ready; keyword clusterization is complete, too. It looks like you have all you need to create proper content for the webpage(s). Yet, it's really worth checking SERP results for the "online math game" search query first.
To start the analysis, we need to insert the main search parameters: keyword, region, language, etc. You can also choose to perform SERP analysis for desktop or mobile search versions. This is a valuable option for competitiveness analysis, to be explained a bit later.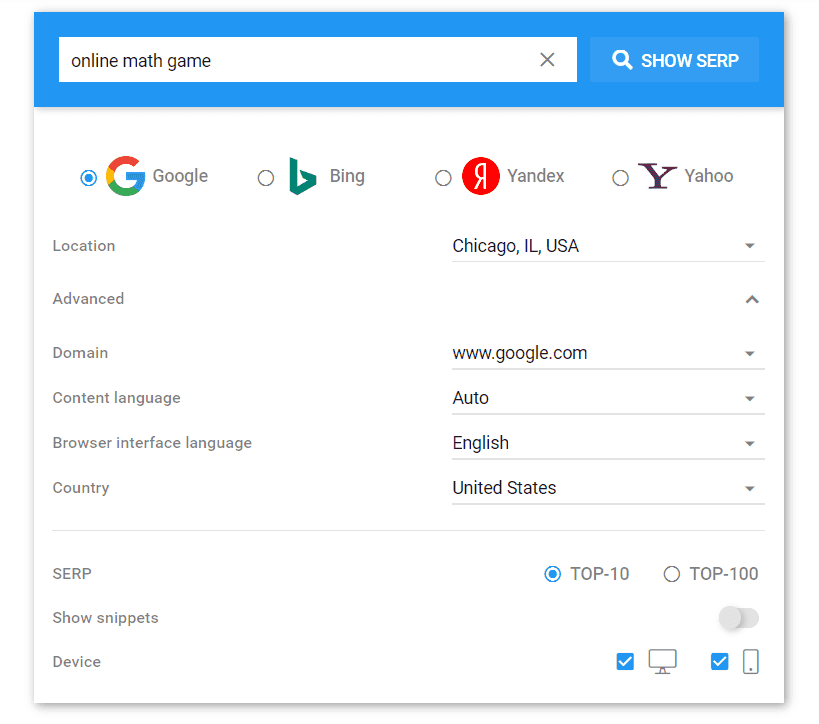 Then you will see the search results for the chosen criteria. You may notice that the search intent of the discussed keyword is navigational, with the user seeking websites that offer games. This is exactly what we need. Here is how the SERP keyword explorer looks like: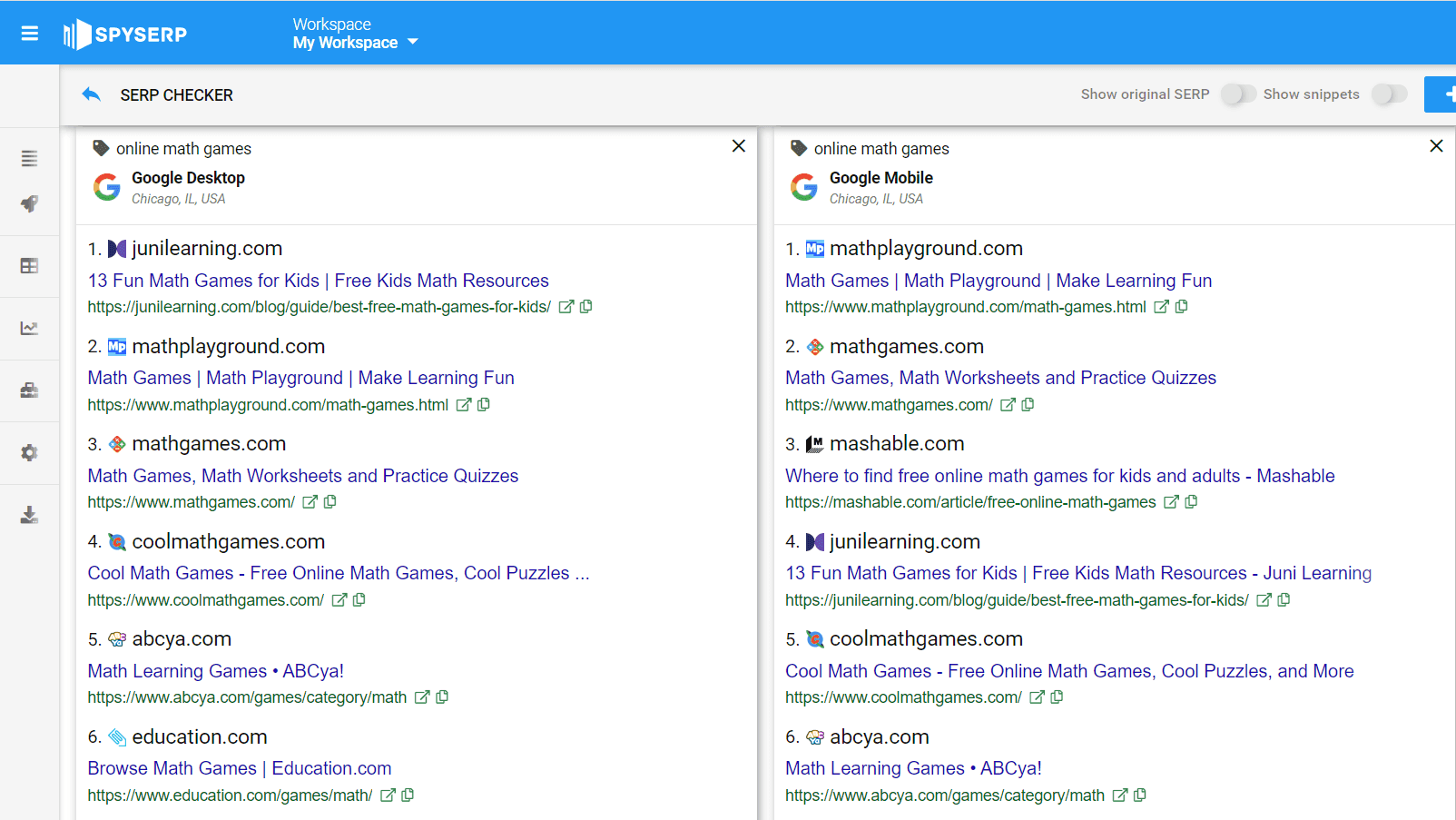 It is not recommended to stop your analysis with a single keyword like that because the new educating platform service includes a solid query cluster. So, you go on and assume that the "best math games for free online" query also corresponds to this cluster. SERP analysis for this keyword shows informative websites ranked in top-1 and top-2. These resources have offered an overview of top-ranked games, while the other lines are links to particular games that can be played.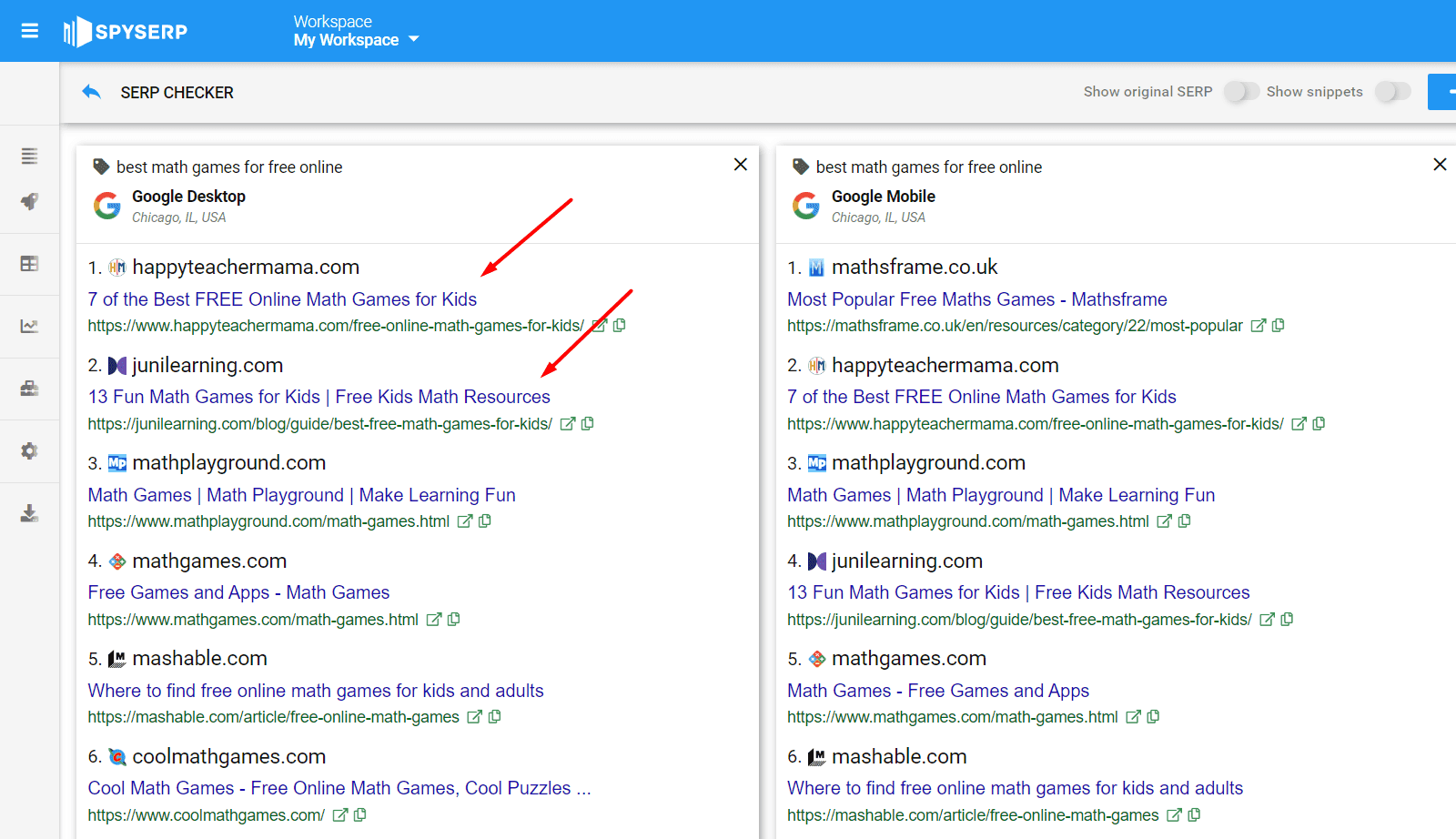 So, what should you do in this case? There are several options to follow:
Add both the first and the second keywords to the new webpage about online math games. However, it is important to remember that, for the "best math games for free online" query, getting the top-1 rank is harder because Google ranks informative pages higher, considering them more useful to the end user.

Create two different web pages, one containing the game itself and the other offering an overview of existing games and linking to the first page. The key here is to have such an overview that does not bring an advantage to your competitors by promoting their games over yours.
One of the main advantages of applying a SERP checker for the above tasks is that you can easily track the same keywords for different regions and even compare SERP results among themselves. This is very useful for the local optimization of businesses as well as for the SEO of franchises.
Extra hints and recommendations for using the SERP Checker tool are:
Comparing search results between desktop and mobile versions of the browser may suggest hidden issues of mobile optimization for the website. For example, SERP analysis for the "math games online for free" query shows the top ranking for the desktop search for Juni Learning, while the same website is just top 5 for mobile ranking. At the same time, the Coolmath Games website has the opposite story. Your task here is to understand why the mobile version of Сoolmath Games website got prioritized ranking and do the same for your own website. Or, at least, you should try not to lose SERP positions like the Juni Learning website did. HINT: Click on the desktop version on a chosen website, and it will be highlighted in the mobile version list for your convenience.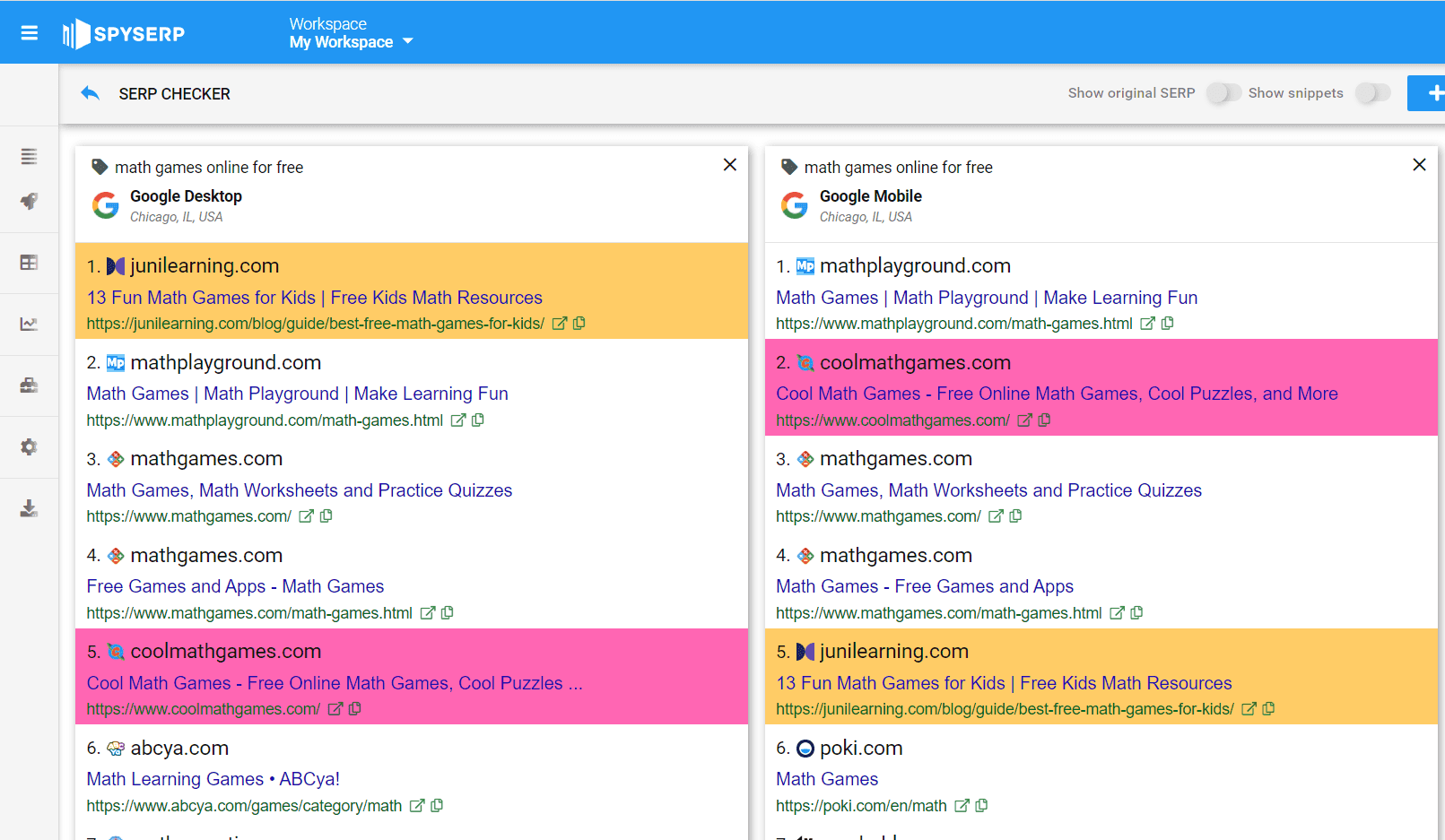 2. Compare for more keywords to see matching domains.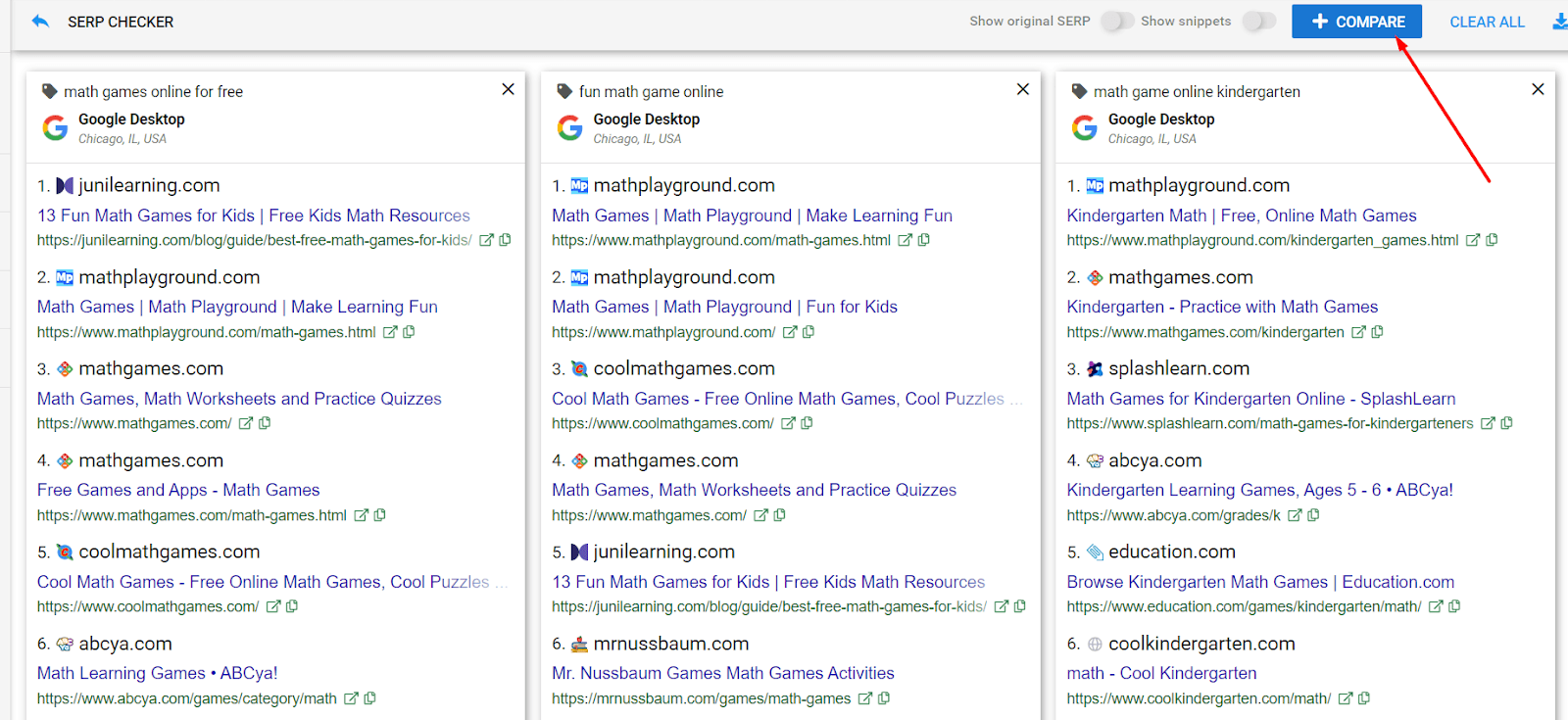 3. You can also check and compare results in between different search engines (e.g. Google, Bing, Yahoo).

Analyzing optimization and extra-optimization opportunities
If you just planning to create a web page, you can assess the visual structure of the display for SERP results and prepare your content correspondingly. This will allow us to quickly get top-ranked. At the same time, if you already have a web page to optimize, SERP analysis will suggest areas for improvement.
To get recommendations using SERP Checker, you still need to start by entering region, language, and keyword. After you see the results displayed, push the button called "Show original SERP."


Now, you have an opportunity to analyze search query results in more detail and create a plan for your new web page. You can also make an improvement plan for an existing one. Let's check SERP analysis results for "how often to post on Pinterest for business" as another example. On the SERP display below, one can see that the top-ranked webpage is shown first due to passage indexing: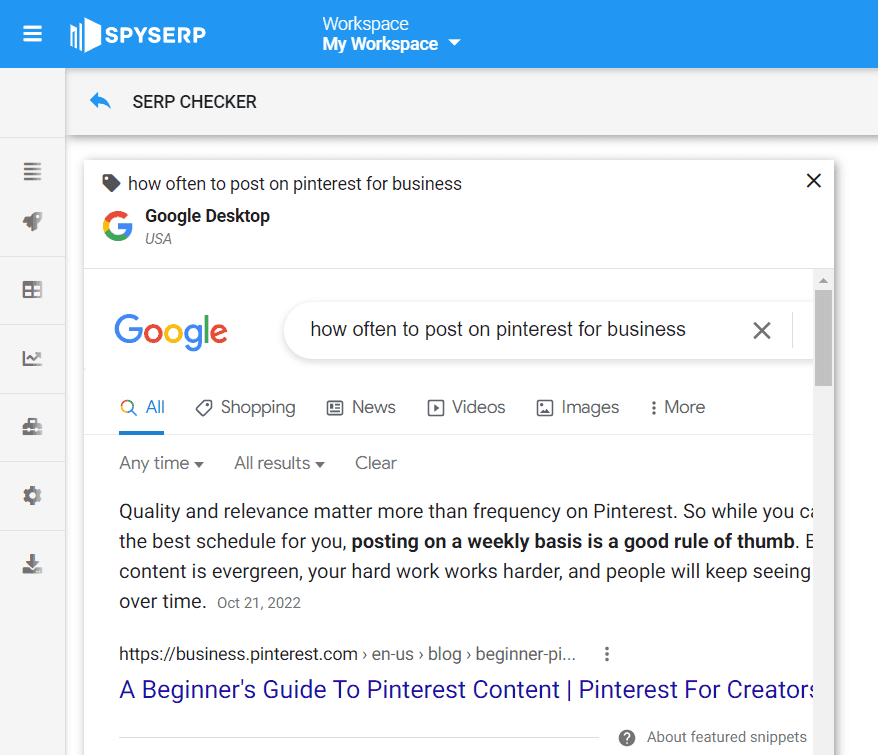 Then, we see the "People also ask" block. We can do the same and get inspired by the questions listed in this snippet. Having answered them on our webpage and having added the microdata, we increase the web page's chances to get ranked higher, too. Mind using low search volume (LSV) keywords to make your snippets more precise in answering users' questions as well as clickable.
Another schema markup that helps to boost ranking is the Article schema markup. Here, we see the publication date along with quick links from the table of content. These are also worthy to implement on your web page.

Scrolling down even more, we can notice that the top-6 rank is occupied with a FAQ snippet. This markup style is another way to get more clicks from your competitors, which can be your chance to improve CTR.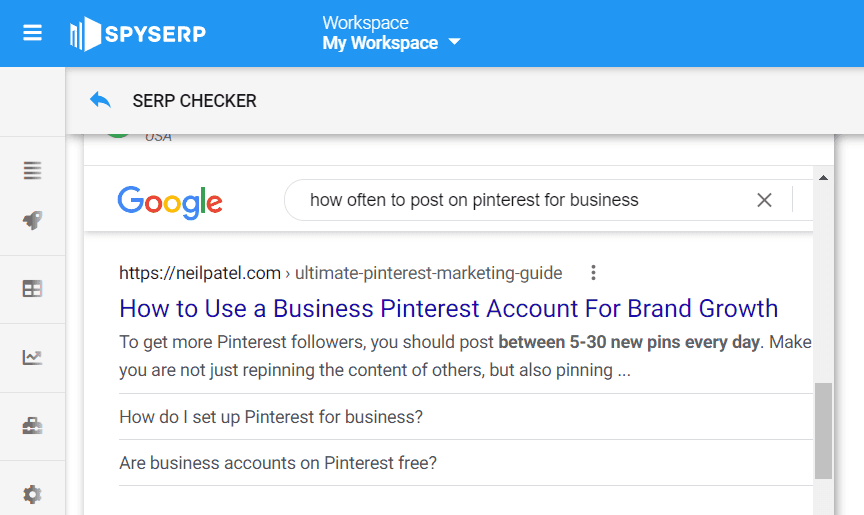 There exist many options for how to organize such snippets for your content. Browse various topics and get inspired because different themes and domains vary in their content display. For example, selling goods is often about goods and services carousels, and product reviews while a cooking vlog or another professional video blog may be mostly displayed with video previews. Mind LSI text principles when formulating text for the FAQ answers.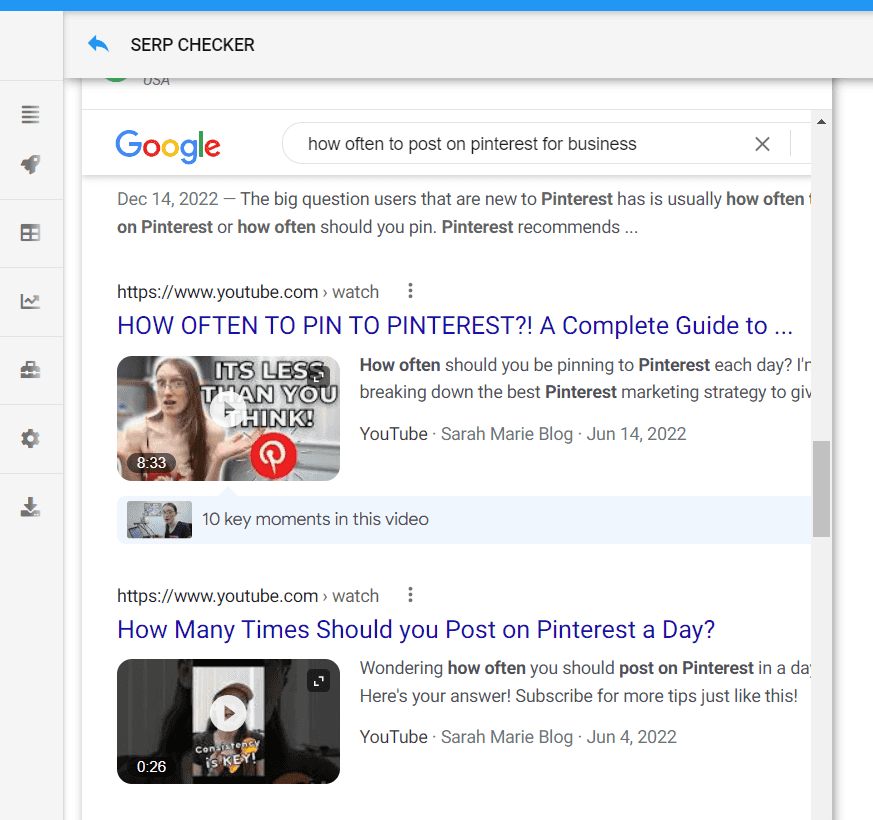 Remember that your main goal is to notice all opportunities for content structuring, formatting, and display in order to use all SEO opportunities on your web page. This will allow ranking higher in SERP by fitting the latest requirements of Google and other search engines.
One of the most important stages of SERP analysis is analyzing a large number of search queries to understand what web page should be created exactly. The same practice helps to finalize the SEO strategy to get it to the top rank. These keywords are always numerous, so manual SERP analysis is time-consuming. Benefit from using SpyChecker and save your time by comparing many keywords at once, exporting them into an Excel table, and continuing working with them comfortably in the table, using filters, sorting, etc. To do that, add all search requests for comparison and do the export: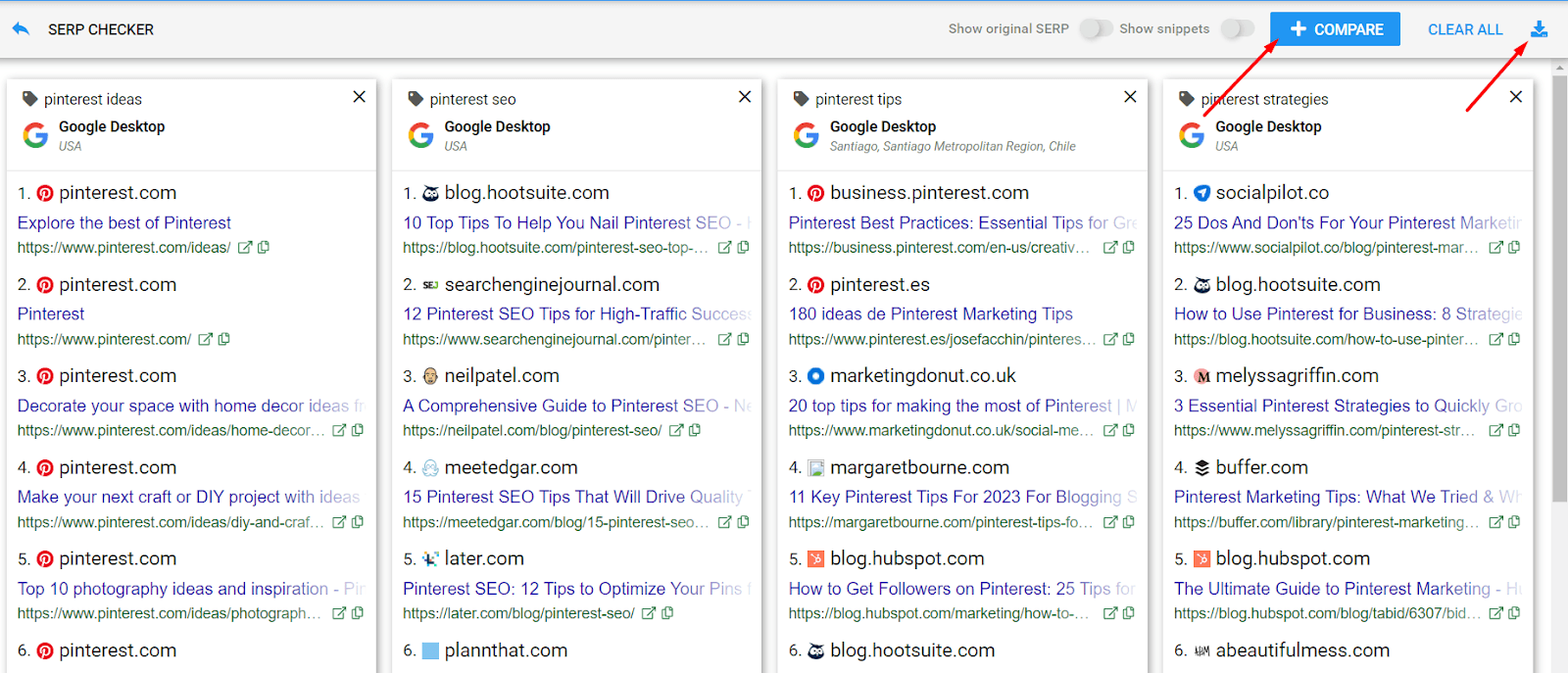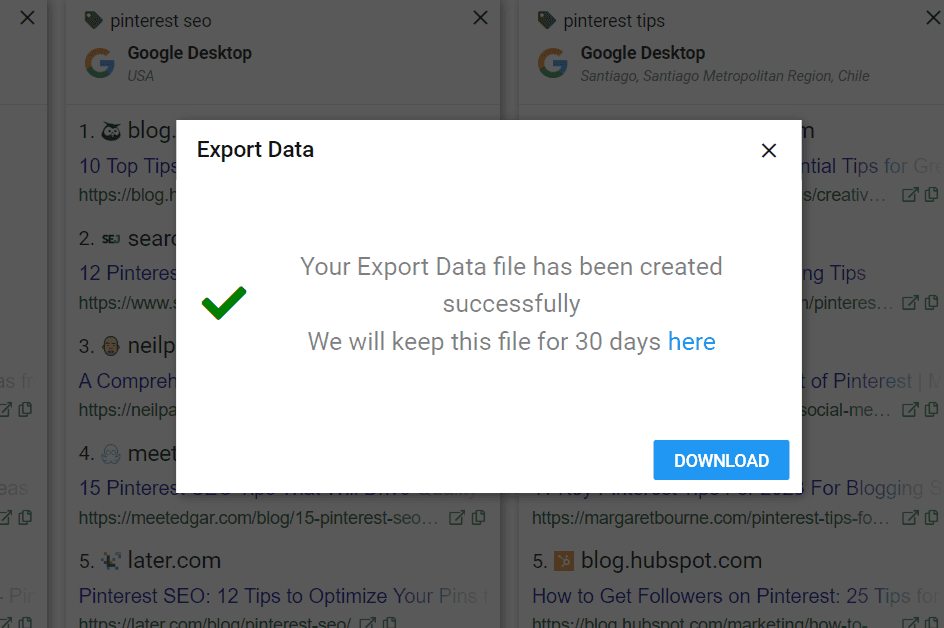 Having completed your data export, you will obtain a table where you can spot common keywords and webpages, and create your SEO strategy based on that knowledge.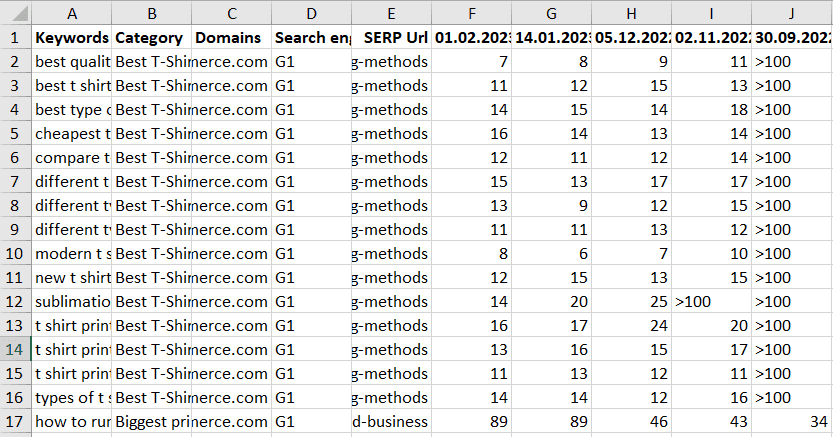 Important to do it regularly
What's crucial: SERP analysis should be performed on a regular basis. Of course, this is an impossible task for a large website. However, all top-selling pages and main menu items should be always monitored. Google releases its updates frequently. New SEO technologies and search optimization opportunities emerge. Search intents change. End users develop new search behavior patterns. Competitors implement new features continuously. Yet, in your business, your main web pages should remain visible. So, by using the SpySERP Tracker on a regular basis, you can perform this routine just in a few clicks. To do that, you create a new project, choose the region of search promotion, and the keywords to track. After the list of keywords is tracked, you will see an overview table with SERP keyword ranking, with each row being clickable.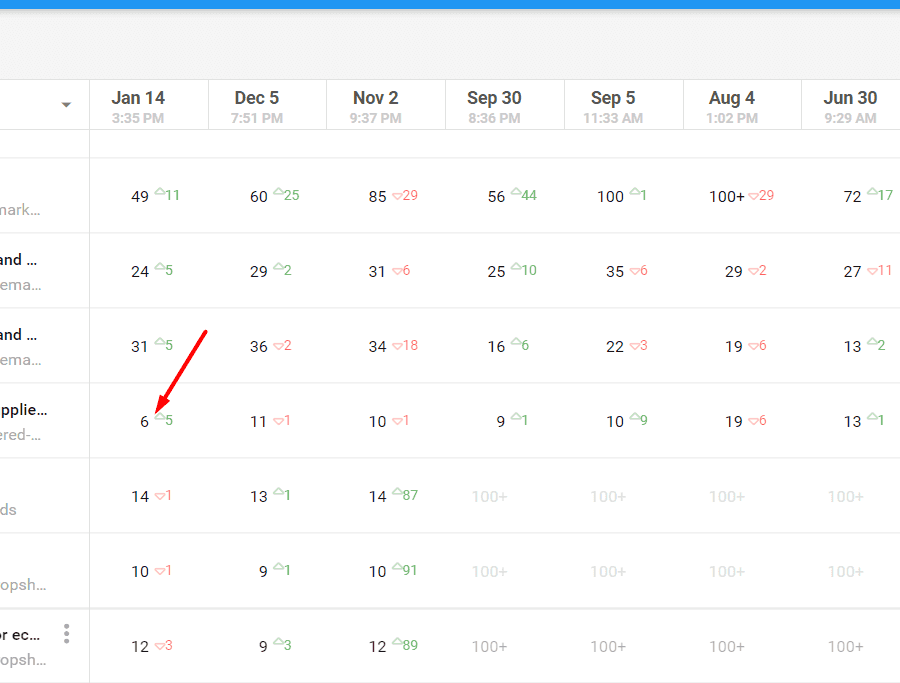 Clicking on the number will allow seeing SERP details on a chosen date, which means historical data are available for analysis, too. At that, the historical data visualization allows also seeing domain position fluctuation on a graph: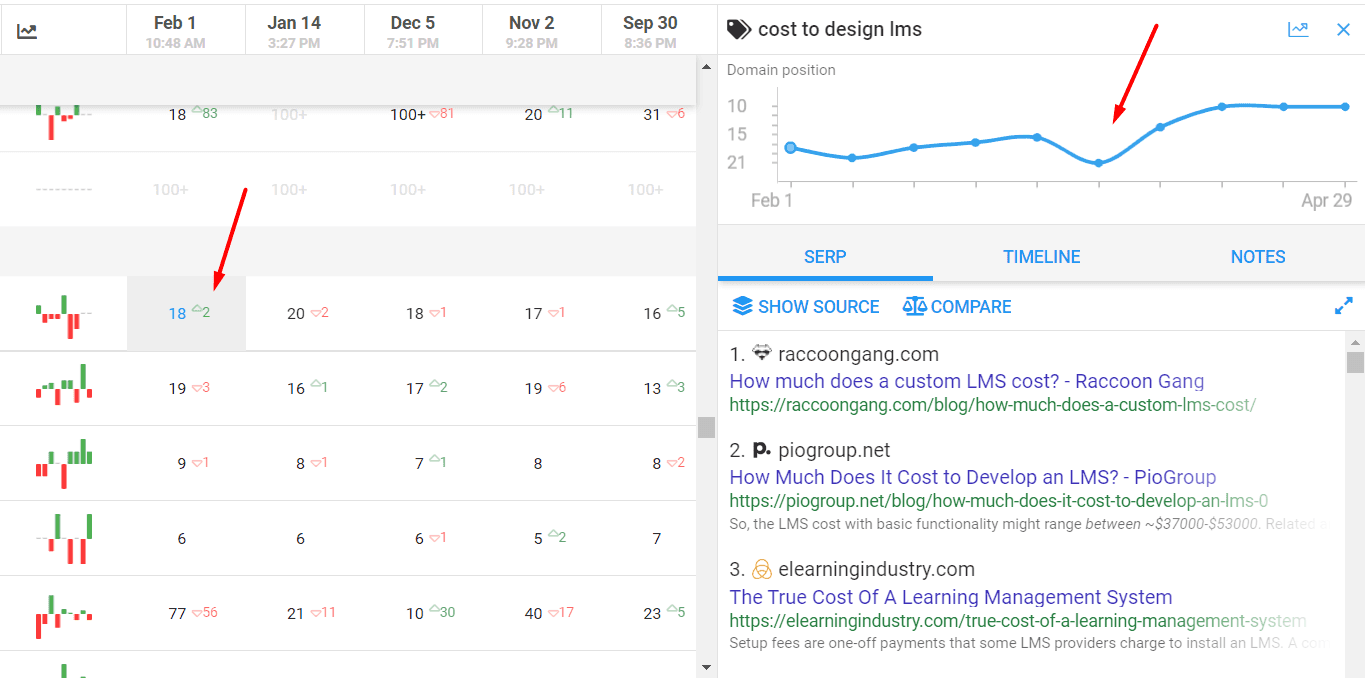 In addition, using the "Show source" button, you can see the way Google displays results in the SERP, including all featured snippets and formatted data blocks such as FAQ, How to, People Also Ask, costs in a table view, etc.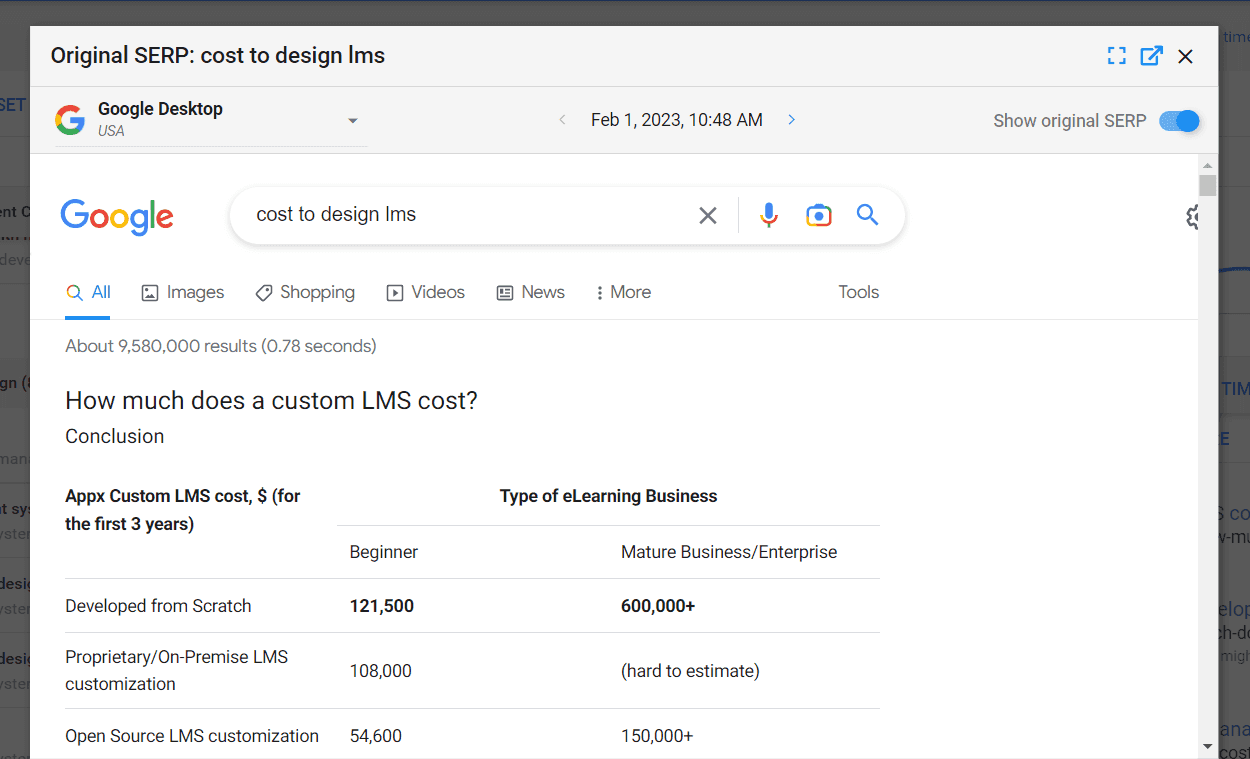 If to switch the toggle bar "Show original SERP" off, you can add more domains for comparison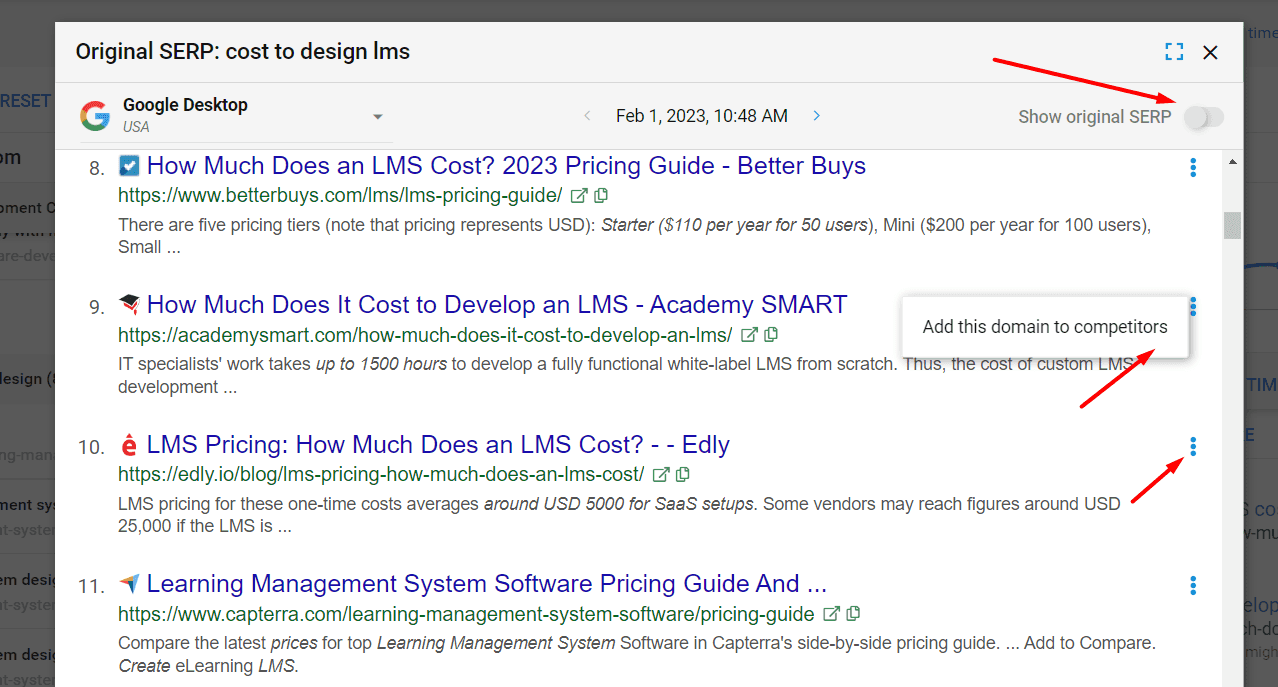 You can add keywords for comparison using the Compare button as shown below: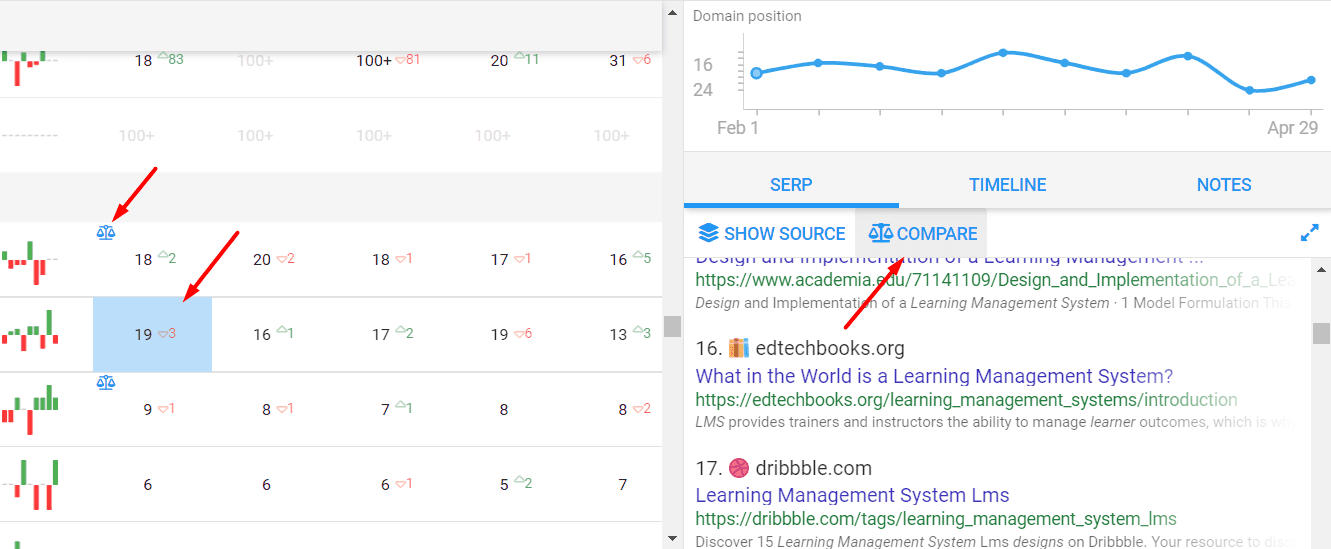 Then, on the multi-column comparison view displaying the results for several search queries at once, you can click on desired domains and see their positions in color (each color indicates a unique domain, colors help to spot same domain across different SERPs). This visualization allows better comparison across the keyword cluster and spotting SEO strategies used. For example, SERP results for "cost to design LMS" and "learning management system design" keywords do not match. This means, creating a separate relevant web page for each of them is worth for better SEO ranking.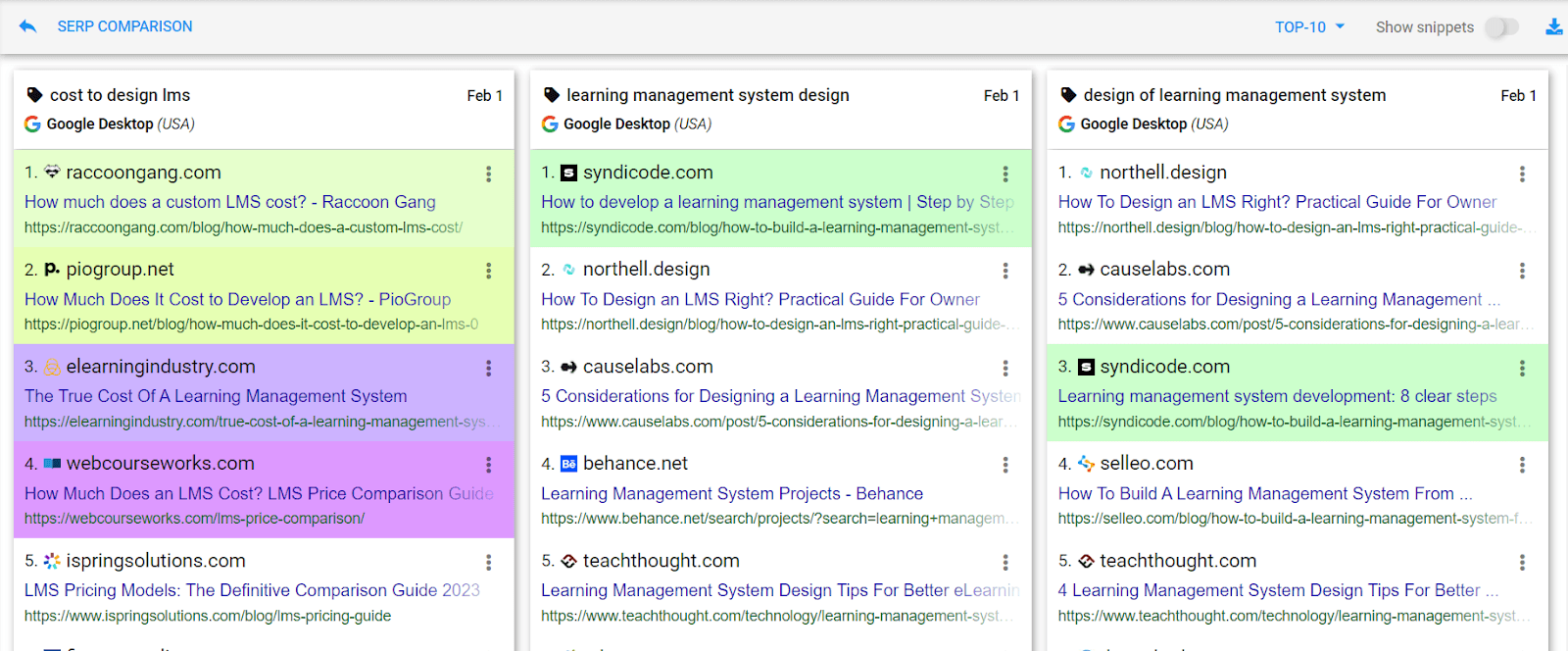 Besides, for each of the keywords tracked, you can get an overview of the timeline and add personal notes to it. Timeline view allows spotting position changes better (including URL changes for a search result), while notes allow saving your observations of the reasons for each such change.


Whenever necessary, you can do a full-screen mode to see more information in a wider window, check the Show original SERP mode (as we discussed above), open in a new tab, and even compare with other services.

Remember that the export function is available at any stage of your SERP analysis using SpySERP tool. Switching to a comfortable MS Excel format for more flexible sorting, filtering, search, and data analysis actions with available Excel functions and macros is always at your convenience.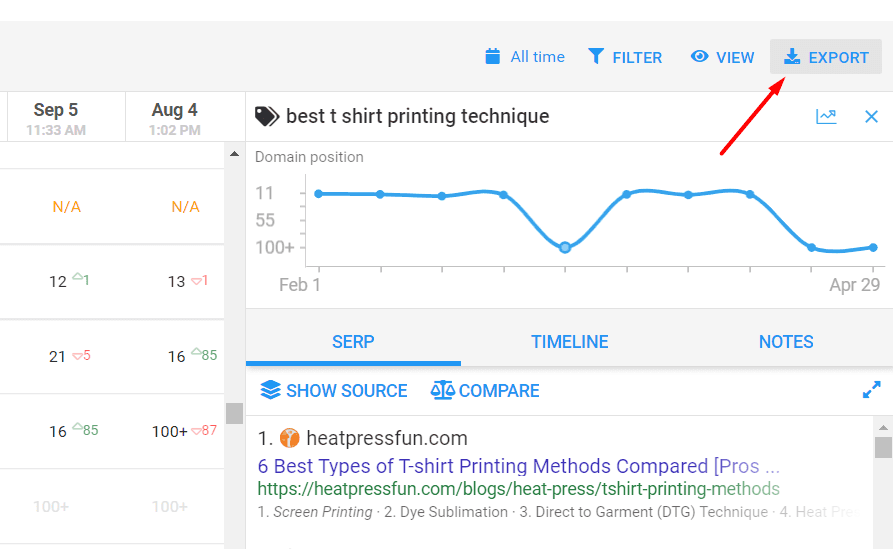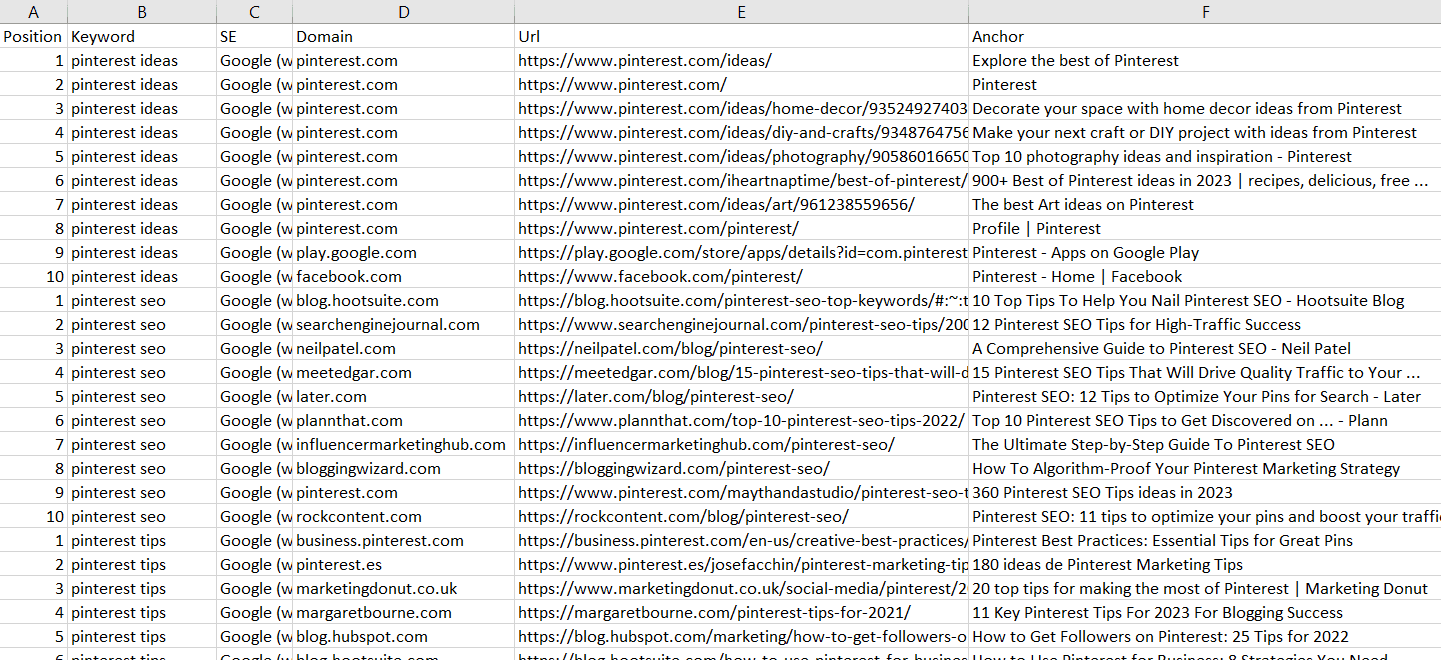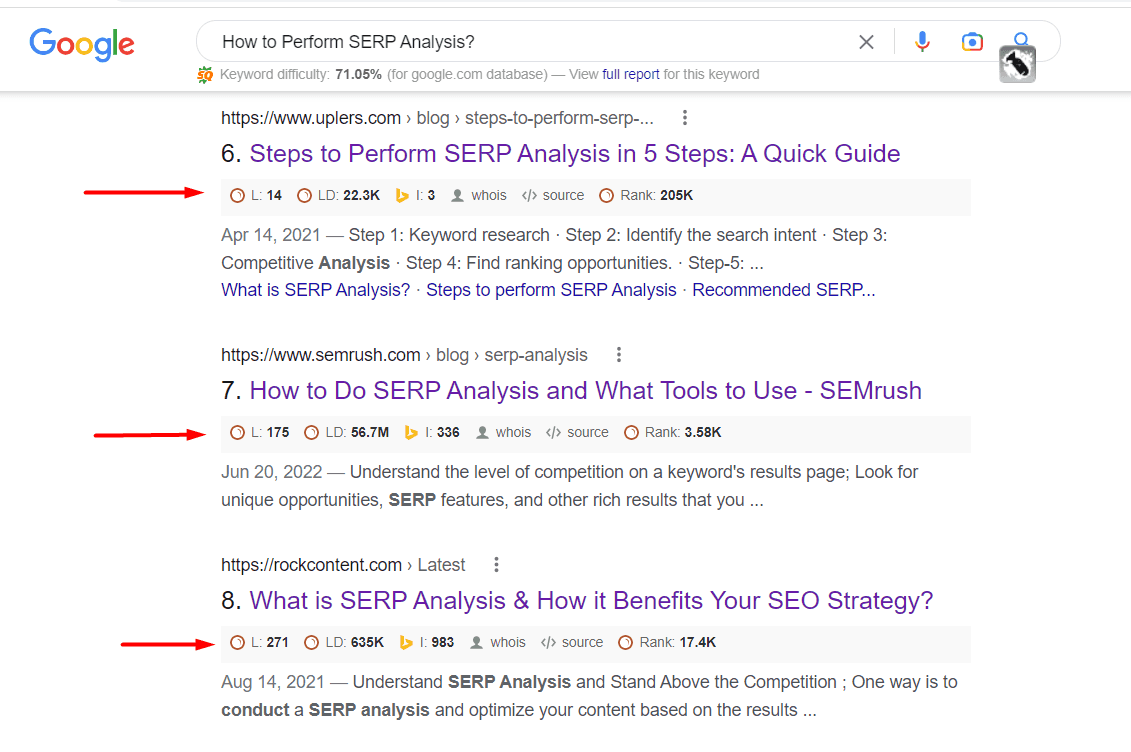 Of course, there are many dedicated SEO tools that may perform this function in a different way. Whatever widget or tool you will choose for yourself, it's important that it saves your time and effort and is visually comfortable with the statistics displayed.
In this article, we have defined SERP meaning, explained its importance, demonstrated how to do SERP analysis, and provided SERP analysis examples. It is hard to underestimate the importance of performing this type of monitoring regularly. This is your key to understanding the market, your audience's primary search intent, your competitors' behavior, and your opportunities in search engine optimization. Due to regular Google updates, SERP features analysis is able to supply you with endless ideas of how to present your content differently for the end user. All recommendations from SERP evaluation make up a ready list of to-do actions for your web pages to be found better. Mind finding the best SERP ranking analysis strategy that fits your SEO goals. Ultimately, the ability to better match one's initial search intent with the web content's format, structure, and representation brings higher conversion rates and prosperity for the business.