Doing business is always about the wise use of available resources such as time, money, and people. In the SEO world, improving business visibility for highly competitive keywords may cost a lot of resources. One may invest much money and time just to find out that the rivals are more efficient in dealing with the same search phrases, and it is almost impossible to reach the top in a chosen area just because competitors started earlier and have a higher number of links and their higher average authority.
Often, businesses start investing in SEO of their websites for the high search volume low competition keywords. When the list is over, they start feeling stuck or in need to spend too high volumes on digital marketing. Yet, there is a solution here. Low search volume keywords, or even zero volume keywords, are what you need to focus on. Knowing how to treat them properly will help your business reach top search positions and increase incoming traffic, correspondingly.

What are Low Search Volume Keywords?
Low search volume (LSV) keywords are keywords that generate too little traffic from user searches. Although seeming to be inactive or wrong, such keywords are not always non-competitive or useless. So, why start with a lower-volume keyword? Frequently, low search volume phrases appear for new trends and search patterns, and SEO services may not be on time with accumulating statistics for those. That is why when you research your keyword frequency checks, you may get a frequency of 0, 0-5, or 0-10, depending on the checker service you use. These numbers look as if they mean that there is no rivalry for the search phrase, but the real situation may be that several interesting, useful high-quality articles have been written during the last week or just the last few days, and it will be ever more difficult to compete with them over time. To check if this is the case in your SEO, you may use Google Trends functionality. This approach will help you feel your audience. interest.
Main Benefits of Targeting Low Volume Keywords
Targeting low-volume keywords have numerous advantages, which are not always obvious for an amateur search optimizer. First of all, LSV keywords allow getting traffic with a limited budget, which means saving SEO costs for the business. Secondly, low search volume queries are powerful attractors. They are always relevant for the searching user, and the chances for the displayed results to get a click are much higher because such a webpage is sought to answer a very detailed practical question instead of browsing a broad general topic. The clickthrough efficiency is measured by the so-called CTR rate, and it is higher for LSV keywords than for HSV keywords. It also means that the conversion rate for LSV keywords is higher than HSV ones, making the attracted users be more inclined to complete the desired action than an average website visitor. Therefore, using LSV keywords is an efficient way to advertise own products or services, as well as send the visitor to other useful related articles. With all of the above, low search volume query phrases are good to increase the total relevance of the website for the user. They make webpages more consistent per the main user's search request in the market niche and help to increase the visibility of the website in general. Lastly, LSV keywords allow a perfect webpage dofollow cross-linking adding visibility to the chosen webpages with related optimization queries.
One more hidden advantage of using low search volume keyword optimization is that it offers larger growth potential and that it is better compatible with voice-assisted search. While most HSV phrases exist for some time and generate predictable volume, LSV keywords are a grey area. They might look insignificant when it is a rising trend, and then boost into unprecedented growth and become HSV keywords themselves. Even if to compare growing HSV vs growing LSV keywords, the scale of growth and the growth potential of the latter is much, much higher. With regards to voice assistant users, they respond by relaying content from one of the top-ranked websites for that query and may point to a website, regardless of which keywords you target. They work better when there is a dedicated webpage that contains content that matched the full search phrase better. So, with a good article containing LSV keywords in its title, you may get extra visitors just because they were using the voice search function.
From a non-technical, non-SEO perspective, webpages optimized for LSV phrases raise the interest of your client. Imagine, the user is typing a regular search phrase for the main product name in your market niche and then accidentally starts to type one more letter or word. Then, the Google search drop-down list displays a suggestion that looks different from all phrases that come to his mind. The unexpected search phrase (which is your LSV keyword made from a long-tail search phrase) draws attention and receives a click. The resulting Google search page displays your webpage as top 1 and the user clicks to visit it out of curiosity. Woohoo! You got a new potential customer and if your webpage is catching enough, you can generate a new lead.
In other words, low search volume keywords help build interest, diversify your SEO strategy and add value to the digital promotion of your website in general.
In addition, LSV keywords optimization supports the commercial intent of the customers as general content associated with high-volume search phrases is often about explanation and education, while long-tail search queries allow adding such words as "buy," "search," "order," "discount," "free return," "warranty," etc.
How to Find Low Search Volume Keywords
There are many ways how you can approach the task of detecting the low search volume keywords in order to start working on the dedicated content. These include both unassisted analysis strategies of spotting the queries and hints obtained from Google Search Console, competitors, and visitors:
1. Independent query analysis means you try to understand how your customer thinks and how they would search for what they need. Start with brainstorming here. Take a piece of sheet and write down all possible search phrases, from single-word queries to long phrases consisting of multiple words or even sentences. Imagine you are selling bed sheets. Search keywords such as "bed sheets satin", "bed sheets cotton" or "bed sheets brand-X" do not suit your needs because they are high search volume phrases. Yet, before making the final purchase decision, your potential customer might think about how people make a decision if they need satin or ranfors. Or after having decided to choose satin, the customer may think of how to correctly wash satin and if he/she needs to buy washing liquid, and what is the correct one to choose. Other examples of what can be googled are information if the satin elastic is better than satin plain sheets if it's durable compared to silk, what material is better for hot weather of these, and much more. Thinking of small details accompanying your main product may be very helpful here. Any characteristics that matter and that can be described well to assist the customer's purchase are important enough to try to create a low search volume keyword from these. Here, we simply recommend creating two lists of keywords - the main ones describing the product and a list with keywords describing important details and characteristics. By combining these two lists, you can create a list of full search phrases which you will then be able to search for search frequency rank and keyword competition.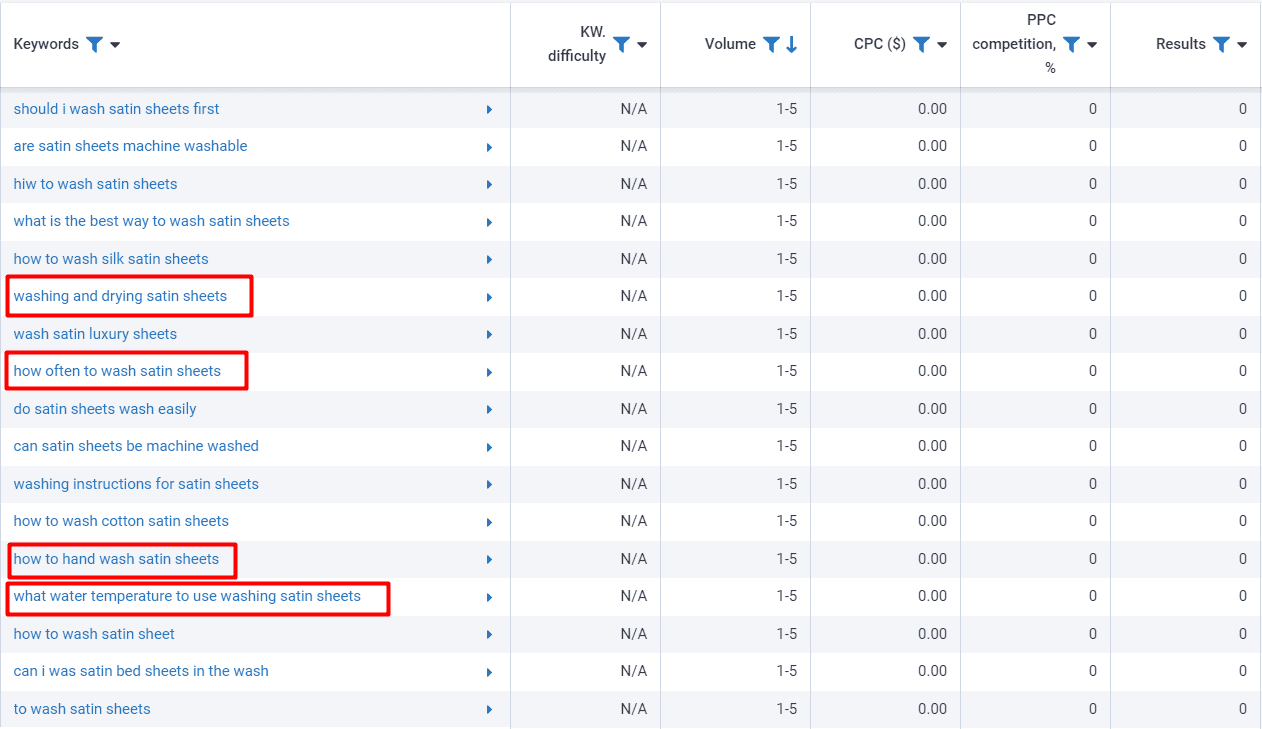 2. Assisted analysis using Google Search Console (GSC) is the research of search queries that have already been applied when your website was visible in Google. To use this strategy, you need to open the GSC Search Performance Report, now called "Performance on Search results," and select the desired date range for it. Then, export the results into an MS Excel sheet or Google sheet and sort your keywords by impressions, descending.
Check frequency rank for the resulting range using external services. Here, you can mind group your keywords by relevant topics via clustering by SpySerp. The findings should catch your eye for the cases when a low search volume keyword can be used to either re-optimize an existing page of your website or write a new article about it. Sometimes, it can be a new keyword opportunity you never thought of before. The main idea here is to find search keywords that are visible but not competitive. One can test these queries back in Google search to find out articles of what quality and usefulness are displayed for each of such keywords. The first-page search results will immediately suggest if you have a chance to make a webpage optimized for this low search volume phrase into the top.
3. Analyze your competitors for the low search volume keywords. You may want to use free or paid professional checkers or keyword rank trackers here. Mind that you don't need to spot the best ranking webpages optimized for LSV keywords but rather the ones they are ranked with at all. Mind that your chances to top-rank with the detected queries are higher if your rivals are ranked low.
4. Another idea to spot the LSV keywords is to use Google suggestions. Check the Frequently Asked Questions widget for HSV keywords that are displayed, as well as check the drop-down list itself while typing the main keywords describing your products and services either adding a random parameter for it (see the brainstorming step) or just a random letter of the alphabet.


5. Lastly, a good way to get a bit more inspiration with the LSV keyword list generation can be found on professional user forums, product review websites, and social communication platforms such as Reddit, Quora, Answers, or Ask.fm. This is the so-called user-generated content that offers insights into questions arising among customers and potential consumers of a product or service, as well as answers to them. For a gouache paint set product, for instance, you may find out that people seek advice about what brushes are better to use, or if a certain brand of brushes is suitable for a certain brand of paint. This is a perfect idea for a comparative article with an LSV keyword, or even a series of those. For cases when there is no useful content on any website of your rivals, this is a perfect candidate for the top ranking very quickly after the first indexation.


How to Optimize Your Website with Low Search Volume Keywords
Here is some several practical advice on how to optimize a website to get found via low-search volume keywords and search phrases:
First of all, try creating new separate webpages, which are optimized for a single low search volume phrase. However, just because such keywords cover a too narrow topic, there is not much meaningful content that can be generated. Therefore, webpages targeting low search volume keywords can look unattractive and unrefined. So, follow this approach only when it looks suitable.

For all cases where a separate webpage creation is not justified, it is recommended to either optimize an existing article or create a new one, with a focus on 2-3 low-volume search queries distributed evenly and looking harmonious when combined together.

The two above strategies can be well combined with Google Search Console (GSC). For example, you may find out that your webpage is tracked well for certain low-volume search keywords but is not shown within the top 10 or top 5. Having analyzed the search results for this phrase, you may decide to either optimize the article for this search query better or to create a new article, which will be targeting the searching user better by giving more value and answering the question better, and leaving a link to the previous article in it.

Finally, the third approach is to work with user-generated content such as product reviews, forum posts, etc. Motivate your website visitors to post comments or ask questions about your product and services. Engage your audience, and leave meaningful comments, answers, advice, and professional recommendations. Organize online conquests and competitions with prizes. At that, both users and your company's professionals will be able to use low-volume search keywords in their texts, which may then be used for webpage optimization.
Concluding the above, keywords with low search volume offer SEO specialists a unique opportunity to compete with rivals in dense market niches and enter top search results among highly-competitive keywords. When the high search volume low competition keywords are over, and the SEO budget is limited, it is time to think of the real need of consumers for detailed information about the product or service to enable narrow targeted search.
There are several main strategies to follow here, as described above, but the main principle is staying proactive and creating content for a trended phrase even though it may look like grabbing zero searchers. Not only websites like Quora or Reddit will be helpful here or a targeted brainstorming of the business owners and the customer support team but also a wise use of the GSC reports for the keywords which are not popular but still enable visibility. Think of creating new optimized content for the LSV queries or adapting the existing web pages to be ranked for the phrases spotted. Sooner or later your website will not only be more visible for visitors and potential customers but also more useful in terms of asking for really specific and practical information about what you are selling. In fact, low search volume keyword optimization is what helps smaller websites and new businesses grow and get the traffic they deserve in spite of their limited resources.