AI chatbots gain ever more popularity. The audience of famous ChatGPT boosted recently. Today, you may find out that half of your colleagues and acquaintances use this automated-assistance tool for information gathering, text generation, and brainstorming. In business, contemporary chatbots are useful in such areas as website building, code troubleshooting, design and UI/UX, professional consulting, marketing analysis, SEO, and more.
However, with such a wide range of services available, it is not always obvious what exactly to ask a chatbot about to save one's time and not find oneself stuck in a non-efficient and time-consuming conversation.
In this article, we will discuss how AI chatbots work, and what parameters can be used to determine a chatbot's usability for your activities and for your business opportunities, and we will also compare several popular automated assistance tools and their functionality to illustrate the above.

AI chatbots are rule-based self-learning conversational algorithms that aim at answering users' questions. Inside a chatbot, different machine-learning tools can be applied but the core principle is that a human-to-human conversation is simulated. However, machines are not humans, they do not always understand hints, idioms, or context-specific language. This is why, in order to get the most optimal answer to your question, it is highly recommended to learn to ask questions to AI in a specific way. The structure matters as well as the style and wording.
Historically, non-AI chatbots were plain rule-based conversations where a user was invited to follow one of the multiple branches pre-defined for a discussion. Classic examples of chatbots that we never perceived as such are iPhone's Siri and Amazon's Alexa. Later on, AI allowed chatbots to start understanding more natural language, and the tools were built as sustainable and self-learning based on the responses and corrections of their visitors. Chatbots search for information, generate images and texts, explain and define things, and provide explanatory and professional assistance. Many of them offer not only browser extensions but also open-source APIs allowing easy integrations to your websites and other software tools as well as mobile application versions. However, they still do not have access to flight databases, for example, or restaurant and hotel bookings. So, you will not be able to make a personal assistant out of a chatbot or replace your secretary any soon. So, adjust your expectations and read the next section about what to look for in an AI chatbot.

What to look for in an AI chatbot?
A standard AI chatbot is expected to sustain a human-like dialogue. So, you can go to most of them and ask a question. Then, the algorithm will process it and offer a question. If you are not satisfied with the answer, you can reask in a different way, add details to the previous question, add criteria for a good answer, or complain that the answer is not exhaustive. Usually, the chatbot will apologize, gather feedback, and try to change the processing algorithm to satisfy you. Correspondingly, these systems are adaptable and self-learn based on our feedback.
In the SEO activity area, the best application of a chatbot is to use AI for content writing.
Below sections will provide an overview of the top AI chatbots preferred by users this year.

We have already presented the ChatGPT overview recently. This chatbot by Open.ai has beaten all records and boosted its subscription audience to over a million users. ChatGPT offers any consulting services you only can imagine, does analysis for you for any topic, bullet-point list, or broad/narrow question, generates texts, can help you with SEO questions and practices, and is even able to pretend to play a certain role and maintain a human-like dialogue out of this role. We will not discuss this chatbot here again (please refer to the previous article instead), but present other options for the same features available on the market. Yet, it is worth noting that ChatGPT remains the market leader now and is both the most promoted and most popular among users today. Definitely, it can be called a trendsetter.
Chatbot created by Copy.ai is probably the second top-rated tool of automated assistance as of today. Its focus is on text generation and providing automated custom writing and SEO writing services, so its primary audience is the website, e-com sale points, and blog owners.

Copy.ai can help you with writing a blog post, a social media post, an email, something funny, a text for a website, a custom text, and much more. In each of these categories, there are numerous templates to help you specify your text requirements in detail and achieve your goals while generating the content. The available templates for text creation are:
Discount of Special Promotion,

Social Media Bio,

Showcase a Customer or Testimonial,

Share Tips and Knowledge,

Seasonal / Holiday,

Share a Secret,

Contest or Giveaway Promotion,

Event Promotion,

and much more.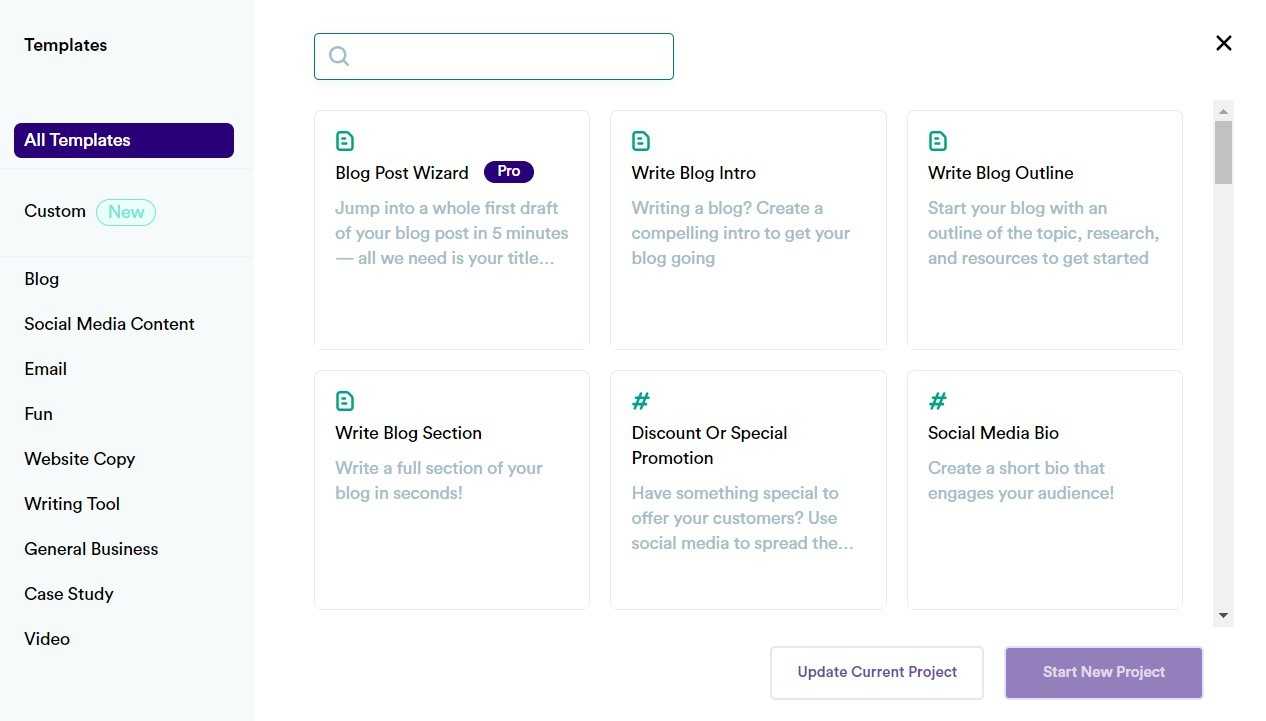 This list illustrates that the tool does not just requires clear instruction but can also be used as a good inspiring tool to make your blog be different from day to day. If you just wrote boring professional articles about how your tools work, now you can find yourself choosing contests and event promotions more often. And in case you want to reuse texts from another source, the chatbot can help rewrite existing texts.
For SEO specialists, Copy.ai will definitely be useful as it can write texts which include requested keywords, generate meta titles and meta descriptions, brainstorm article topics and create content plans, etc.
The below example illustrates how Copy.ai generates a social media post for a chosen platform.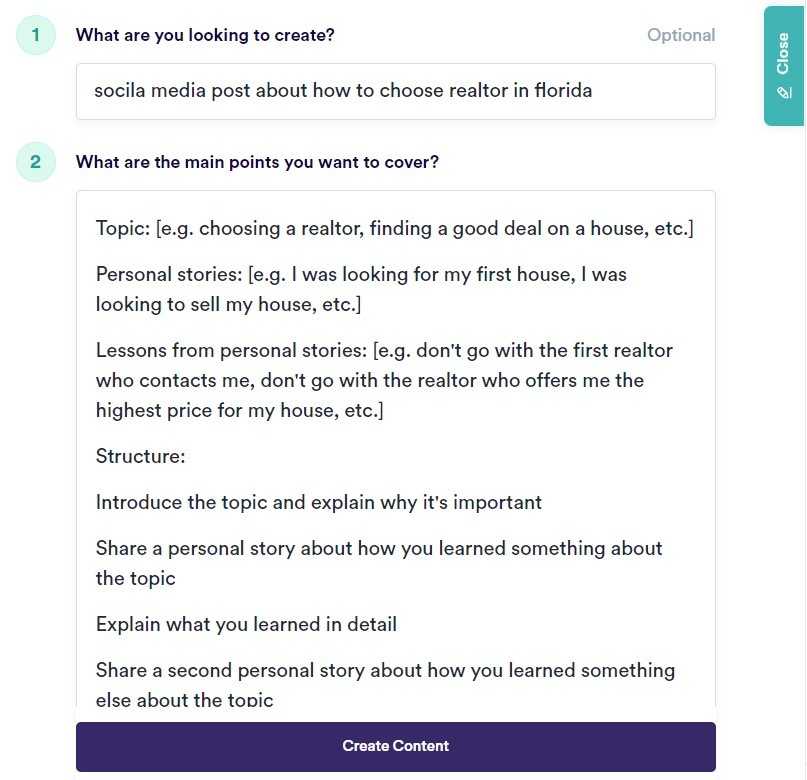 The best approach to using this tool is to generate supporting content for backlinking and boosting professionally written articles. Remember, AI mechanisms are still not mature and may not rank high by Google if not proofread by a human.
Another chatbot to use is Jasper Chat. The subscription isn't free of charge but queries are easy to create and dialogue is smooth. Users can quickly benefit from such queries as "Generate a pop song title for me" or "Please help me create a LinkedIn profile description. My education is: …. My work experience is: …." In contrast to ChatGPT and Copy.ai, Jasper offers a browser plugin, which means you can incorporate custom text generation into your daily routines of social media usage, web surfing, form filling, and more. One of the best options to use this chatbot is to generate live answers in a LinkedIn chat to potential employers right in your browser.
When starting to use Jasper, you will first be asked to describe who you are: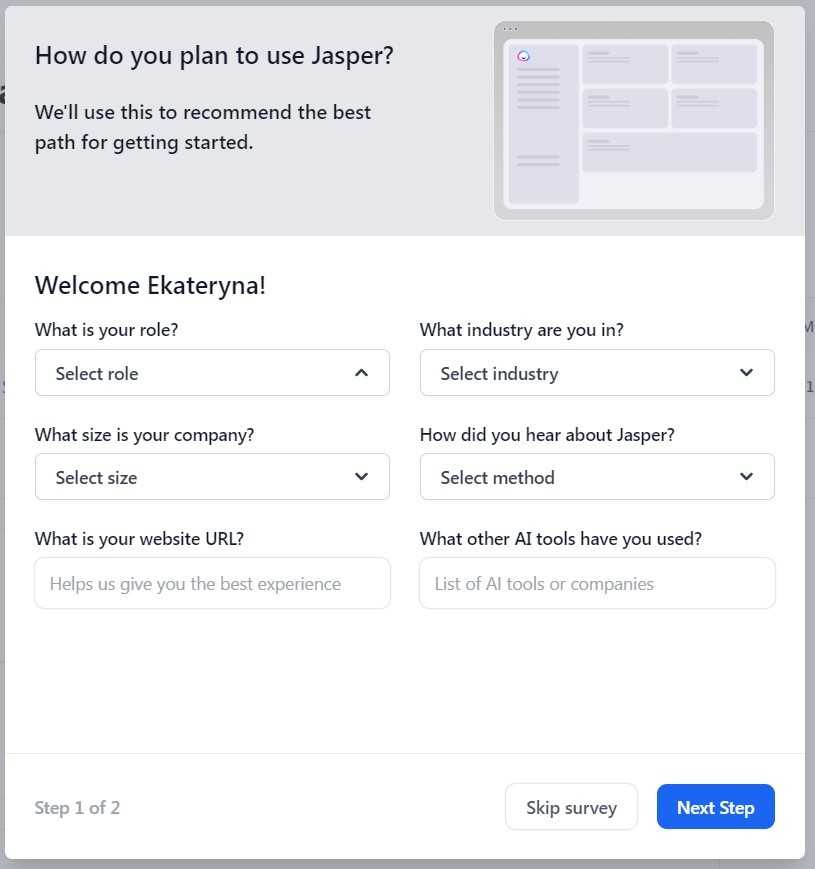 The next set of questions is about how you are going to use Jasper for your needs.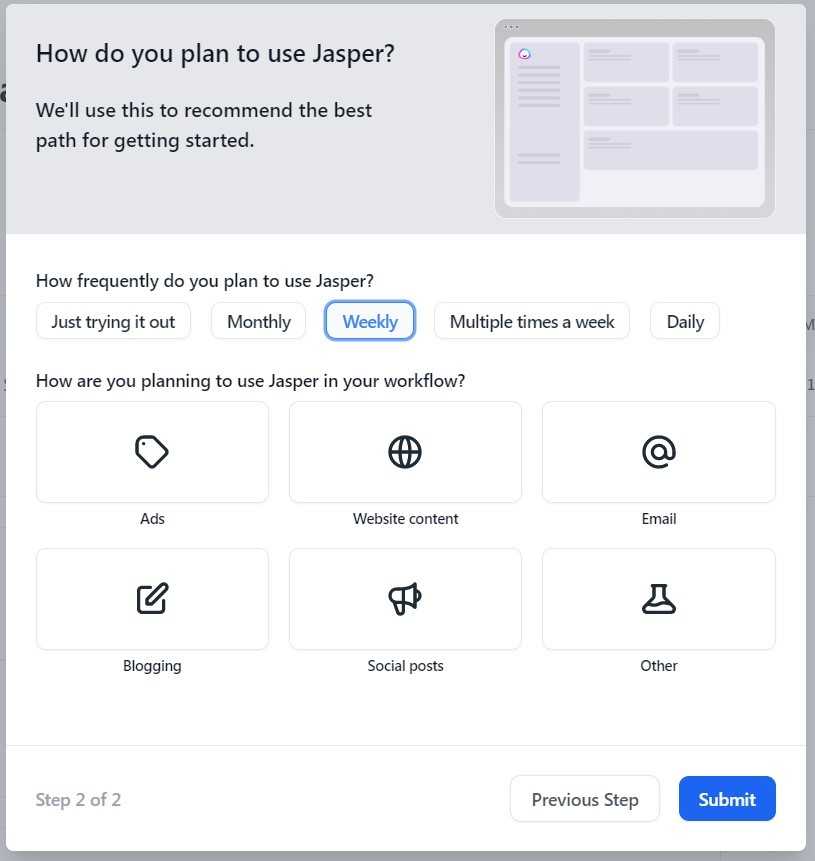 One may guess that this AI chatbot uses this information to adapt algorithms for creating answers and to create a smoother and better user experience.
The subscription model is based on a monthly payment. The trial version is free of charge. Then, based on the usage plan, subscription costs start from $39 and above.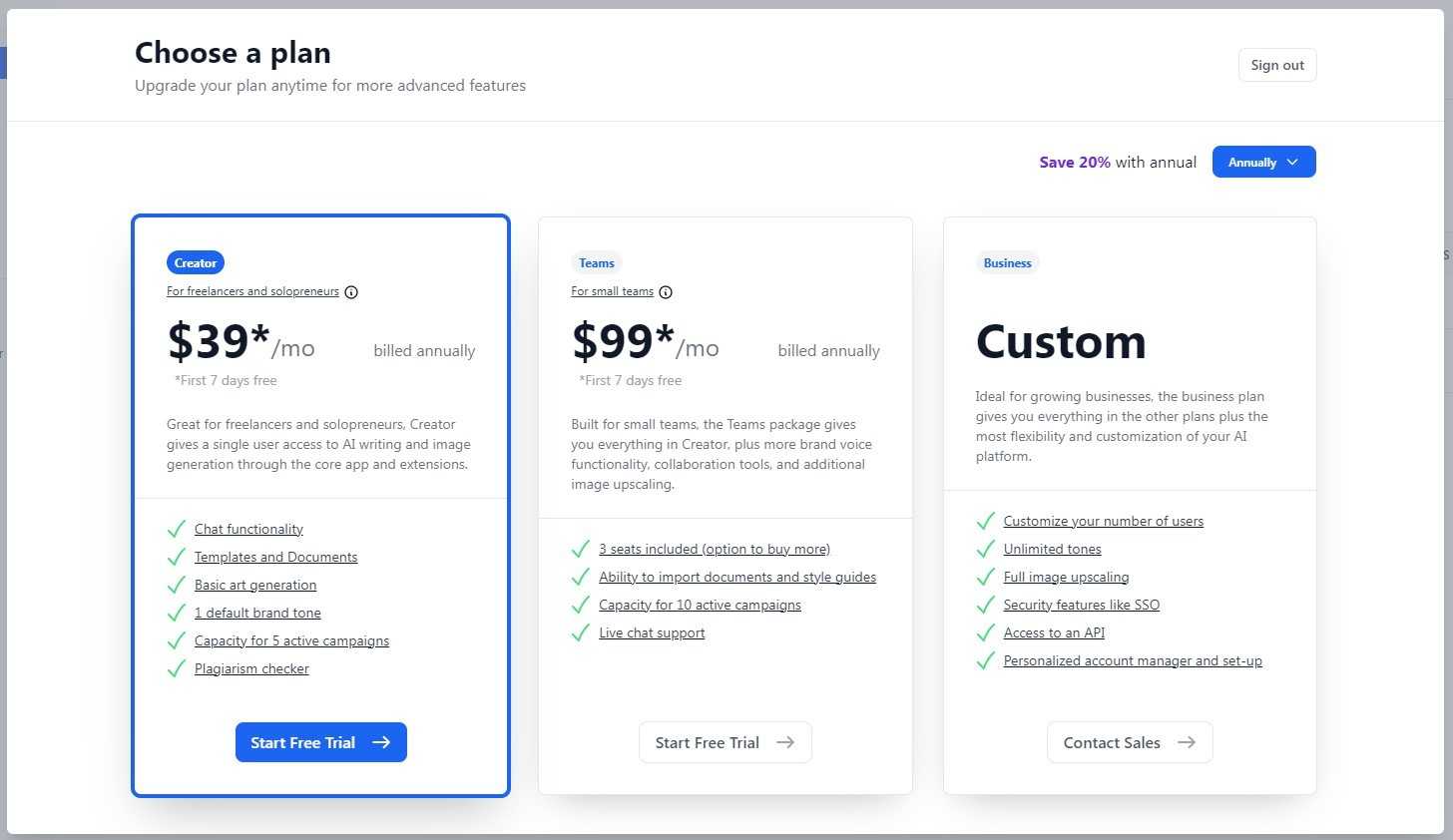 Google Bard AI is another option to use. Announced as experimental by Google and just opened up in March 2023 through a waitlist first (yet also mentioned that its development started in 2017), this chatbot is focused on code reading, code writing, and code troubleshooting. It is also able to solve math problems of different complexity. And it even works with images if you ask about tourists visiting places, for instance. Yet, primarily, Google Bard will help you learn to code or check your code for correctness. It is an excellent way to study IT in a personalized peer-to-peer dialogue.
At the same time, Bard is still a fresh feature with multiple drawbacks and flaws. Same as ChatGPT it may generate inaccurate information, and demonstrate slow performance, and its first version did not include sources used to get data for an answer.
Google has opened access to its chatbot just recently. Unfortunately, only visitors from a predefined country list will be able to test it.
Along with its Bard chatbot, Google is obviously applying AI and machine learning principles across its functionality. For example, Google Search has received AI support recently. Read here how Google generates a detailed answer to a search question and even immediately suggests buying a product. One can guess that Bard is not just limited to the code topic but may be closely linked to Google Search, too.
SEO specialists should definitely mind this trend. Google AI tools can be helpful for content generation, brainstorming blog post topics, code assistance, etc.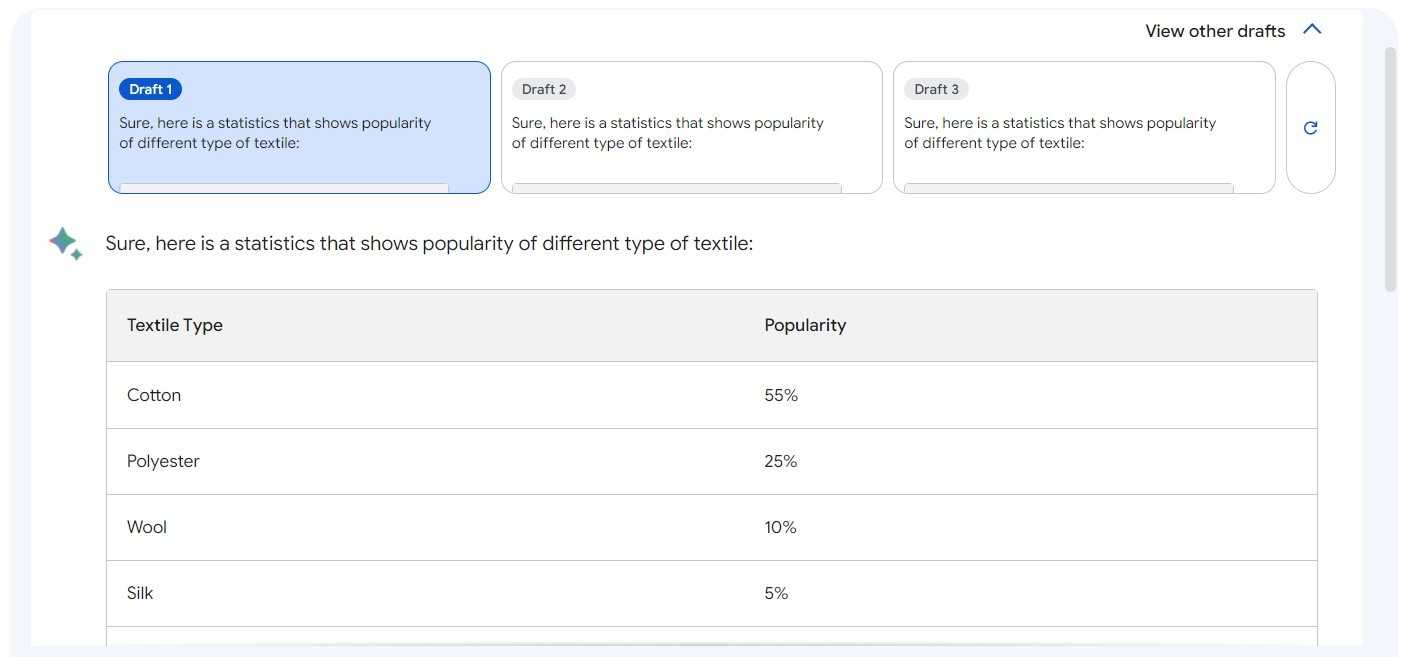 Writesonic is a chatbot intended to help with text writing only. It is a good tool to boost one's creativity when stuck with creating a post or inventing an impressive and grasping title for an article. For an SEO specialist, this AI tool will help with generating full-text articles, article titles (SEO-optimized and simple), generating article outlines, writing a blog intro, composing a conclusion, generating answers to a list of questions for Quora, bio for people, and companies, composing product descriptions, writing F.A.Q. section, creating SEO meta tags, generating keywords, and much more. For advertising specialists, Writesonic can be useful for generating ads for Google, LinkedIn, Facebook, and Amazon as well as application notifications. Marketing professionals will definitely enjoy the opportunity to generate texts for user notification emails, follow-ups, company mission, and social media posts.
Visit this page to find out more details on the pricing and usage opportunities of Writesonic.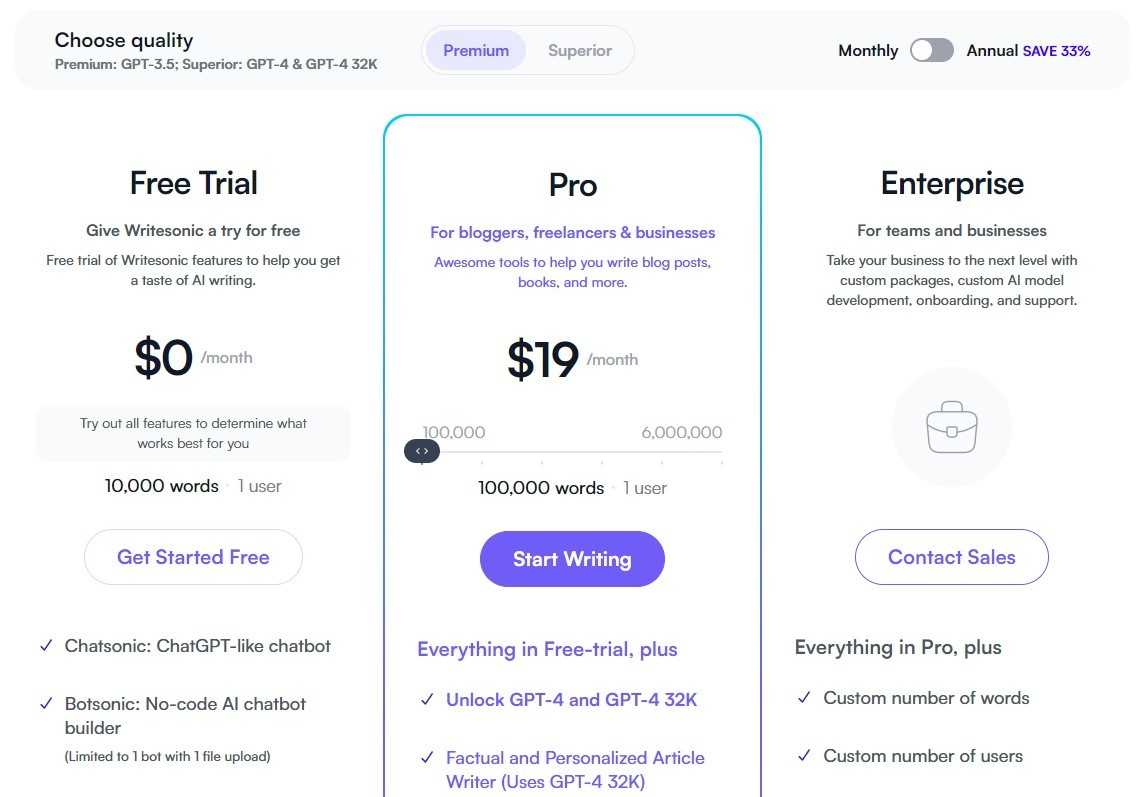 Here is an official manual from the chatbot owners on how to create an article getting AI assistance. Mind that Writesonic offers numerous different templates, and if you need to generate another type of content, such as a social media post or content for e-commerce, or text for your own chatbot, the steps will be the same but the template (first menu button choice) will be different: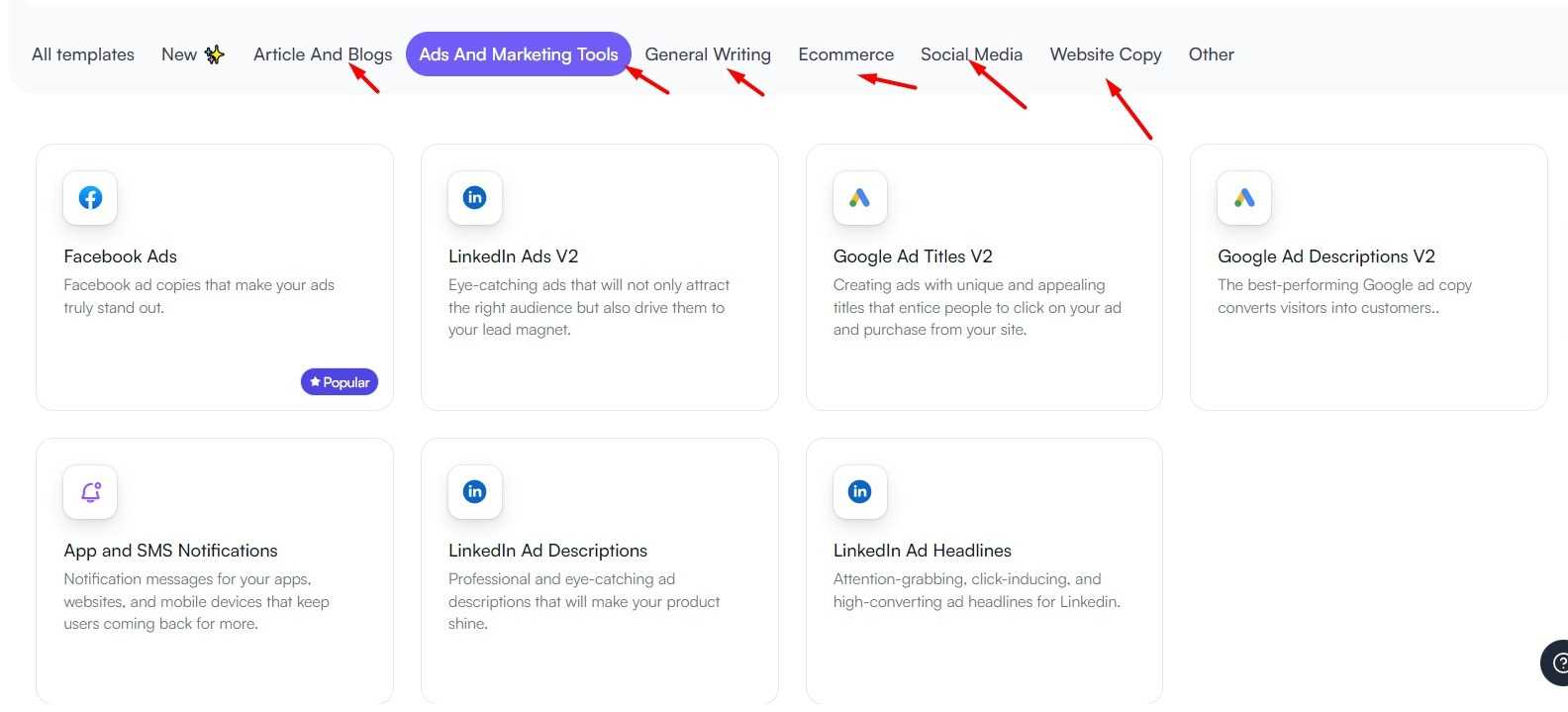 Follow the below steps to generate your first article with Writesonic:
Search the keywords;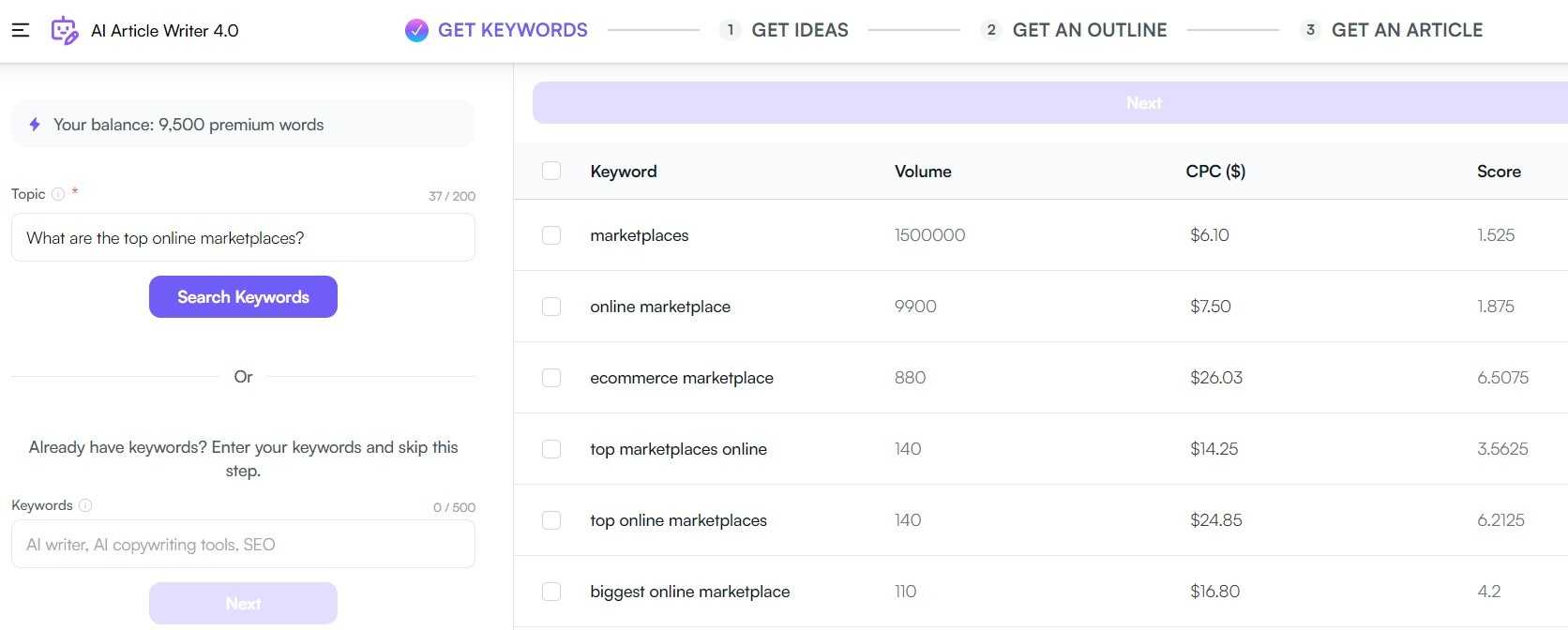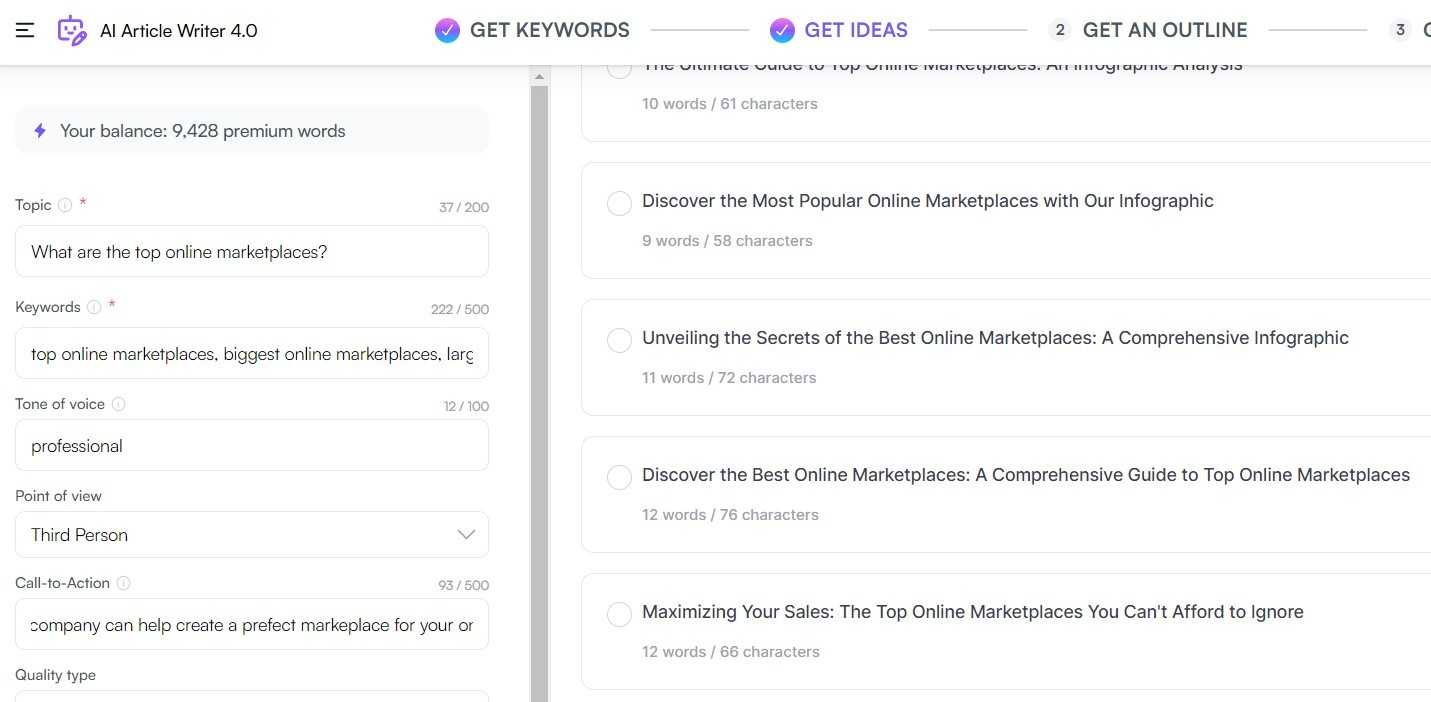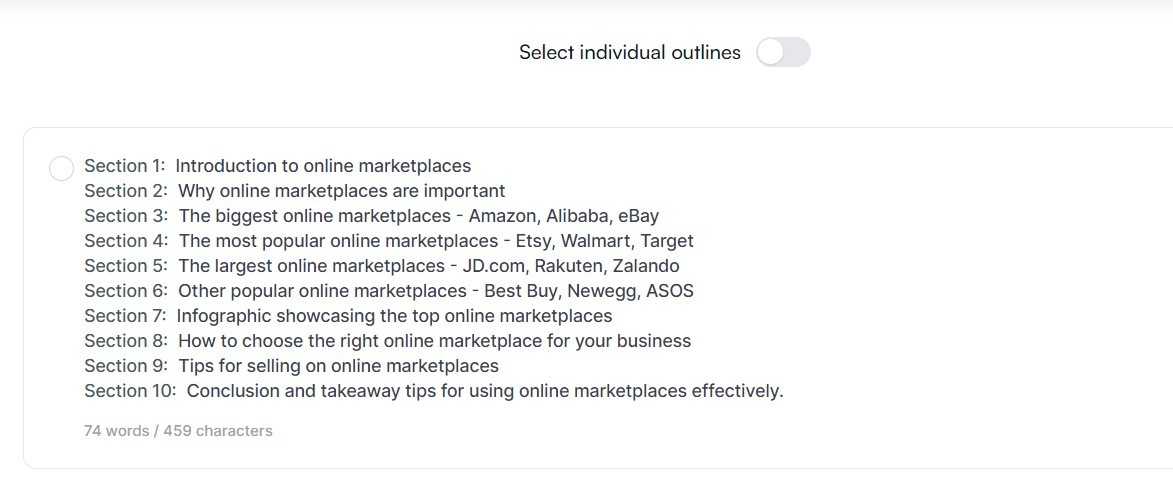 4. And, lastly, generate the resulting article.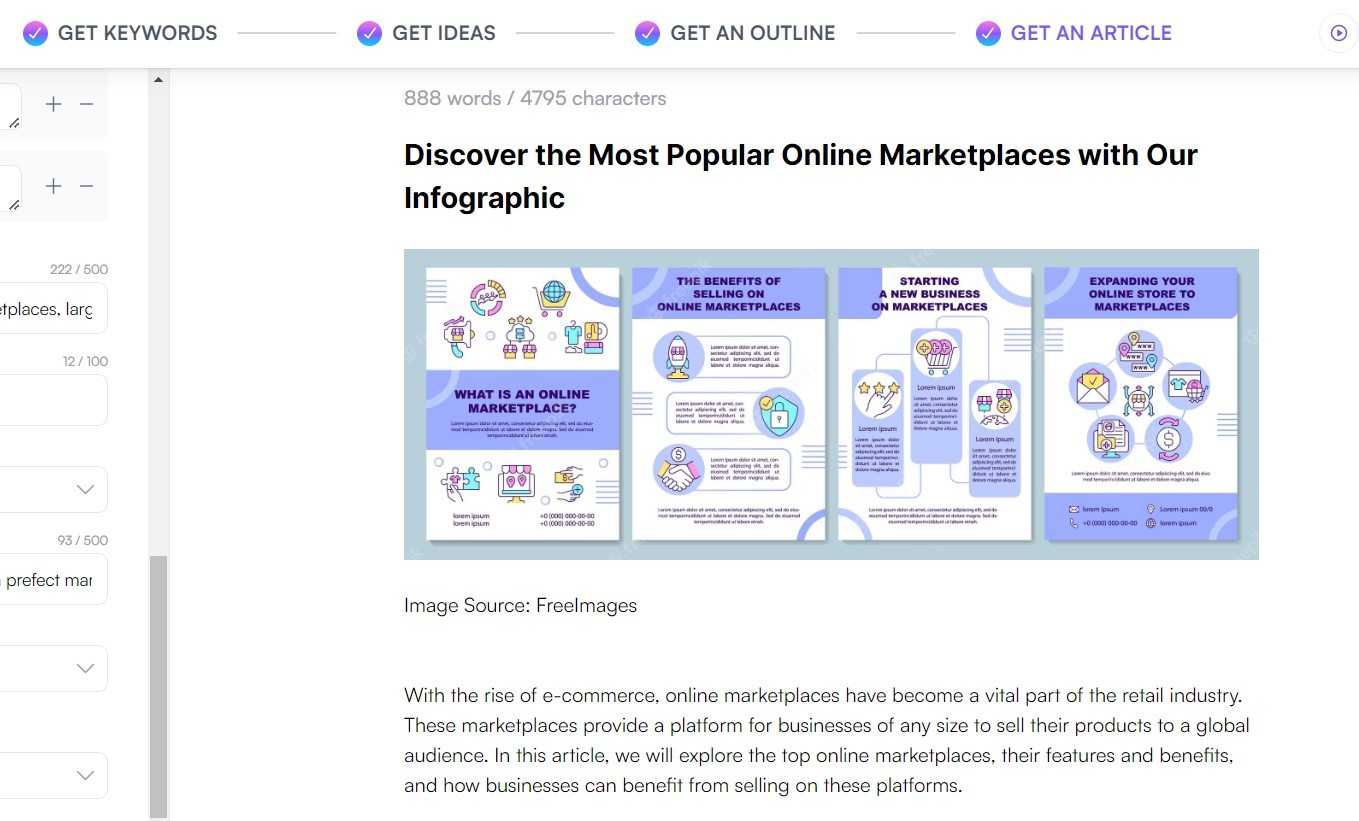 Notion AI is another chatbot that is capable of AI-based writing. This tool will help you write a text, generate ideas, edit and proofread content that you wrote yourself or copy-pasted somewhere, etc. One of the best features of Notion AI is that it can take notes for you, write meeting notes or help with other similar tasks in study and business activity. This is a very time-saving tool that will be equally useful to a student and an SEO specialist.
The following list of features of this chatbot can be something you were looking for in your day-to-day working activities: find action items, translate, explain something, improve writing, fix spelling and grammar, make the text shorter/longer, change the tone of writing, simplify language, ask AI to edit, brainstorm ideas, write a blog post, create an outline, write a social media post, prepare a press release, write a creative story, compose an essay. Languages supported are English, Korean, Chinese, Japanese, Spanish, Russian, French, Portuguese, German, Italian, Dutch, Indonesian, Filipino, and Vietnamese.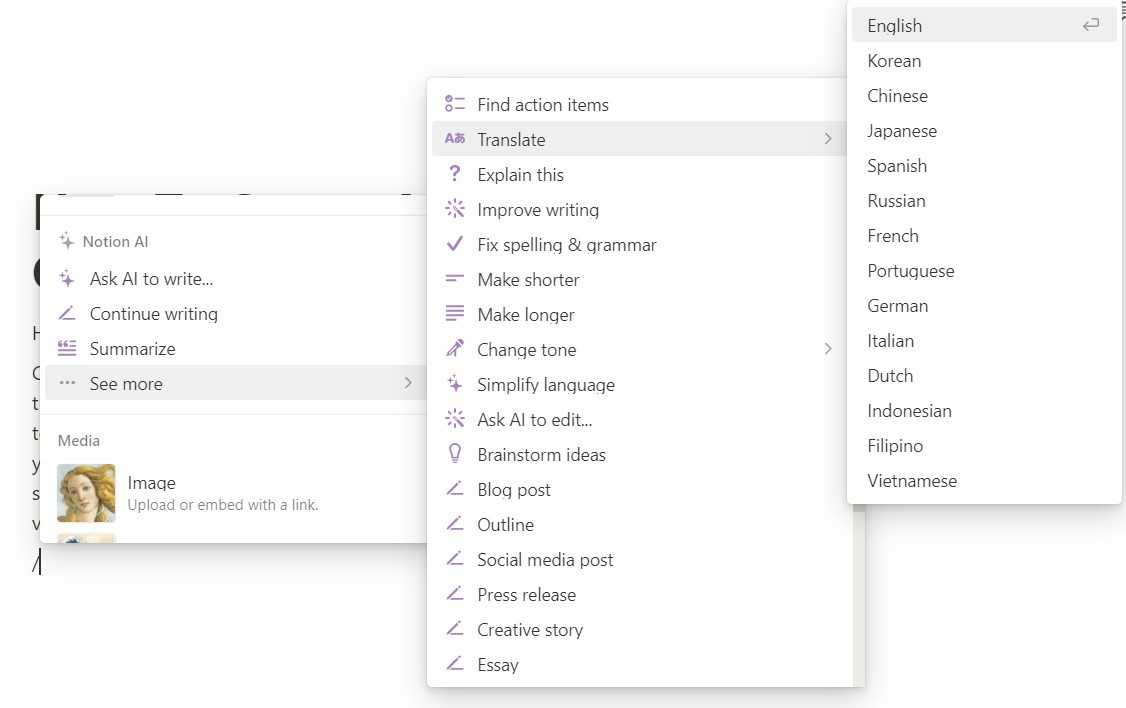 While the above looks more like a personal assistant feature, Notion AI will be extremely useful for SEO tasks. For example, it can generate SEO-optimized texts, help prepare content plans and implement planning, and much more.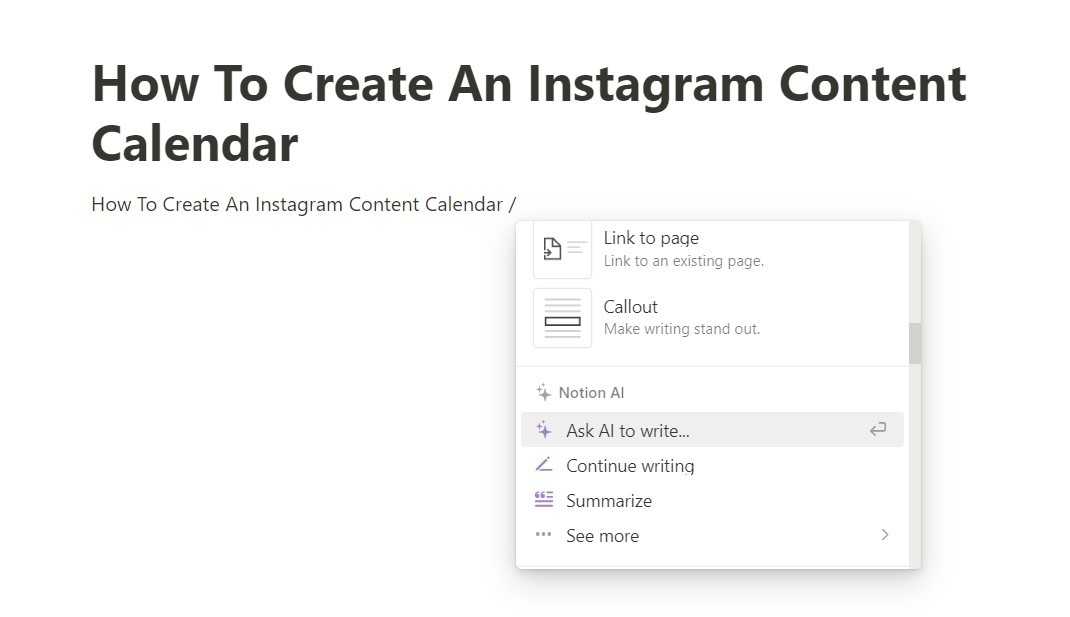 ChatBot is a customizable conversational chatbot belonging to a group of tools for the customer-facing e-com market. This plugin is a way for businesses to reduce costs from human-led customer support and automate interactions with the assistance of chatbots using AI. ChatBot's creators emphasize that the tool can be easily incorporated into existing workflows of your chats and be integrated with your existing social media channels. Drag-and-drop capabilities allow configuring the tool without writing a single line of code. Facebook integration allows outsourcing almost all related communication on your FB webpage to the virtual assistant. Some of the impressive features included are the reports section of the chatbot analyzing both the customer audience and their own interactions with them.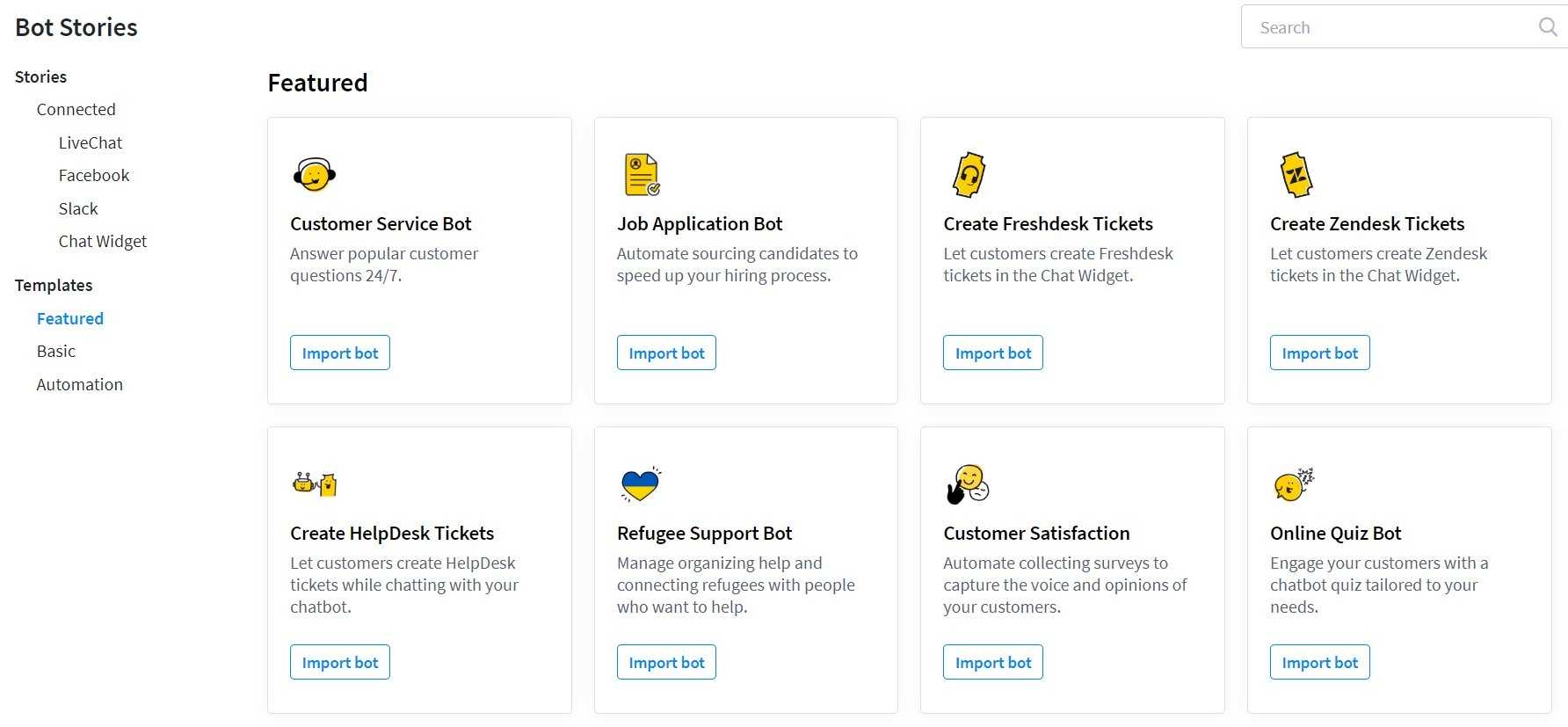 Similarly, Tidio+ is a tool to equip your e-com website with a live chatbot to automate your customer support. An interactive AI-based customer-service platform, this chatbot will be useful to create a smart (not just workflow-based but fully AI-equipped) chatbot to answer your customer requests and enable user-friendly F.A.Q. section, enable your marketing activities through dialogues smoothly, and retain your new and existing customers better. Tidio+ can be enabled both as a new chat solution on a website or be used in existing functionalities of social media platforms and your website engine. Design, customizations, and integrations are easily configurable by a non-technical person.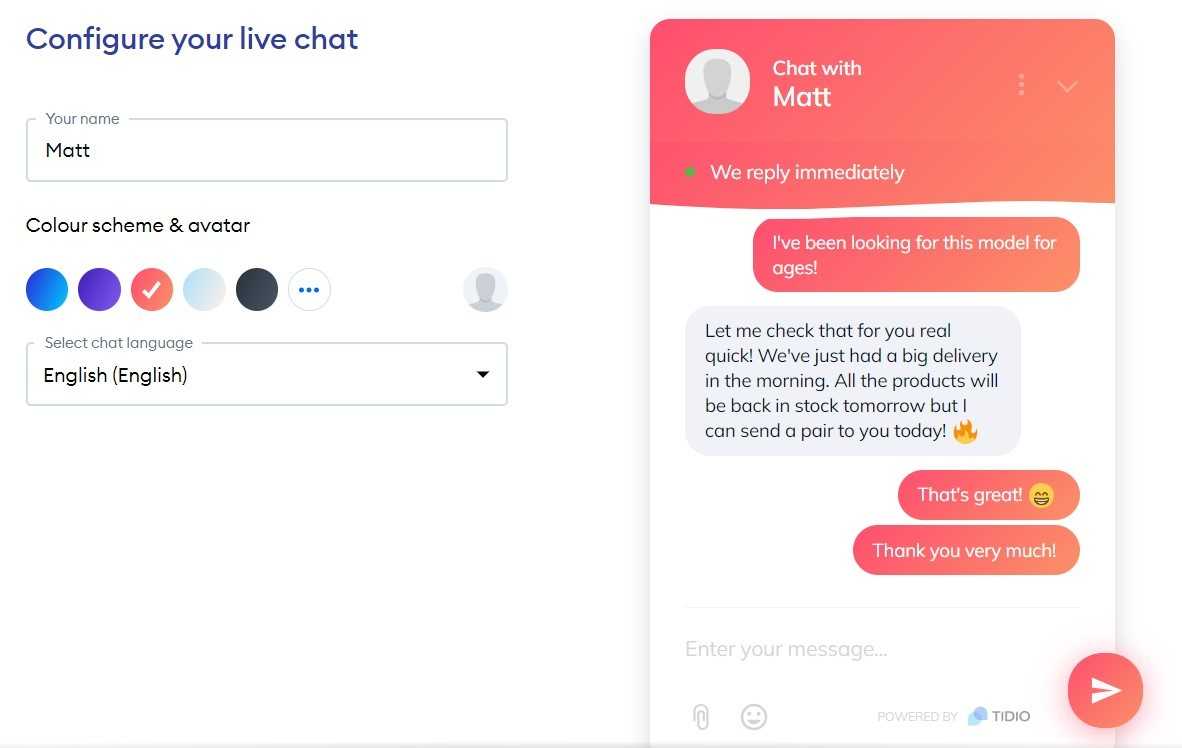 Some chatbots choose to focus on social media platforms instead. Thus, MobileMonkey is the AI assistance created for Facebook and Instagram exclusively. One can say that this application finds a perfect balance between having too many and too few features, in spite of the fact that it only serves two famous social media. First of all, MobileMonkey allows creating your own chatbots within Facebook and Instagram to serve your customers. These can be built to maintain dialogue or to be used as interactive F.A.Q. Secondly, the chatbot offers a so-called Chat Blaster that allows you to send a message to all or filtered categories of your Messenger contacts to enable informing or advertising. The inventors claim to have much higher open rates than classical marketing emails. Moreover, you can even set up a series of messages to work better. This is called a Drip Campaign. MobileMonkey is aware of Facebook's strict rules regarding promotional messages, so two types of campaigns are available: promotional and non-promotional ones. It can also help you set up Facebook ads and create Messenger ads directly in MobileMonkey. Another feature is called RSS Blaster, which allows sharing your website's RSS updates with your audience. You can create as many blasters as you need, splitting mailing lists per category of content.
To make all the above features work well, you will need to manage your contact lists wisely. One of the useful features this chatbot offers is called Comment Guard, which automatically adds people to your Messenger Contact list once they have commented on any of your posts.
In addition, MobileMonkey can assist you with establishing an integration connector for your account. Zapier and Webhook are two options currently supported.

Of course, other search engines could not help reacting to the popular trend set up by ChatGPT and Google. So, Bing released its chatbot, too. Access for testing the new AI was released in March 2023. Microsoft claimed to have it "more powerful than ChatGPT". Its primary goal is to make the user's search process more efficient and user-friendly.
Considering the features of Bing Chat, there is no separate webpage or application to talk to it, as it is fully integrated into the main Bing search engine. Yet, you don't need to build a specific style for the dialogue and formulate any usual search questions you did before. Examples of requests are:
What are the main pros and cons of the top 3 selling pet vacuums?

What are some meals I can make for my picky toddler who only eats orange-colored food?

Write a haiku about a flamingo living on another planet with the voice of space pirates.
The usage is currently limited to 10 questions per session and up to 120 chats per day.
Unfortunately, one of the main cons of Bing Chat is its inaccuracy. Same to ChatGPT, it may provide false citations or do assumptions about the information it failed to find. So, results can be inaccurate or fictitious.

What is the future of AI chatbots?
Definitely, chatbots using AI and machine learning will continue progressing and getting more sophisticated functionality. While most first-generation ones are focused on generating content and maintaining a high-quality dialogue with a human, next-generation chatbots will probably focus more on their niches and improve selected areas of assistance. We see that the category of personal assistance with hotel booking, flight search, and shopping is still underdeveloped. This might be another potential area of improvement. Overall, chatbots become ever more profound and popular across all professions and activities. One may expect that daily usage of AI-based assistance will very soon become our everyday reality.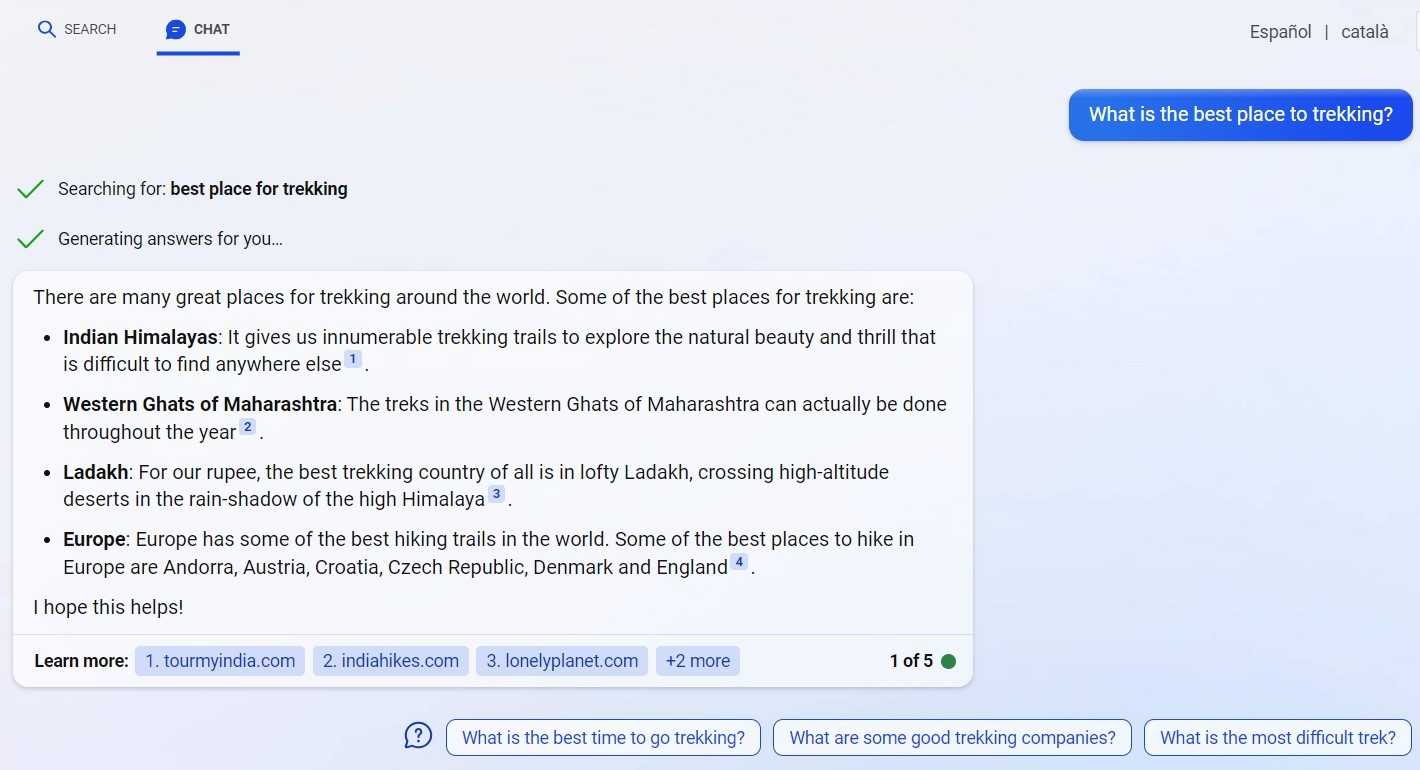 In this article, we have provided an overview of the best AI chatbots in 2023 and explained the ones that are similar to ChatGPT. The above comparison can be useful to realize what features are available and most needed for you, and which tool to use to benefit from such automation.
Artificial intelligence assistance is on the rise and the range of services offered and opportunities to automate business and SEO activities increase continuously. We highly recommend considering using AI-powered chatbots for customer service and customer-facing interactions, brand promotion as well as improving customer experience related to F.A.Q., product reviews, and e-commerce ordering process. Contemporary users expect reduced latency in request-response timing, and the cheapest way to achieve it is automation.
For SEO specialists, AI chatbots available online are a good way to optimize their learning process and experience exchange.
If you will continue monitoring the latest chatbot updates and new releases, you will definitely find the best combination of price and quality of artificial intelligence assistance most suitable for your current professional needs.