What is LSI and how to use it? We'll discuss it in today's article.
In SEO, Text is an Important Part of a Website
Search engine analyzes websites' text content to determine to what extent a particular page matches a user's search query. In other words, it looks up how relevant the page is. Relevance has the greatest impact on the site's rankings, so optimizers pay special attention to texts.
At the same time, you have to ensure texts aren't stuffed with keywords, as any search engine will quickly ban the website for this. We've already discussed the consequences of spam in texts.
To break free from spam, understand how search engines analyze keywords and divide all the words into specific groups by topics, establishing underlying links between them – by using Latent Semantic Index (LSI).

This method has been a hot topic in SEO circles for the past few years.
In this article, we will examine what LSI is and how we use it to create texts that are both effective for promotion and safe in terms of search filters.
We've also put together recommendations for creating effective texts: you can use them to supervise the quality of your (or contractor's) content.
Search engines are improving. Now, they strive to provide the most useful content at the top of the search results page. Which means, the content that solves the user's problem and doesn't just contain keywords.
Here is a popular example: if you enter the query "buy jogging equipment", the search engine will easily understand that the user wants to find sports equipment for jogging. The relevant pages will be displayed in the search results. However, the keyword "equipment" may not even be used on them – instead, there may be words like "gear", "apparel", etc.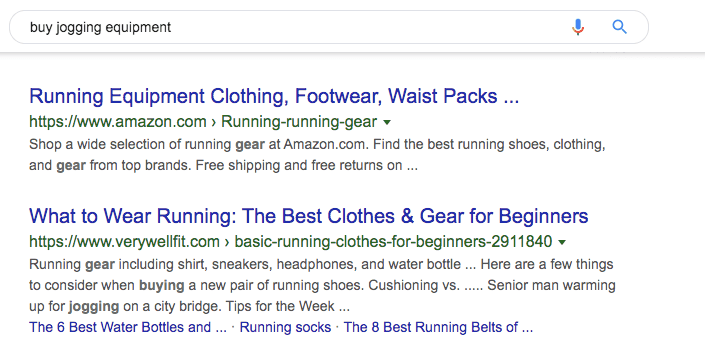 Thanks to the LSI algorithm, the search engine can recognize words that are close in meaning.
As you can see from the example, the LSI algorithm includes the words "jogging" and "running" in one thematic group. Therefore, search queries featuring one word will include results featuring another.
From our experience: search engines prefer texts with thematic words (LSI-phrases). They believe that such texts give the most complete answers to users' requests. In SEO, these texts are called LSI texts. They are considered the most effective in terms of search engine promotion.
We have gathered the main features that should be considered when creating an effective text.
We recommend: LSI text

We don't recommend: SEO text

Keywords

Go along with synonyms, prepositions

Exact-match

Goal

Maximum benefit for the reader

Inflated relevance for higher rankings

Example

BMW Dealership in Austin, TX

We have a large assortment of current BMW cars in our lineup. Contact us for details concerning the prices, availability, and the details regarding the terms of purchase.

Buy BMW in Austin, Texas

Many people want to buy BMW in Austin, Texas for cheap. It's easy to do. Contact out BMW Dealership, the price will pleasantly surprise you.
To turn a regular SEO text into an effective LSI one, you need to:
Remove all the "empty" sentences that contain no useful information (like "It's easy to do...", etc.);
Use keywords along with other words, so that your ads sound more natural (for instance, you can break down "BMW dealership, the price" into two sentences);
Add thematic words and phrases ("lineup, purchase").
To fulfill the first two points, ask two questions for every sentence you write: "Does it offer useful information?" and "Do we talk like that in real life?'. If both answers are "Yes", the sentence can be a part of an LSI text.
The third point we'll analyze in more detail.
How to Pick Expressions for an LSI Text?
The simplest and most obvious source of LSI phrases is suggestion made by the search engine. But this method requires a lot of time to process each query, therefore it is not applicable in most cases.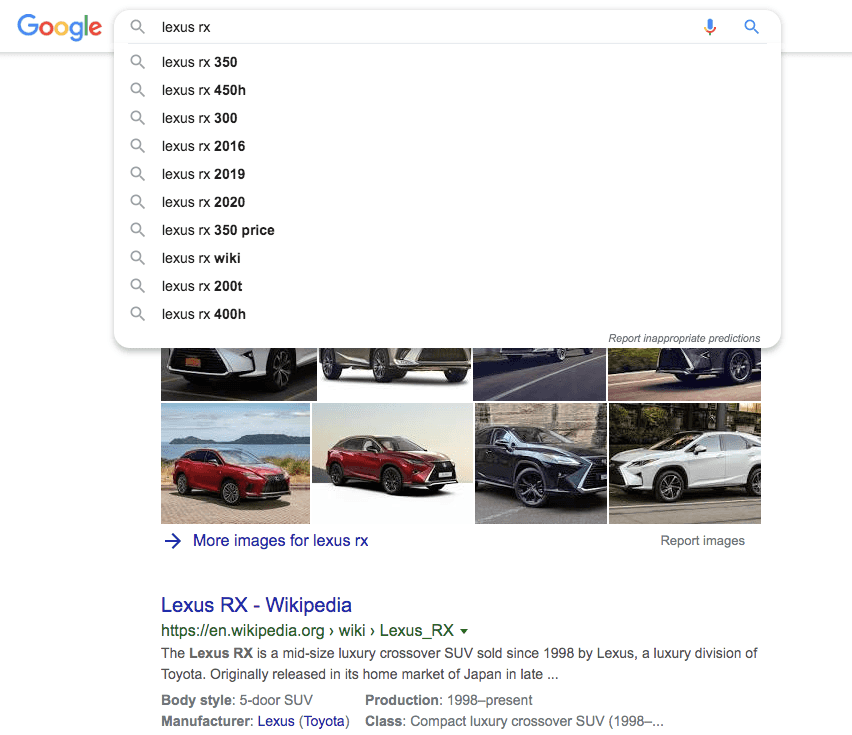 The websites we work with usually have large numbers of promoted queries: 500 and up. And more than 20 promoted pages. Therefore, we use professional services to assemble the LSI keyword lists. You can find many tools online, but here are the simplest and most convenient:
Keys4up
Twinword Ideas LSI Graph
LSI Graph
Niche Laboratory
Semantic Link
LSI Keywords
Ultimate Keyword Hunter
PixelTools
Answer The Public
Keyword Tool
KWFinder
For our everyday assignments, we prefer PixelTools. It selects a larger number of different phrases and has a more convenient interface compared to other services. It also has additional tools for effective analysis of the final text.
We pick thematic phrases and put together a clear assignment for one of our copywriters.
Let's look at the actual process of creating a task step-by-step:
The text will be posted on the Lexus LX 570 page on the website of the official dealer in France.
Step 1: define the queries.
Between twenty and eighty search queries lead to every promoted page of a website. From the entire list we select priority queries: the ones that are more frequent or bring conversion. For example, for car dealership sites, these are queries that include "authorized dealer". The remaining queries we divided into groups and create compound queries.

Step 2: select thematic LSI phrases.
Next, load the resulting shortened list of search queries to PixelTools, select the location, click the "Process" button.
The LSI phrases we need are in the two right-hand columns. We copy both columns and clean the words that don't fit the logic of the text. For example, for the text of an auto dealer from Paris, the words "Lyon" or "Nantes" will definitely not work.
Step 3: put the assignment together.
The information obtained during processing is formed into an assignment. LSI queries are marked as recommended for use. Indicate the technical requirements for the text, and prepare the final assignment for the copywriter.
LSI Requirements Are Important
Such texts require more time and more money, but without them it is impossible to increase your rankings.