When your ideas for SEO are exhausted and traditional strategies do not work, remember that you can use known platforms' ranking for your benefit. One of the ways to do so is by posting visuals on Pinterest and getting an advantage from their indexation which indirectly promotes your website, too.
SEO tips for Pinterest include hints for user's profile creation and updating with the keywords, finding relevant keywords within the platform, managing correct sizes, formats, and resolutions of the visuals, pins creating, boards sorting, launching Pinterest ads, and some more.
How to use Pinterest for SEO? What are the tips and tricks for using this platform? What is the true Pinterest SEO value? These and more questions will be discussed in this article while giving practical advice on how to create and correctly set up a Pinterest profile and how to publish the most beneficial posts from an SEO perspective. Try to include Pinterest activity around your website into your SEO strategy 2023.
Find relevant keywords

Add keywords

Use the correct sizes, format, and resolution for your images

Sort your boards and visuals by priority/trends

Launch Pinterest Ads
What Is Pinterest and How It Relates to SEO
Pinterest is another social media platform that exists since 2009. Today, it hosts 450 million global monthly active users which regularly share their visuals and creative ideas in the form of tagged and categorized/grouped images. The main goal of Pinterest is to inspire its users. It contains design photographs, receipts, musical notes, quotes, beauty and travel images, lifestyle tips, stylish combinations, creative visuals, and whatnot. Pinterest is heavily associated with visual aesthetics.
Visual content on Pinterest includes images, videos, and products. The platform is organized via the so-called Boards and Pins. Boards are collections of visuals. They are tagged and searchable via Pinterest keywords. Pins are bookmarks that the platform users use to save beloved visuals on Pinterest. Pins are a way to navigate because clicking on a pin leads you to the website of the visual's owner who either informs you how to do what you liked or offers an opportunity to buy it. In addition, the pin is a way to save somebody else's bookmark. Click on a red button of another Pinterest user's pin to save it to one of your boards.
From an SEO perspective, Pinterest is an indirect way to increase your website's ranking. While it is not fully obvious how exactly SEO works within the platform as the mechanisms are hidden, one can list the following advantages for a business:
Pinterest webpages can be ranked really high in Google and get into the top displayed SERP. So, this platform is important for any business that deals with visuals or that can produce visuals naturally.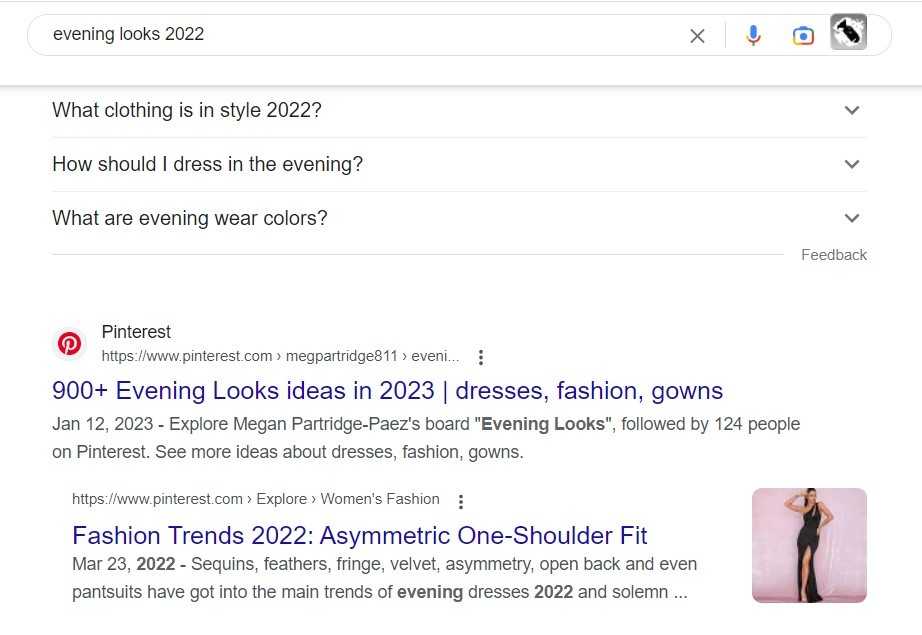 Pinterest visitors can be effectively forwarded to their own website. If such traffic will be natural and targets the interested audience, this will positively affect website behavior patterns. For example, Pinterest visitors whose search intent overlaps with the website's specifics will help to decrease the average bounce rate of your website, increase the average session duration, and, of course, increase the conversion rate.
Unfortunately, there is no stable Pinterest SEO guide that remains actual over time
Again and again, we remind you that SEO practices can be implemented routinely or you can do SEO as a business philosophy. It means that your business is a multidimensional activity, and Pinterest social media platform is not just another way to mechanically add more links to your website. Rather, it is a way to communicate with your potential buyers more effectively, find their communities, understand their sources of inspiration, and after having done Pinterest SEO research, link your products or services right to the search intent of the new audience.
How To Optimize Your Pinterest Profile
Here are some tips on how to create an optimized Pinterest user profile from scratch or how to SEO-optimize an existing one. The recommendations contain Pinterest SEO best practices, which cumulatively increase your chances of being ranked higher. So, let's start with profile creation and setup first:
Step 1. If you don't have a Pinterest profile, you should create one. While registering, create a business profile specifically. If you already have a personal profile, convert it into a business profile.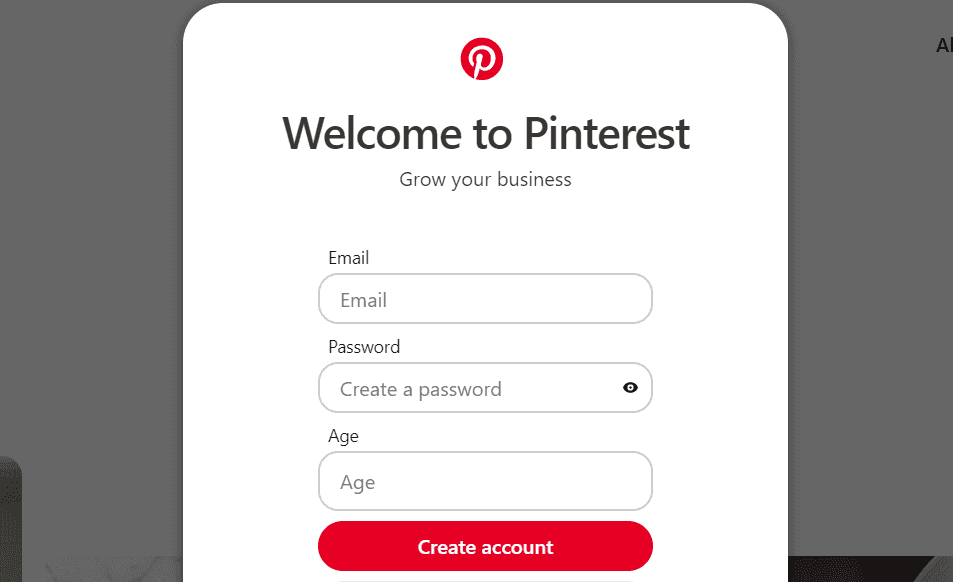 Step 2a. Create a profile title and profile description, which create a context for your board and pins. Mind that this is your first contact with your audience. Be concise and to the point about your business; use natural language. Use full word count as well as keywords. Make it branded.
HINT: When creating your business profile, it is recommended to include the type and goals of your business for easier verification of your account.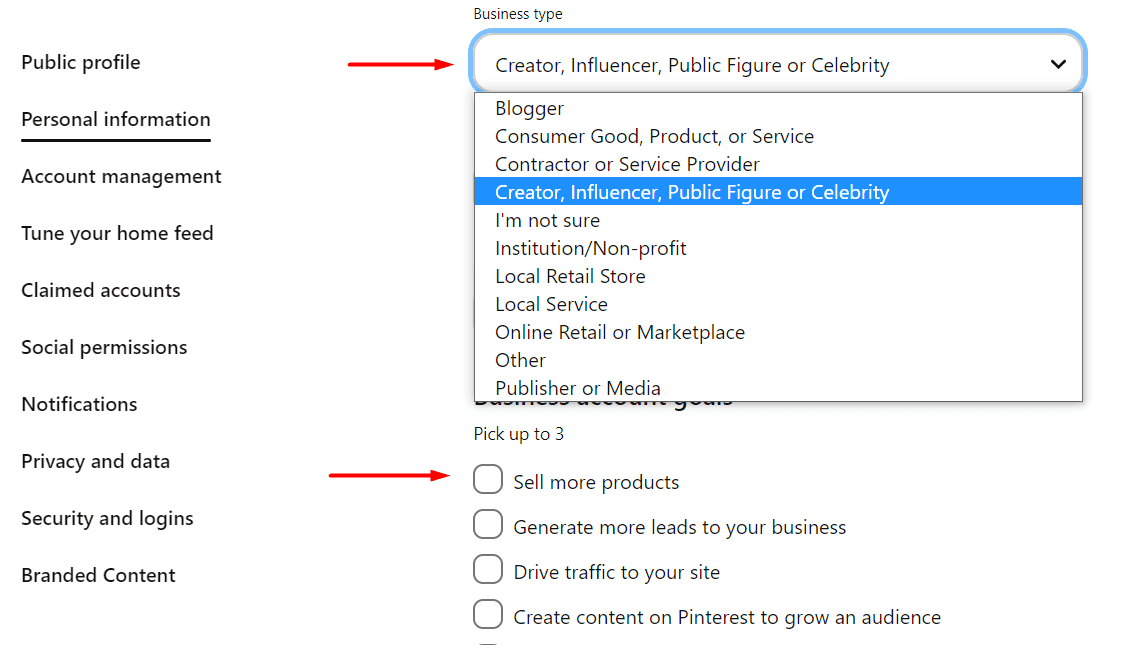 Step 2b. Claim your account by confirming your website's ownership. This is possible by navigating to Claimed Accounts section.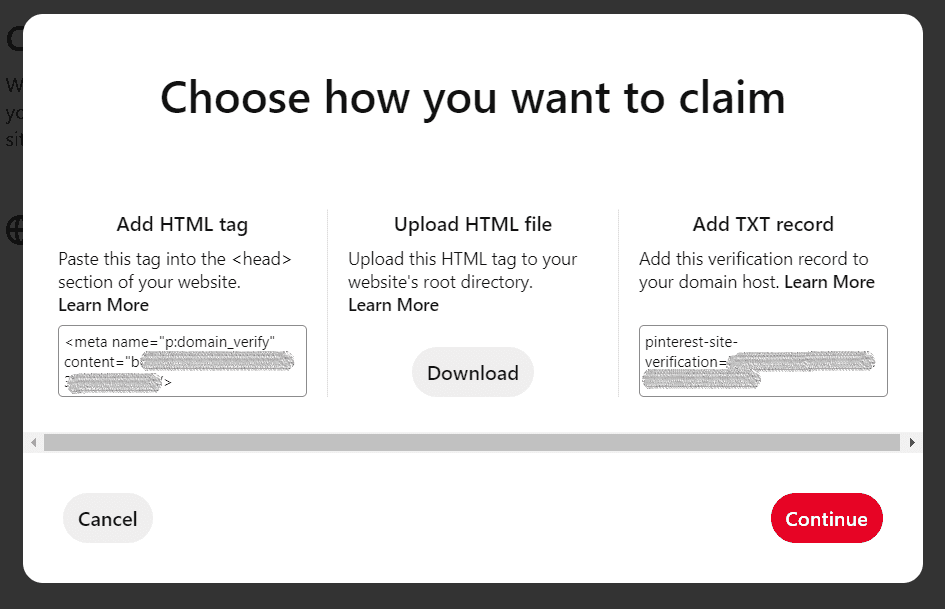 Step 3. Add your website link and your main email to the profile.

Step 4. Add your logo as your profile avatar. This is especially important if you own a shop - add your shop's logo to be associated with your brand.

Step 5. Create your first board(s).

Step 6. Create your first pin(s).
Here is an example of a well-created and optimized Pinterest profile shown below.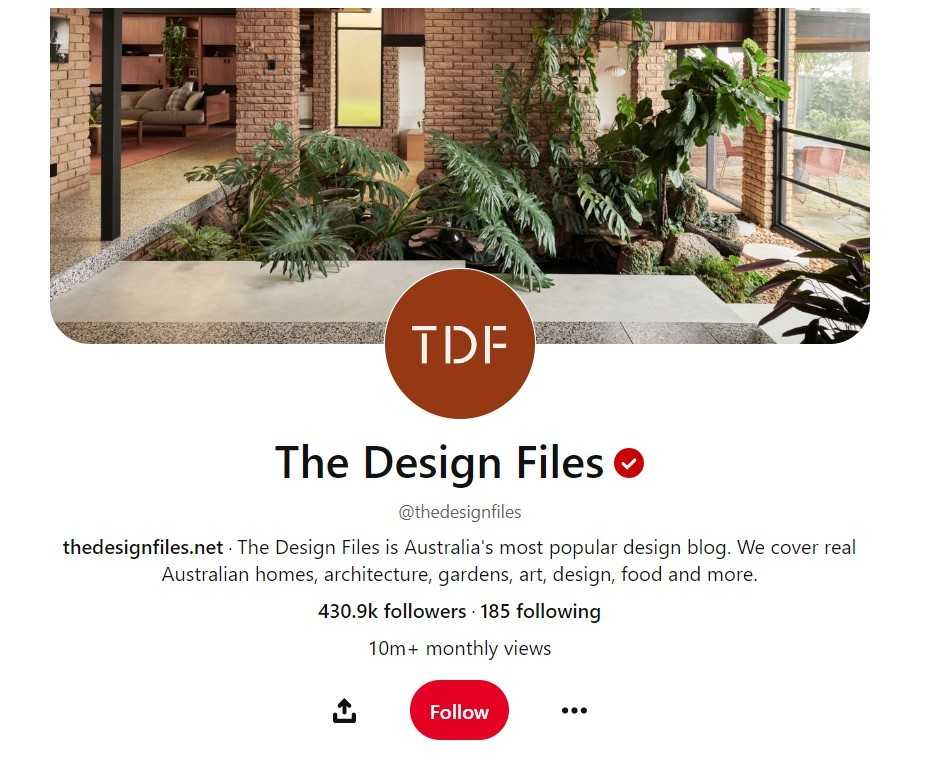 To create a board on Pinterest, follow the steps outlined below:
Create the board's title. This entails 2-3 words describing the board, including your relevant keywords. You are limited to 100 symbols here. It is highly recommended to keep all boards' titles worded following the same style.
See some impressive board samples below. However, this business can significantly improve its Pinterest ranking just by adding some details to its boards' titles. For example, Kids Room Ideas instead of just Kids, which means making longer and more detailed titles that include keywords.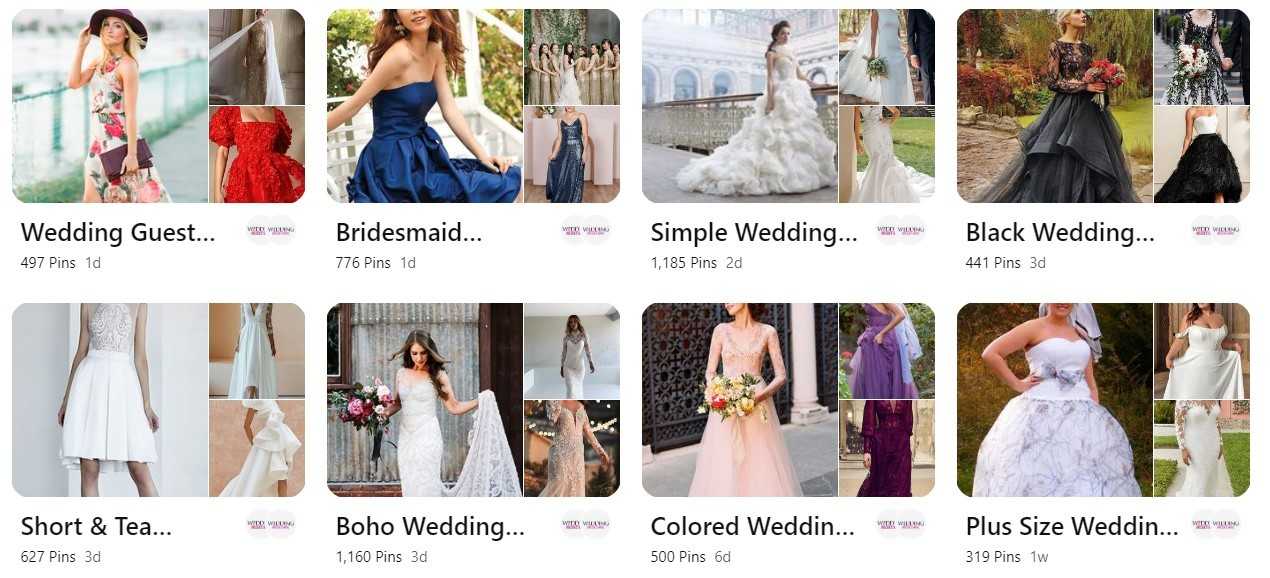 Create a board description. This field allows entering 500 symbols only. Use as many keywords as only possible but it is desired that the resulting text is readable for the organic visitor and uses natural language. After you have created your board, Pinterest will suggest the most popular keywords that are related - use them in your description. This means coming back and editing your board based on recommendations received on the next (confirmation) step.
Just have a look at what IKEA's board description looks like (below). It's a good example of good formatting.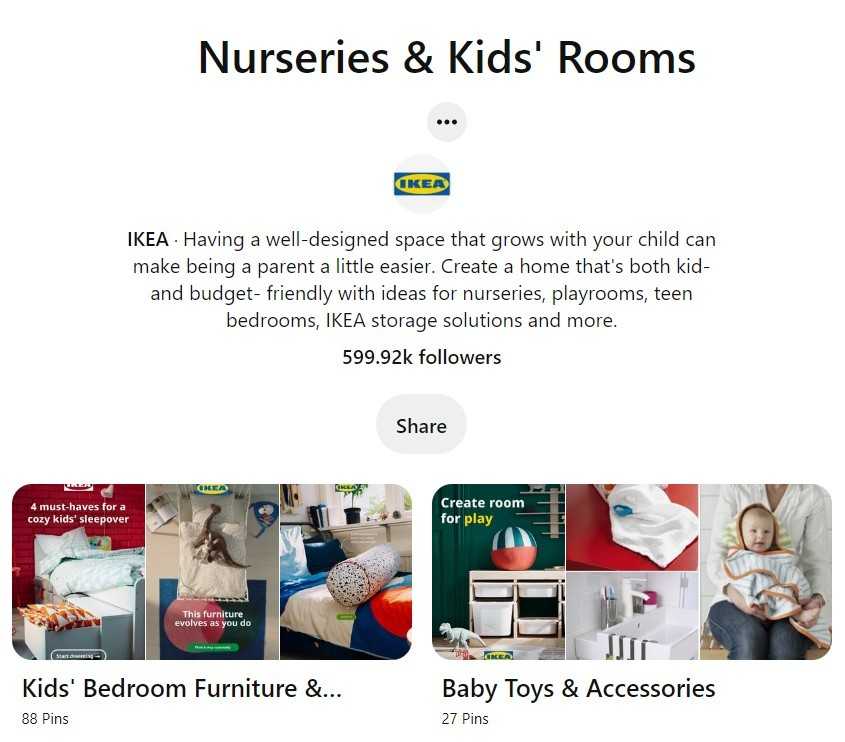 Multiply your boards. If you have a shop, create at least five boards, so that your Pinterest webpage could look like a ready showcase. Mind creating narrow-niche boards to attract your audience. Specific market segments of your target audience will most probably be interested to search for long-tail search phrases, which means having specific boards will match their search intent for sure.

Mind product groups within your boards. Based on the visual culture within the Pinterest platform, you should split your products by categories (for example, evening dresses, summer dresses, etc.) and colors (for instance, khaki-color clothes, and beige clothing).
Here are some fashion-topic board references shown below. Pay attention to how the wedding dresses are grouped to get more visits from the interested audience.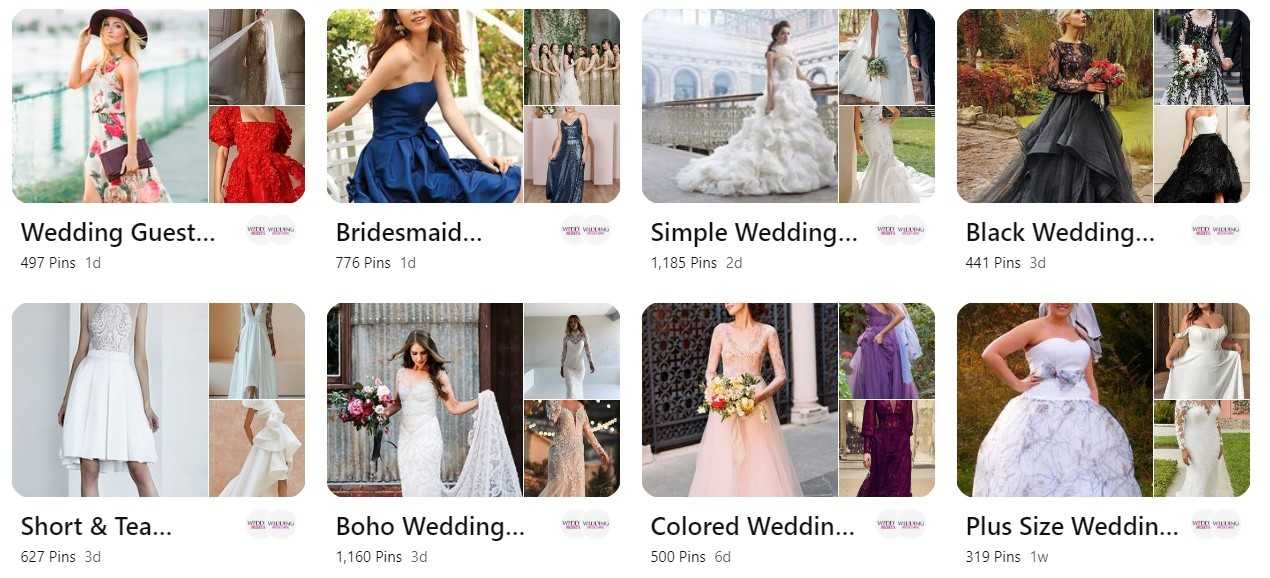 To create pins, follow the below recommendations and remember your limitations:
Title: 100 symbols max. Use keywords.

Description: 500 symbols max. Use keywords.

Recommendation: add your website's link to each pin.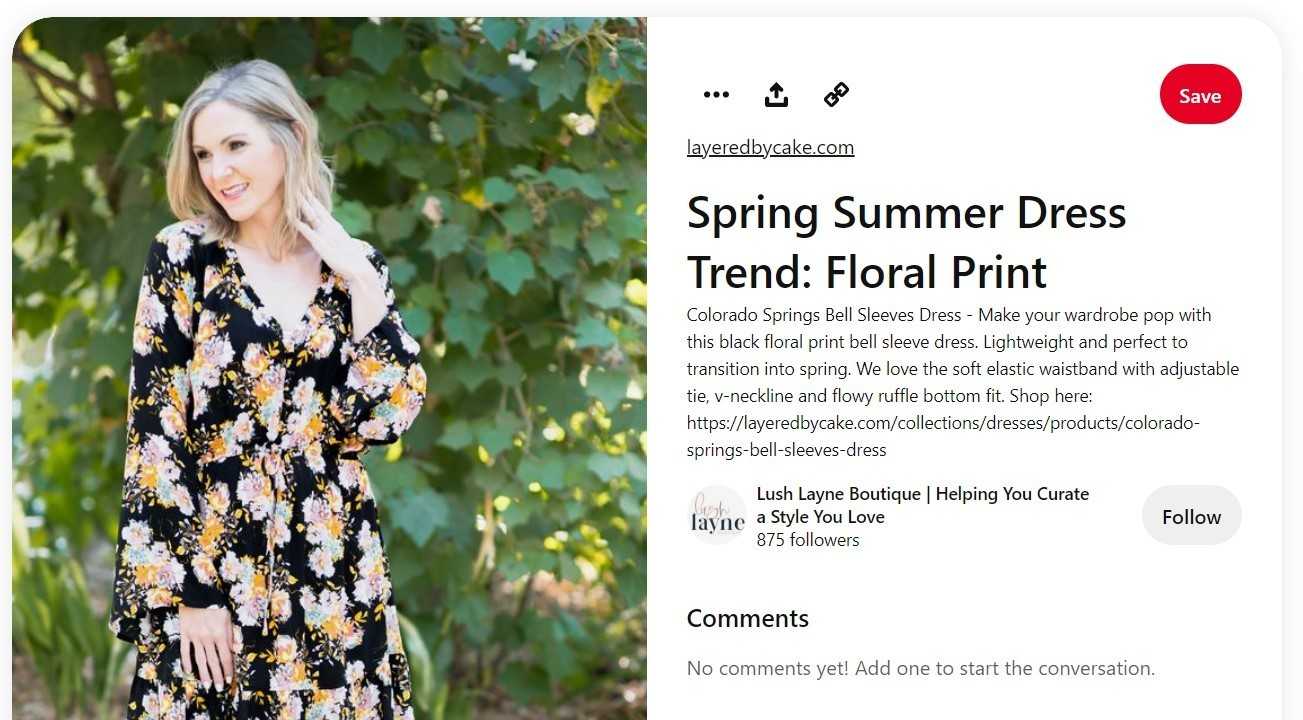 Generate idea pins to make them grasp attention. Be creative. Follow the same principles as ones valid for Instagram stories. You can create some photoshopped text right on the visuals, too.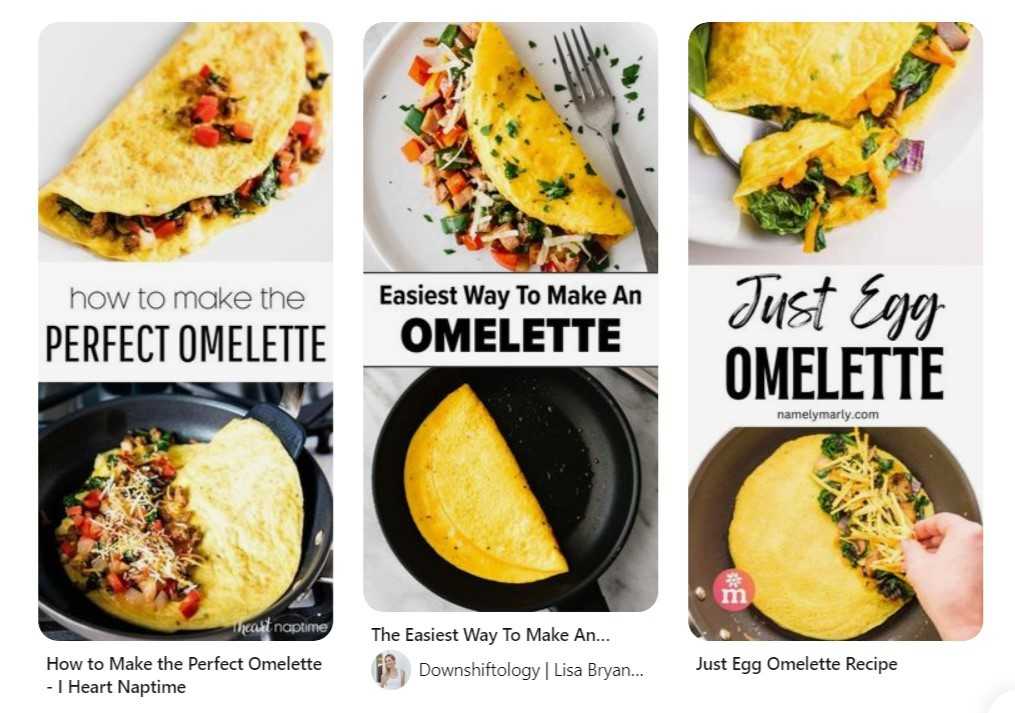 Don't forget to include a call for action on each pin to make the visitor click on it, increasing your conversion.

Use hashtags. You can apply up to 20 hashtags for each pin description. The best option is to use 5-7 for a small account. Now, hashtags do not affect ranking anymore. So, don't invest too much effort here. They are not clickable now and may look like spam. However, if your hashtags are catching users' attention, add them.
So, Pinterest optimization, as you can see, starts from the profile and ends up with hard everyday work. Yet, Pinterest SEO traffic secrets lie in details, good analysis, and regularity

How to Create Pinterest Posts Which Generate Traffic
Of course, after the profile is created, the main question is how to drive traffic from Pinterest. As with any webpage creation, research and analysis are needed before starting to prepare the content. So, the first step is to find the correct Pinterest keywords. Then, upload your visuals, create your boards, and add your rich pins to Pinterest while minding adding the keywords, having the correct sizes and formats of your images, and following some of the principle hints provided below. When getting up to speed, mind creating a content plan for the next period, month, or quarter, following the content plan creation steps we discussed before.
Find relevant keywords
Before you start keyword analysis of your website for Pinterest presence, check if your SERP analysis results are still actual. How to perform SERP analysis, we explained here sometime before. Your Pinterest keyword research, thus, starts with traditional keyword research.
To identify Pinterest keywords that match your website keywords, use its native search functionality. In the search field, insert a keyword related to your business activity and check the suggestions offered in the drop-down list. These are keywords searched by Pinterest users most frequently as well as boards whose titles include the searched word and accounts containing the same. The drop-down list of keywords is sorted descending by search popularity on the platform.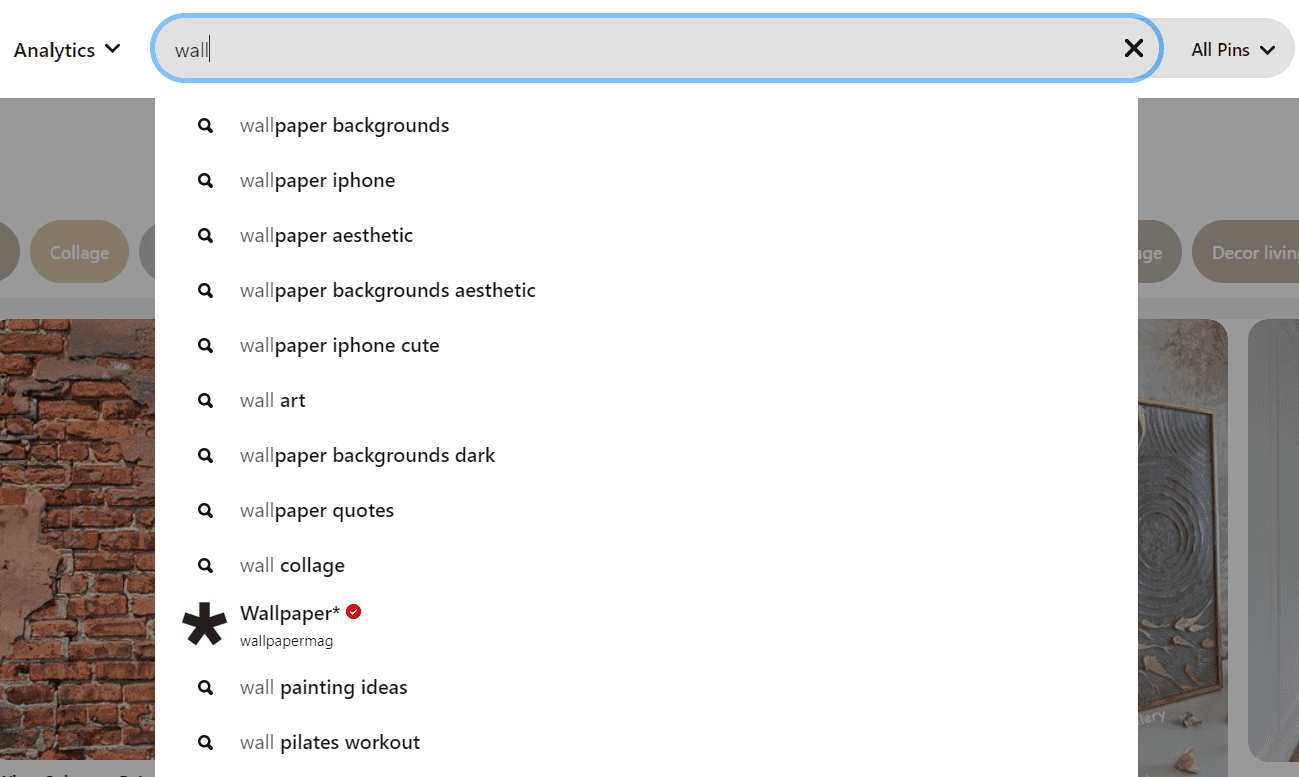 If you press "enter" for your search phrase, Pinterest will display all search results on the search results page, with the same sorting principle. This will allow you to find all keywords suiting your query.
Experiment with wording and you will quickly understand how to find more Pinterest keywords to work with. Save all your findings in a separate Excel sheet for subsequent analysis.
And in the colored tag placeholders, you will see additional keywords entered for search by Pinterest users. If you click on any of those, you will continue drilling down for extra searches.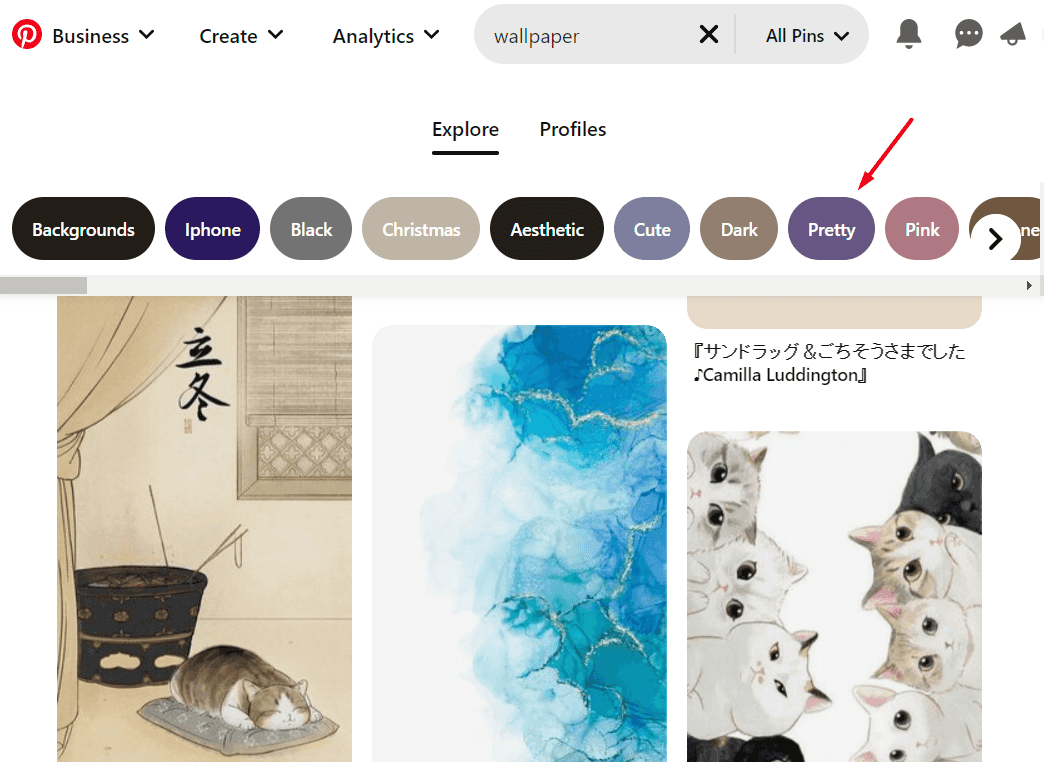 Note: You cannot check the frequency of keywords within Pinterest. You can only analyze the frequency of the same keywords in Google search for Pinterest but this data is not reliable at all. Alternatively, you can use approximate data from the Pinterest Ads cabinet.
As to external Pinterest keyword research tools, there exist some, including free ones. PinInspector and KeySearch are some of the available options.

Add keywords
Keyword usage is how Pinterest can potentially grow site traffic for you. Create a list of keywords that your existing and/or potential customer applies to search for required information. Then, insert these keywords into:
Your Pinterest profile title and description;

Your Pinterest boards' titles and descriptions;

Titles and descriptions of your Pinterest pins.
Advice 1: Based on an analysis of 30,000 Pinterest accounts, the best time to post something on this social media platform is between 8 PM and 9 PM.
Advice 2: If your Pinterest account is fresh and just registered, you can start posting 1-5 pins per day. Don't post more as you will be considered a spammer by the platform's automated checks, and the ranking will fall. If you have an old and popular Pinterest account with history and multiple visits as well as a large website, you can post about 25 pins on a daily basis.
Use the correct sizes, format, and resolution for your images
The best Pinterest pin size, recommended by Pinterest, is 1000 × 1500 pixels. You can, however, also opt for 600 × 900 pixels, 1200 x 1800 pixels, or 2000 x 3000 pixels. These all fall within the ideal Pinterest image size of a 2:3 aspect ratio.
The supported image and video formats are BMP, JPEG, PNG, TIFF, WEBP, MP4, MOV, and M4V. However, we suggest not using JPEG format for pins opened via the web as zooming them in will result in poor-quality visuals.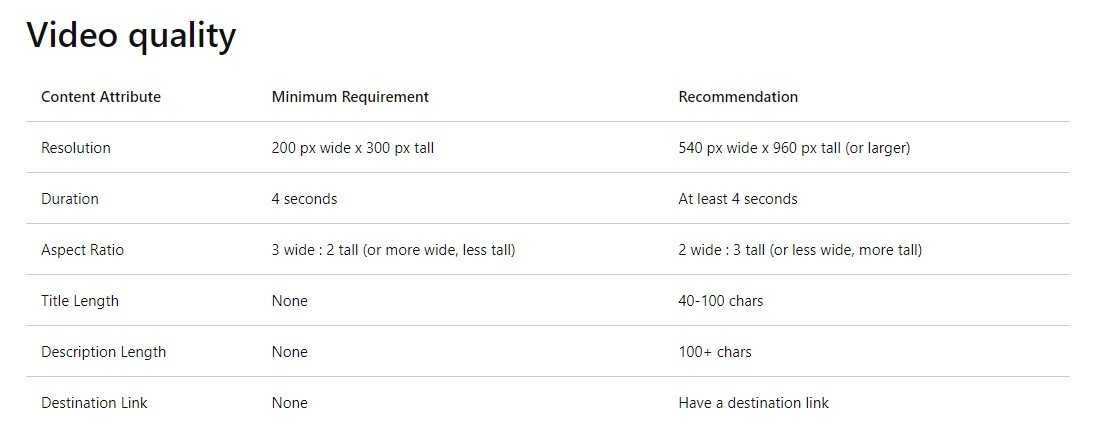 Sort your boards and visuals by priority/trends
There is a special category of ideas for your Pinterest boards called seasonality. It is suitable if you sell seasonal products, such as table sheets. Then, you can create a separate seasonal board such as Christmas table sheets. Each year when the pre-Christmas shopping season starts, move this board to the beginning of your boards' list and enjoy an increased visitor audience accordingly.
For non-seasonal products and services, analyze your market niche by the most popular ones and match them to the eternal trends. Such trends include handmade, interior design, designer clothing, food, accessories, travel, children, pets, etc. Basically, these ones should always be put at the top of your list. If you fail to find any of these categories, try to think about how your products can be combined with or presented using these trends. For example, you can create a series of funny photos of table sheets with cats and even create a viral tag for the initiative. A more traditional approach is to photograph your table sheet products with food in an eye-catching interior and with a woman wearing a fancy dress standing near, add trendy hashtags such as #food, #interiordesign, and #fancydresses. This strategy will help you expand your visitor audience on the platform.

Launch Pinterest Ads
Lastly, after you have set up your profile and created all your boards and pins to get visitors naturally, you can boost your Pinterest visibility even more with Pinterest Ads. The following steps are ones you need to follow to launch a paid advertising campaign for a selected group of visuals:
Step 1. Create an advertisement by clicking "Ads" at the top of the screen and then cling the "Create Ad" button.

Step 2. Use the left-sidebar to start configuring "Ads."

Step 3. Select among your Pins to choose which ones are applicable.

Step 4. Specify details of your advertisement by clicking "Review selected Pins" and adding details to your ads such as a custom description with keywords and attention catchers.

Step 5. Launch the ad by clicking "Launch."
Here is Pinterest's native guide to help you to create an ad. And here is how to use Pinterest Ads Manager in general and an explanation of additional features available in it.
Taking all limitations of Pinterest described above, it is highly recommended that you thoroughly monitor the real results of your actions. For monitoring purposes, use the internal Pinterest monitoring service as well as, of course, Google Analytics, which can track filtered visits by the parameter of Pinterest traffic source.
To access Pinterest analytics, follow the below steps:
Go to your Pinterest profile by tapping the avatar picture at the bottom-right of your Pinterest screen.

Then tap the chart bar icon at the top-left corner.

Lastly, select Analytics to see the numbers.
Here, you can both track total visits and traffic filtered by each pin separately.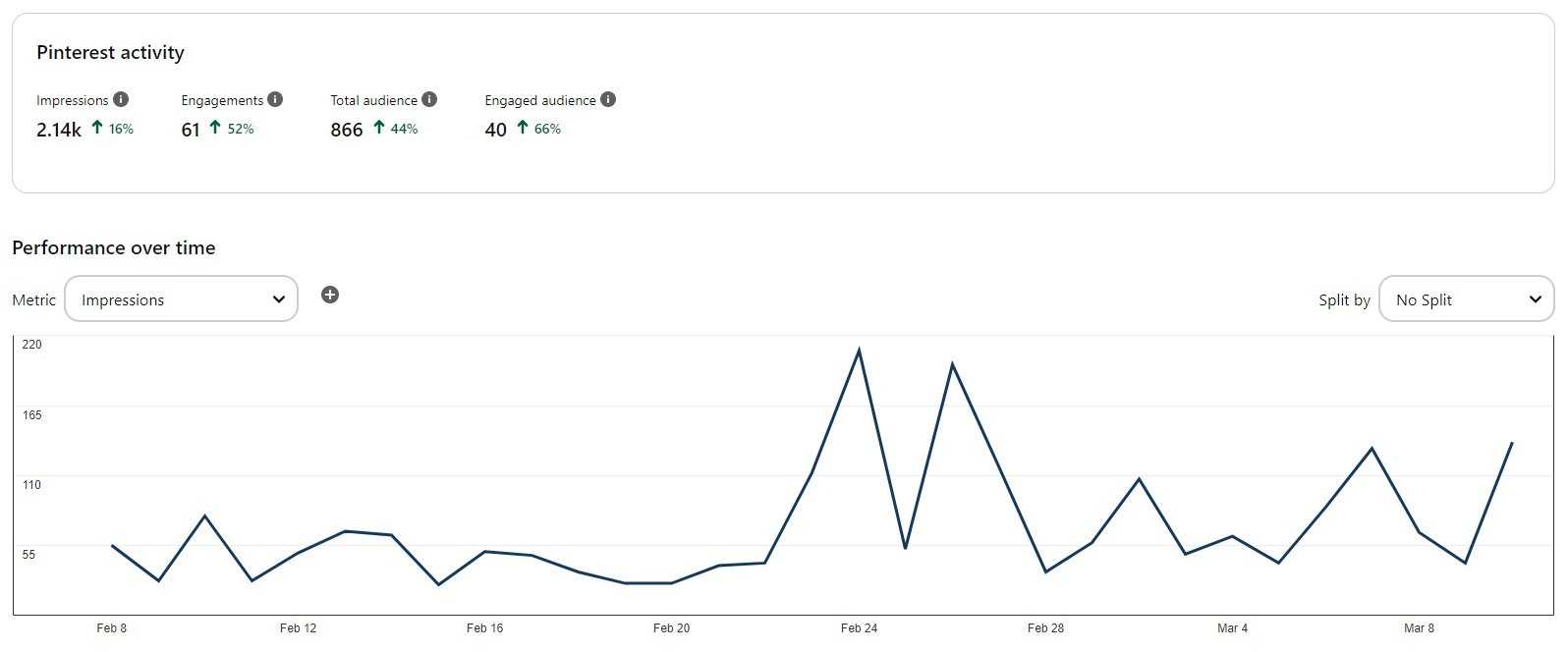 Additionally, you can analyze your audience by checking where your visitors come from, which devices they use, their age, gender, etc.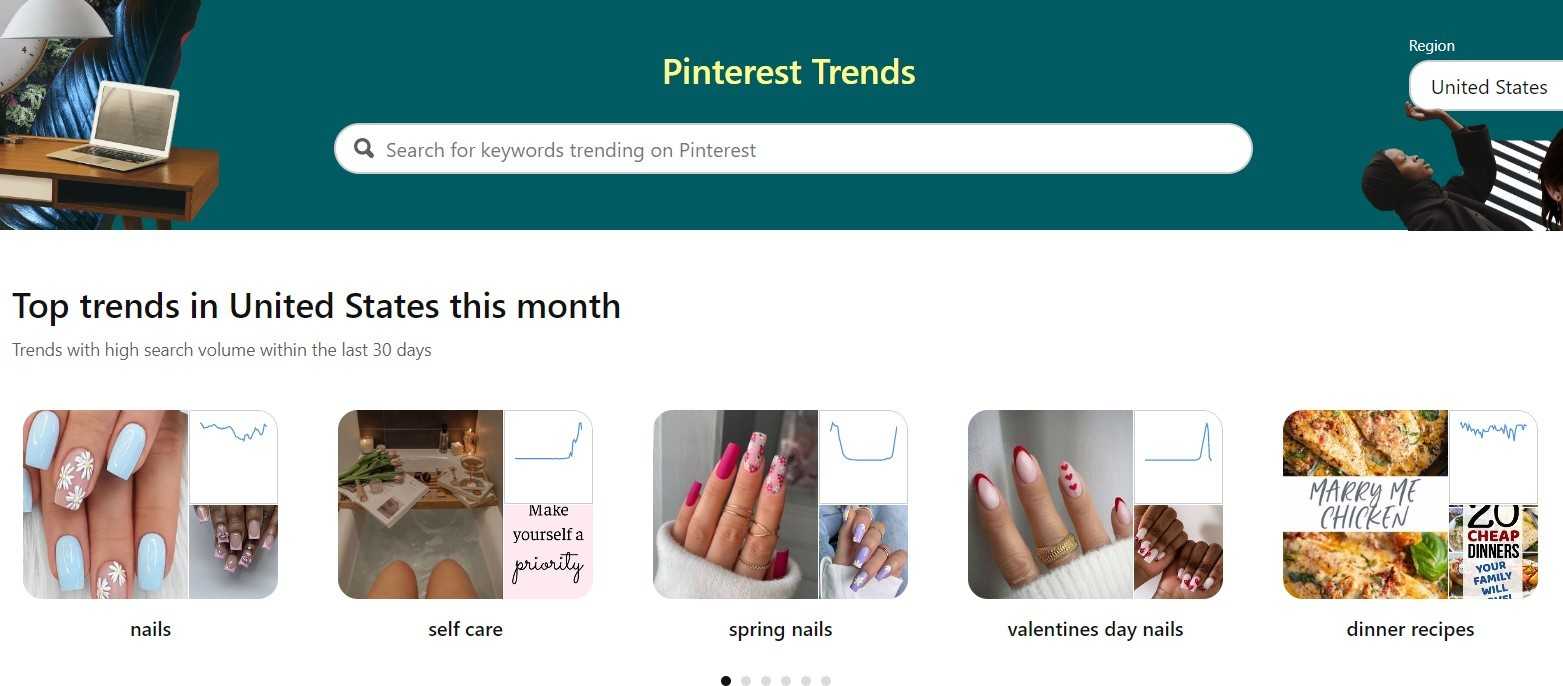 After you combine your understanding of your audience, you can find applicable general Pinterest trends for their region and this will help you to plan and create the next pins which will target them and retain them even better. This can be altogether a very successful growth strategy for your Pinterest account.

Last but not least, while this does not directly relate to Pinterest search engine optimization topic after you increase your Pinterest traffic you can also monetize your Pinterest traffic by offering ads displayed near your Pinterest content, enabling direct shopping via Pinterest Shopping Tool with in-app checkout as well as do brand partnering. By the way, brand partnering is a good way to exchange traffic with other influencers, bloggers, and e-commerce business owners. Such partnership can be enabled by adding an approved paid partnership tag as described here.
In this article, we have discussed using Pinterest to drive traffic, including how to set it up properly for the most efficient SEO usage for your business, how to create pins and boards, and how to optimize them for your audience. The benefits of using Pinterest are clear - it allows you to expand your audience, drives more traffic, and enhances your website's overall visibility via Google search.
How does Pinterest SEO work? It works the same way as any other SEO - with careful advance analysis and regular routine work of posting relevant pins and promoting them via boards.
Whenever you only start building your Pinterest audience, think strategically and mind your initial website's visitor characteristics. However, as time flies, remember that your Pinterest audience may transform into an absolutely different social group with its own interests, demands, and search intent. For example, having a strong European business with a loyal audience in the EU, you can find out that Pinterest helps to expand to the United States and Canada.