Search Engine Optimisation is the process of websites ranking improvement due to which the visibility of the web-sites in search engines is increasing. High website rankings are important for business. Web-sites owners get targeted audience and as a result sales growth. The business is building on the basis of web-sites promoting.
Years before webmasters could rank their sites using lots of back links. Partly it works today, but we are to understand that search engines at the head with Google are becoming smarter. The probability to be penalized is increased exponentially. If you're intending to run your web-site for years, follow only white hat strategies.
How do You Do Keyword Research?
Doing KWR (Keyword Research) we select queries on the topic of the site that the user will use to be taken to the site.
The selection of keywords and phrases which users type into search box, within the aim to optimize content in correspondence to them is standard key-word research. Think over the lists of topics actual to your targeted visitors.
Don't forget about Google and YouTube Suggest
So, you've received variants of topics, you can type them one by one into Google search.

Then observe what ideas Google Suggests to your web-resource. The suggested words and phrases should be added to your list of key-words, because they're really good for you. Google would offer only those key-words which people are searching for. But don't limit yourself with Google Suggest and take to consideration YouTube Suggest too. Realizing this strategy you can reach the best search engine ratings.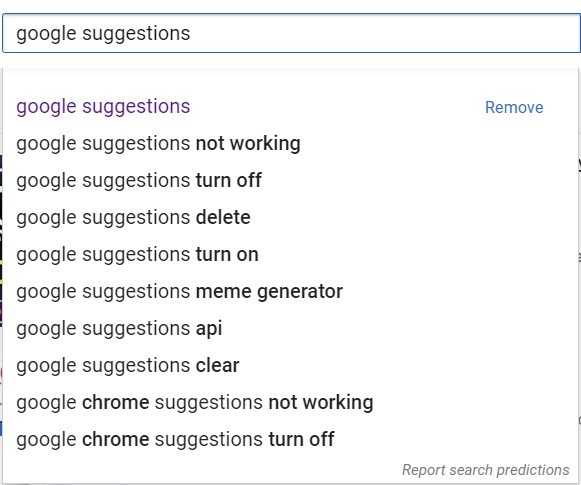 How do I Check my Keyword Ranking
Now you may ask: How to check my keywords? It's easy! Now when you have a list of keywords, you need to check the current position of the site for these keywords and distribute the words among the pages.
To do this, we register on the site SpySerp, authorize, create a project (click - Projects - Create project).
We come up with the name of the project and choose a search engine. We should check all the geographical settings carefully, it is important to specify the country: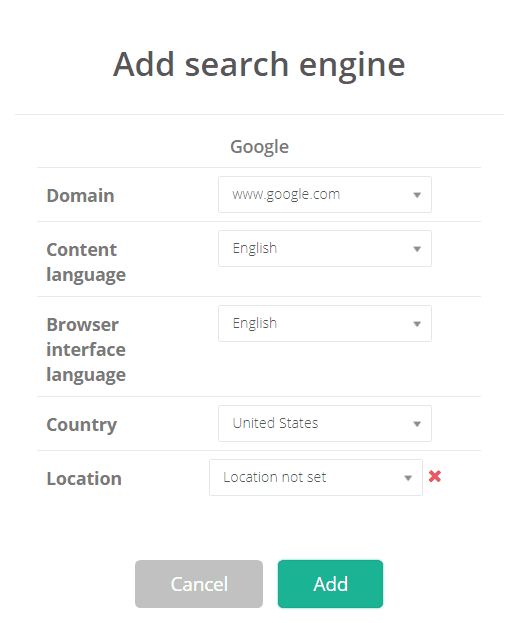 If you simply type a query into Google, search results will not show you the location of your keyword phrases in another region, it will show search results, considering the region in which you are directly located. Using this tool, you will be able to see a detailed picture of the positions of your keywords in any regions you indicate. You can see search result as in indicated regions as well in the whole country. Search engines consider the location, so the tool you use will also consider the location as well.
Then, enter the address of your site for analysis (the Domains tab page) and add a list of selected keywords. Run Manual Project check or set up the Auto check schedule, after which you see which pages of the site the search engine indicates in regards to your keywords and at what place at this very moment. Then, visit the page that Google suggested and see if the user will find useful information due to his search query on this page. If the information is not suitable, we either correct it or optimize another page for search query. Those keywords that the search engine doesn't see at the given moment should be also distributed among the pages in accordance with the subject of the search query. Top search engines have the algorithms due to which, this strategy works excellent.
Web-Pages Optimization for Selected Search Queries
Optimize your web-pages, using title, meta description, h1, h2 and other tags.
One key-word should be used not more, than one time. You may use the same key only in Meta description and text. Overspam is a real problem and those webmasters who include one and the same key-phrase for several times spoil the ranking of their site and loose the positions in search engines. Search engine marketing strategies include these simple tips for the webmasters to follow. The text should be optimized due to the search engine algorithm. One of important points of these algorithms is readability. If webmaster makes the text full of key phrases but without logical connectivity, the text wouldn't be readable and it would be a fault.
Find Competitor Websites and Analyze their Keywords Volume
We already know that https://spyserp.com offers an analysis of your site's positions on the main search queries, but do you know that Spyserp also offers competitor analysis? With this, you can see which sites are now in the TOP 10 of the selected search engine clearly on the chart: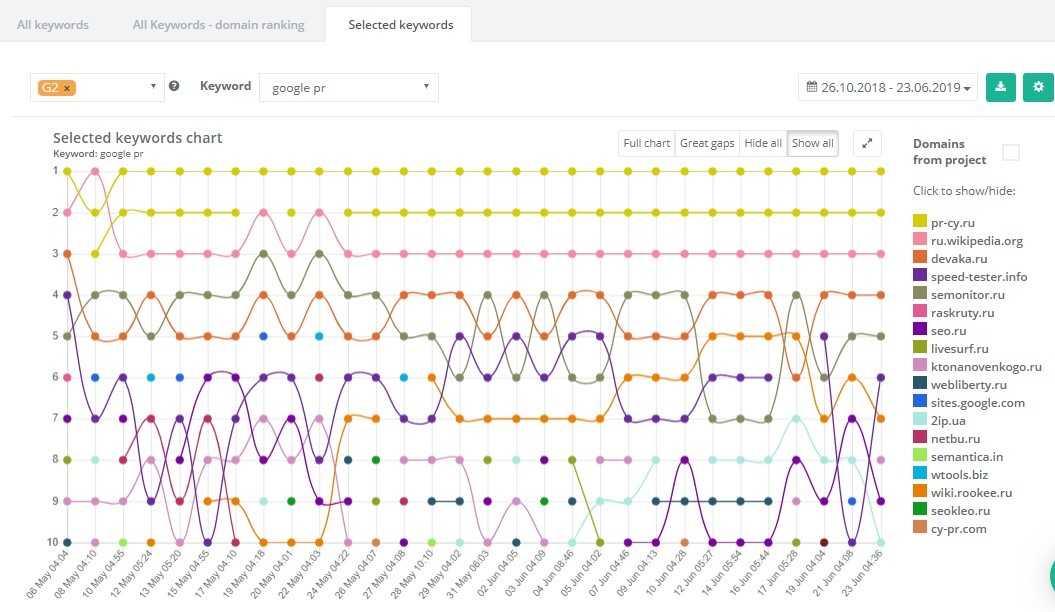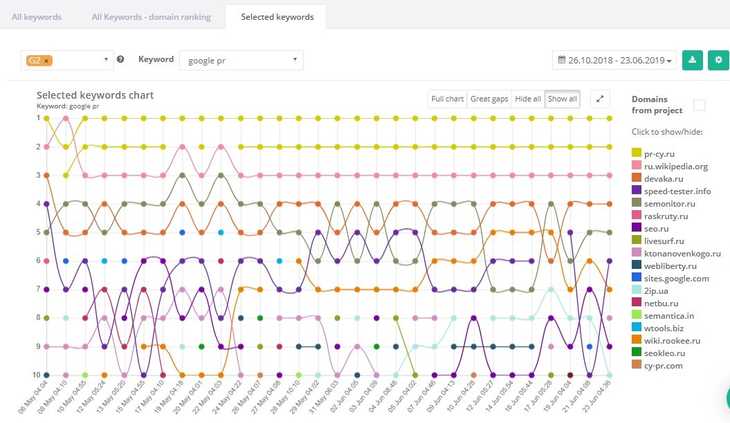 Now you know how to analyze competitors' website. But, what does such a chart show?
Positions of competitors who have keywords from your KWR in TOP.
Top-ranking domains for your main keywords
Which sites are in the TOP for a given keyword - analysis of search results for a selected keyword from your KWR.
You can also choose a search engine (one or more), the results of which will be analyzed and set a domain limit (how many competitors will be seen in the graph as a result).
Choose 3-4 competing sites in the top and add to your project for analysis. After checking, we see which pages of competitors' sites are ranked in the search for the selected keyword, we look at how these pages are optimized (how much text is on the page, whether there are pictures, subtitles) and do better (for example, a little more text) or combine the advantages of several competitors (we take something good from each competitor).
Optimize your images (add key-words to the tag "alt")
How do You Build Links? Link-building Strategy Should Be Strong.
Add links. We select thematic resources and make links. To find sites where to make links, you can enter, for example, your keyword plus "Forum". This will help you find thematic posts on the forums where you can try to leave your link. Links can be made by keywords, but not much, not more than one link with a direct entry of each keyword. The rest of the links are URL links. If you add them to the homepage you may use the name of the company brand. You can also use neutral words like "read more", "here", "at this web-page", but actual key-words should be around the hyperlinks. Search for sites with thematic close to yours. Try to be agreed on adding your articles with hyperlink to your web-site with their owners.
Don't forget about social media and directories of high quality. Use YouTube and other video services to broaden the resources, where you add the links.
Properly built SEO-strategy will help you achieve high rankings in popular search engines. More that you'd receive targeted audience and as a result increase the sales of your product or services. Develop your website both for search engine and targeted audience. Keep in mind, that not Google, Bing or other search engines are your customers, but real people. Do your best for your site-visitors feel themselves as comfortable as possible and find your web-resource really needful.