Medium is a platform hosting a massive collection of articles on all possible topics. These are published by writers of different professional levels. Medium invites everybody to collaborate and actively increases both its readers' audience and its writers' pool. Monetizing of content happens through Partner Program's rewarded reading time as well as paid membership bought through referrals. At the same time, everyone is welcome to write and publish for free, too, just using the available public space and engaged audience. While the initial idea of creating Medium was to allow people "to easily share their thoughts without character limitations," today the platform remains an elite place to find useful information free of distractions by ads and pop-ups.
Owning a high-rank domain due to good publishing and reading activity, Medium has become an interesting opportunity for SEO specialists. The following advantages of utilizing this platform for search engine optimization of your website are easily noticeable:
The resulting Medium article link is controllable and can contain keywords you choose;

Medium welcomes long content with proper h2 and h3 subheadings and images;

Responsive design and social sharing buttons are already embedded;

Boosting dwell time is a win-win strategy for both Medium and the author;

Some SEO optimization is already included while other is available for the writer to manage;

Internal and external links are available;

And much more.
Search engine optimization through Medium is possible and realistic. Let the below article be your SEO guide into the world of Medium content.

It is not absolutely clear at first sight whether Medium is good for SEO. Yet, in this article, we will try to provide Medium SEO tips and explain how this platform can help you with your SEO strategy.
So, why publish on Medium? The first and foremost reason is that the regular monthly audience has reached 182 million people reading over 200,000 enrolled writers since 2017. This may result in considerable visibility if the articles are actively shared among visitors.
Secondly, Medium shows the actual quality of your content, taken separately from your website's existing ranking. By posting your articles here, you can check whether they are liked and perceived as valuable by your audience, whether they generate leads because people click on your website's link to find out more, and whether they are causing desired buying behavior or increasing your brand awareness.
Thirdly, Medium allows building an audience from scratch if you are new in the field. In some niches, it may take years to start ranking a new website owning a new domain. Yet, the Medium platform can help with getting first visitors if your articles are visited well, and redirects will help you to get known. The most popular profiles get thousands of active subscribers who follow up on every new article published because they get notified by Medium. In a while, you may discover that your Medium profile is popular enough to do advertisements, offer early-bird discounts, or do other types of promotions and marketing activities.
Moreover, if you are an independent freelancing professional or an entrepreneur, submission to Medium will help to make yourself visible and get new contracts, partnerships, and other types of collaboration. For SEO specialists, it may mean both finding new clients and new partners as well as improving their professional socialization and networking.
Additionally, Medium's user-friendly interface and built-in formatting tools make it easy to create visually appealing and readable content optimized for readers and search engines.
Lastly, Medium is a good way to organize guest posting, free and on a domain with a really high ranking

Two common ways of utilizing this content platform are:
Write custom articles for Medium specifically and publish them just on this platform.

Write articles for your website blog as usual and use Medium to repost content from your domain.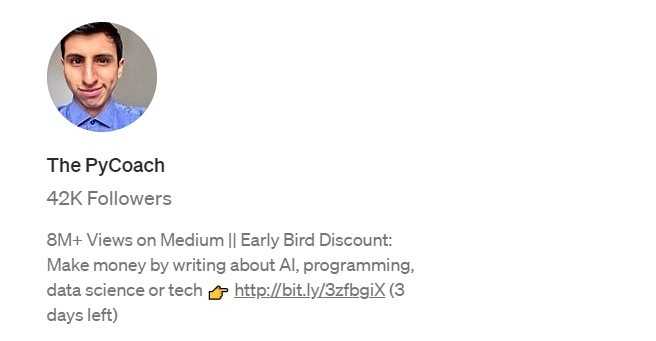 Option one is clearly about developing a custom blog on the Medium platform and developing it for a growing local audience. Just look at the profile shown above! A successful Medium writer has attracted 42,000 followers organically. In other words, the first option allows increasing brand awareness hugely as well as spreading the word about own expertise and professionalism. Besides, you will be able to check if your content has high enough quality to be liked by Medium picky readers. Option two is about adding link juice to your website and helping it be better ranked in Google SERP due to advantages brought by high Medium's domain authority. This is how Medium itself explains its options and SEO opportunities.
Unfortunately, Medium limits the indexation of its articles to avoid spam. Yet, this means that this platform is heavily associated with high-quality content attracting high-quality traffic, which allows authors and linked websites to benefit in the long run.

Can we use Medium for SEO?
Using Medium for SEO is not only possible but is also desirable. SERP ranking of your website will improve both if you choose to generate original content on Medium and if you repost your existing articles using the canonical links.
If we create a Medium independent blog, it is essential to pay attention to the Medium SEO strategy applied. This is the key to generating traffic from this platform. In this article, we will consider what to pay attention to when writing Medium articles. In this case, Medium content will be ranked high and people will read those articles and find out about your brand and your expertise.
If you choose to do reposting of existing articles, canonical link configuration is a must to avoid duplicated content and Google penalties for plagiarism. SEO through properly formatted canonical links is a good way to improve your website's indexation by adding more link juice. At the same time, it may still be useful to find more visitors from among the Medium platform readers.
Both strategies will be considered from a technical / setup viewpoint below.

How to optimize a Medium article to rank it in Google?
The key to how to write a medium article is hidden in the way it should be published and configured. All customizations required are to be found in the Medium SEO settings of each piece. The main principle is not to let Medium populate the values automatically but to customize each field in the most SEO-friendly manner.
Follow the below recommendations to SEO-optimize your Medium article and make it more visible and better sharable through social media to achieve your SEO goals:
Find keywords. You can perform keyword research using Keyword Planner or similar paid services. Our blog has recently discussed how to do SERP analysis and keyword clustering. After you determine the required keywords for your topic, analyze Medium search results for those and necessarily check the search results of the "People also search" and "Related to this search" categories as well as Google suggestions. Out of these, choose the most relevant keywords for your future article. Remember about targeting low search volume keywords that can help you target your audience better and help users with specific search intent find you efficiently.

Write your article including these keywords. We recommend preparing a content volume of 100+ words. Yet, the final length of the article depends on the competitiveness of the niche in Google SERP, so analyze your competitors first to determine the required volume. The recommended keyword density is 1-1.5%. Distribute your keyword evenly throughout the text, and don't forget to include ones in both the introduction and conclusion paragraphs.

Create the H1 title. Include keywords and make it catchy. Your Medium SEO title should be kept short but efficient.

4. Create the title. Include the main search phrase of the primary search intent of your audience. When previewing your article before its publishing, you will see that there is an automated generation of the title based on your H1 title and templated add-on based on your profile's title and the word Medium. Yet, we suggest customizing this title to get a better SEO effect. For this purpose, go to More settings -> SEO settings where you can see the resulting title wording and edit it based on the best SEO practices.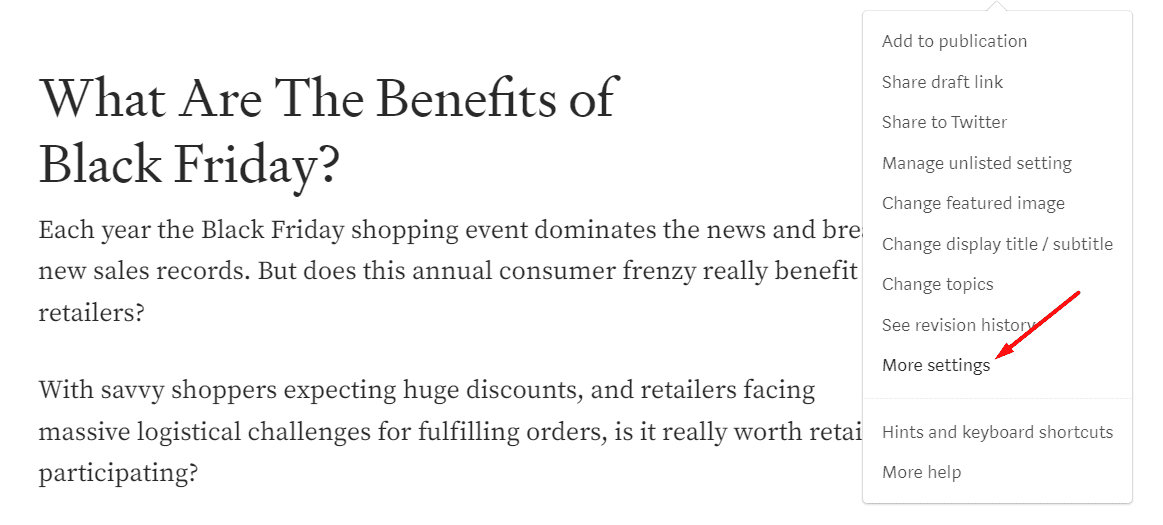 5. Create the article's description. By default, Medium will take your content's first paragraph into this field. Typically, the first 140-156 characters are copied. However, we recommend creating a custom one, as it is a perfect way to improve the click-through rate (CTR) for both the article itself and your website. Make a shorter description, keep it eye-catching and engaging, concise yet understandable. Remember to have it unique and hyper-relevant! Include more than one keyword. Ideally, it should be keyword-rich. At the same time, keep the curiosity gap, and don't reveal all your tips at once! Remember that the Medium SEO description is displayed in Google search results, so keep it aesthetic, too. In other words, the approach is the same as with the title - fix it, and don't allow Medium to populate it automatically. For meta description, don't exceed 156 characters for desktop viewing and 120 characters for mobile devices. Overall, the shorter the better because people will read it fully.

6. Customize your article's URL. Again and again, don't stay with automatically generated settings for your content. Go to the article's setup and choose "Custom" under "Customize Story Link" to include your main keyword(s) to the link address. Remove any strange characters and follow the usual SEO practices for link creation.

7. Format your article nicely. Every reader likes consuming content displayed clearly, with proper font and font size, good paragraph indentation, and no extra colors or effects distracting from reading. The same principles are to be followed here. Medium article writing does not favor complex formatting. Keep your source code clean, and use only the most necessary tags and highlighting. Structure your article well to make it more readable. Include subtitles and subheadings as a must. Don't forget to write an effective conclusion to help assimilate the material shared.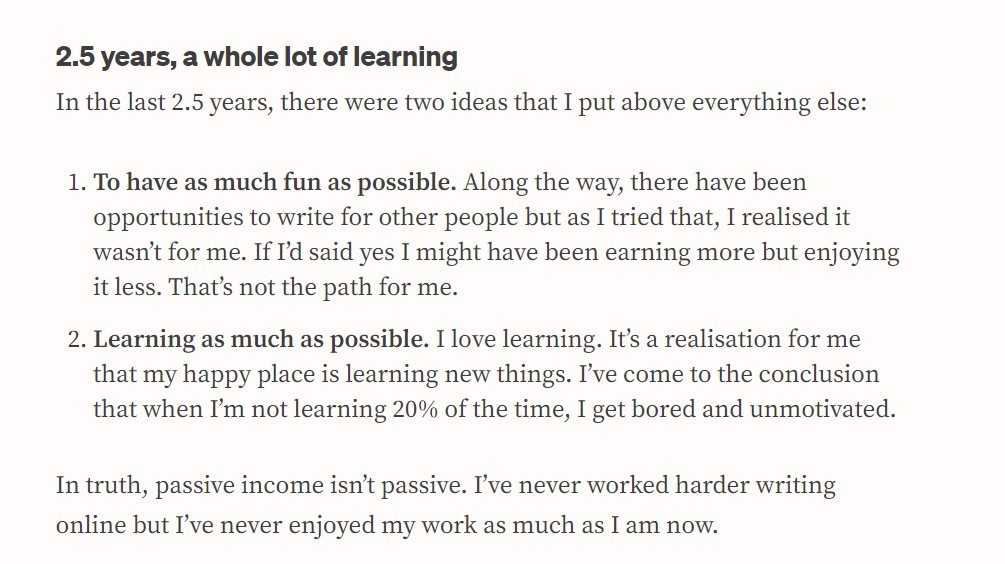 8. Include images and video(s). For each article, include an eye-catching visual that fits your content. Visual information helps your visitors recognize, remember, and digest your information better. It is also visible when the article is shared via social media. We already discussed how to SEO images before. Follow these recommendations to help your article be ranked for the desired keywords even higher.
9. Do cross-linking. Cross-link your articles regularly. If the quality of your content is high enough and people find the information useful, they will gladly continue reading it. So, help them do so by putting links to your previous content in each new article. Also, always link each of your articles to your website. This will help them stay with you across Medium or even go to your main website if their interest continues growing while reading. In addition, it will allow increasing the link juice of your website and attract new users through Google SERP, too.
10. Add relevant topics. The medium allows adding the list of relevant topics to each published article. Do so for each of your articles, but don't add more than five. This can be done after you publish an article on Medium, again, in its settings:

11. Turn on the canonical link

If we want a reposted article to be correctly indexed by Google, its configuration on Medium should necessarily have the canonical link turned on (see the screenshot below).

12. Create TOC for your article. It is also important that you create a good table of contents (TOC) for your content. Firstly, it will attract your end-user and help him navigate through the article. Secondly, it will spoil the next content to come, inviting one to read through the article or jump to the juiciest part. Moreover, it can help you promote your goods or services offered at your primary website or advertise the information you own and make it more "digestible." Lastly, using keywords inside of TOC is another good way to do your SEO

13. Enable Social Sharing. Don't forget to make your article useful for sharing on social media. The better your content is, the more your readers will want to share it with their friends. Don't make this task too complex for them - keep the "share" buttons readily available. This will help you to boost your SEO activities after you submit the article to Medium even more.
Main recommendations for article reposts
First of all, when you don't write an article from scratch, there is no need to copy-paste the content from your blog as Medium supports "import from." To use this feature of syndicating an already published and indexed article, follow the steps below:
Log in to Medium and click on "Stories" in the left sidebar menu.

Click the "Import Story" button.

Paste your website's original article URL into the corresponding field.

Improve formatting of the content if required.

Click "Publish" to do draft publishing.

Add five tags to indicate the relevant topics of the content.

Click "Publish Now" to finalize the publishing process and make the story visible to all Medium readers.
We recommend ensuring that your Medium activity is guided by the principles listed below. These include both formatting links in your articles to have a proper SEO effect for your website and also planning your activity and generating marketing leads.
Necessarily create a canonical link. This is a step-by-step guide on how to set up a canonical link on Medium and avoid duplicates. This will allow making your website's article to rank well and make it ranked instead of the Medium version of the article. If you already published your content on Medium and did not include a canonical link, there is a high chance that Google will rank Medium's article higher because its domain authority is higher making it a more trusted source of information. Medium's trustiness originates from its market duration, popularity among the audience, and high-quality content. Correspondingly, with such a ranking effect, your website's original article will be considered a duplicate and ranked low, causing troubles for your website's overall visibility in Google searches.

Add links to your website inside of the Medium article. This is a good way to generate more incoming links and increase the indexation of your web pages.

Add your main website link to the Medium bio. Here is a useful article about how to write a perfect Medium biography. We recommend borrowing ideas from there and even using one of the templates described.

Whenever necessary, edit your articles to improve cross-linking of the content. For example, you can edit articles that you published before, and add links to newer content into those. This will help both the old and the new content be better ranked.

Do your content planning for the next period of publishing content on Medium. Follow the above recommendations as well as use Google Trends to understand what topics are most searchable and wanted today. Follow your plan and publish regularly. This is a way to be more organized and keep your pace, which is always important for SEO.

Remember that one big article published on your original website can be split into several smaller ones published on Medium. It means you can increase your publishing frequency and multiply links by three or even five. Moreover, you may also repurpose your content and the original article's parts will be used for backlinking only.

Gather emails and generate leads with your Medium content. Medium platform features allow gathering emails of your visitors via a specific form. So, you can add the corresponding form at the end of your article and ask your readers to subscribe for news and updates if they found the article interesting and useful. Of course, you may then use the generated leads for your marketing purposes.
And again, remember: Reposting of native website's content will only work with the proper configuration involving the canonical-link setting. Otherwise, duplicated content will only worsen your ranking position.

Summing up the above, Medium is worth using its potential for your website's search engine optimization both directly and indirectly. While some of your SEO activities may remain unnoticed by Google indexation, you will definitely benefit from attracting high-quality traffic and be able to check it for usefulness and ease of consumption.
Use Medium editor to do nice formatting of your content. Customize every setting that is automatically populated by Medium. Benefit from setting up the canonical link. Enable social media sharing, and share your articles through social media, too. Ultimately, enjoy the increased link juice to your website just because you published regularly on Medium and the content was really a high-quality one.
There is no need to promote medium articles to make them read. Just publish new useful content regularly and Medium will promote it for you by showing it to its audience in relevant places and notifying those who subscribed to your profile.
Remember that in Medium, there are its own communities of users belonging to the market you target. Try to find them as you may not find them somewhere else. In addition, professional communities can result in knowledge and experience sharing and collaboration. Ultimately, you may end up finding new partners, either directly in your business activity or indirectly, helping with your SEO when you may exchange sharing of content that is not competitive to your own area.