For those businesses who focus mostly on text content generation in their SEO strategy, here is a reminder that video content can help boost your website's search positions. Of course, YouTube is the number-one video hosting and social media tool that offers endless opportunities for free search engine optimization of your business. Start your SEO for YouTube with keyword research, prepare and optimize your video, promote it correctly, and you will get a noticeable audience increase.
Why do you need YouTube SEO at all?
Although being considerably challenged by TikTok today, YouTube remains one of the most popular video-sharing apps with user-friendly navigation and search as well as a familiar interface. Just remember that it is the second most preferred site on the web to search for practical answers after Google. Compared to other sources of video content, YouTube offers higher conversion rates (the average of 14% compared to 1-3% for Google Ads or Facebook Ads) and a number of automation opportunities such as content tagging and even creating some fully automated funnels which attract leads and converts them into sales without any involvement of your sales personnel. Developers can integrate with YouTube to get lead data into your database when users agree to fill in their personal data, and videos can get various buttons for higher audience engagement.
When YouTube appeared first, it changed traditional SEO. Today, it is one of the most well-known platforms to increase a company's brand awareness and the number of followers for its content updates, which are the keys to increasing website visits, lead generation, and, of course, revenue. All you need to use YouTube for your marketing purposes is to optimize the main page of your official channel, be regularly posting new content with optimized metadata, descriptions, and keywords for YouTube, and update playlists correspondingly.
To do SEO of YouTube videos, a user can create one or more channels and share video content which can then be reused on other web resources. Namely, the optimized YouTube videos can be embedded in the webpages of the main website of the business and generate traffic because Google 'likes' cross-promoting platforms as well as increasing your channel's visibility for the existing website visitors. In addition, a combination of an optimized embedded video with proper keywords and the optimized webpage with proper keywords can result in even greater efficiency of search visibility for the end user.
Thus, YouTube offers you endless opportunities to share free searchable content with a wide new audience. The key is to create useful and valuable information, which is both needed and trendy. If you want more, you can also learn how to use skippable ads, non-skippable in-stream video ads, bumper ads, discovery ads, and much more.
Today, the average duration of a video posted on YouTube is 11.7 minutes. There are over 150 million movies and over 116 million music video clips shared there, with about 2.1 billion monthly active users watching them every day. An average visitor of the platform spends about half an hour watching YouTube videos per visit, which makes ca. 15 hours of a potential customer's attention per month. At that, an average view duration can fluctuate between 1 and 8 minutes depending on the content category of interest.
Below sections of the article reveal some SEO tips for YouTube, both obvious and implicit.
YouTube SEO Tools
After having created but before sharing any content, it is important to make the needed YouTube optimization. Video optimization is a process of enhancing your videos to make them more likeable, engaging and effective. It's usually done by a video editor or an online video service like YouTube.
The corresponding market already offers multiple YouTube keywords tools to automate this work for you and to help the newbies learn the basics of search engine optimization for YouTube. Main recommended ones for YouTube keywords search include:
All of these tools are equally useful for both single video and channel optimization.
Step-by-step guide on how to optimize video for YouTube
Before starting to generate any video content, we suggest you take your time, sit down and answer several strategic questions such as:
Why do you need a video blog at all?

What is the vlog's strategic purpose?

What is the main message of your business to be transferred through your vlog to your end customers?

What short-term and long-term goals do you want to reach by maintaining the YouTube channel?

What are the SMART goals for your first 3-5 videos?
These answers will help you stay focused on your SEO goals as well as will help you generate ideas for interesting groups of videos, which will grab the attention of your end users and potential customers and make them both loyal channel visitors and motivated buyers of your products and services.
Step 1. YouTube Keyword Research
Before creating any video content about your business, plan and conduct your research. Its results will help you understand what videos are needed, how to name them, and how to format them to attract YouTube visitors. Here are some steps helping you to organize and to sum up your discoveries better.
Typing a keyword in the search box
When starting your YouTube keyword research, go to YouTube and try searching the main topics your business is about. Pay attention to the suggestions in the search box of the platform, as any word you type will result in a list of the most popular phrases containing this word. This is also the way how large key phrases with two or more keywords can be created. Gather these into a list, and you will have multiple ideas for the semantic core of your future channel. Most favorite phrases can become candidates for the channel's title.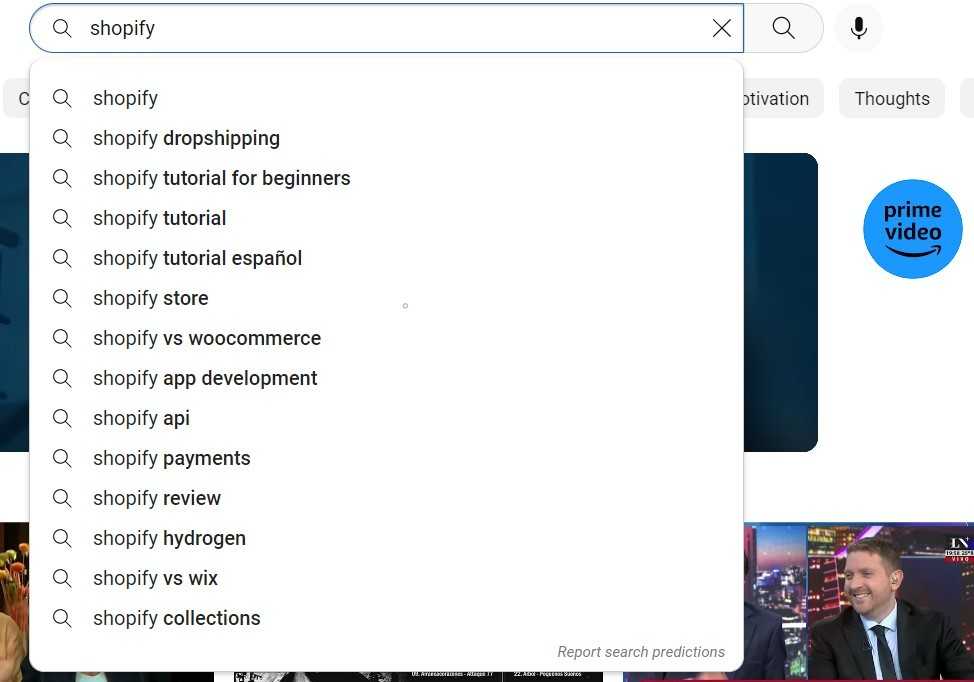 Use Google Trends or Google search
Use Google Trends or Google Search to get inspired for the most trending topics which people want to know more about these days. These sources will suggest you the latest news and events, most discussed patterns, fashion styles, celebrities, and anything the public is most passionate about. Combine your business terminology with the keywords from the trends you found, and this will help you to ensure that your channel is found when people search for the top current trends.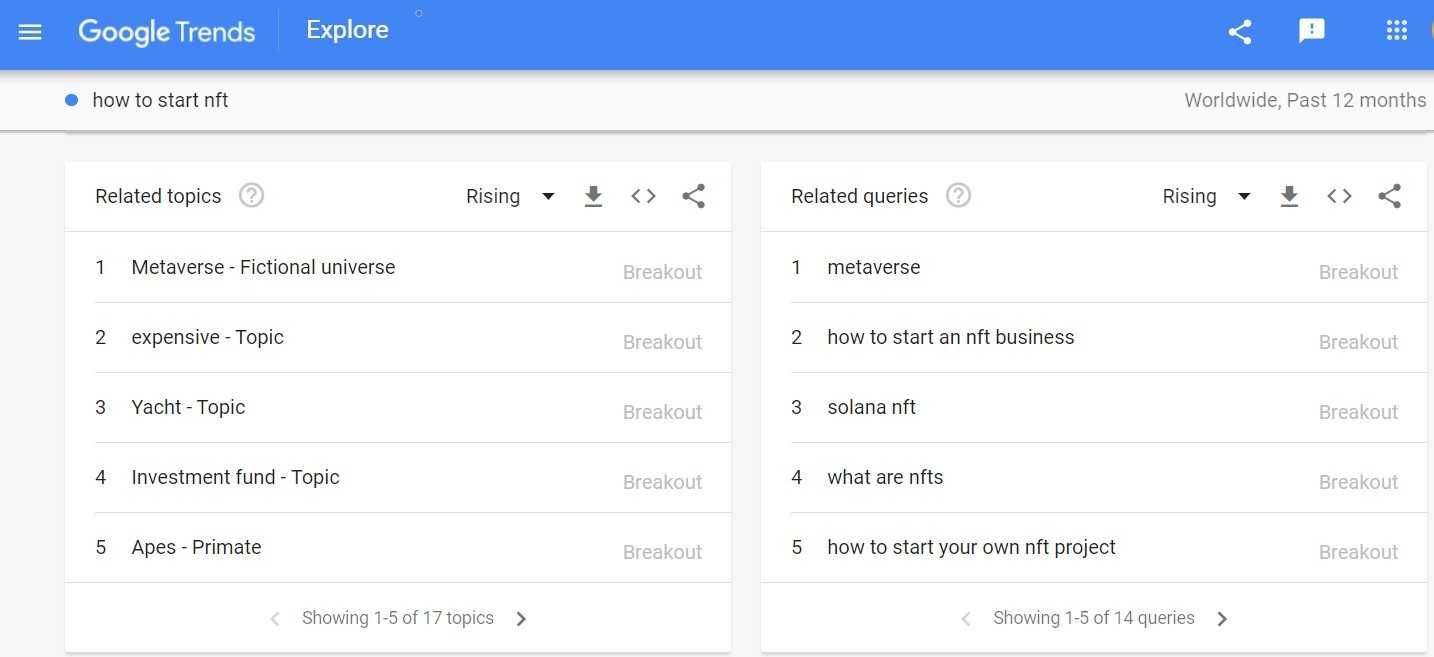 Use tools such as KeywordTool.io
Professional tools for keyword search such as the ones explained above as well as their alternatives (Google Keyword Planner, KeywordTool.io, KWFinder, Keyword Surfer, From The Future (FTF), SpySerp Keyword Position Checker, StoryBase, Grow Keywords, and other services including Chrome extensions) can also be very helpful to gather keywords for your videos. Some of these tools work with YouTube search directly and are good for search engine optimization for YouTube, others are more general. Follow the same approach of checking the most keyword phrases and suggestions but don't forget to use any extra functionality offered: website SEO analysis, competitors' keyword analysis, new content ideas, niches, product opportunities, seed keywords, etc.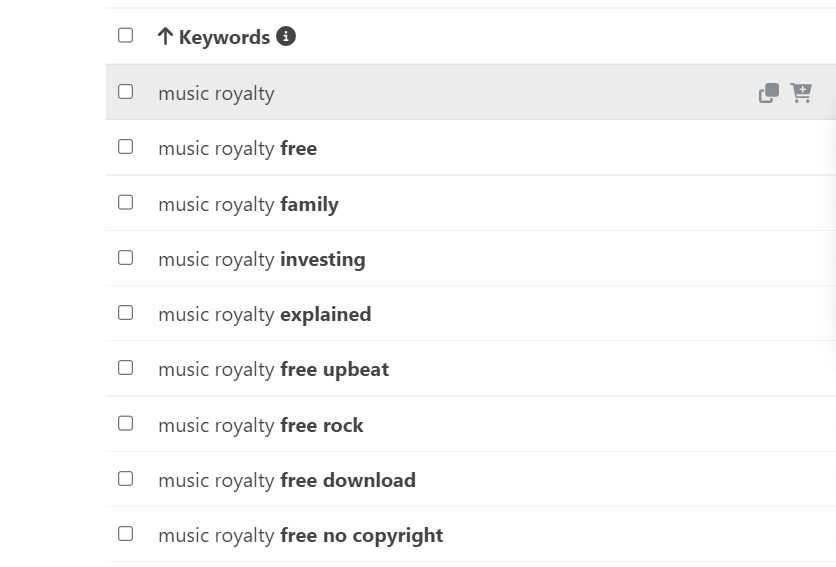 Use VidIQ or Clever
While Google Trends and keyword analysis tools help to analyze the market and the audience's interests, tools like VidIQ and Clever SEO Keyword Plugin are ones that will quickly analyze the ready-to-use material you already own. Apply them to the videos you created and the web pages you have, and get the list of keywords related to your activity to be advertised and promoted.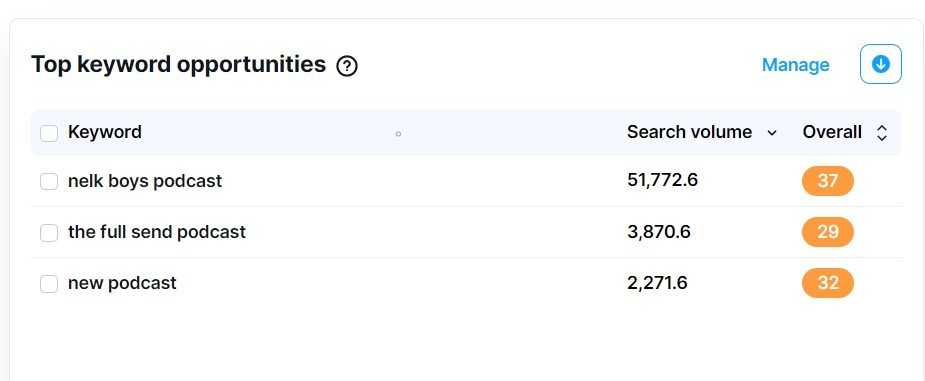 Competitor analysis
Many SEO keyword tools offer competitor keyword analysis. Apply them to both YouTube-present rivals and those who are ranked high in Google Search. Plan to add keywords found to your channel and videos to get comparable positions.
In addition, you can analyze your competitors' channel characteristics and use them as your target. General YouTube analytical metrics per channel and among channels usually include such parameters as watch time (total video viewing time for all videos on the channel), average view duration (how many minutes an average visitor of the channel views one video), and audience retention (for how long in percents an average channel visitor stays on the same video and continues watching without rewinding or moving to another piece). Ideally, the channel's owner should aim at increasing these parameters.
Publish a High-Retention Video
Upon publishing each of your new videos, mind creating a relevant title, ensure the proper quality of the file being uploaded, prepare a catchy thumbnail in advance, and don't forget to motivate your users for subscribing to the channel.
Relevant Video File Name
Technically, it is important for YouTube what file name is used during its upload as there are algorithms determining its content based on the file name. Therefore, it is recommended to use keywords in the file name of the video file, too. Correspondingly, don't call your video about skiing "video 0957" but rather type "ski-for-beginners." Besides, please mind that after uploading your video, the file's name cannot be changed. So, rename your file to the correct title before you upload it to YouTube.
High-Quality Video
Don't be in a rush to create your first video and remember your lack of experience. Low-quality videos will most probably be skipped, so mind high resolution and high bit rate of the video material, good sound (if somebody is talking on the screen, ensure he/she is using a mic and there are no extra sounds distracting the spectators) or pleasant music accompaniment, smooth camera movements, and a pleasant rate of changing photographs if the video is automatically made from a list of photos of your business activities.
Thumbnail
Thumbnail is the cover image for your video displayed on all previews. Please mind an attention-catching design, a title as well as the correct image size measured in pixels. In 2022, the dimensions are 1280x720. They can change again if YouTube will alter its interface. Interesting design, a teaser for useful information, celebrities and influencers depicted and trendy keywords listed will help you to motivate the visitor to click to watch.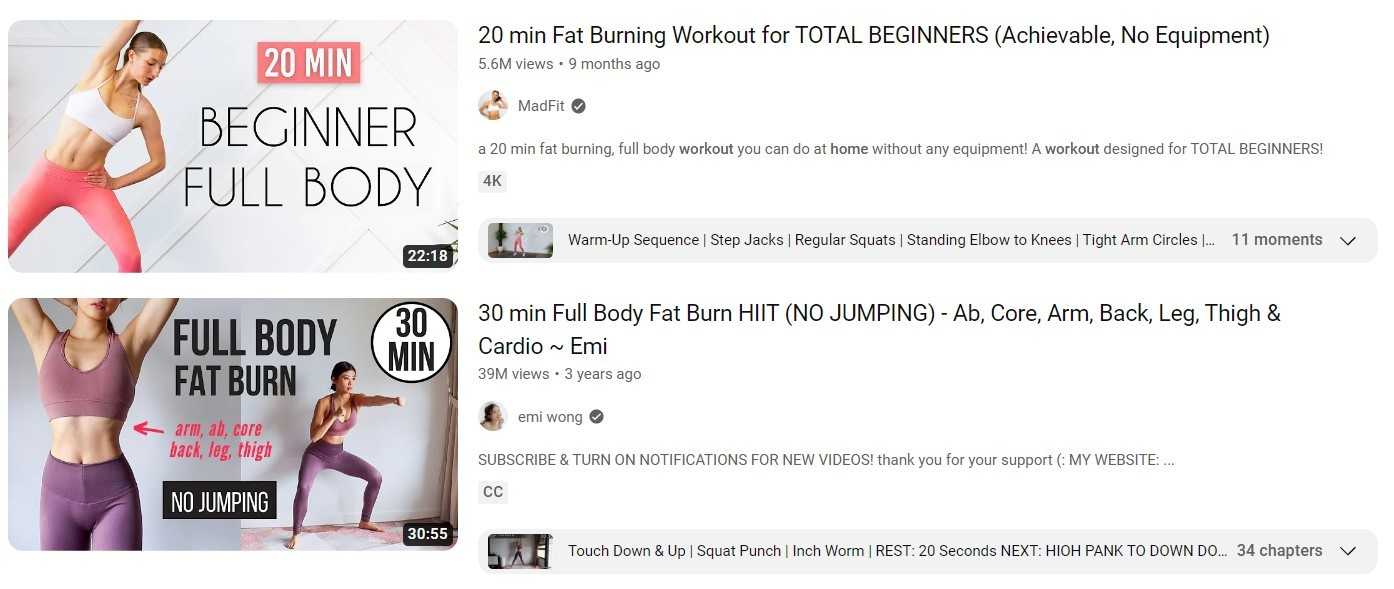 Subscribes After Watching a Video
If your video is really interesting and useful, the channel is educating and/or explaining how to solve a problem, the visitor will not only stay to watch it till the end (we hope, you research the optimal length for the videos in your niche and don't prepare too long ones which will be boring and never finished) but will also subscribe to the channel to get notified about next videos published. You can remind your spectators to do so as well as like and share your video content in a number of ways:
Configure overlay buttons

Use the speaker's voice and gestures

Motivate visitors to action in the video description and comments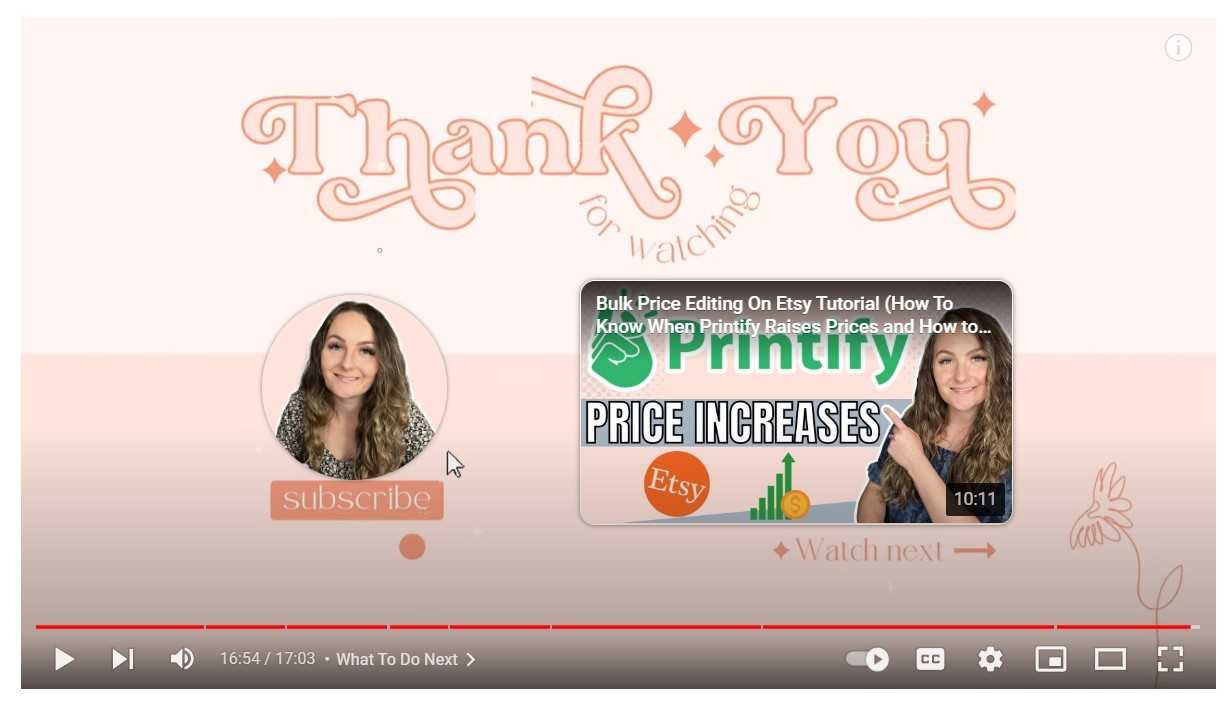 YouTube Video Optimization
Title
The best strategy for a starting vlogger is to base their video titles on ones from their main competitors based on competitor keyword analysis. It is recommended to focus on a single search query but it is possible to add long-tail keywords based on your research results. Don't hesitate to add emojis to your titles to cheer up the audience and motivate them to click through.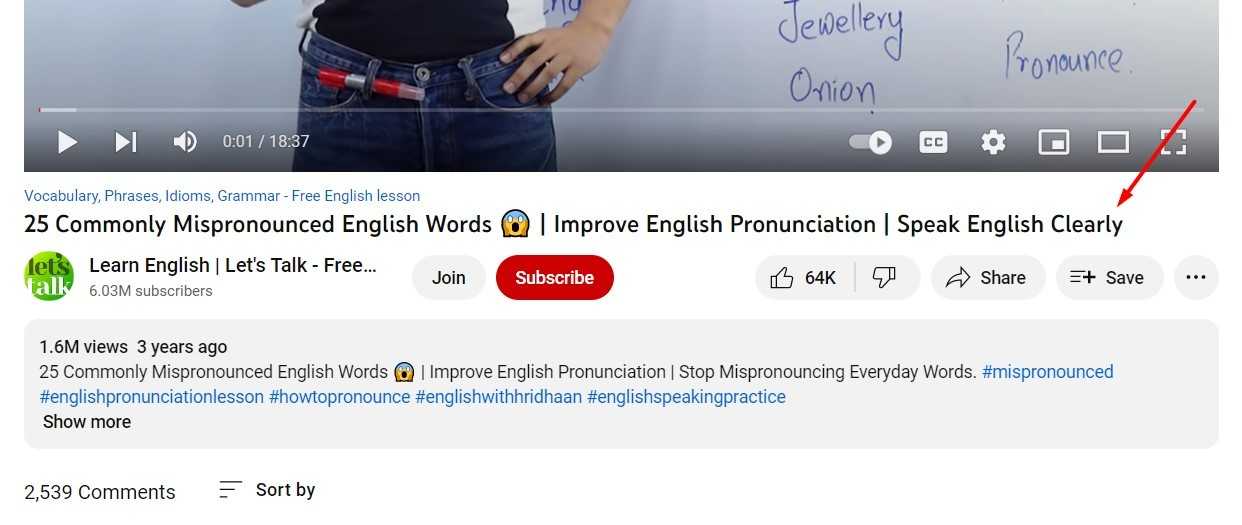 Description
The video description should be no more than 5,000 characters long. Be creative and format your text attractively, include interesting symbols and emojis, add the website and social media links of your business, and add links to other related playlists and videos.
Start your description with the keywords you prepared before, and ensure the text's uniqueness.
If your videos are split into sections, it is one of the usability and SEO best practices for YouTube to provide a table of contents with links to each section of the video. Lastly, don't forget to include a call for action - leave a comment, subscribe, share, use a promo code and make a purchase, etc.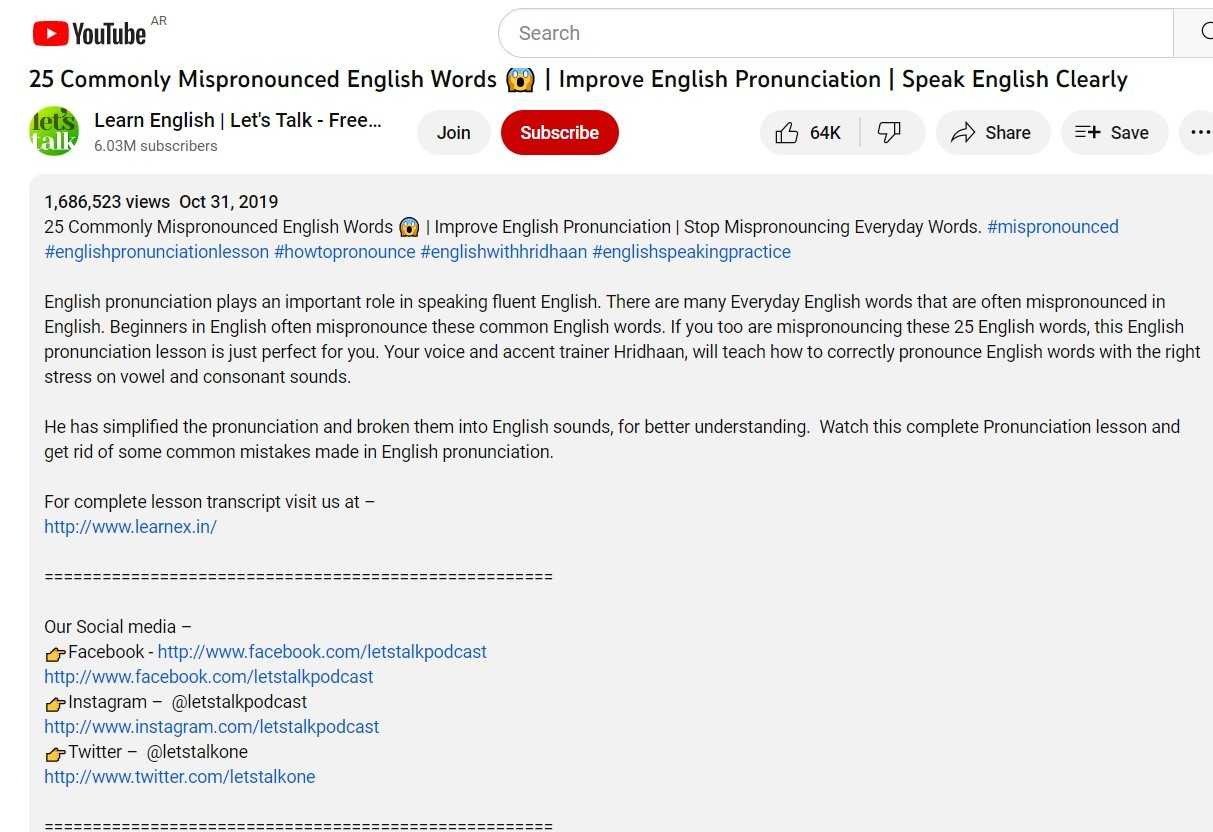 Tags
Tags used to be the third most important YouTube SEO optimization element after title and description but they are losing their efficiency now. Initially, tags helped to include a video in different views to increase search visibility. Today hashtags are helping with this function better, and tags are meant to fix spelling issues and help your video be found for misspelled search requests, too (e.g. U Tube or You-tube instead of YouTube). Think of how incorrectly your users might spell your keywords and add them to the Tag list for the video.

Captions
YouTube videos containing captions are better searchable. Create captions manually or utilize automated transcription services.
Playlists
It is recommended that you plan your channel's major playlists, create relevant titles for them including keywords from your research results, and ensure useful navigation within them. In the future, add each new video to one or more playlists by relevance, and don't forget to promote playlists along with single videos, too.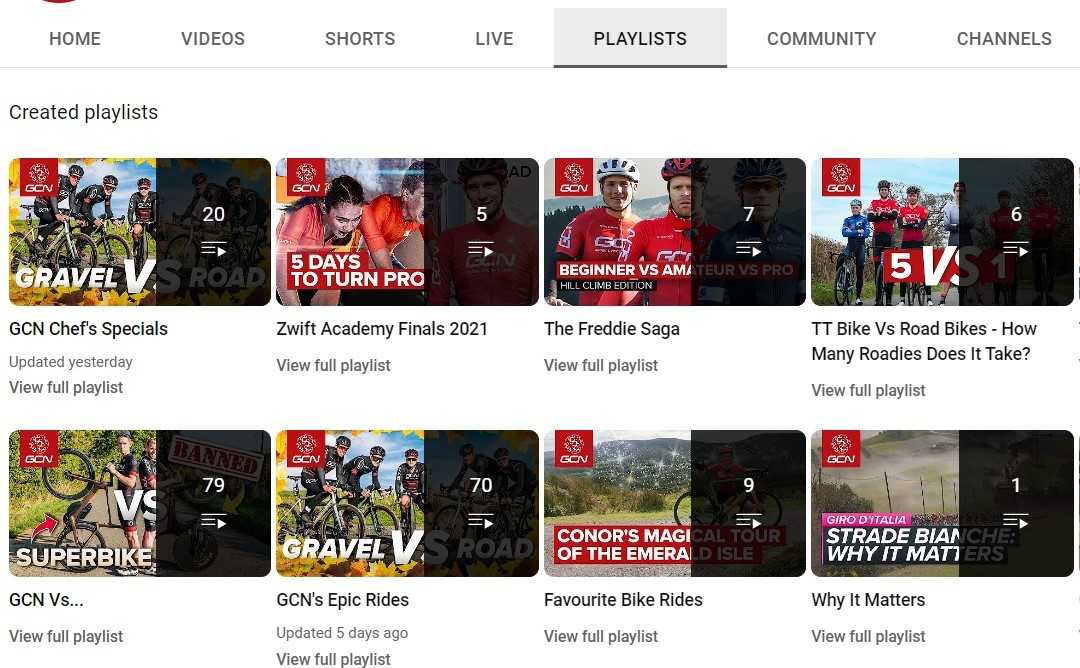 Category
The category is not obligatory but we recommend going to the advanced settings of your freshly published video and adding it. This will help Google better understand the subject of your video and offer it for a relative playlist as a suggestion. Check patterns of YouTube channels similar to yours to get a better understanding of the most suitable category, if needed.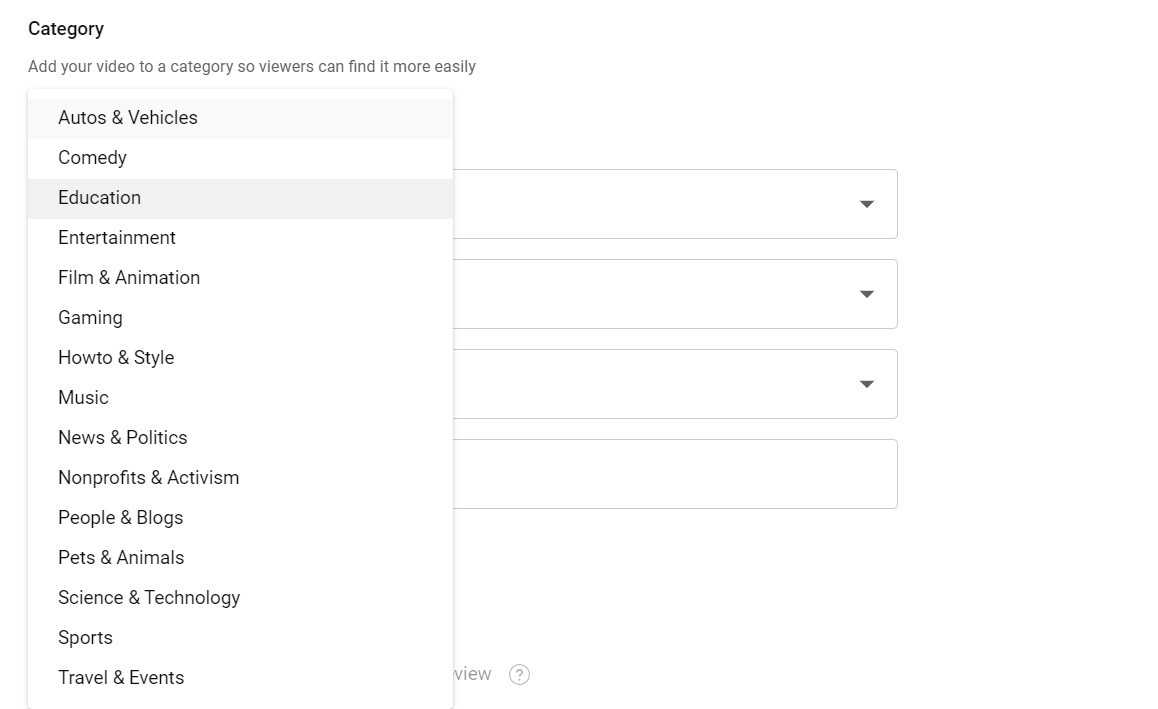 Hashtags
Hashtags are used for grouping videos and can help improve the visibility of your video on YouTube. Namely, hashtags are clickable categories liked by users that will display all videos related to the phrase after the # symbol. First, analyze your market niche rivals (take at least the top four ones) and check for hashtags they use. To prepare the final list of hashtags for both your channel and each video, use Clever SEO Keyword Plugin or the VidIQ tool. Also, when publishing your video, add both your hashtags and the ones being automatically suggested:
Enter the # symbol and start typing the main keyword(s) to see the most popular hashtags related to it.

Choose one hashtag from the list or finish typing yours. Remember that these should be relevant.
Include hashtags in both video description and Multiword hashtags possible but don't use space in hashtag spelling. For more detailed rules of hashtag creation, see the official explanation here. You can also configure hashtags to be displayed above the video title.

Promote Your Video
Within a few hours after your video has been published, use free and paid tools to make it more visible to your existing audience as well as try to attract new visitors:
Share your video on social accounts (Facebook, Twitter, Instagram, etc.);

Go to Quota and other QA sites, search for questions related to the topic of your video and leave answers with the links to your new video;

Email your subscribers about the new video just published;

Add the video to a blog post on your website;

Buy paid advertising to promote your new video and attract potential spectators.
Optimize YouTube Channel Page
We already mentioned above that the same SEO optimization principles are applicable to both videos and the channel itself. Yet, it is worth having a separate section explaining how to optimize the channel's SEO data itself. Don't forget to do SEO research and analysis before proceeding.
Channel title
Your channel's title should both be self-explanatory for the channel's content, purpose, and business activity (main products and services) and contain keywords that are chosen as primary for YouTube optimization. Mind the length.
Channel logo
Channel's logo may or may not be the same as your business logo. It should be concise, easily recognizable, and memorable and should not distract from the video content.
Channel description
The main purpose of your channel's description is to show your business and/or content value and retain your audience who was looking for something on your topic. Use the keywords you found during analysis, naturally embed most searchable keywords and trends, and use marketing and linguistic tricks to draw user attention. Be selling what you are going to present.
Splash screen
We highly recommend using the opportunity of splash screen animation for your channel. This tool helps the channel look more official, increases its recognizability, and attracts the audience. Test before using, as sometimes YouTube does not correctly display some of the animations.
Main links to social media and website
Don't forget that the YouTube channel is another way to represent your business online. So, your channel should not only have a detailed and explanatory title and description but also easily findable links to the official website with all contacts, personnel, and certification details, if applicable, and other information that your existing and potential clients need. Also, include the links to all official social media accounts of your company and expand the list whenever applicable.
Creating a YouTube channel for a business is both an art and hard work. It requires regularity of content posting and involves a lot of hidden work for YouTube keywords search, SEO keyword position checking, and YouTube optimization. Numerous optimization tips for the platform explained in the above SEO tutorial for YouTube will only work if you stay systematic and plan your efforts. Involve your team to prepare short videos and thumbnails as well as brainstorm niche-specific problems your team can offer solutions for and advise about. Don't hesitate to pay for a professional keyword rank checker tool like SpySerp to make your life easier when planning your channel's SEO strategy. If your budget allows, invite a professional designer to prepare branded visuals for better channel recognition, and don't forget to add the branded symbols to each new video and to the paid ads. Cooperate with your marketing department to help with supporting promotion activities and involve software developers to automate email notifications. Mind searching for more customization features allowing gathering personal data from your YouTube visitors and, thus, generating your leads in a more efficient way.
Overall, good luck with the first three videos. As soon as you see your first audience growing exponentially, it will be a sufficient motivation to go on.