Zero Click searches have become increasingly common in recent years. According to the experts at Search Engine Journal, zero-click searches account for over one in three of all desktop searches and over half of all mobile searches. If Google's search engine result pages (SERPs) contain the information for which a user is searching, the user may leave without clicking any listings. With zero-click searches on the rise, you should optimize your website to reach those users.
In this article, we'll look at the statistics and see how zero-click results may affect your SEO strategy and impact your website traffic. And we'll give some recommendations for those who want to optimize their website for zero-click searches.
What are Zero-Click Searches?
A Zero-Click search occurs when a Google user performs a search and discovers the information for which he or she was searching in a special SERP property, thereby eliminating the need to click any listings.
Google's search results have evolved since the company's origins over two decades ago. During Google's early years, its search results consisted entirely of organic and paid listings. While Google still returns organic and paid listings, it now includes other types of properties in its search results, many of which contain highly relevant information about the user's search query. With a zero-click search, the user will read the information in one of these properties rather than click a listing.
It is important to note that users can find relevant information in the titles and descriptions of organic listings. The term "zero-click search", however, is colloquially used to describe the consumption of information from a special property in Google's SERPs.
The Types of Zero-Click Search Properties
There are a few types of zero-click search Google properties where your website, or information from your website, can appear – featured snippets, instant answers, and knowledge graph.
Found at the top of the search results, featured snippets consist of a large rectangular box with information related to the user's search query. Researches show that about 16% of all search queries processed by Google result in a featured snippet.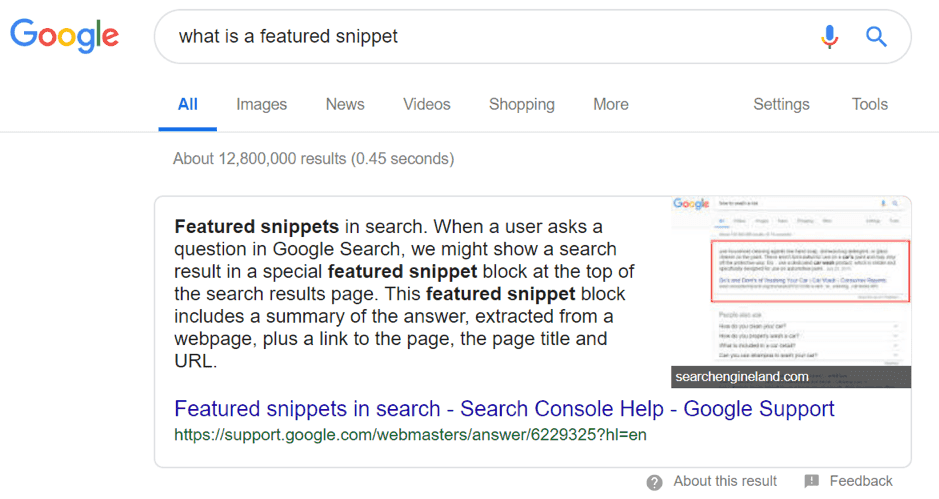 Instant Answers provide immediate answers to your search. It may include instant weather forecasts or simple calculus results.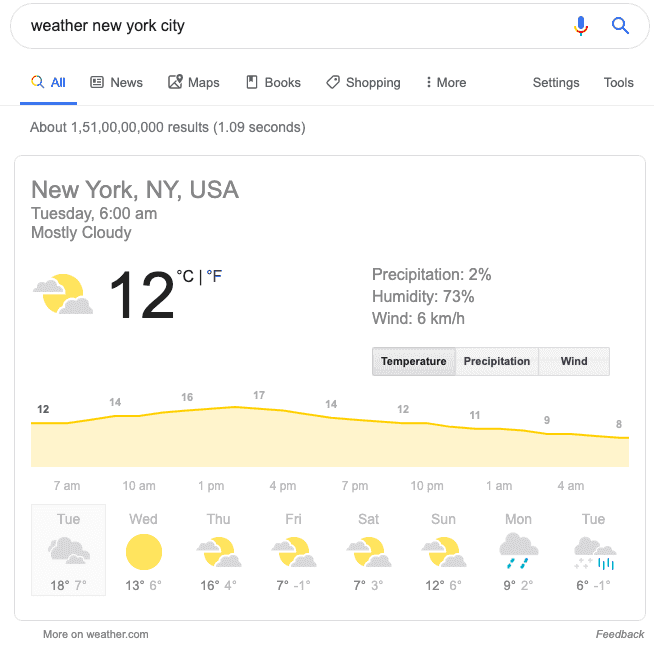 The knowledge graph shows additional information about the user's query. They usually appear on the right side of the first SERP when a user looks up a celebrity or searches for a company.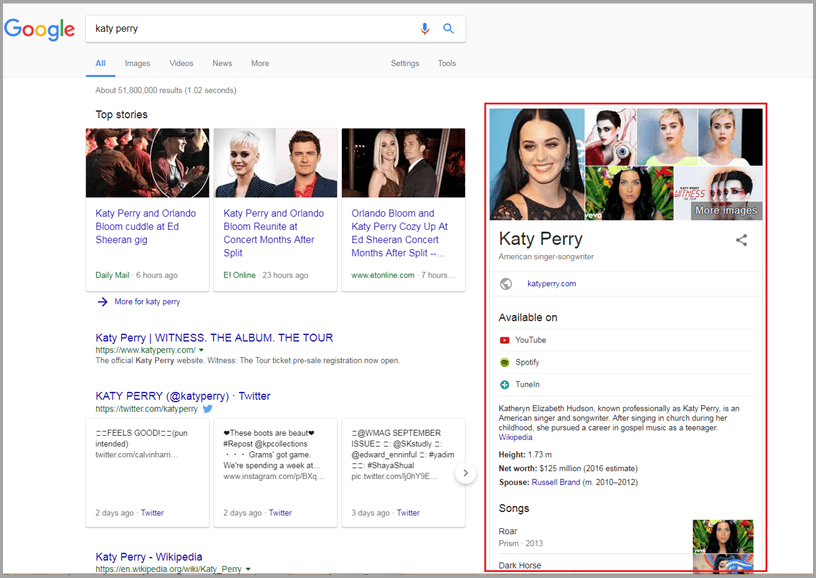 How zero-click results reshape the SERP?
The rise of user searches that end without clicks stirs the SEO community.
According to data from SparkToro (previously owned by Moz) roughly 62% of mobile search queries and about 33% on desktops did not lead to any clicks.
For every 100 mobile searches on Google, there are:
38.5 clicks on an organic result
3.4 clicks on a paid result
61.5 no-click searches
For every 100 desktop searches on Google, there are:
65.6 clicks on an organic result
3.7 clicks on a paid result
34.3 no-click searches
The number of zero-click results, as well as clicks on Google advertisements is growing. Though, organic CTR, which is still 10 times more than mobile advertisements CTR, and 20 times more than desktop advertisements CTR, continues to decrease.
By removing the user need to click on an organic search result and visit other websites, Google can capitalize on and actively drive traffic from Google My Business and Google Ads.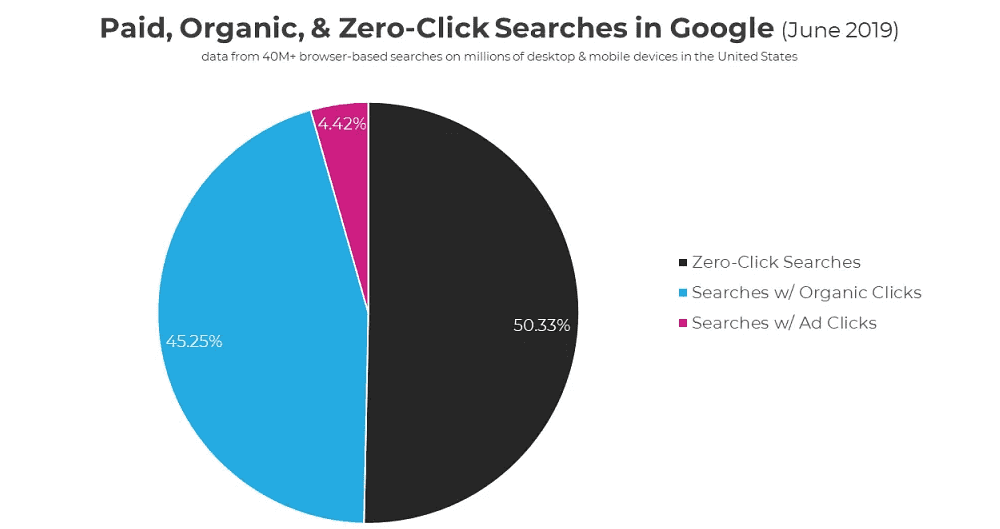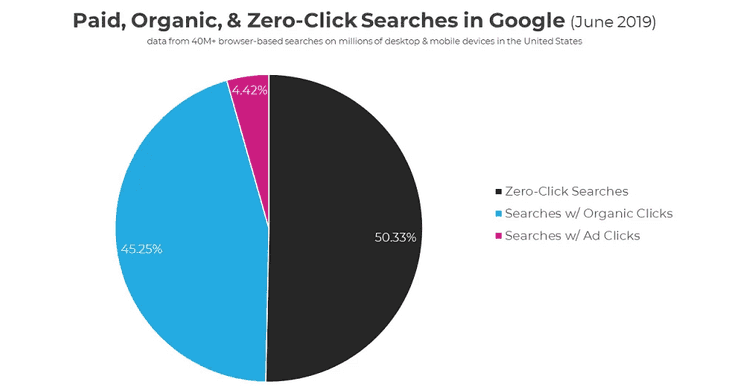 How to Get into Zero-Click Results?
If your company has physical business locations (one or several addresses), you can add information about each of them to Google My Business. The more local data provided, the more returns for relevant queries can be covered.
Tips for Getting into the Local Pack
Make sure to choose the right business category: not only the main one but also additional details (for example, Food> Restaurants, cafes, bars> Pizzerias or Food> Restaurants, cafes, bars> Mexican restaurants).
Improve your website content. Be sure to add a photo, submit regular updates, news or any other important information for users in the section "Questions and Answers". The topics are generated automatically for every user search query: asking a question, they want to receive feedback from company representatives. Everyone can answer, but in this case, the information may be unreliable. Prepare popular questions and answers for your users in advance, so you can be sure that your customers will find what they would like to ask.
Work with reviews. Motivate customers to write and respond to comments. Remember that reviews and the ratings they form are the third most important ranking factor.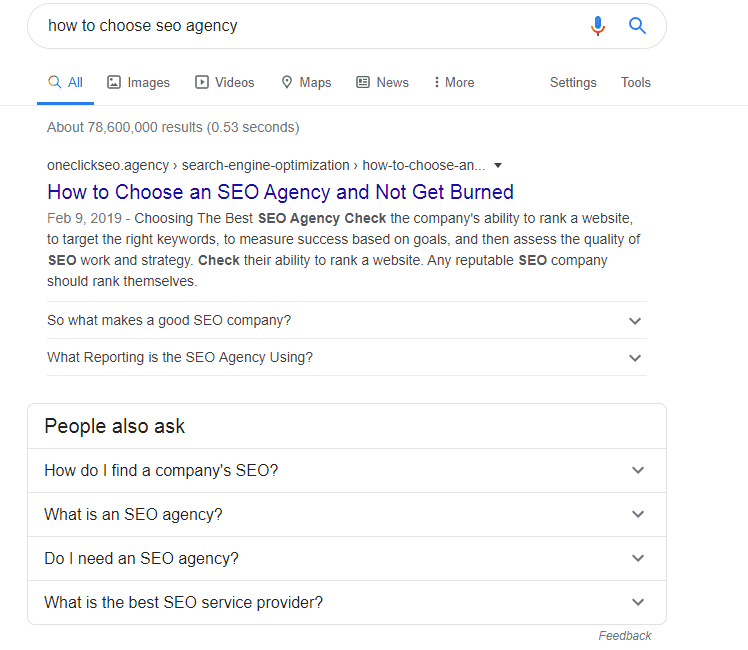 Google My Business's regularly updated content will attract more users and make them spend more time viewing your company's information. Google will evaluate these engagement metrics and take them into account when ranking your website in the SERPs.
By the way, Google also takes into account the semantics of reviews, so it's important that they contain the right keywords. Keep this in mind when replying to reviews. It is also worthwhile to ensure that your company reviews are presented on the biggest industry websites where company listings similar to yours are submitted. To find out those websites, type "your industry + city" into the Google search bar. The websites you may look for are usually in the first positions of the search result page. Local links continue to play an important role in the overall SEO strategy. The references in business directories are the most solid basis of the backlink profile for many companies.
Do not forget about local directories, official and private city guides, regional and world services companies (Yelp, Foursquare, 2GIS, etc.). It is important that the information on the resources remains the same, this will be positively perceived by the search engine algorithm. The "quality" of the backlink profile is a major ranking factor, so if you submit your website on high-quality platforms, all the chances are you may get to zero-click searches.
You can also get into the zero-click searches through the Google Featured Snippets, which shows the information relevant to the user's query in the form of a piece of text, a numbered list or a table with a link to the source site.
There is no special markup that would guarantee you get to Google Featured Snippets. It is shown only if the Google algorithm determines the content as a relevant response to a search query. But there are certain methods you can use to increase the chances of your website to get into Featured Snippets.
How To Optimize Your Website Content To Display A Page In The Google Answer Block
Make content clear and readable: the readability index value for the text should be above 50%.
The optimal line length for your text is considered to be 40-60. On average, 44 words, 297 characters are displayed.
Use numbered lists, bullet-pointed lists, tables, or graphs (~ 95% of answer blocks contain lists).
Use the subtitles H2 – H6.
Add a relevant image along with the snippet query you're answering. It should not exceed 800 pixels in width, the average size is 159 * 231px, should contain the alt attribute.
HTTPS also increases the chances of getting into the Google answer block.
Optimize social signals (posts with links on social networks);
Make sure your website is mobile-friendly
Using artificial intelligence, Google is doing everything possible to monopolize traffic and improve user experience by directly answering queries instead of displaying website listings. In the future, a significant decrease in website traffic is expected, and companies should be preparing for this significant shift from now on. It's time to renew regular SEO practices and start embracing a wider Google strategy that includes featured snippets optimization, updating Google My Business profile, improving link building strategy, and aligning your SEO with PPC and social marketing.