Can a business survive without 75% of its customers?
The answer to this question seems obvious, but what if we told you that you aren't reaching 75% of your potential customer base? According to multiple studies, only 25% of online users make it to the second search results page. So, if you aren't on the first page of Google, most people might not even know that you exist.
The first thing you probably want to know is how you can get to the first page of Google. To reach that goal, you need to get a website SEO checker of 2021 and have the patience to develop an SEO strategy. While we can't help you with patience, we can help you find the tools you need to succeed.
Read on for our list of the best website SEO checker tools you need to try and learn how they'll help you improve your rankings.
Why Should You Use Website SEO Checker Tools?
For a private enterprise to function and prosper, you need tools that help you focus on creating quality content. Depending on the industry you work in, on-page SEO checker tools have become a necessary digital marketing tactic - they allow you to identify performance problems and improve your online presence. Let's take a closer look at all the aspects of why you should use them.
Automation
When choosing tools, the most crucial criterion is the time, effort, and cost of performing a particular process. SEO tools are designed primarily to help you implement a reliable and effective marketing campaign with minimal costs. Imagine how many hours you would have to spend manually analyzing the competitiveness of each keyword and its ranking position or when checking backlinks! Now you can do this in a few minutes.
Reporting analysis
The best SEO site checkers provide a reporting feature that allows you to compare data over specific periods. These are your helpful comrades who give all sources of information and allow you to make vital decisions for your business quickly and "painlessly." Such tools help you quickly and accurately collect data and filter it, while manual sorting doesn't exclude this possibility.
New ideas
Using new products that have just entered the market often provides better solutions and exciting ideas for promotion. In essence, this is a new way of looking at the analysis. It would be best if you didn't neglect reliable analyzers in use for several years: find out how often developers offer functionality updates. Perhaps you shouldn't change it to a new one.
So we've discussed the benefits of the tools for SEO specialists, but what about the business itself? When applying proven SEO tools, the company may:
raise conversions;
extend website session duration;
improve the sales funnel;
make the website more practical;
improve traffic targeting and user experience, etc.
The Best 6 SEO Analyzer Tools
There are usually seven types of website checkers for SEO and SERP ranking analysis. Let's examine them.
Website speed analyzers
As you know, a page load delay of even 1 second reduces the number of views by 11%, thus affecting the user experience. In addition, this parameter is essential in determining your site ranking in SERP.
Luckily, there are several top search engine optimization tools that track load time. Here are a few of them: Neil Patel SEO Analyzer, Website SEO Checker, PageSpeed Insights, etc.
Backlink analysis tools
As we wrote earlier, backlinks can indirectly affect a site's SERP rating and domain authority, showing crawlers that your resource is trustworthy and should take a prominent place among competitors. With SiteChecker, SEO Site Checkup, and Website SEO Checker, you can analyze the backlink profile to understand which ones will benefit your SEO.
SEO ranking checker tools
Let's say you've written quality content for your site. But what to do next? How to make sure your articles are ranking correctly on Google? Performing such analysis manually takes a lot of time, so today, it's fast and highly effective to use analyzers such as SpySERP. It shows how your position has changed compared to competitors in the search engine rankings but also allows you to download reports for a certain period.
Keyword research tools
There is no need to repeat that keyword phrases are the backbone of search engine optimization. Advanced analysis software speeds up the detection phase and reveals gaps in content. That makes it easy to rank for popular keywords and instantly create content focused on them. Therefore, to increase your site's ranking and outperform competitors, we advise you to use SEO Site Checkup.
SEO reporting tools
To stay at the top of the search results for a long time, you cannot do without software for creating optimization reports and analyzing website performance based on selected KPIs. That will keep you flexible and navigate the state of your SEO. The current market offers the following best SEO checkers with reporting functions: Google Data Studio, SpySERP, Neil Patel SEO Analyzer, Website SEO Checker.
Competitor analysis tools
Treat your competitors like teachers, not enemies - track their SEO and fill gaps in your strategy. A clear understanding of your market segment will help you find the most effective search engine optimization methods. You can use several audit tools and also SpySerp, Website SEO Checker, SEO Site Checkup.
Local SEO tools
While search is global, many purchasing decisions are made locally. Therefore, the best website SEO checker tools often include an automatic search of lists, their updating, and review management features. In addition, such programs as Google Mobile Optimizer and, of course, SpySerp will be helpful in your arsenal.
It's worth noting that most of the above programs can combine several functions simultaneously, thereby facilitating the work and saving time. Next, we'll analyze them in detail, talk about the cost and benefits.
If you have a small site or want to quickly check some pages, this SEO score checker will come in handy. So, testing the first 150 web pages is for free, and after that, you'll have to switch to the paid version. The subscription is inexpensive, and for newbies, it'll cost only $29, for an enterprise at the primary level - $49, but for a growing business - $99 per month. The annual subscription currently has a 20% discount.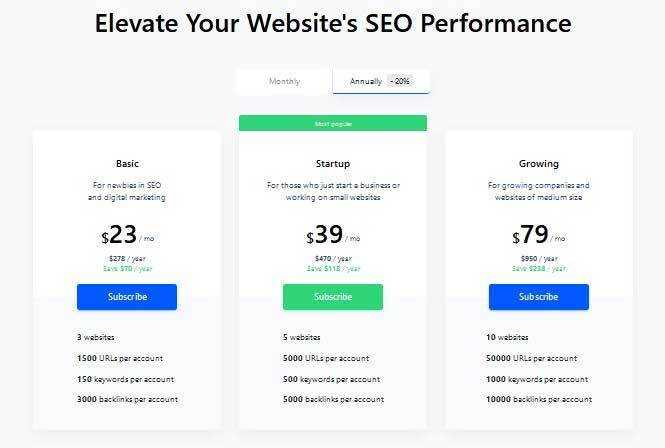 There are a few things that can dramatically impact your website's SEO ranking. First, you have to optimize your website's title and SEO description. The title is what shows up when someone sees your website in search results, and the description is a summary of your page's content and is placed under the title.
It would be best if you optimized both to attract the website visitors' attention and improve your SEO score.
Title - between 50-60 characters
SEO Description - between 140-155 characters
SiteChecker allows you to check your website's on-page SEO, showing you what kind of improvements you can make.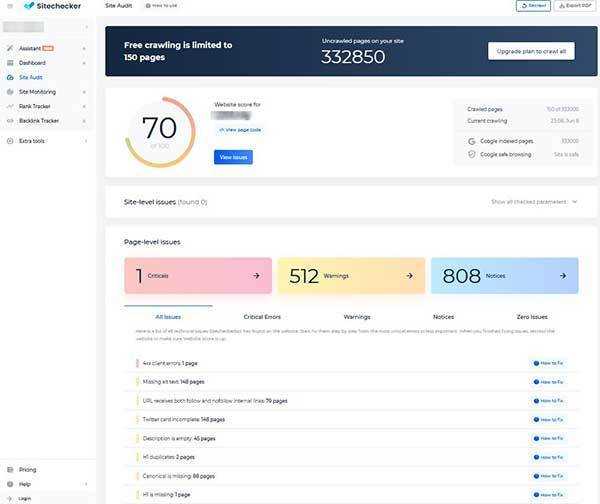 It also allows you to check backlinks, the links from other websites to yours. Backlinks from reputable websites improve your score, but bad links hurt your ranking. With this tool, you can find out where your backlinks are coming from and keep or eliminate them.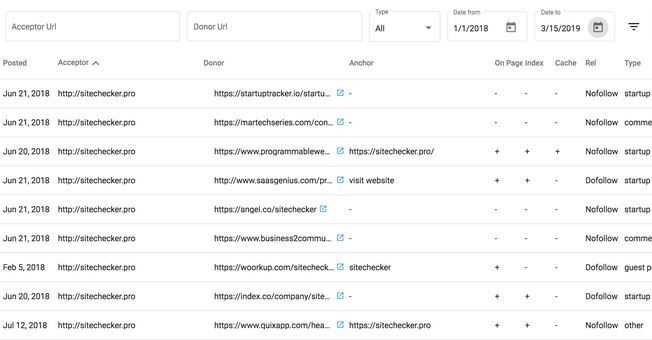 This tool tracks your website rankings and changes regularly so that you can update the web pages as needed; such activities will positively affect your SEO score.
This website's SEO checker has a 7-day free trial; the prices differ slightly from the previous tool.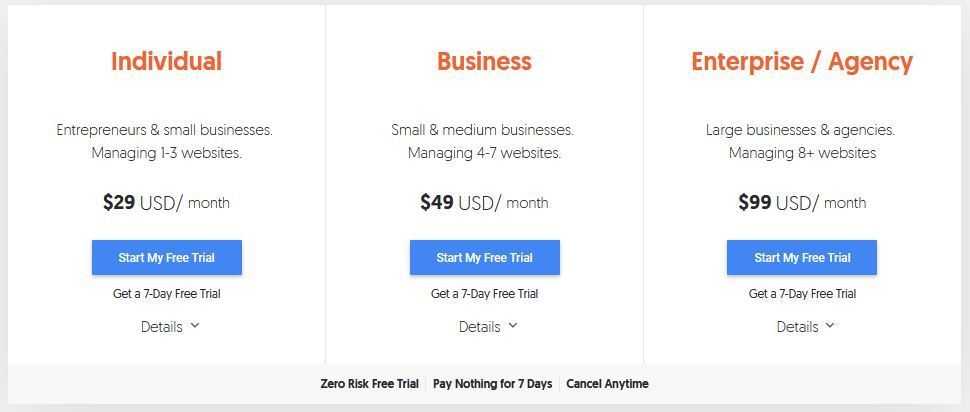 However, Neil Patel offers a unique solution - a lifetime subscription. It's brilliant and worth it! At the same time, if something doesn't suit you in the software, then a money-back guarantee is provided here.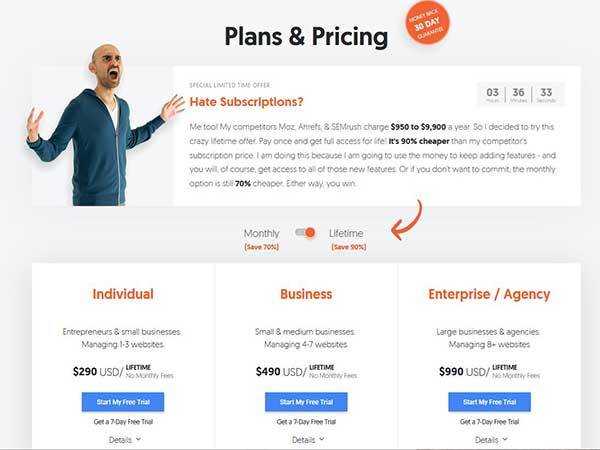 Neil Patel's SEO Analyzer will do the hard work for you - it's a tool that tells you what you need to do and then guides you on how to do it. If this seems like it's too good to be true, we've got some good news for you.
The SEO Analysis tool will check your website and give you a personal report with a thorough description of all SEO errors you need to fix. The tool then advises you on how to fix the problems and why this matters.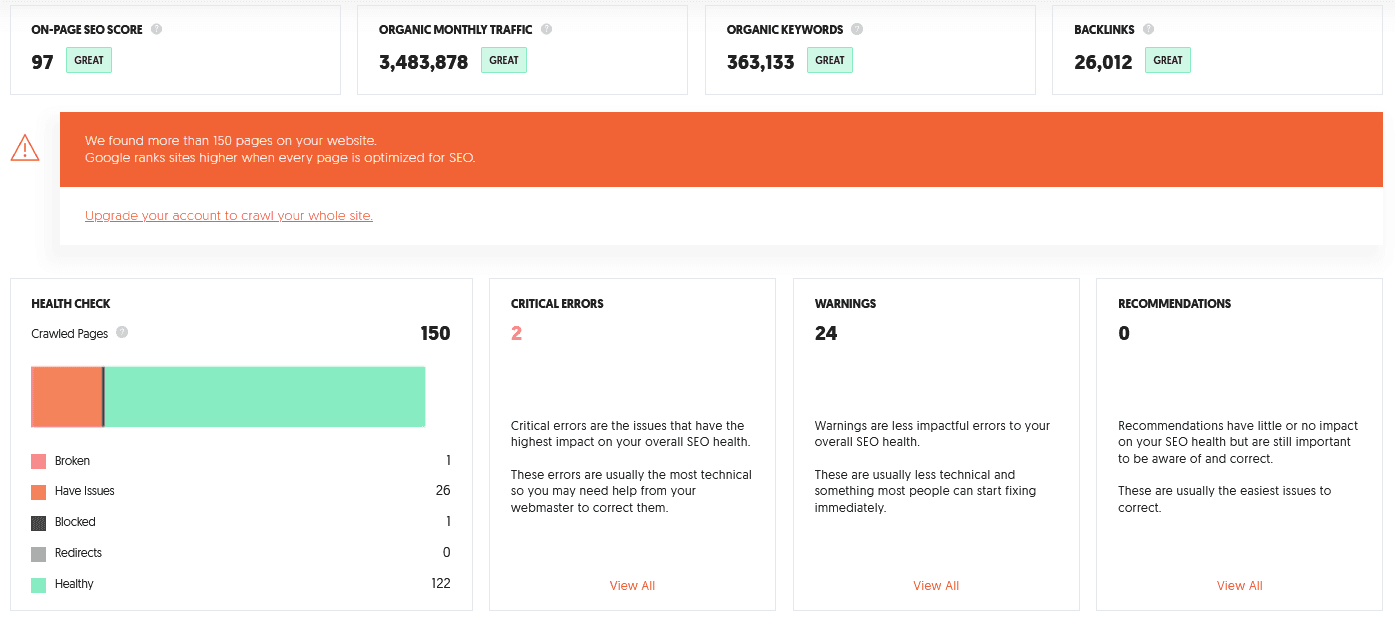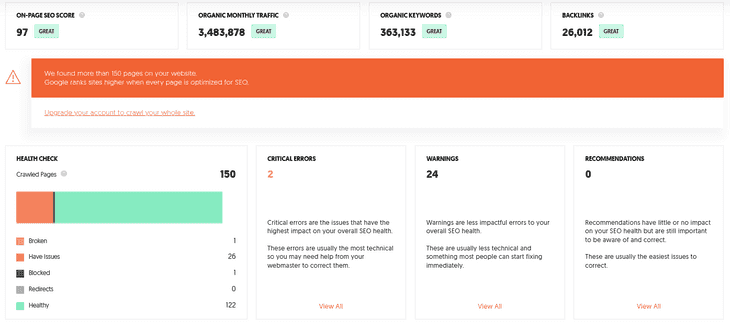 Some of the most common problems the analyzer can find include:
low word count on a page;
similar title and meta tags;
SSL certification issues;
lack of sitemap.xml;
more.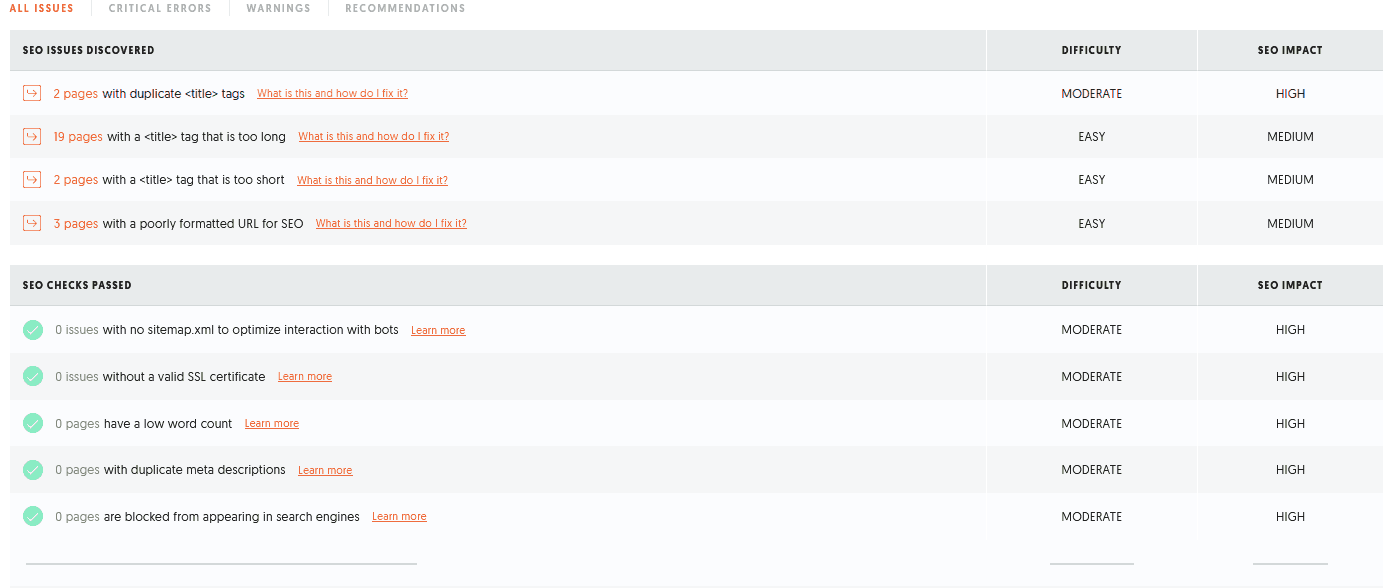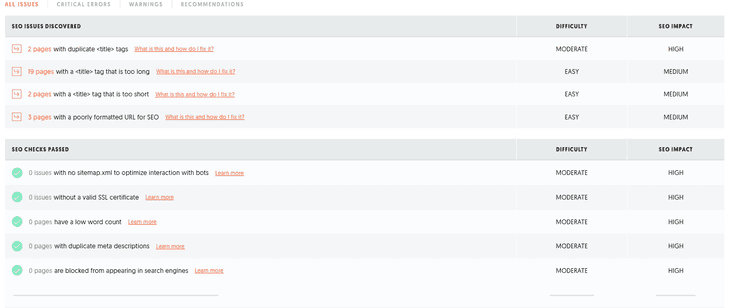 The tool also measures site speed, which is an important part of SEO. Google now penalizes websites that run slowly. By checking your website's speed, you can see what pages need optimization and which are fine.


This tool is an all-in-one application created by one of the most influential members of the SEO community.
Like the previous tools, the website online SEO checker has a free version, for which it's essential to register.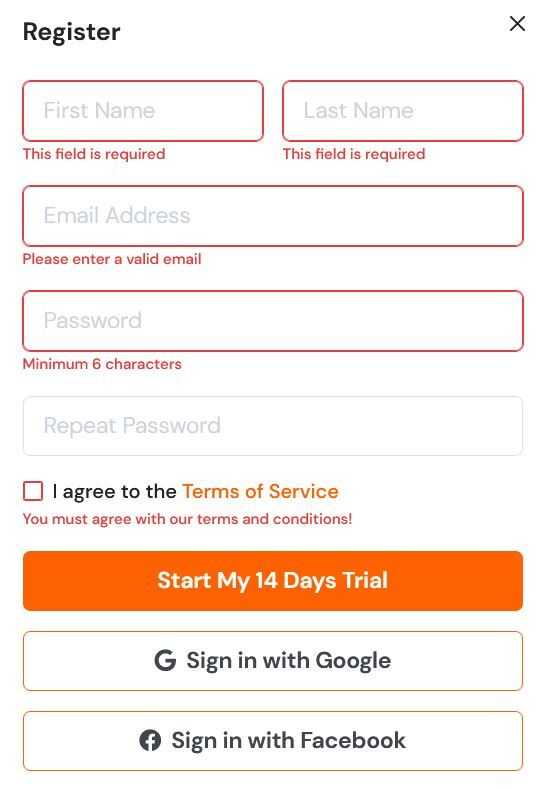 The tool is a little more expensive, and a monthly subscription here will cost between $24.95 and $79.95, depending on how professional you intend to use it. The annual subscription includes a 10% discount.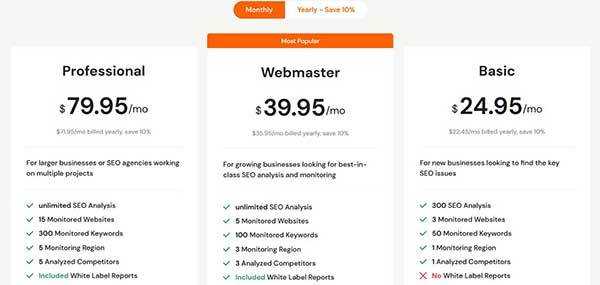 If you are not satisfied with the purchase option, you'll need to wait 60 minutes after each check.
What separates this tool from others on this list is the ease of use and ability to run advanced competitor research on up to five websites.
Competitor research is an often undervalued aspect of SEO. The first thing you want to do is to find out what websites are there in your niche. Then, pick the keywords you're using on your website and do a quick Google search. Find the sites ahead of yours in the rankings and look at what makes them better. Do they have more content than you? Are their websites faster?
With SEO Site Checkup, you can compare up to five sites side by side. Check which keywords they rank for and see if there are any you can use for your website. Create a content strategy based on those keywords to grow your online presence and visibility.
You can then use this tool to ensure that you don't have any "bad" backlinks, loading issues, or broken links. The tool will track your website's performance so that you can see what works and what doesn't in real-time.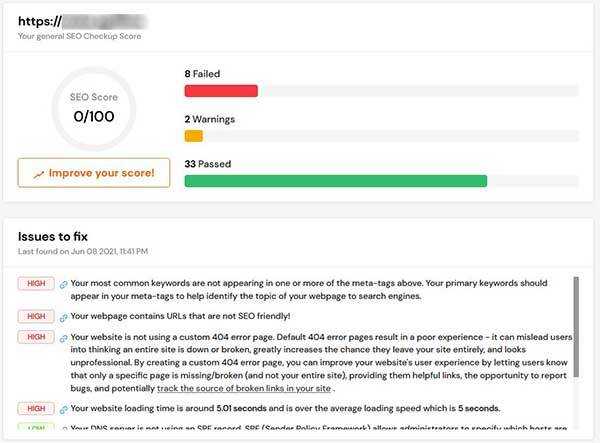 This tool is a powerful way to increase your search engine ranking.
Google SEO checker is free and has extensive functionality. This tool allows you to generate a detailed report that shows you in-depth information about your website. You'll receive both on-page and off-page information, showing you where you have room for improvement.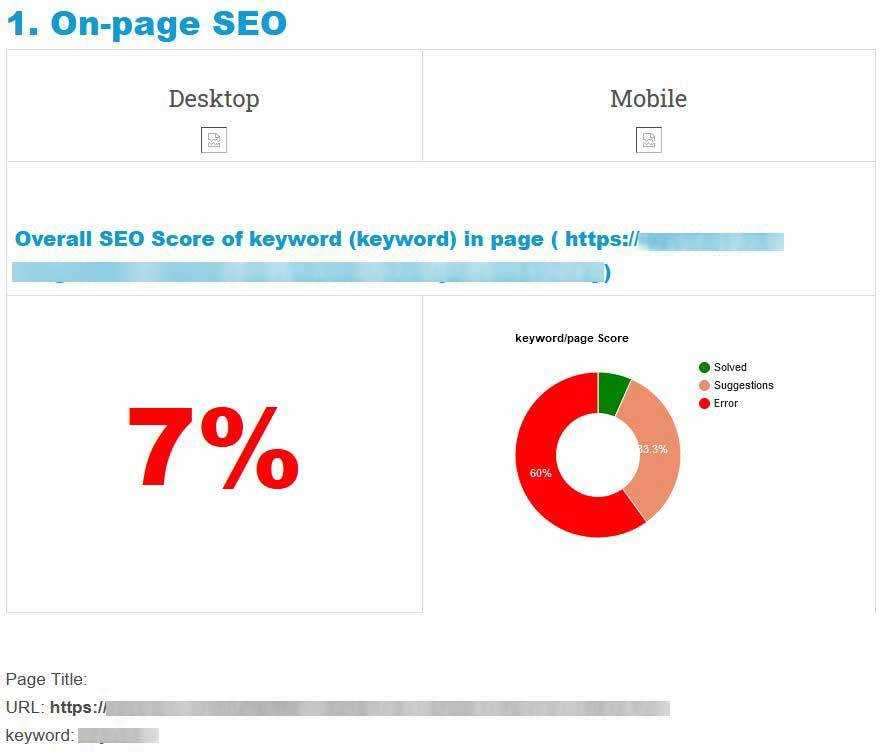 The off-page section of the report is what sets this tool apart, as it shows you the social shares that your website generates.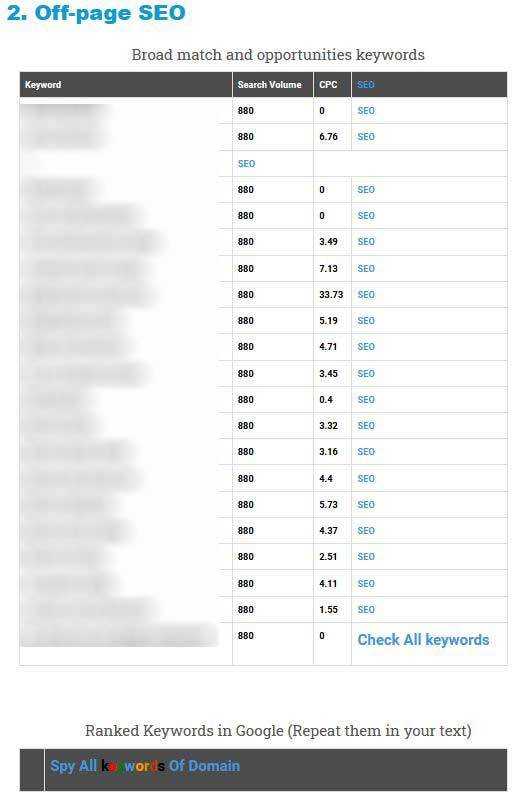 You'll see how many people talk about your website on Twitter, Facebook, and LinkedIn. Social media links are a great way to improve your SEO score, and they let you know whether your content strategy works.

It also shows the website's domain age, which impacts the SEO score as well. Google trusts older domains more than younger ones, but newer websites can still overcome this with a good content strategy. You can also see your site's speed and what impacts that, e.g., the image size. If your website isn't as fast as you wish, there is an option to optimize images and make the pages load faster.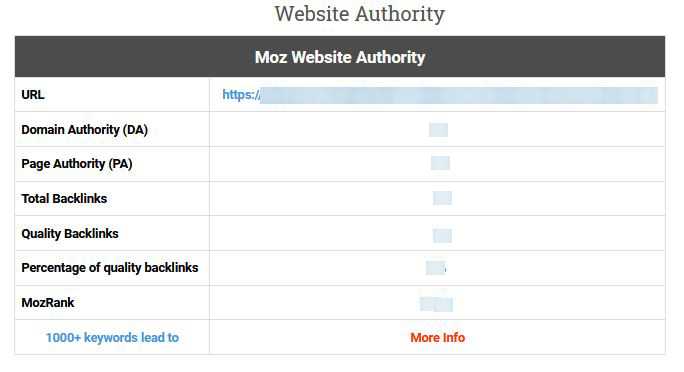 If you're going to buy an existing domain, this will be a great tool to get all the information you need about it.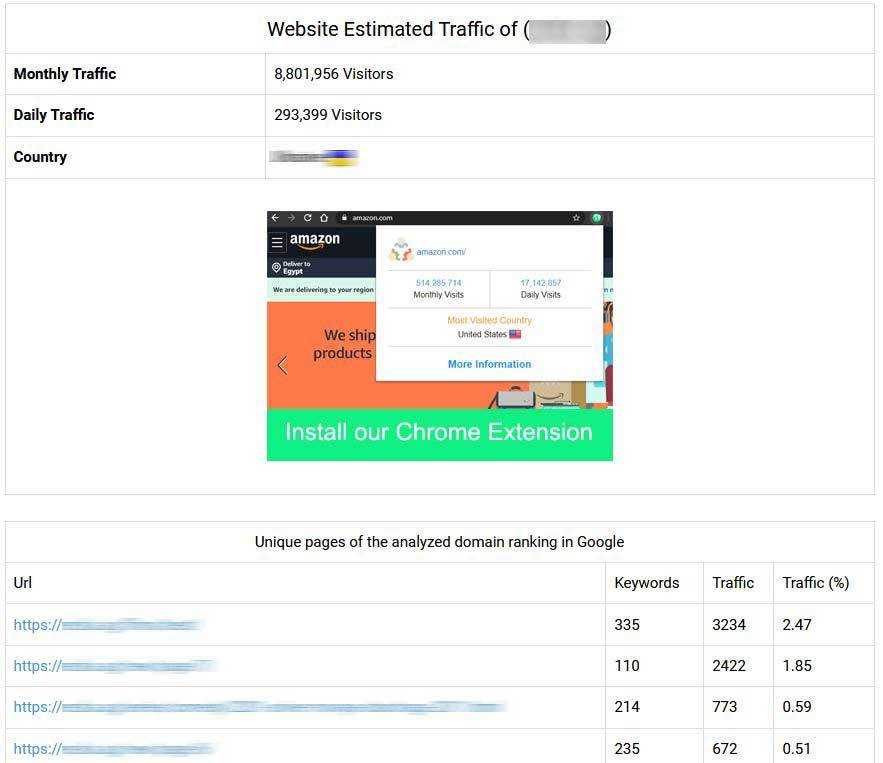 You can also run this report on competitors to see what they do right and what are their weaknesses. For example, if you run this report and discover that your competitor doesn't have a solid backlinks strategy, you can reach out to other websites in your niche to see if they'd like to refer to you.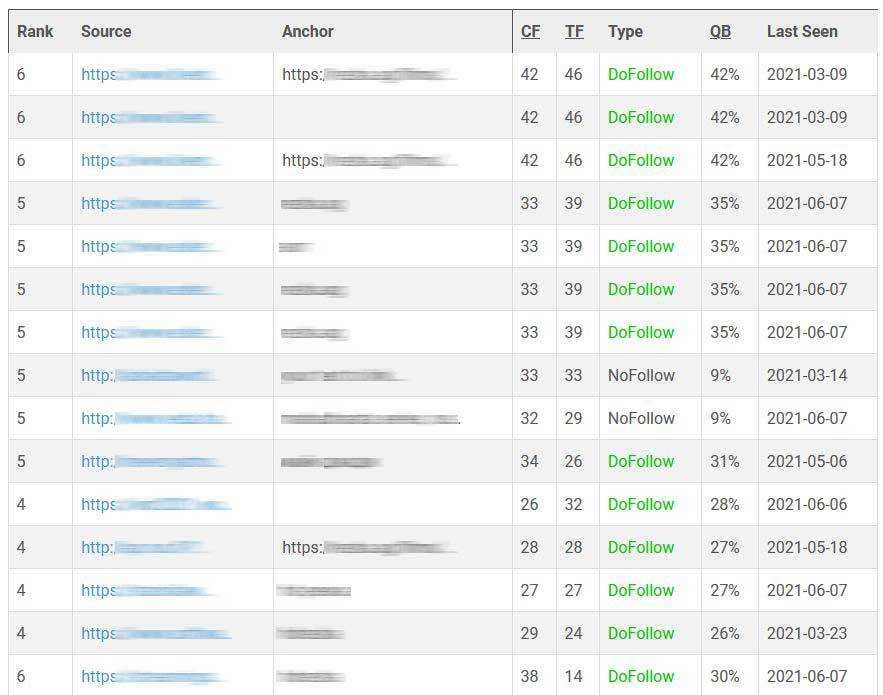 The on-page section of the report will check your H1, H2, and H3 tags, make sure you aren't stuffing keywords and show your Google analytics score. Website SEO Checker gives you all the details you need to improve your ranking!
Now that more mobile searches take place on cell phones than on traditional computers, Google will penalize any website that isn't mobile-friendly. If your website doesn't run on mobile devices, it won't show up when such users look for your business.
Google created one of the best free search engine optimization tools to check your website and make sure it works on those devices. If you have a local site, this is an essential tool as 78% of local mobile searches results in an offline purchase. If your site doesn't show up to mobile users, you miss out on those potential customers.
The process is easy: you put your website's URL into the search box and click enter. Google then checks your website and gives you a score and information on how to fix the problem. Try it out today and see how your site ranks!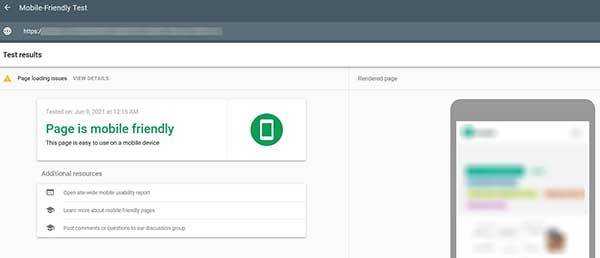 If you want to rank on the first page of Google, the content is king. The best way of improving your SEO ranking is to have consistent content that provides value to your website's visitors.
Google ranks websites through the use of keywords. Keywords are what people search for when using Google, Bing, Yahoo, or similar search engines. There are several ways to rank high for these keywords: you can put them on a web page's description, title, and headers. You can also write content around them and place them strategically inside the text.
To choose the best keywords for your website, you should do two things. First, you need to think of what people will search for when looking for your product or service. E.g., if you run an online store that sells jewelry, you should choose keywords related to your business, like 'gold jewelry.'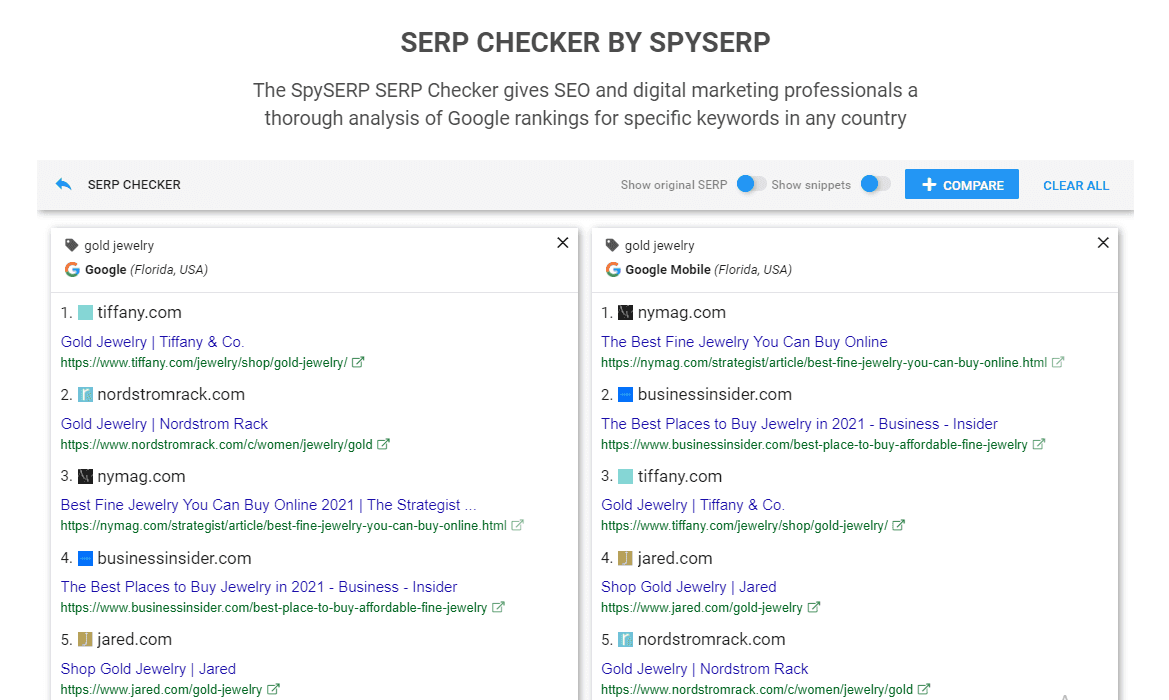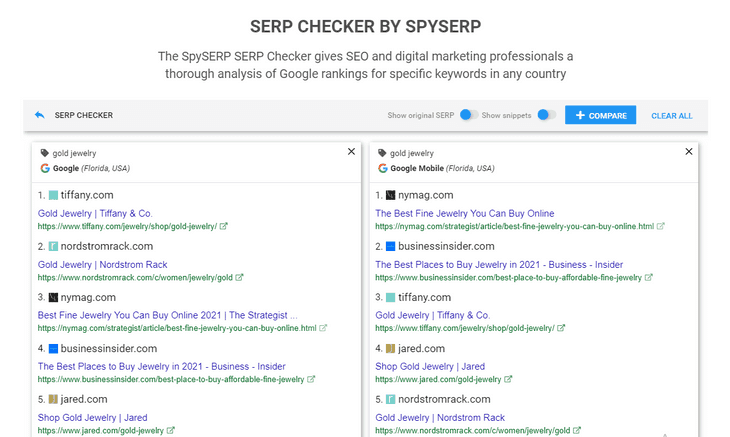 Metrics also help you decide what keyword works best for your site. You need to look at the amount of traffic a keyword generates (how many searches per month), the cost-per-click of the keyword (an indicator of how much it will cost to run Ad campaigns with Google), and the number of backlinks it will take to rank in the top 10 of Google.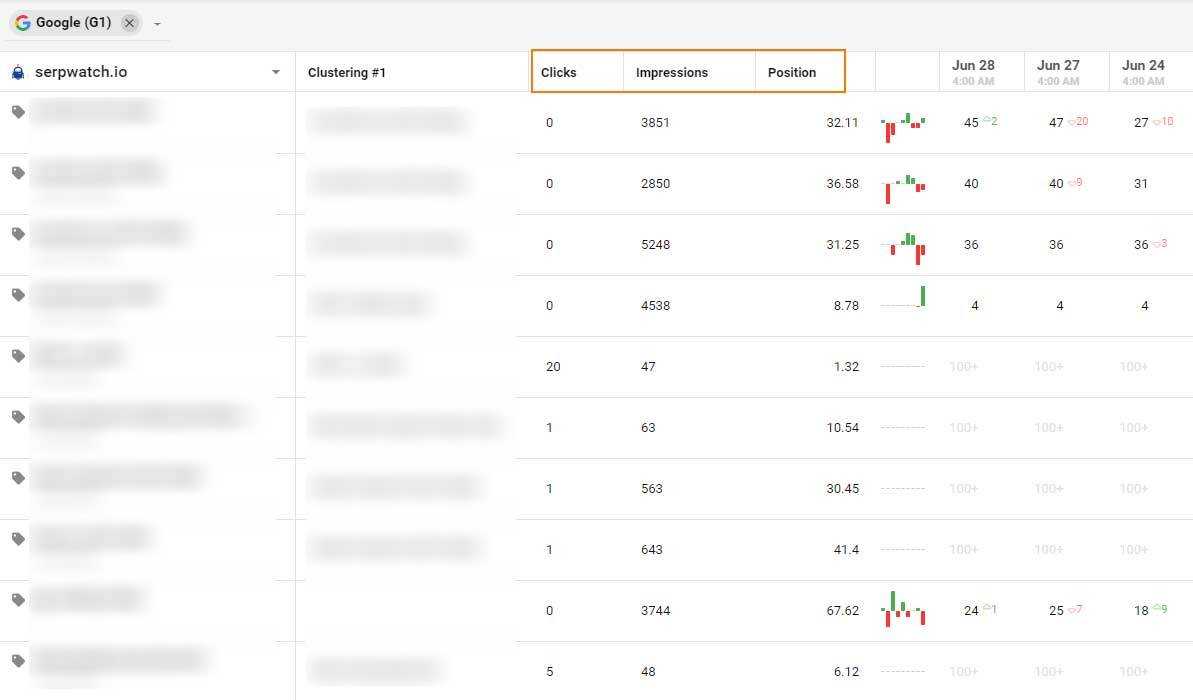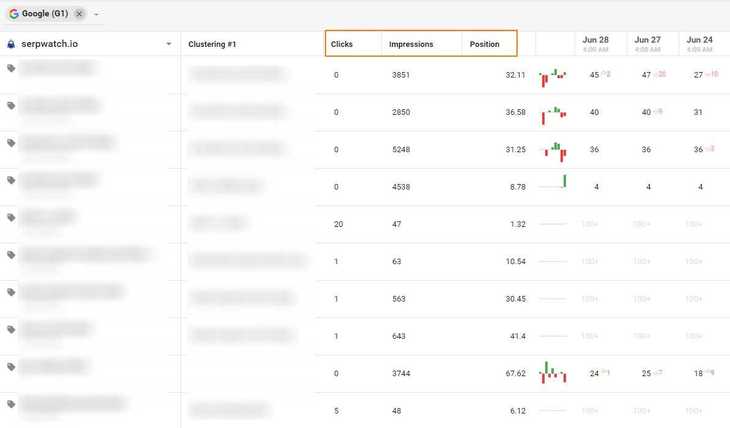 With SpySerp, you can research the metrics of potential keywords and plan your SEO strategy accordingly.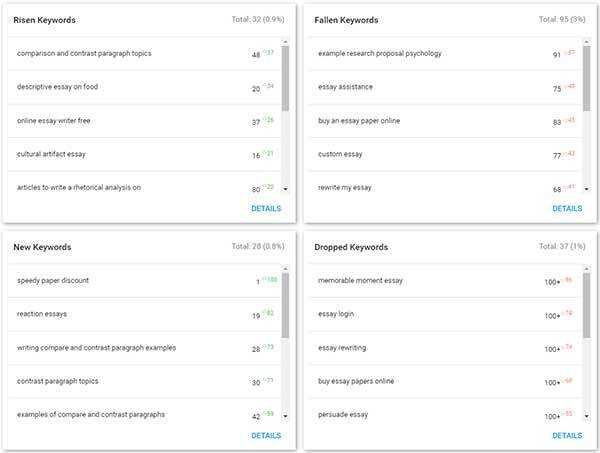 Depending on how much you want to pay, you can search between 1,000 and 1,000,0000 keywords per month.
You can also use this rank tracker to check your website's SEO metrics and compare them with the competitors to see where you need to improve.
Improve Your SEO Rankings Today!
The importance of SEO for business success is invaluable. However, it's difficult to say how we would find the information we're looking for daily - the results would be too easy to manipulate. Now, on the contrary, users trust crawlers and their organic search selection.
Now that you know the importance of SEO and have some information on how to improve your search engine rankings, you can improve your site's visibility. In addition, by using these tools, you'll increase the number of your site's visitors and improve conversions.
If you're interested in improving your website's content and finding the best keywords for your niche, get SpySerp today for a free 7-day trial! Our tool will give you all the information you need to run digital marketing and content campaigns successfully.