Blogs offer an excellent home base for social media. Blogging done on a regular basis, can also help in establishing you as a real professional and expert in your chosen niche. This can also transform your site into a highly efficient networking powerhouse.
However, with hundreds of blogs created on a daily basis, it might be difficult for bloggers to determine how to make their contents stand out. Moreover, as said Ahrefs study, about 91% of content from search engines gets no traffic from Google.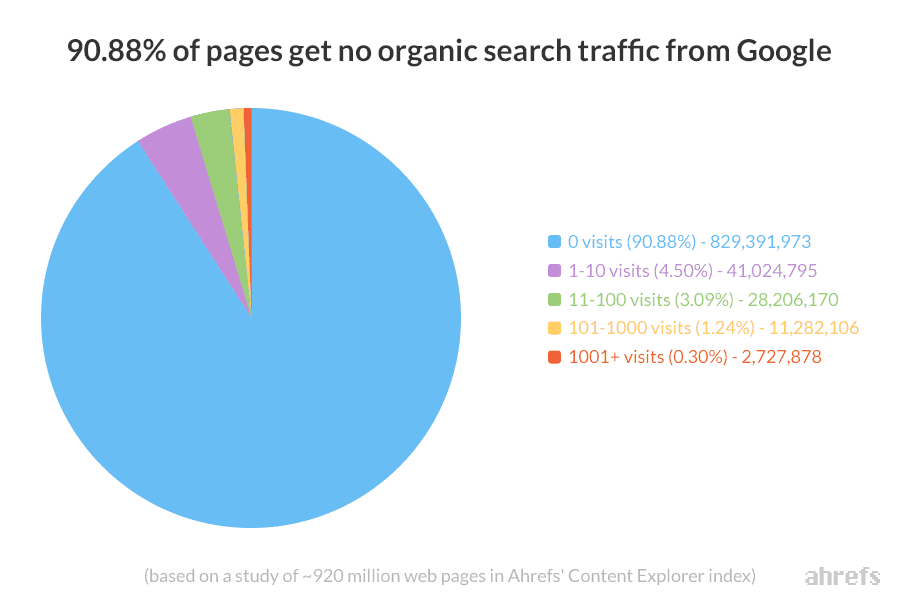 Fortunately, there are a few general marketing tactics applicable to bloggers. Listed below are some of the most efficient tips, and following each of them can help drive traffic into your blog site and improve your ability to market your contents:
1. Have an Independent Domain Name
Note that all your search engine optimization efforts, including strictly adhering to the provided SEO tips, will produce no results if you do not use an independent domain name. Purchase your own domain. This might cost money at first, but rest assured that the results will be worth it. Make sure to stay away from hosted services that do not let their clients use their chosen domain names.
Advanced tips:
Check all available names at the largest domain registrars like NameCheap or GoDaddy.
Avoid EMDs (Exact Match Domains).
Avoid domain names with multiple keywords.
Use your brand name in the domain name.
Try to make your domain name eye-catchy, without unusual characters and no longer than 15 symbols.
Avoid hyphens in the domain name, if applicable.
Using social media such as Twitter to expose or market your blog is beneficial because this allows reaching millions of online users. Twitter is one of the best places to share the links of your recently published blogs. There are plenty of tools that allow the automatic publishing of links to your newly published blogs into your personal Twitter stream. Sharing the links manually can also help.
Advanced tip: try to grow not only the website audience, but your relationships with opinion leaders as well.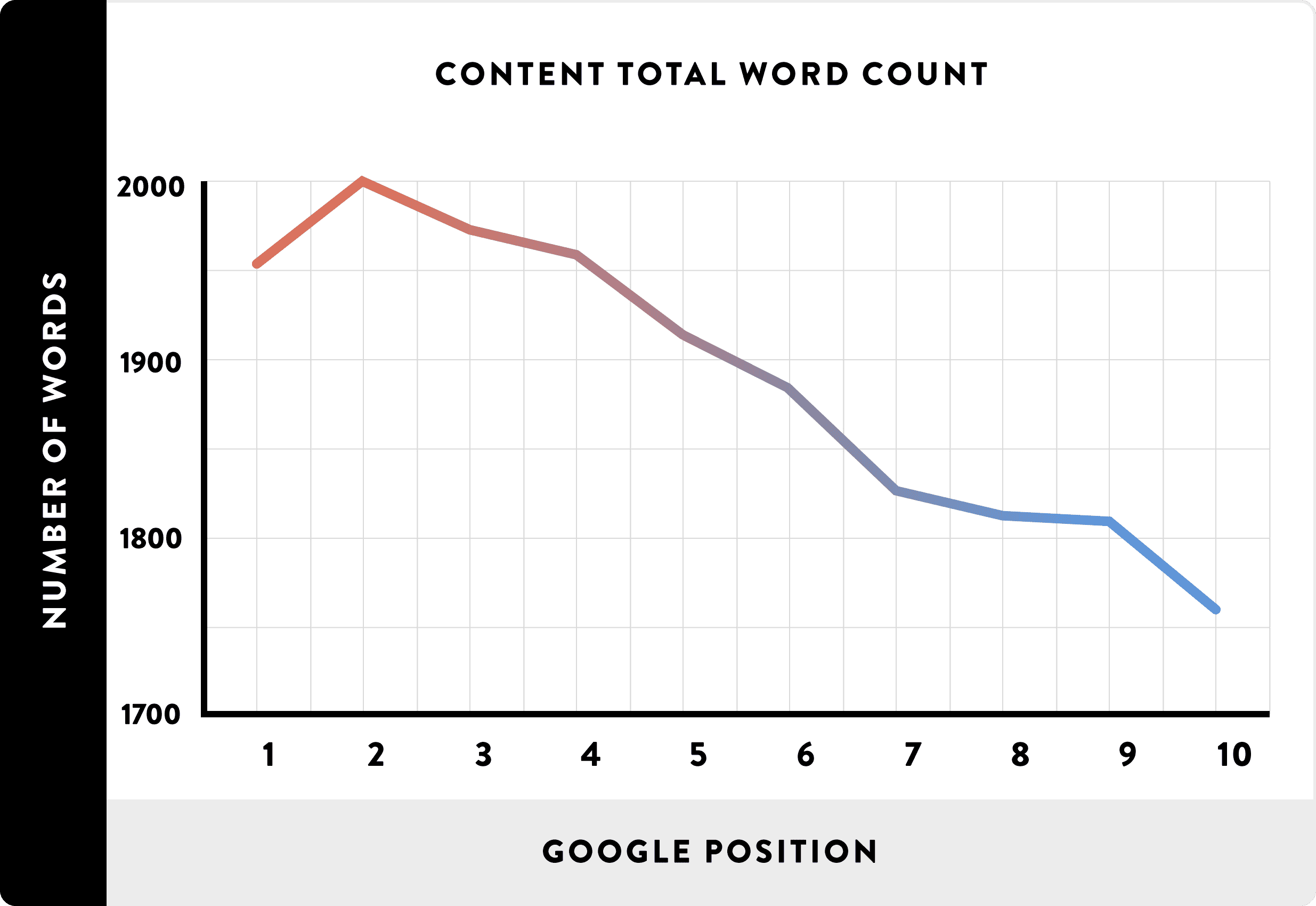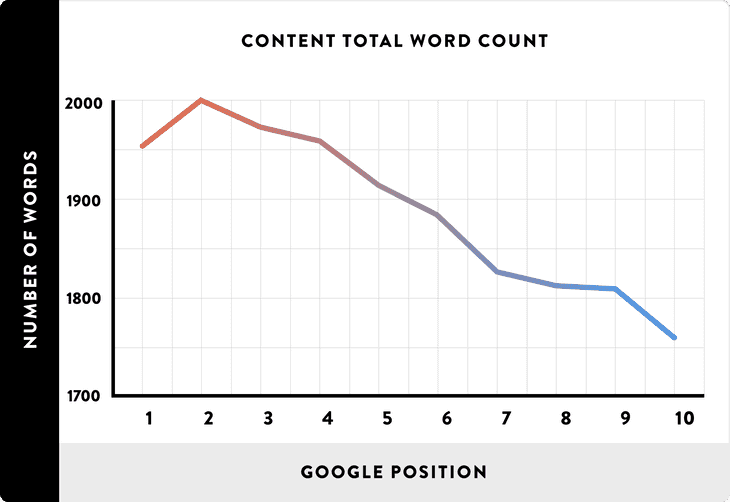 Building your audience is possible by frequently updating your site using useful and informative posts. Your contents also play a significant role in persuading your readers to come back into your site often. A wise tip to keep them hooked is to make sure that your blogs have meaningful contents. This is helpful in grabbing their interest and loyalty.
Don't forget about SEO in your content and comply with the next page-level ranking factors:
Keywords. Remember that your good content should contain relevant keywords because it's still an important ranking factor. Check the keywords in Title tag, Description tag, H1 tag.
Content length. Indeed, one recent ranking factors industry study found that content length correlated with SERP position. The average word count of a Google first page result is 1,890 words.
Don't forget about using LSI-keywords.
Try to make in-depth topics. Pages that cover every angle likely have a higher ranking VS pages that only cover a topic partially.
4. Use the Right Keywords
Upon deciding your topic, make sure to perform some keyword research to determine what phrases to target. A wise tip is to use the free keyword tool of Google. All it takes is to type multiple variations of your topic into the tool. Checking the statement, which says something like "only show ideas closely connected and relevant to my search terms", can help in eliminating too broadly related keywords. This can help in getting terms and phrases frequently searched in popular search engines.
Here is how you can find the best keywords:
Make a list of relevant topics.
Fill in this topics with keywords.
Find related search terms through the Google related search queries or Keywordtool.io.
Check the main keywords and long-tail keywords.
See the competition for these keywords.
This is beneficial in allowing Google to understand the meaning of your posts. This can also help in indexing your posts accordingly. One way to optimize your blog is to make sure to incorporate your targeted keywords into vital elements of your contents like the page title, H1 header, meta description, image ALT text and content body. Just make sure to prevent keyword stuffing.
Additionally, don't forget to use the best SEO Chrome extensions that may help you in your blog optimization.
6. Share Your Posts on Social Media
This is easy by adding social media sharing buttons into all your posts. This is valuable in allowing your readers to share the blogs. Note that Google considers the number of social media shares into their algorithm so expect to rank high if your posts are frequently shared online. Here are a few social media tips.
Additionally, don't forget to promote your content on other relevant social media platforms. Here you can additional 5 places to promote your content.
Blog marketing involves customizing the look and feel of your blog site. It must come with a stunning design guaranteed to capture the interest of your target audience. This can generate frequent visits from your audience.
If you'd like to create an excellent blog, don't use the free templates only, as well as free images. We recommend you to check the blog design trends for 2019 and 9 cutting-edge web design trends for 2018.
This is necessary in showing that your site is active. If your blog is news-oriented, then make sure to consider posting at least three times a day. This will continuously update your readers about news. If your blog is authoritative, then posting three to five times weekly can help. Just make sure to create high value and unique blogs every time. Here are a few ideas that can make blogging easier.
Talking about capturing the most traffic, more posts is generally better. According to research from Hubspot, companies that produced 16 posts or more every month saw more than four times (3.5x more) as much traffic as those who posted between 0 and 4 times.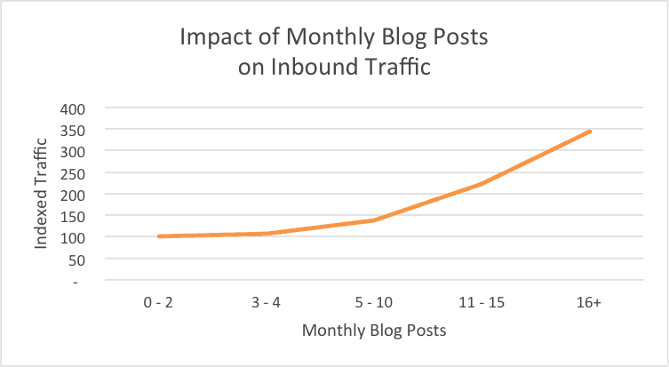 This tip also covers B2B niche - B2B companies that blogged more than 11 times per month had almost three times more traffic than those blogging 0 - 1 times per month.
9. Cite Sources When Posting Blogs
It is possible to site sources for every blog you created through links. Do not be afraid about mentioning the names of popular bloggers. This can help in gaining massive traffic and exposure, thereby offering an aid in your blog marketing campaign. Another tip is to use your targeted keywords in the title and body. Using anchor text when linking a post with the ones previously created can also help in gaining exposure.
10. Share Your Posts on Facebook
Facebook has millions of users so sharing the link of your blog post can help increase the number of your readers. Just make sure that your contents are impressive to encourage Facebook users to continue visiting your site.
11. Submit Blogs to Search Engines
A lot of search engines allow online users to submit the URL of their blogs by clicking the "submit" link. This move works in notifying major search engines about the presence of your new blog. This will allow search engines to crawl into your contents and incorporate your pages into their online search results.
If you need to make your WordPress blog visible to Google, then go to your wp-admin / Settings / Reading, and make sure that the following checkbox remains unchecked:

12. Incorporate Follow Me Icons into your Blog
This is necessary especially if you are an active social media user. Adding these icons into the sidebar of your blog can help in inviting online users to establish a connection through Facebook, Twitter and other of your social media profiles. This works in increasing your followers.
13. Provide Value to Your Readers
Blog marketing does not always involve focusing on your posts. This means that it is also crucial to find ways to provide real value to your readers. These include providing them with e-books, templates, case studies, worksheets, discount codes and white papers, instead of just focusing on blogs. Combining the creation of these materials with valuable blog contents is beneficial in generating leads for your online business.
14. Try Posting Controversial Topics
Remember that controversial posts usually sell and increases the chances of your post going viral. If your business model involves participating in controversies, then prepare yourself to engage other people using their differing opinions. Just make sure that your controversial posts still have a sound focus. This can help in earning the trust and respect of online readers, even if there are people who might disagree with your opinions.
15. Use Email Newsletters
Email newsletters are highly effective tools in marketing your blog. These newsletters are also useful in sharing information about your new products and connecting to your readers. Sending email newsletters also involves easy steps, so it is worthwhile to use the tool.
Here is you can find an average metrics and rates for email newsletters in various niches: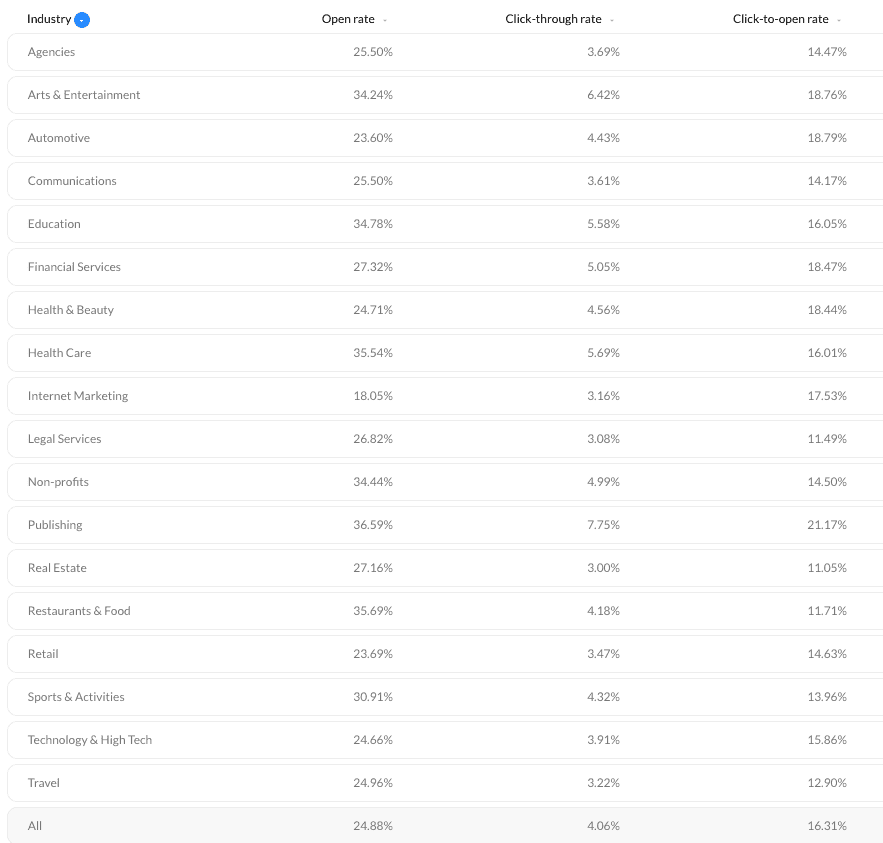 An average open rates for monthly newsletters are usually between 20-40% and while a 2% click-through rate for an online ad campaign is typically considered a success, email newsletters can consistently get 15-25% click-through rates. An email communication strategy will be an effective addition to your general marketing strategy.
One way to do this is to determine how your posts fit into your entire marketing strategy. Find out whether your goal includes increasing website traffic, promoting your expertise or connecting to your audience. Setting goals is important in accurately measuring results and knowing exactly how to market your blogs.
Additionally, don't forget to track your results in search engines. For that reason you can use SpySERP keyword checker, which allows you to track your marketing results and blog effectiveness.
This tip is not only valuable in attracting readers but also in optimizing your blogs especially if you tag your images using targeted keywords. Just make sure to get pictures that you are authorized to use to avoid problems when posting them into your site.
18. Establish Interaction with Readers
This is possible by giving your readers the chance to post comments. This aids in building strong relationships with them. Just do not forget to adjust your settings to prevent spam or inappropriate comments. Responding to every comment can also leave a good impression to your readers.
This can help in efficiently enhancing your contents so that it receives authoritative references for your audience. Having authoritative links can also show your readers that all your information come from reputable sources, so earning their trust will never become a problem. Here is a resource that will help with enhancing your blogging reputation.
20. Nurture Your Audience
This is one of the most vital aspects in blog marketing. Remember that while search engine optimization is important, your site's performance as well as the way it interacts with your audience can have a major impact in the results of your marketing campaign. A wise tip is to write for your audience, not only for SEO purposes. This can help in keeping your potential customers engaged, thereby causing them to come back regularly into your site.
21. Don't Forget About Press Releases
Links from press releases do have ranking benefit despite what Google says. Yes, that's correct. In 2013 Matt Cutts said that backlinks from the press releases don't have any benefits for the ranking. But you can find a lot of trusted studies proving that press releases still have a good effect. For example, you can check this study from Search Engine Land, this study from Search Engine Journal and many other similar studies.
Press releases still continue to serve the same function they have always had; they're a great way to get the attention of journalists.
What do you think about this list? Did I miss something? If I did, then post your opinions in the comment sections below and I would like to talk about it!