The search engine results page usually referred to as ''SERP'', is a page with a list of search results for a certain search query (keyword) generated by some search engine, eg Google. The first page usually contains 10-15 most relevant organic results, some ads, and SERP Features: Featured Snippets, Maps, FAQs, videos, pictures, etc. It also depends on the locality and device used for search.
It's impossible to outrank your SEO competitors without proper SERP analysis.
For example, you're writing a blog about dog grooming just for fun, having yet no idea, what's it ranking for or what money it might bring. With some help of certain tools for SERP checking, tracking, and analysis you may find keywords that your blog's already ranking for, the competitors, and some keyword and optimizing ideas, that'll help you bring even more traffic to the blog.
In this article, we will take a closer look at 2,5 types of such tools. Why 2,5? You'll see it in the end.😀

Let's look into SERP checkers first.

SERP Checkers: in-depth Search Engine Marketing Research
These tools are usually used for:
SERP analysis (for example, new types of featured snippets now rank for certain types of search queries).
Current web site's positions check and analysis.
Competitors' research.
Keyword research.
Comparing mobile and desktop SERPs.
Geo, language, device SERPs research, and comparison.
The best way to understand what they do and how they work is to look at some popular representatives: Ahrefs, Netpeak Checker, SERP Checker by SpySERP.
Ahrefs. Keywords Research and Site Explorer
Well-known tool among SEO-specialists around the globe. Started as a backlink analyzer it now contains everything you need to analyze SERP, competitors, and your site's health and optimization status.
As a SERP checker it allows you to:
Check the traffic volume of the keyword, based on how frequently it's been asked.
See the SERP with all its features under every checked keyword.
See the estimated traffic to the page in SERP (based on the volume of words ranking for this page).


Too good to be true, as one might say. There is only one small downside to that: keyword research with the SERP analysis is available from a $99 per month pricing plan.
Netpeak Checker
This one is a software application. Very rich in functionality, but requires some significant resources to run, if you're trying to check too many URLs, for example.
Here are some SERP checking features available from $39 per month:
Customizable SERP scraping, by keywords and other parameters.
Estimated traffic to the website, based on the keywords ranking for this website.
Exporting reports to Google Drive & Sheets.
In a table view.
Here's the example of the Checker's Settings: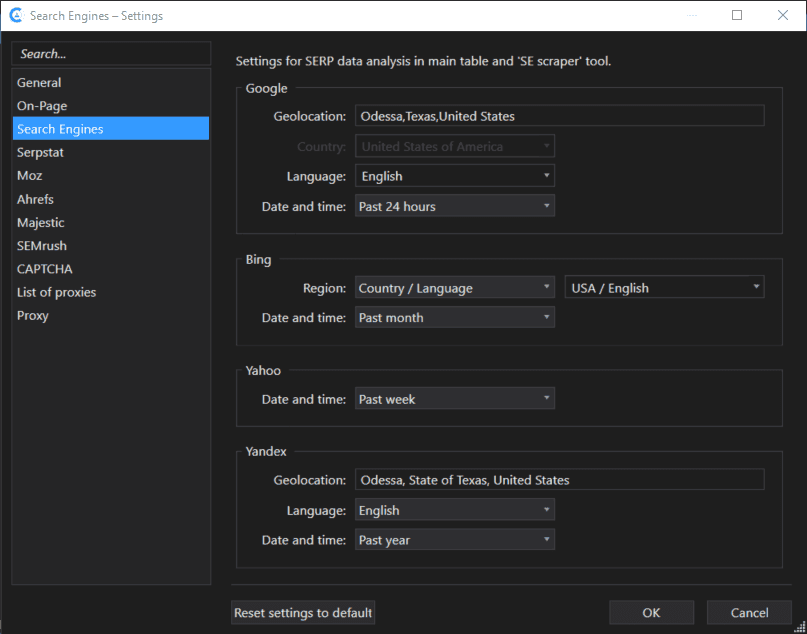 You can check:
Query and Search Engine - the table can contain data from different search queries and search engines, so these parameters may help you navigate.
URL - corresponding page address.
Position - indicates URL position in corresponding SERP.
Snippet type - a regular result, video, image, news, etc.
Title - page title from SERP snippet.
Description - the page description under Title from the SERP snippet. Usually formed depending on the search query.
Sitelinks - texts (anchors) used for site link extensions in SERP snippet for certain search results.
etc.
SERP Checker By SpySERP
This simple and easy-to-use tool allows you to check a lot of keywords for free!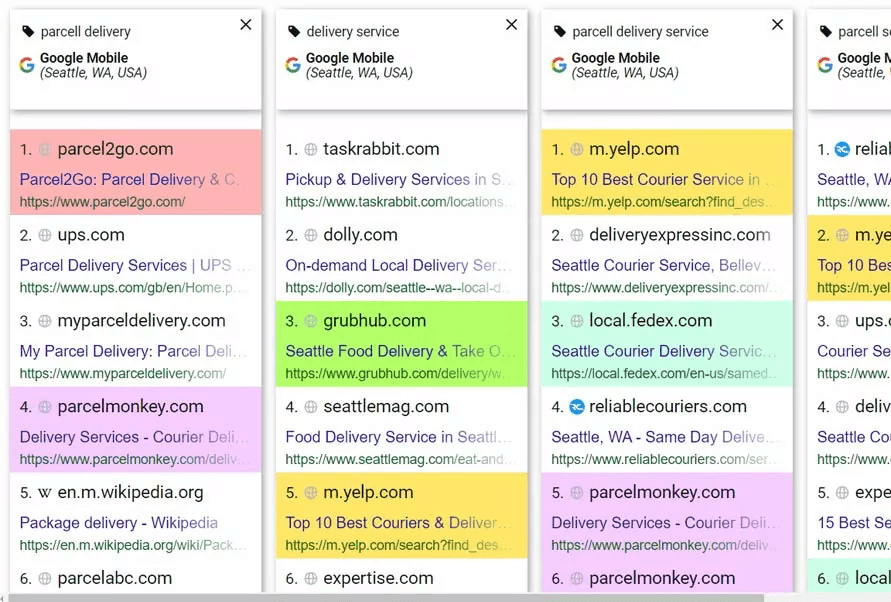 What can it do?
Get up to 10 SERPs rank checker results to compare and see how your competitors rank in each of them.
Compare the difference in search results for mobile and desktop versions.
Analyze SERP for the same request under different locations to see the localization dependency of the query and how it ranks in the target region.
Compare SERPs by user's language.
Find differences in different engines' SERPs, e.g. Google and Bing results.
SERP Trackers: The Memory Remains
Why use SERP Trackers, after you've already checked everything?
There is a special kind of pleasure in watching your rankings and traffic grow with time, as you work on your website. But not only that. Keeping a record of the SERP data and keyword rankings related to your website can help you see if the SEO strategy is right or wrong.
It can be useful to keep the scraped data and compare it from time to time. To see what has changed and when. Let's see, which of our SERP scrapers can do a rank tracking job on a decent level.
Ahrefs. Rank Tracker tool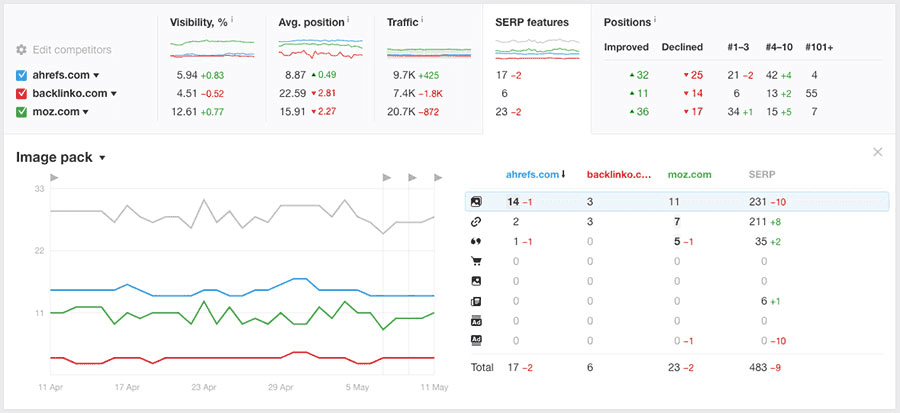 Although Ahrefs is an excellent SEO tool it's not the best for rank tracking:
Limited by 500 ($99) or 1500 ($179) keywords it updates once in 5 days. Ahrefs doesn't offer daily updates at all, at any cost.
Keywords don't seem to get updated all at the same time, the process is pretty random.
It's ok for big and heavy projects but deadly for the small ones.
Netpeak Checker
Netpeak Checker doesn't have a built-in rank tracker but the Netpeak software announced the new tool release in 2021 which might take that job: https://netpeaksoftware.com/owlymate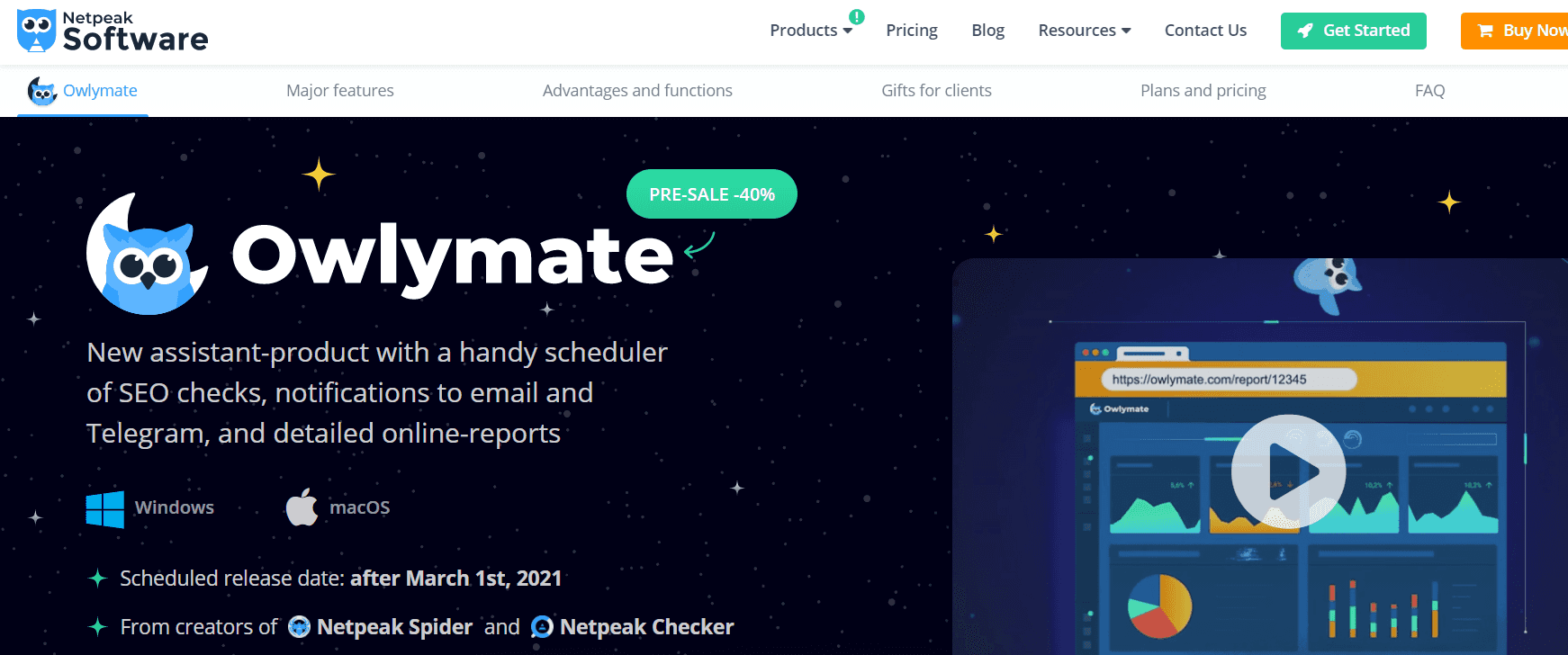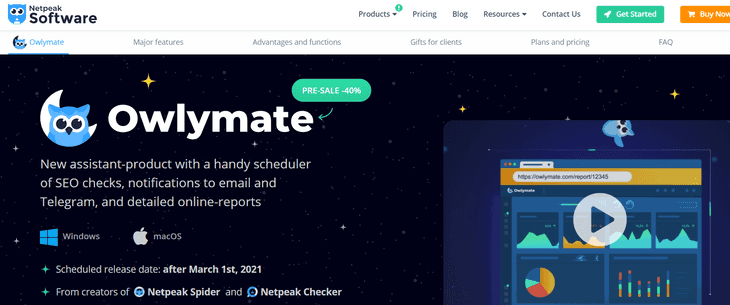 But the first, it is a desktop software which in 2021 looks some strange, and the second as of now, it's an unavailable function.
Rank Tracker By SpySERP
It aggregates all the information scraped from SERPs and integrated services and stores it to give you the fullest picture of your website's ranking and statistics over years. Everything you scrape within your project stays there throughout all account's existence.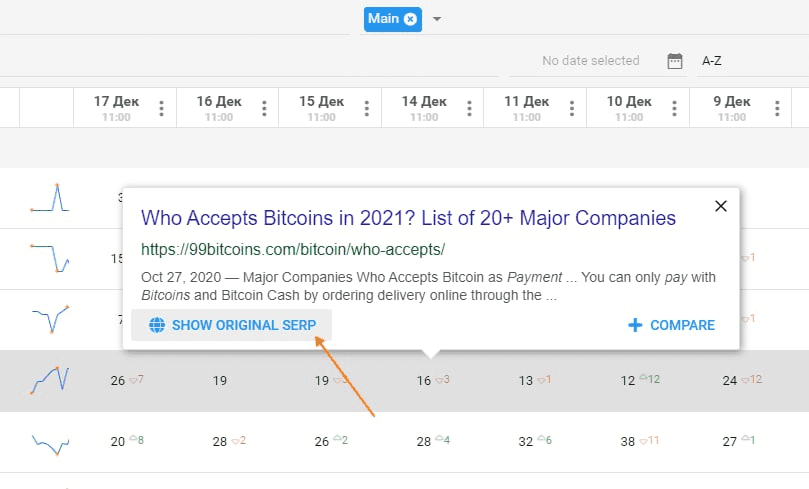 It also saves the original SERP for each keyword and update.
But the thing you may like the most about this rank tracking tool: you can compare all scraped SERPs!

Moreover, it provides a highly usable keywords clustering tool with flexible settings.
So, SERP checker or SERP tracker?
There's no straight answer to this question. It all depends on the task.
With SpySERP service you don't need to choose, we have all those tools in one place:
Site analysis and reporting
Live competitor research and analysis
Top rank tracking accuracy provided by dozens of integrated SEO services
Best prices and flexible payment schemes
24/7 training and support