Hey ya'll! Today we're going to talk about PBN. Let me guess - you've read up a LOT of various BPN building guides, but they don't answer to all of your questions.
Some of that guides are paid.
So today we'll unveil all aspects of a PBN and tell you about the best PBN building practices.
Summary of content:
What is a PBN (Private Blog Network).
PBN and SEO related risks.
Do PBN still work well.
Cost for PBN building.
The number of sites in PBN.
Where is to find domains for PBN.
The most important metrics.
What you shouldn't do at your PBN.
Let's get started!
What is a PBN (Private Blog Network)?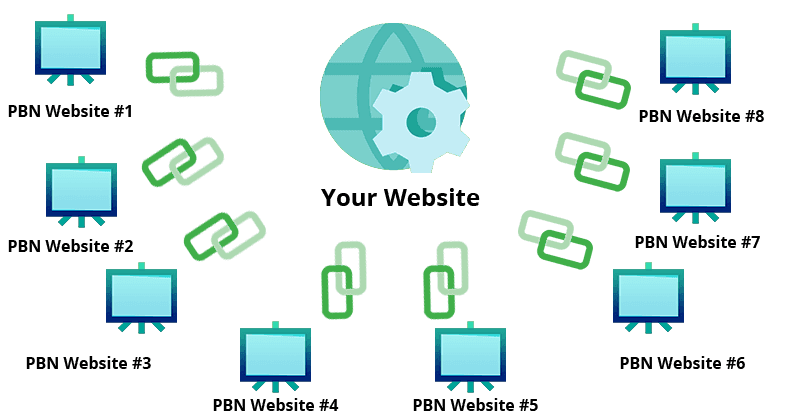 A PBN (Private Blog Network) is a group of sites that are under control by the same person or entity.
The main purpose of PBN is to build links to your money website(s) for the higher ranking in the Google search engine.
One of the purposes of such a network is usually to promote the other blogs in the same network and therefore increase the search engine rankings or advertising revenue generated from online advertising on the blogs.
PBN and SEO related risks
You've probably heard a LOT of times about PBN, but now we'll go ahead and tell you one more time...
PBN is a grey-hat SEO tactic. That's why no matter how well you develop your PBN, you're always going to be at risk of Google penalty for "thin content" spam because Google considers thin content to be search spam. You can check out the webmaster guidelines explaining they can take action on such type of content.
Additionally, your PBN and money website(s) can be for participating in link schemes.
So, if you're going to build out your PBN, you need to make sure that you comply with the general requirements and recommendations that Google can track down and calculate or manually check. Either way, you can't trick Google.
Needless to say, PBNs are still effective for SEO purposes...and you can use them even in 2018.
For instance, you can leverage the money website authority very fast, using aged and authoritative websites from PBN, and you don't need to be involved in outreach/relationship building.
Control. Authority. No outreach. That's why BPN building far all the risks involved and still work well in 2018.
As was said in various studies, a cost for PBN building depends on a lot of factors. For example, one industrial study shows us that the PBN network cost is about 28 000$.
But in general, here are the associated costs for each website:
Domain price. Depends on various metrics (age, region, backlinks, Alexa rank, MOZ/Ahrefs metrics etc.). For instance, you can buy domain both for 10$ or 10 000$.
Web Hosting. Around 3-5$ per website per month.
Website Setup, including design, backend, CMS, etc. Depends on various factors (paid/free themes, plugins, etc.). An average cost - about 50-70$ per website.
Content. If you'd like to set up a brilliant PBN, then you'll need a high-quality content. An average cost - about 4-5$ per 500 words. Needless to say that you shouldn't use a low-quality (spinned, scrapped, duplicated) content that may hurt your website.
PBN management. When you build out a large network of PBNs you need to make sure that you setup a system to manage them efficiently without opening any holes for Google to spy into your PBN.
The number of websites in PBN
The correct answer depends on your personal needs.
If you're going to rank money website in a small niche with a low competition level, then you don't need to create a huge PBN. Around 5-7 websites in PBN will be good enough to boost your SERP positions in any search engine.
If you're going to rank money website in a niche with a high competition level, then you need to create a PBN, which includes about 10-15 websites with high metrics.
Where to find domains for PBN?
Ok, so now you've decided to make PBN. Now you need to find relevant domains for your PBN. What would be your first step?
First of all, you need to find expired domains.
You can ask us like "Wait, why do you recommend to buy expired domains? Are any other methods to build my PBN?".
Yes, there are a lot of other options.
But as we said earlier, it's the only SEO guide to build a PBN. And we've decided to recommend you only the best methods.
Out of the different types of domains for your PBN, buying expired domains is the cheapest and safest method. However, it's also the toughest method requiring careful analysis, time and tools.
So where is you can find the best expired domains for a PBN? Here are some sources:
DomCop




This auction is another great place to find expired domains for your needs. However, we recommend to check the website parameters before buying.
Expired Domains.net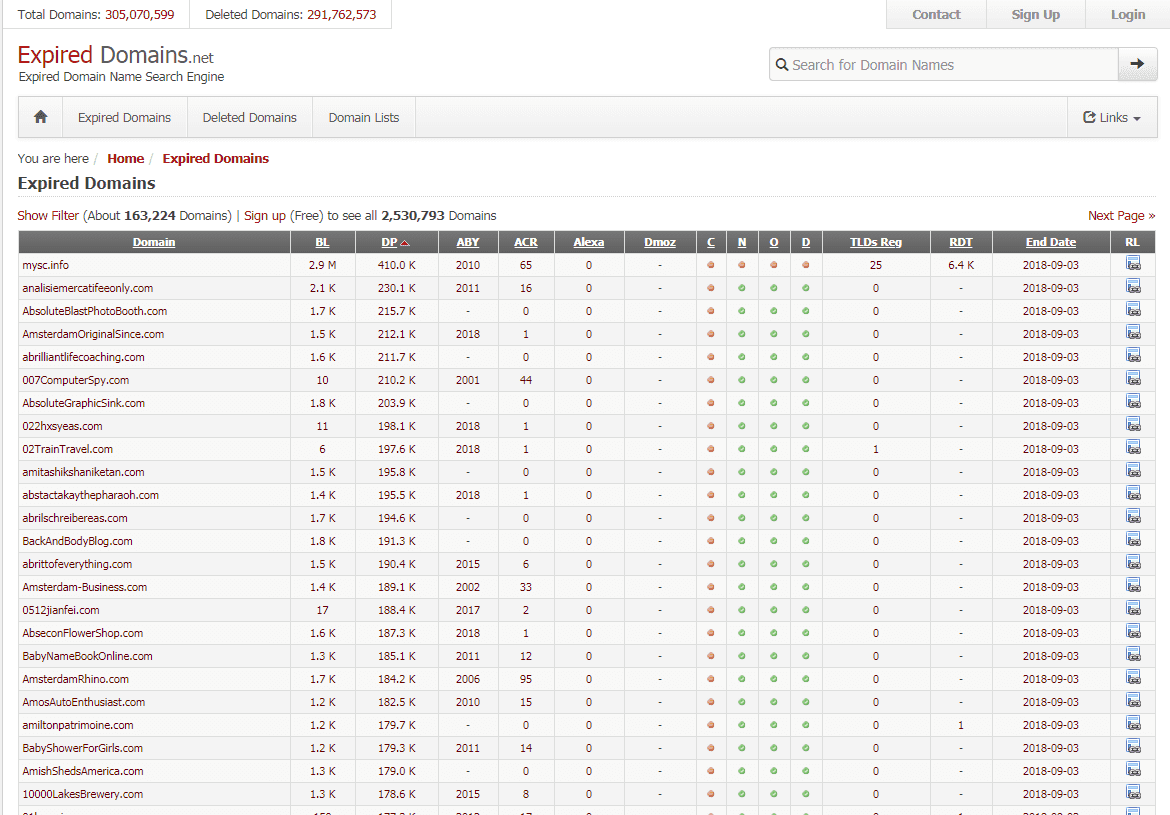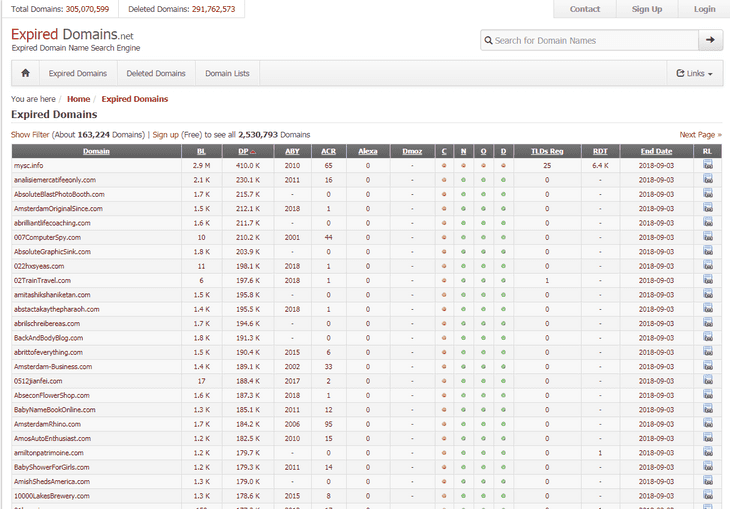 For now, website's database contains more than 2 400 000 domains. Some of them may have a good fit for your needs.
What are the most Important metrics?
There are 3 main types of quality metrics to use for measuring selected domains. You can use all of them, but you can also use only one - it will be good enough too.
DA/PA - MOZ quality metrics (Domain and Page Authority, respectively).
TF/CF - Majestic quality metrics (Trust and Citation Flow, respectively).
DR/UR - Ahrefs quality metrics (Domain and URL Rating, respectively).
Additionally, we recommend to pay attention to the next metrics of the selected domains:
Backlinks. Check the backlinks quality before buying. No spam links, no low-quality links, no toxic links.
Type of anchors. The more natural anchor list you'll see, the less chances to buy low-quality domain.
But what metric is the most important?
Remember: the only thing that matters is what Google thinks. Not Majestic, Moz, Ahrefs, or anyone else.
That's why you should manually check the backlinks. If the backlinks are from an automated link building tool, contains chinese/japan/hindi anchor texts, thousands of low-quality blog comments, trashy directory listings, etc, then it's a bad domain.
Why is getting a shared IP so important?
When you setup a shared hosting account, you get a shared space on a webserver and more importantly (for our PBN purposes) a shared IP address.
This same IP address is also assigned (shared) with thousands of other websites that are hosted on the very same Server IP (or Network Attached Storage).
Majority of these websites are genuine websites and not in anyway PBN sites. They're real sites, by real people.
And, this allows us to kind of slip in and hide inside the cloud of thousands of other websites on the same IP address.
It is OK if you have a few sites only hosted on the IP, but it becomes a huge problem when you host about 10 PBN websites on the similar IP address... because it could unveil your PBN.
What you shouldn't do at your PBN
Remember the next rules in order to create a high-quality PBN:
Don't setup Google Analytics or any other third-party codes across your websites, because that footprints are easy to detect.
Don't use a lot of plugins. Don't ever use the same set of plugins across all the sites.
Don't make a similar Wordpress settings across your PBN websites (time zone, date format, etc.).
Don't forget to block your websites from the third-party crawlers like Ahrefs, MOZ or Majestic crawlers.
Remember: all of your PBN websites shouldn't be similar between each other. So one of the main purposes for your network is creating different websites with unique footprints.
This is a controversial SEO topic, so I would love to hear your thoughts in the comment section. If you enjoyed it and would like more posts like this in the future, leave a comment and let us know, we try to respond to them all.