Thousands of SEO blogs are crawled by users who wonder what kinds of optimization, search engine marketing, and link-building strategies work best in 2021. Most of such resources write about how to draw users' attention and improve CTR; others post different tricky link-building techniques and outreach methods. However, the main question is still left unanswered - what are the modern SEO best practices that actually work? In this article, we'll try to reveal it in detail. Let's dive deep into the current year's best SEO practices and try to predict your future strategy. We'll review such important questions as to how to increase the click-through rate of your snippets, find link-building strategies that suit you the best, embed videos, etc. - these are just tiny parts of what you'll learn about next. There will be many exciting things, so keep on reading!
On-page Optimization Tips
CTR Improvement
CTR (a ratio of impressions to clicks) is an essential metric for evaluating organic listings and snippets. A Zero Limit Web study demonstrates that the top five organic search results on Google account for 67.6% of clicks, including paid ads! At the same time, the first result collects about 31.7% of all clicks, which means the more often your keywords appear on Google's first page, the more likely consumer will go to the website. So let's take a look at some specific SEO tactics and strategies for getting a high CTR.
Attractive Snippet
The snippet is the page's business card and a great way to drive more organic traffic to the site. The consumer considers it as an informative part that fully corresponds to the query. Even though in many cases, Google rewrites the snippet, you can influence it greatly:
Test using long-tail keywords in meta titles, descriptions;
Use target words in URLs - this line also helps in making your snippet more clickable;
Analyze which snippets have many impressions, though lack of clicks - these are your subjects to continuous testing;
Always keep the dates actual - if there are posts that are clicked frequently, and they were created more than a year ago - this is high time to update the posts and their dates.
Favicon
Sometimes people perceive the presence of a favicon in mobile search results as a potential advertisement or consider it distracting and in contrast to URLs. But in fact, the favicon increases the site's awareness. Google provides the following guidelines for icons:
Icon size is a multiple of the square 48 pixels (48×48, 96×96, 144×144 pixels);
Unique favicon visually represents the brand;
The icon is readable and understandable (especially when it comes to mobile devices);
Icon file and homepage are scannable;
Favicon URL is stable;
The image corresponds to Google's policy and doesn't contain inappropriate icons, pornographic elements, etc.
Rich Snippets
To help the search bot better recognize data on the website, use semantic markup. For example, using breadcrumbs affects your click-through rate. Rating, prices, book, recipe details will also appear in SERPs. They'll push people to click on your snippet. Of course, this microdata isn't suitable for every page - ensure that they're required for specific content. For improved data retrieval processing, post more basic characteristics, e.g. ContactPage, Author, Organization, etc. (as per schema.org).
Short and Clear URL
Short URLs are focused on marketing and analytics, and variants with calls to action identify the company and are also more aesthetically pleasing than long URLs. Also, some social platforms limit the number of characters by shortening links.
Another reason you'd utilize a link shortener is to track the link activity applying click data. That will help you find out what attracts an audience and gain valuable feedback on the marketing messages' effectiveness.
Google Passage Ranking
That's a new ranking algorithm that appeared relatively recently - on November 19, 2020, and from February 10, 2021, became available for English-language queries. A special SMITH algorithm can recognize the meaning of text fragments and present the most relevant results. Now pages that offer a utility answer to a consumer's question will be well-ranked in the search. Moreover, the article itself may contain only a part of the necessary material. Accordingly, some portion of content may display in the snippet.

Interlinking

Internal links are essential for any website that wants to rank higher in the SERP. These are strategic hyperlinks that point to other important pages on the same domain. The primary function is distributing link weight between pages, website indexing growth, and driving more organic traffic to your site.
External links, or backlinks, point to destinations on other domains and also are a ranking factor. With their help, the resource authority is determined.
Therefore, this year, you shouldn't forget about linking:
Content links take more effort. To get a positive result, utilize planning;
Plugin links for CMS are easy to manage, e.g. 'Read more on the topic' blocks under the article. They make it possible to get a lot of internal links.
The following guidelines will help you make your SEO website strategy better:
Link significant pages for promotion most frequently. Use target keywords as link text;
Leave outgoing links considering their benefits to the consumer and good neighborhood factors. By referring to low-quality resources, your site can also be regarded as unreliable and vice versa;
Don't use "nofollow" for internal linking. It's a misconception that you can save your crawling budget this way without transferring link weight to your pages;
If you have a large website, use HTML maps. They make it much easier for the user to find information and for the bot to have another source of crawling;
Relevant link text will help search engines interpret the page meaning and solve complex search tasks. Besides, they're convenient and simple tools for consumers, i.e., a qualitative indicator of usability;
Track broken internal links with Screaming Frog or Xenu Link Sleuth. Try fixing the 404 every month;
Add more different blocks to get modular links: ''See also...", ''The Most bought'', ''TOP sellers'', ''The Most read articles'', etc.;
Apply site tagging to increase the number of entry points to your site and search traffic. Be cautious with duplications, though. Tag, category, author pages are subjects to noindex, follow;
Check the most popular and unpopular internal links using GSC. Sometimes low priority pages can be popular with internal links. We also recommend conducting an internal audit of links at least two times a year;
Implement a convenient site structure so that the most important pages are accessible in three clicks (the hypothesis is quite popular, but at the same time controversial). Don't allow pages to be available in more than four clicks.
Updating Old Content
Before publishing something new, identify underperforming content. Remember that by relaunching an old variant, you're allowing consumers to benefit from it. Next, you'd turn to Google Analytics. Compare the trends of the past and current year and update the content based on the data. Alternatively, use the GSC. In the section Performance → filtering Page → specify the desired URL of the webpage.


Look through the list of key queries for which this page is shown in the search and select new queries added to the page. Voila! You've dot worked the necessary page and updated the content.
By adding keywords to the SpySERP keyword position checker tool, you can also see the result after updating the content.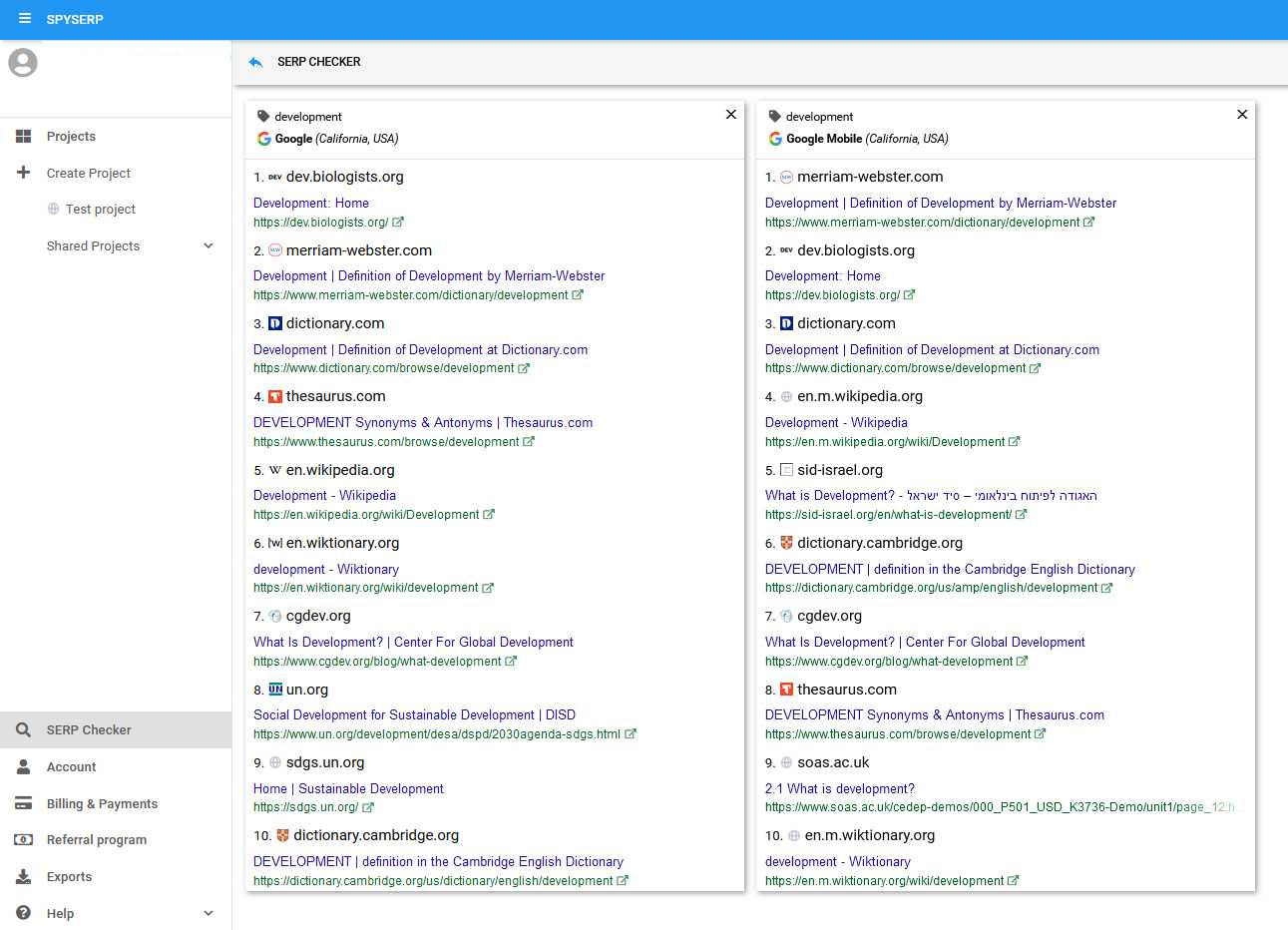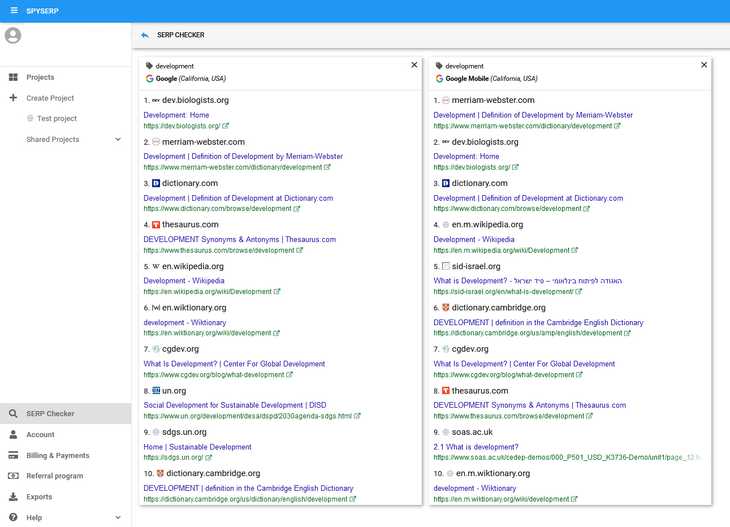 Write Quality Content
As for the text itself, write it for readers, not search engines. When developing an SEO content strategy, aim towards a thematic focus. Include statistics, quizzes, and research to get more backlinks. Apply the clustering: that is, various parts on specific topics. That will help search engines interpret and rank the website page.
Another important parameter for building a content SEO strategy is the correct text length. According to some research, longer content contributes to higher rankings. Of course, Google doesn't rank a site solely by word count. The following factors influence the SEO performance of longer content:
Having a lot of backlinks;
If the text has more than 1500 words, it attracts 68.1% more attention than a shorter one;
Google RankBrain "rewards" valuable content with high ranking.
The content should be at an expert level. For example, doctors took part in filling a website on medical topics; programmers, testers should be involved in IT, etc. That is, adhere to the E-A-T principle (expertise, authority, and trust). Don't forget to add keywords to your titles as well. Also, make helpful and user-friendly navigation.
Add Videos to the Site
Another SEO tactic this year will be video inclusion on website pages. So, according to Forrester Research, the probability of emerging the video from a page on the first SERP position is 50 times higher than a page filled with text only. Another statistic is that 62% of standard searches contain video. Also, the last few years' trends are that users still love and rely on video when deciding to purchase a product or service.
When embedding videos, keep in mind that Google has five main search result formats:
Universal. In classic search, videos display as ten blue links;
Selected Fragments. The search engine directly links to YouTube or a page of a website with video;
Vertical video search focused on a specific topic. It can also include maps, videos, images, and purchases;
A vertical search of images from video;
Google Discover - when video thumbnails appear in the feed.
By the way, Google Web Stories is a program somewhat reminiscent of Instagram and Twitter Fleets. At the moment, it's too early to talk about it because it may become another resident of Google Graveyard.
The advantages of implementing a video on the web pages are as follows:
The ability to increase the visit duration;
Getting additional subscriptions;
Growing the brand credibility and reliability;
Demonstrating a value proposition to prospects and encouraging them to take action;
Instant message delivery to the target audience.
To determine which SEO strategy to apply for targeting video content, analyze what keywords they're ranking. Ahrefs tool, which we've already discussed, is perfect for this intention. In the Keywords Explorer tab, enter a keyword and select the country. Next, open SERP features and select Videos. By doing this, you'll get an idea of which words have the correct user purpose.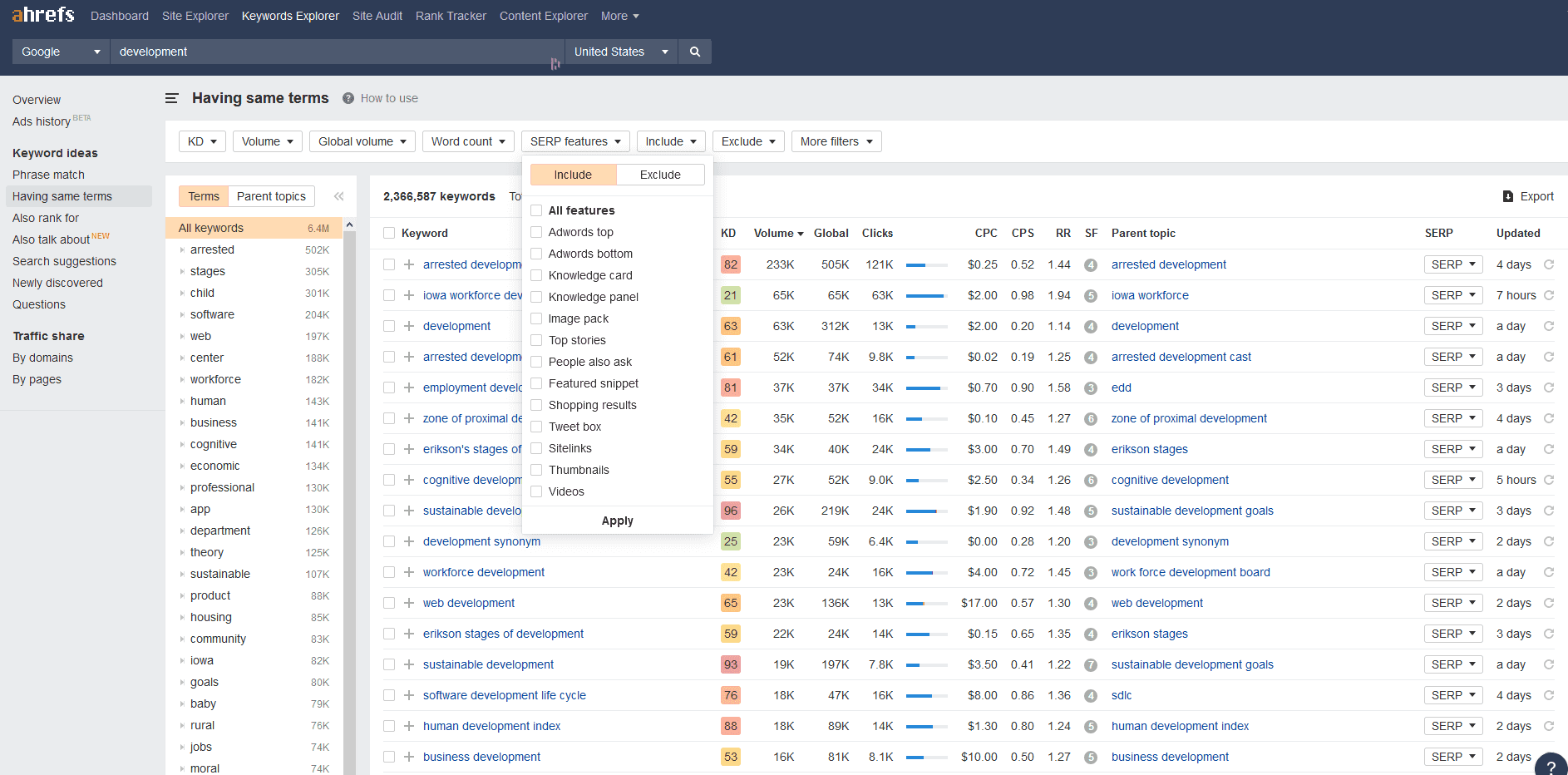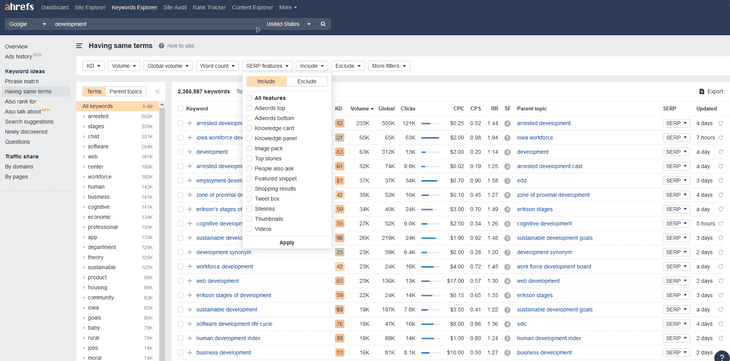 You can also use the GSC tool.


In the Performance tab, set the following parameters: Search type: Video, and the time slice you're interested in.
How to optimize video content:
Make a short description;
Create a title as relevant as possible to the H1 and the webpage title;
Use a transcript: prospects should easily find out what is it about without a sound;
Apply structured data markup utilizing a Schema.org vocabulary;
Incorporate video in XML map (it's better to make a separate one).


Using Long-tail Keywords


According to research, long-tail keywords make about 70% of all search queries. It depends on them how you generate organic traffic. Let's see why key phrases are the holy grail of a global SEO strategy this year.
That is your way to stay ahead of the competition: words with high volume and low SD will bring the maximum impact;
They're more converting: its average rate is 36%. According to WordStream data, the top 10% of landing pages have conversion rates of about 11.45%;
The key phrases like these make a context for your content;
Most of the organic traffic comes from queries with just such keywords;
Long key phrases are a guarantee of value for readers, thereby strengthening the content positions.
You can also find long-tail keywords using Ahrefs by going to the word count tab or utilizing the Answer the Public free service.


One of the easiest ways to track such queries is Google hints: take an extended topic and enter it into the search bar. You'll see the AutoFill suggestions. These will be specific or less popular keys. Also, be sure to analyze top websites for similar queries.
Long-tail keywords optimization consists of:
the meta title tag applying;
images use;
adding a title in the article under these key phrases;
external links placement.
By the way, key phrases are directly related to the voice assistant. After all, the user usually utilizes long keywords in a voice search.


Voice Search


In 2018, about 7 out of 10 users preferred to seek information this way. This year the statistics have changed because now about 55% of teenagers use voice search every day. The category of adults who stated that they feel confident utilizing smart speakers isn't lagging behind them. SEO forecast regarding this option is unambiguous: you'd exactly introduce it into your strategy.
What can be done:
Analyze search queries in Google Analytics;
Find in Ahrefs queries by including the question words: what, how, where, etc.;
Optimize pages for these queries;
Create an FAQ;
Make a Question-Answer block;
Implement microdata.

Core Web Vitals
Core Web Vitals is a set of factors designed to evaluate website pages' productivity based on current data.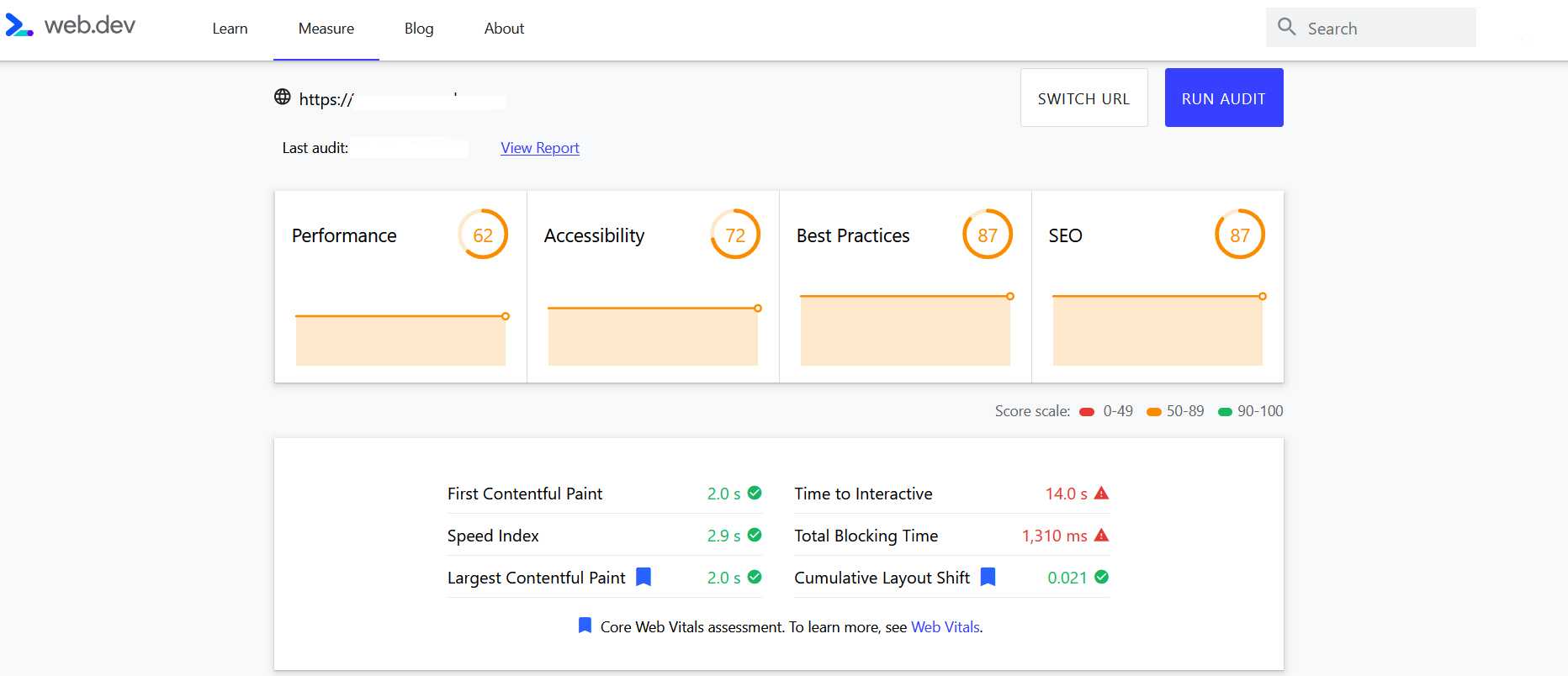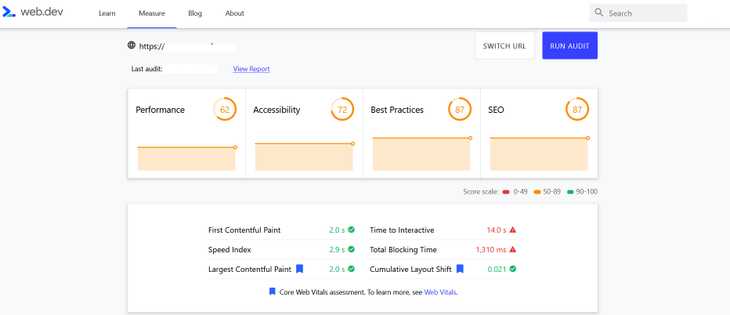 It shows the URLs performance grouped into three categories according to status, group of analogous URLs and type of metric:
Largest Contentful Paint (LCP). That is the time to display the most prominent element on the page (it could be a video, a picture, or a large text block). This parameter essentially informs that you can load the address. Agg LCP or Aggregate LCP is another report parameter that indicates the time when 75% of URL visits archive the LCP level.
First Input Delay (FID) is the time between the client's action and the website's reaction. This parameter is measured from any unit that the consumer clicks for the first time in a session. This option is essential on pages where a person must perform some action before it becomes interactive. Like the previous parameter, Agg FID implies 75% of URL attendance with the same FID or even bigger.
Cumulative Layout Shift (CLS) is data about the interface page units shifting during its load. Here a "0" value signifies no shift. Its increase indicates a growth of the number of the shift. Prospects poorly perceive any elements' displacement. Thus, it's essential to get rid of it. Aggregated CLS is the lowest CLS for 75% of web page visits.
Previously, and now too, download speed is one of the key ranking factors in Google. But it decided to go further and improve its ranking algorithm. Now it's trying not only to analyze the website loading speed but also to understand how the consumer interacts with a page.
How to improve Core Web Vitals?
To find data on Core Web Vitals, go to the GSC webmaster panel and then to the Enhancement tab → Core Web Vitals.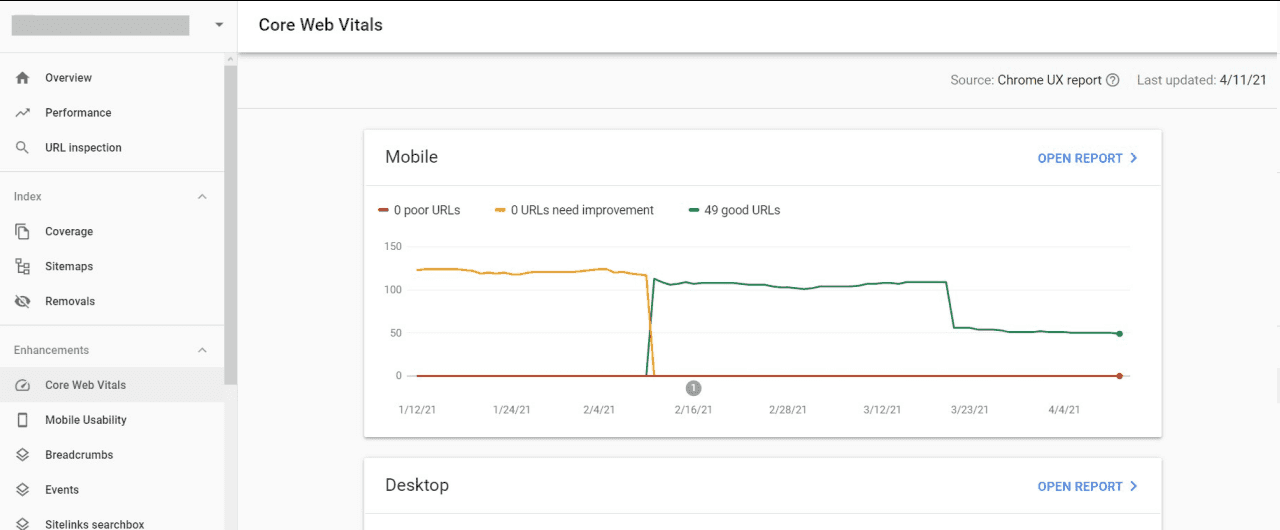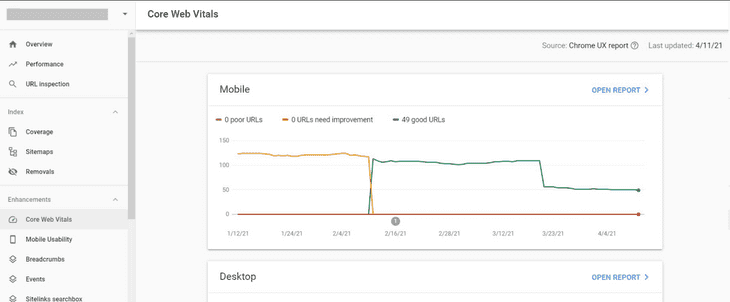 And the first thing you need to do is analyze the published data in GSC. We recommend working with Mobile data first (Poor, and then Need Improvement). In the Google Search Console report, you can see user experience data from the entire website, not just one page. Utilize the PageSpeed Insights tool, which analyzes the content and speeds up page loading. Also, apply the Chrome Lighthouse instrument for this purpose. Further, apply actions breakdown to improve these three benchmarks:
After fixing bugs, notify about the corrections to GSC in the Start Tracking tab.
Regular Analysis of Competitors' Link Profile
Let's assume that a competitor's link profile has already been analyzed several times. If you constantly monitor your competitors, you can see the new links they receive. When finding new links, explore the domain. If it's good and relevant to your topic, contact the owners and post the content on their website. Do the same for the broken links.
If you want to get relevant content easily, find at least two competitors, and place your content on their domains.

Quora and Other Q&A Sites
Q&A sites are also one of the non-obvious SEO link strategies. They not only allow you to get backlinks from the trusted domain, but you can also interact with interested prospects, provided that the answers are expert. That also applies to Quora, which brings together influencers covering a wide range of topics and interests. For example, to search for any specific question, you can enter a query, that will generate a list of answers.
Yahoo Answers is another Q&A platform. It differs from the first website in the probability of getting a low-quality answer. Of course, you can find quite worthy recommendations, but for this, you'll have to look through several chains of similar questions. By the way, Yahoo Answers announced its closure on May 4, 2021. From April 20, 2021, the site plans to switch to reading mode. Look like this site could be the victim of a visitors' lack.
Stack Overflow focuses on coding. Also, clients can vote there! Answers.com has a similar concept to the previous three, but with several differences. For instance, the basic thing is that the platform has the highest SERP ranking. The site also has Wikipedia-like features. LawPivot is another very decent site offering crowdsourcing advice and legal issues.
All of these sites have excellent domain rankings and are well suited for backlinks to boost site positions. For the same purpose, you can use an automatic repost on a social network.
This article is a guide to the best SEO practices of 2021. Of course, many site optimization techniques will remain the same from year to year because search engines are working on a single goal - to satisfy the consumer's query through the benefit of the relevant content. Their algorithms can undergo frequent changes, and this directly depends on the needs. By improving each of the factors of website optimization and working on link building, you can achieve good results.
It all depends on you: which of the methods for increasing the CTR will you utilize? Would you primarily work on long-tail queries, or maybe concentrate on Core Web Vitals? How will you optimize your content? Let us know your thoughts in the comment section below.