When it comes to Google algorithms, there's a significant difference in the way they process general organic and local results. In this article, we will look through the main aspects that affect the rankings in the local search.
The local algorithm is that system that displays the pack of three most relevant links, the so-called "Three-Pack."
When you do a local search or otherwise make Google think you may have local intents, you usually get three results with a map at the top, and some of the "organic" results below.
According to Google's Help Center, the three core metrics that fuel the algorithm are proximity, prominence, and relevance.
Proximity means the distance between your company and the location of the user or the location specified in the search query (Google calculates them based on all kinds of data - you can check the results at the bottom of the SERP.
Zip code (desktop in the US)
On a computer, Google can determine the user's zip code (also listed down below). There's a variety of tools to check your zip code-based ranking, including Moz Check Your Presence Tool, BrightLocal, Whitespark, and Places Scout.
Geo-coordinates (mobile)
On a smartphone, Google tracks location even more precisely, knowing the geo-coordinates of the user's actual location, and pinpoints it with a little blue dot.
Also, there are tools on the market that show you results based on geo-coordinates, like Local Falcon and Chrome extension GS Location Changer. This data is usually highly accurate.
Whether you should look at one level or the other, depends on the search specifics. Zip code level might be enough for lawyers, while dentists and fast food joints should look into geo-coordinates.
All in all, just remember that proximity really does influence the results the users see. It can be tricky: when clients search their own company on Google from their homes, they often can't see themselves at the top - the proximity isn't there anymore.
This might be challenging for many agencies, but the potential gains from using these tools make up for it.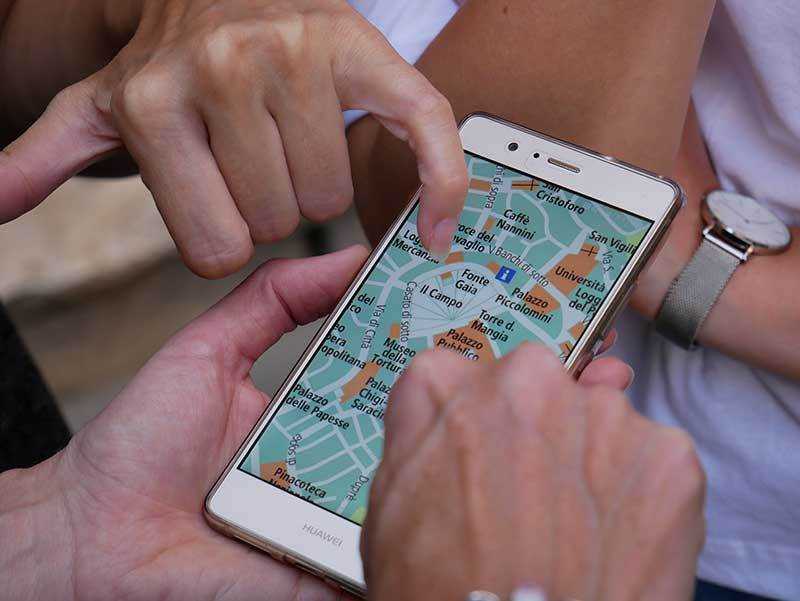 This is about how important Google thinks your company is. Is it a steady, well-known business, or a small new venture no one really talks about yet?
A lot of indicators can serve as a sign of prominence. Like store visits - if your brick-and-mortar store doesn't attract many visitors, it's unlikely Google will think you're prominent.
Reviews also factor in - the more reviews, especially old ones, the more prominent your company is (to Google, at least). The same goes for citations.
Even a prominent company will not be considered relevant without a structured content, related to a user's search query (meeting the intent).
Please, understand that all three factors play out together and analyze each one of them.
With relevance, Google looks at:
content;
on-site SEO (title tags, meta tags, etc.);
citations also play a role because Google looks at things like the company's address (Is it actually located in this city? Is it relevant to the city that the user is searching from?);
categories are a big one - your Google My Business categories, that is. Google currently has around 4'000 different Google My Business categories, and they keep adding and removing a huge number of them, so choose wisely;
The business name is significant, too. Merely having keywords in your business name can often give you relevance to rank. It shouldn't, but it does.
Reviews. Mike Blumenthal did a cute experiment a couple of years ago - he made some people write fake reviews on Yelp with certain keywords included to see if it would influence ranking on Google in the local results, and it did. Google is definitely looking at the content inside the reviews to see what words people are using so they can see how that impacts relevance.
How to rank without proximity, prominence, or relevance?
It would be nice to have all three, obviously. But you can still get into a three-pack even if you don't. We'll look at some examples down below.
If you're looking to expand your radius, serve a lot of people: not just people from your block, but the whole city. It'll be challenging to rank very high in all of Chicago (for example) for very common keywords, like "dentist" or "attorney." Although if you have enough prominence and relevance, you can really expand your radius for long-tail keywords.
Prominence is the key factor in expanding your radius inside competitive keywords. Sometimes Google will even include a business with a little less proximity just because they have an astronomical number of reviews or unparalleled domain authority and number of linking domains.
Prominence and relevance - those are the ultimate factors that influence your exposure.
Fake listings are a big problem in the local search field, allowing sources with zero prominence rank high.
No authority, citations, or prominence - and sometimes, even no website, but they still rank because of the other two factors: by creating hundreds of listings, they're automatically close to some users, and by stuffing keywords inside the company's name, they get some relevance. Somehow, they bypass the prominence aspect and are able to rank, which is upsetting.
Of course, Google constantly improves its local algorithm. Hopefully, prominence will hold more weights in the next versions, eliminating the problem, but ultimately we don't know what Google does next.
Linking to your site within GMB
There's always a debate when you link to a website inside your Google My Business listing: should we link to the homepage, or to one of your offices, if you have more than one? Linking to a homepage almost always results in higher rankings, even if the page isn't at all relevant.
Case of our SEO partners from Trustcorp in point: they had a client from Los Angeles, with a new location over in San Francisco. Their homepage was optimized for LA, local - for SF. Other SEOs agreed that it made perfect sense to list the SF page.
But just in case they tried linking the homepage on the SF listing - leading to a spike in rankings and more search queries, all without even mentioning SF.
Conclusion: when thinking through your local SEO strategy, test different approaches out, and choose the right ones. There are always multiple factors to consider.
Local algorithm vs. organic algorithm
Some of you might think these algorithms rate the same factors. In this case, we strongly advise reconsidering your position on the subject, as a recent Moz whitepaper shows that only 8% of local pack listings also have their website in the organic search results below.
From our experience, we feel that the overlap between the two is growing smaller, so we actively research local search algorithm - and we suggest you do, too.