Every website owner dreads negative SEO for one reason: it inflicts a heavy blow to a site's ranking on search engines. The worst part about being hit by negative SEO is that remedying it consumes a lot of time and resources.
Negative SEO used to be a rare phenomenon. However, as the Internet continues to evolve, there are more and more cases of it. It occurs either as a deliberate attack by competitors, or as an oversight from those in charge of website's ranking. Before going any further, it is essential to first get an idea of what negative SEO means.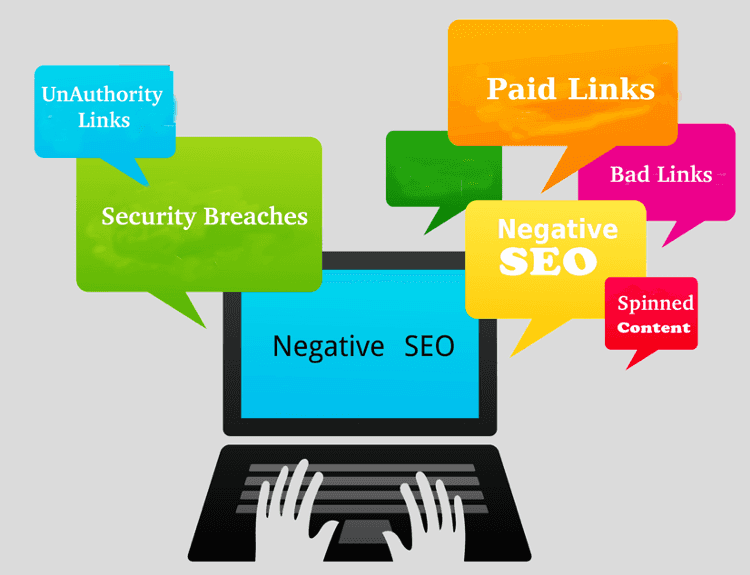 Negative SEO are conscious or unconscious activities that involve unethical methods to ruin the search engine ranking of a site. It is a very complex topic that is rarely talked about because it doesn't happen too often. That is why, there's no need to panic about being attacked, however, you can never be too careful.
Google is making continuous efforts to prevent negative SEO from occurring, part of which involves making it very hard for people to attack other sites in this way. As a result, it will take your attacker a lot of time and resources to run a negative campaign against you.
1. Google Warning Message
Once Google sends you a message that states the activities within your site are against their guidelines, then that's a red flag.
This warning message from Google is the most obvious sign that you need to be cautious of negative SEO. If you have any suspicion that you are being attacked by negative SEO, head to your message box in Google Search Console.
2. If there's Sudden Drop in your Search Traffic
If your site witnesses a sudden and unexplainable drop in traffic, then it might be a sign that you are being attacked with negative SEO.
To avoid this, monitor your traffic and ensure that you are up to date with your website's analytics, this will help you notice the moment when there's a drop in search traffic.
3. Drop-in Word Ranking
A drop in your keyword ranking should keep you on your toes; once there's a drop, it could be a sign that you are being affected by negative SEO. Always stay in touch with your ranking status. It will make it easier for you to notice when there's a drop.
Most times your keyword rank drops when the particular keyword is everywhere, it might be a sign that people are making conscious efforts to bring down your site ranking to putting out your keyword.
4. Abnormalities with Backlinks

Once your backlinks show any sign of abnormalities, it is a red flag regarding your site is putting out negative SEO. This is why you need to monitor your site's backlinks. Monitoring this is easy; there are a lot of tools that can help you with proper status identification of your backlinks . Some tools will even send you a notification email once there any sign of abnormality. If you receive prompt notification mail, it will help you identify problems and find a solution immediately before it causes further damage.

5. Content Theft

If your exact contents can be found in many other sites, it is not a good sign. It may be a deliberate effort to sabotage your recourse. When your content is plagiarized word for word and pasted in numerous online platforms, Google algorithm may not acknowledge you as the real owner of the content. This means you will not be able to compete favorably against your competitors, and your ranking on search engines would drop.


What to do if you are Hit by Negative SEO Campaign
There are many tools available that can help you solve the problem of negative SEO when it arises. A good example is Google's "Disavow Links Tool". This tool is designed to help website owners disavow spam links from their sites.
If your website is affected by negative SEO, here are the steps to consider:
First, you should insert all the suspected spam links into a text file.
Draft a note of removal recommendations. This note should state clearly that you want the links brought down.
Your note should specify the domain the spam link is coming from.
Once your note is properly drafted, upload it via Google Search Console.
Uploading your disavow list is simple. For Google, open the tool, choose your website, select disavow a link, and finally choose the file and send it.
For Bing, you cannot create a file. Every spam link would be disavowed individually.
Once you've suspected a negative campaign, you should follow the above steps to confirm it.
Some measures could be put in place to stay safe. These include:
Ensure that your rel="canonical" tags are correctly inserted at the back of each page
From time to time, it is essential that you check for crawl errors. This should help spot any possible cause for blocking of bots from indexing your page. If there's any particular cause, find an immediate remedy.
Ensure your robots.txt file is fine
Sometimes, we might unknowingly obstruct crawlers from gaining access to our site, for certain pages. This problem is common to new sites or old ones that have recently been worked on.
Being awate of that you have been affected by negative SEO is the initial step towards remedying this issue. There's no need to panic.
Be persistent in your website monitoring and safety, and you should have no difficulties dealing with negative penalties.