SEO stands for search engine optimization. Its aim is to optimize a web-resource and help users to find it on the first page of search results. It is well known that Google takes not less than 80% of global search queries, so all SEOs, both professionals as well as beginners are considering this engine and focus on it.
Let's talk about Google SEO Optimization Basics:
Keyword research. Before creating your content do your keyword research. It gives you an opportunity to focus on the needful keywords and inset them into your content maximum coherently. Combine long tail key-phrases with short words. Select those phrases that will be valuable for your business but also consider the readability and informative value of your text.
How do I optimize Google search engine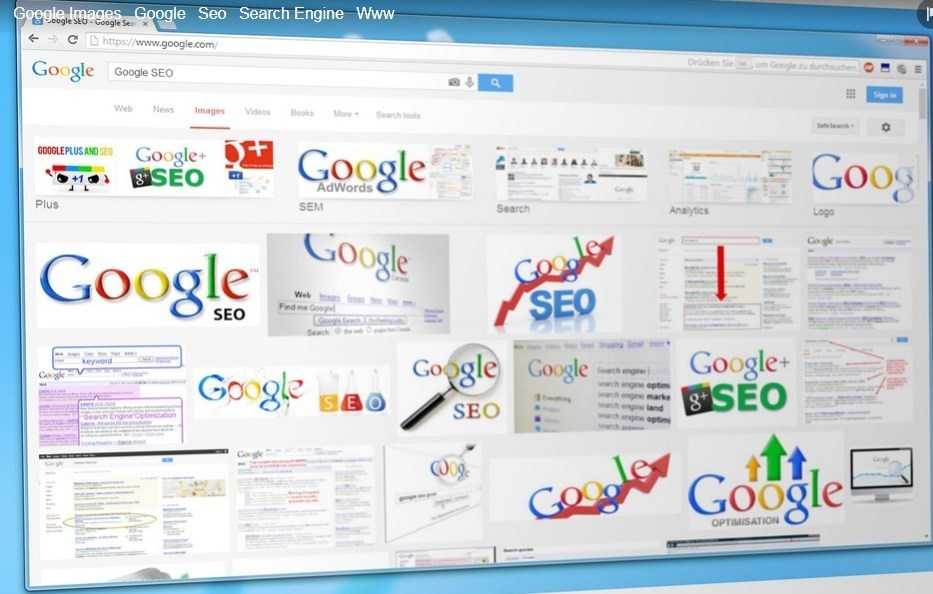 Top 4 lists for your good SEO
1. Target Market Analysis
Conduct your website analysis. Determine how Google is positioning you. Make analysis of Meta sets, text visibility, codes of your tags.
Analyze your competitors. Examine not only your keywords and content but also content of your competitors. Use Google keyword rank checker to compare the positions of your website to your competitors'.
This analysis helps you implement good search engine optimization further on.
2. KWR and Development
Use not only the lists of your keywords but also your competitors'. Use also pertinent sources to achieve more. Try to gain as much as possible search engine queries which are close to your topic. Google will correct the terms you chosen while searching, take it into account.
Google distinguishes the plural forms from the singular.
For example: How to optimize websites and How to optimize a website - are two different key-phrases.
Optimize also the variants of compound words.
For example: website optimization and web site optimization are also two key-phrases for Google!
So, try to use both of them, but make your text readable or choose that one which gives you more traffic.
3. Optimize your content
Google search optimization is strongly oriented on content optimization. Pay attention to your titles, subtitles, Meta tags, etc. Insert, firstly, search phrases into your texts for readers, but no for engines. Natural key-phrases inclusion is foremost, so create only readable texts.
Make only unique, accurate titles
For example: <title>How to Run Affordable Google SEO?</title>
This title shows to both Google and site-visitors what the article is about. It is easy to remember. Google finds such title as user-friendly. Of course, you shouldn't use the same title for another WebPage!
A long text is an advantage, so divide your text into logical parts and suggest to your readers long but qualitative and informative content.
Don't forget about sitemaps. They boost your site indexation by Google.
4. Testing and Assessing
We have in mind not only A/B tests, but also search engine rankings analysis. Keep under control the effectiveness of your strategy. Follow the changes not only of your site rankings but also the ranking of your competitors.
Create and follow proper link strategy. Submit relevant links to your WebPages, don't forget about interlinking strategy.
Check whether your website traffic is increasing. If you submit useful content, submit internal and external links, develop your site you will gain more organic traffic. You may use rankings as indicator but high traffic is a result of proper Google SEO optimization.
Conversions and traffic are core points in site optimization.
How do I get SEO on Google?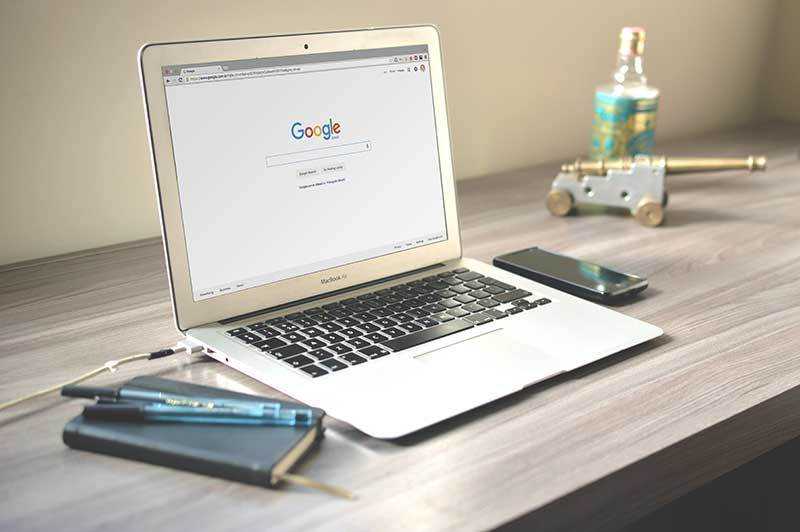 1. Keyword-based titles should tell what the content of Webpage is about.
2. All needful tags, including ALT tags should be thought over.
3. Add sitemaps for Google.
Use the same syntax when specifying your URL. Google will scan them exactly on the list.
For example, if your site is located at http://www.example.com/, don't use the URL https://example.com/ (without www) or any other differences. Use only relative URLs.
4. Submit website to authoritative directories and web-resources, close to the thematic of yours.
5. Follow Google Webmaster SEO Guide
6. Use images and videos on your webpage.
7. Upgrade your content regularly
Develop your site for users, don't be oriented on Bots, and it help you reach high Google rankings.
How do you implement link building strategies?
There are six keys for an effective link strategy.
1. Find out your target audience.
2. Select a list of sites which are attracting your target audience.
3. Create lovely content.
4. Select proper content to a proper website.
5. Implement Outreach strategy.
6. Use social media to notify about your site.
The visibility of your webpage should be increased via proper link building and social media. Use "off-page" activities to attract more audience to your site.
Consider Special Featured Snippet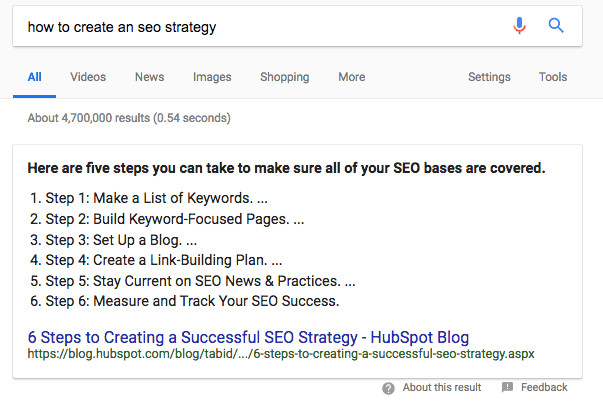 Google Search pulls content from the relevant website and displays it in special snippet. Relevant content can be also displayed in an answer box above the search results. If you see your content in a featured snippet be ready to gain high traffic. It's not an easy thing to achieve, but it is worthwhile of all your efforts. It gives not only more visitors, but also boost website credibility. Consider what related searches are to your website and what of them users are typing into search box, and add to your site authoritative and useful answers. Even when you can't pull your site into Google Snippet, all your authoritative answers to users' questions and all relevant content will be an advantage of your web-resource.
Broken Links is a Real Hurt
We have been already talking about link-building strategy, but what about broken links? If you see an error 404, clicking on any link to your website be sure it's a broken link. While qualitative links boost your traffic, 404 errors give inverse effect. Use accurate professional tools to check whether you have broken links. Fix them and delete if you want to run profitable Google search engine optimization.
It's not a one-time goal to make a website Google-friendly. You should do it consistently. Keep in mind that making your website Google-friendly is not a one-time task. Google rank algorithm is always updating and a webmaster should be in trend to be in TOP Google search results. Even if you have strong strategy and follow it step by step even in several months this strategy can become less effective, because the algorithm would be changed. Be one step ahead before your competitors and always follow Google SEO Guide and adapt your optimization to all new algorithms.
New tricks to get higher ranks will appear consistently. Of course SEO basics give a strong foundation for further optimization, so your groundwork will be an advantage for your site. It is good for your web-resource and business in general, because web-traffic and business progress are closely connected.