Publicity and active online presence are essential to any business. Therefore, nowadays, even more companies open up Google Local Pack and learn how to optimize it. If you feel like your business needs it as well but have difficulties while setting everything up, the SpySERP team is here to help. With our support, you'll manage and maintain Google Map Pack with its high-performance features!
Google Maps Pack often appears on the first SERP positions, considered the most frequently demonstrated search engine function. This feature is significant for enterprises operating at the local level - users tend to skip results that don't meet their requests for a specific area. For instance, if we talk about repair services or restaurants with Chinese cuisine, not every locality has such a service. Forty years ago, a three-point throw changed the basketball forever. The same situation can happen with your biz: the starting point is an attempt to improve your local ranking on Google.
Entering data about the brand is a responsible step for every biz:
according to the type of information you are going to disclose, it will affect your credibility;
the people will be able to put an assessment of entrepreneurial activity, based on which the site's rating will be formed;
your brand will live, so there will be a constant flow of new clients.
Such advantages are understandable only when the ad has good visibility - the data availability doesn't mean that Google will rank them for specific search queries.
This article will tell you all the most essential tips to figure out how to rank higher on the Google Maps Pack.
What is Google Local Pack and How to Optimize It: a Basic Description
I guess the question lingering in your mind now is, "What's actually Google Local Pack?" If you are an online person, then you've done a local online search for some goods or services in your area at least once in your life. The first thing you saw was a listing of three local businesses in the required niche that appeared at the top of the searches. After the ads, of course. And here is why: when searching for any local services online, Google shows a local map in the SERP without requiring you to perform another action, mostly because you don't need to. You get all the necessary information in the Google Map Pack directly.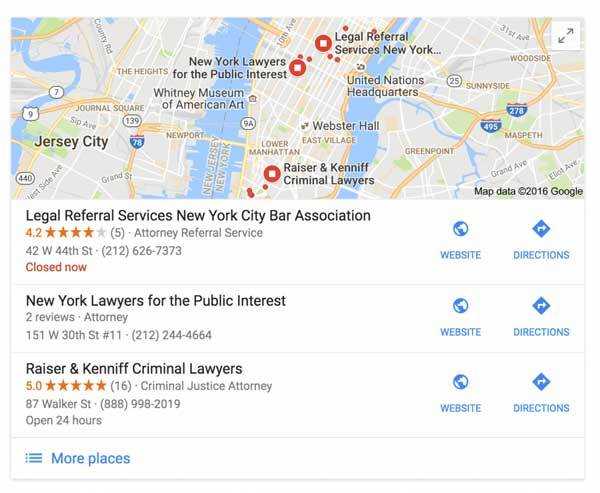 So, you've probably seen something similar to the above screenshot earlier. But let's define what the Local 3-Pack really is and how it works. When googling any local company or business operating in a certain area, you see a listing of three companies. They are the three local companies that match your search inquiry. Additionally, if these companies have reviews from Google users, you will see those reviews as well.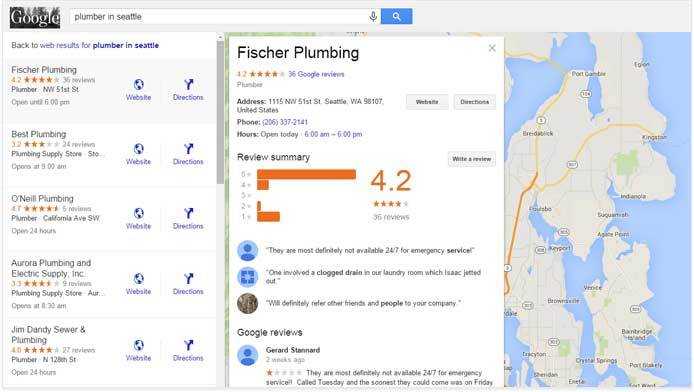 But about a few years ago, there was a 7-pack instead of 3. This feature was updated in August 2015, and a new option of smaller business listings was created to fit the mobile users better.
Here is how Google Local Pack looked like about six years ago: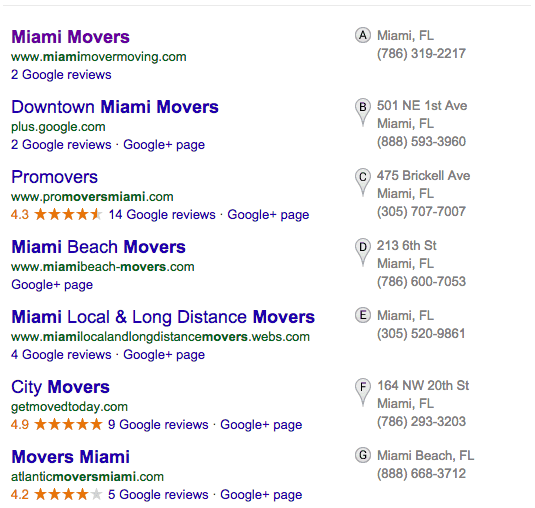 Years later, the Google Map Pack is full of new company listing features.
1. Company name
To conduct successful marketing on Google Maps, you should add your brand name. Accordingly, the local three-pack function will display your company in the catalog of places if the query involves searching for definite categories (e.g., associated with an industry or territory).
Note: any Google user has the right to add a company to Google Maps. Therefore, before adding details, make sure your company is in the database. Otherwise, don't worry: only the product owner has the right to control the listing.
2. Reviews (if applicable)
As you know, before buying, most people like to collect data about the product or service they are going to purchase. They trust unpaid honest reviews describing the company's performance and the quality of the purchased items. To receive feedback, you should be proactive: solicit and react to comments - this way, you reduce the damage from the negative ones and reward the positive ones. Any human reaction should find an answer from the company owner.
3. Description
A prerequisite for declaring the company's existence is the availability of a profile in Google My Business. Follow the prompts and enter a detailed explanation of the activity. The more information the ad contains, the higher rating Google will award your website.
Often, users look at the list of Google Maps businesses to check the opening hours. It would seem that during a pandemic, this is no longer so important because all trade is concentrated on the Internet, but this is a delusion: schedule signalizes crawlers that your enterprise is alive and reliable, which, in turn, will raise Google's 3 Pack local ranking. This tactic will also exclude the possibility of visiting your office or store and discovering that it doesn't work and receiving angry feedback that you are not responsible enough and your office doesn't work according to the stated schedule.
A photo is additional information about an object and is a kind of SEO rule of thumb: Google believes the same as consumers; respectively, they need visual components.
4. Business information (business address, website, phone number)
Google Maps ranks companies you can believe, and an important indicator of reliability is the coherence of info - even minor changes can affect your rating in SERP. Check the NAP data (name, address, phone number, etc.) is submitted on your website, Yelp registry, Facebook profile, etc.
Please, pay attention that search engine doesn't like toll-free numbers (those that start with 800 and 877). And all because they are often used to send spam. Therefore, the best option is to utilize a local phone number in the Google local map pack, the code of which will report the location. You can also enable the main number tracking to examine the performance of your ad.
5. Directions and location
Logically, the maps indicate the location of the enterprise and the routes that will help the person get there. But you can trace clicks and analyze the popularity of your brand in a specific area. Please, analyze who expanded ads from the SERP list.
Why is It Important for Your Business?
The Google Maps Pack, aka the Local 3-Pack, appears on almost 93% of all first pages for organic search results. Thus, this feature is one of the most frequently displayed by Google, just like Featured Snippet or Instant Answers block.
Given the presence of the Google Local Pack on the first SERP (above all organic results), you're probably skipping the organic results since this block gives you extensive information. So do other users, and all this makes Google Local Pack one of the best traffic-driven solutions for all types of local businesses.
For instance, the result massif looks like the Google Maps Pack and is called Local Teaser in the hotel business. It differs from other industries and contains info on prices, availability, Google Maps local guide ranking and placemark, the ability to select suitable dates and quantity of people, and other features.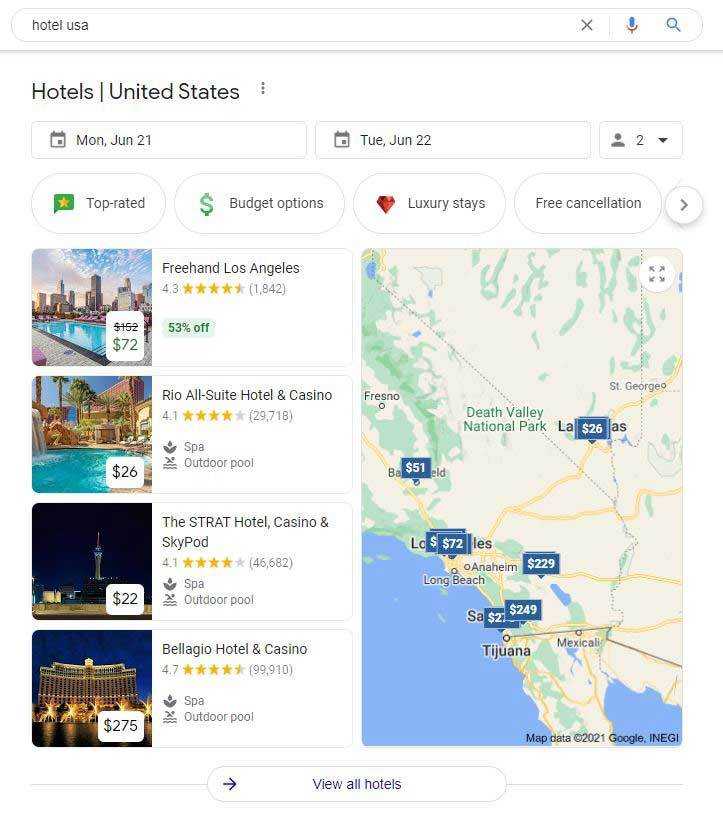 This could be a great lesson for you, as a business person. I believe the only question in your head now is "How to optimize Google Local Pack?" No worries, just keep on reading.
How to Get Ranked with the Google Map Pack: a Step-by-Step Guide
Getting into the top three Google local search results can be easy for less competitive markets and very difficult for others. For example, it's much more complicated to get into the Google 3-Pack for popular businesses than to get into it for some kinds of unique companies.
One of the Google local search ranking factors is key phrases in the description. To understand how well your site is ranked and where it's on the SERP list, utilize targeted and accurate analysis tools such as the SpySERP Google local rank checker. In the statistics section, opposite each keyword, there is a search volume and a rating in the search engine.

In addition, you can analyze the search localization and understand how adequately the website is shown for targeted queries.
Key phrases can increase local ranking if the most competitive terms are introduced. For this, the program has a function for tracking the popularity of key phrases. There are many detailed reports in the Dynamics tab that will help you to become a pioneer within your niche and select the most popular key phrases.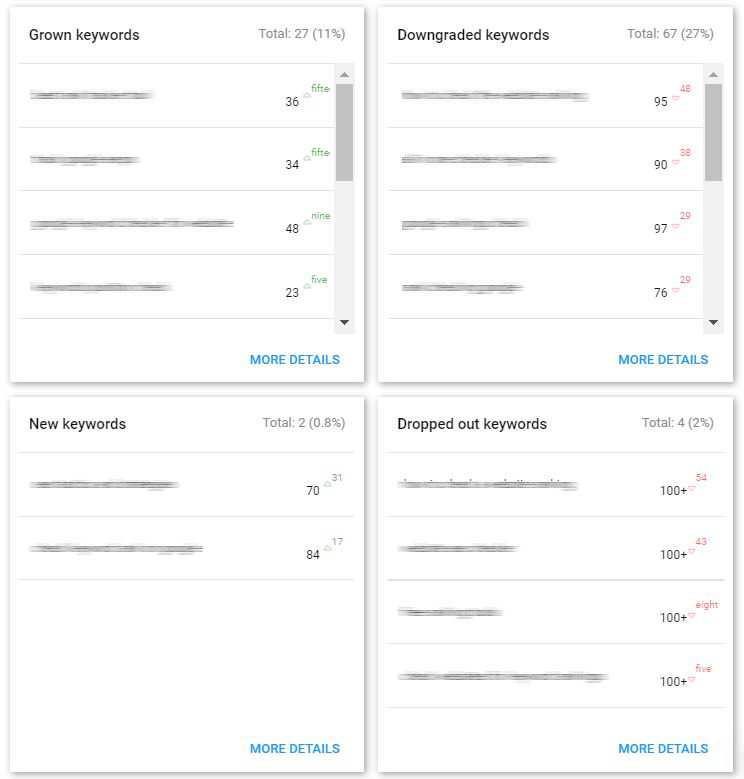 How to rank in the Google Maps Pack:
Create a GMB account;
Develop the website for local SEO (comprising link building).
So, now let's look at what should be done to make your site a permanent inhabitant of the Google local business results ranking.
Let's discuss the system of getting ranked by the Google Map Pack. The basic steps are as follows:
1. The perfect location
Yes, the better your location is, the fewer offline competitors you've got, the higher is the number of local citizens, and the higher are your chances of getting into Local 3-Pack. Even if you have a very high-competitive niche! Let's say someone is looking for a plumber in San Diego. If your service company is located in the very center of San Diego, then more likely, it'll show up as one of the top 3 options.
To understand which audience is engaged in your occupation, conduct an analysis using Google Trends, which we wrote about earlier. By declaring your brand, you can develop your Google Maps ranking.
WARNING: Google has quite strict terms of service, which also applies to Google My Business. If you break the rules when stating an invalid address for your business location and claim it in Google My Business, the consequences could be very negative.
2. Create an account in Google My Business
This is the foremost and one of the most important things. All you need is to claim your business listing and verify it as the business owner or representative.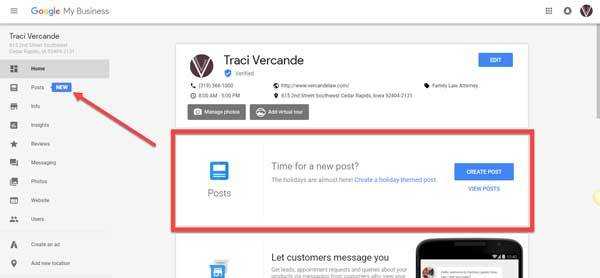 For these reasons, you can always register your company on this page.
When making an account for your company, make sure that it has already been bound with the GMB base: start typing "Brand name," and if there is already a suitable one in the category listing, declare it yours. If there are no coincidences, register a brand. The easiest method to do this is to utilize a Gmail profile with access to GA and GSC. If there are none, register and receive a postcard with a confirmation code to the e-mail. Note that most postcards arrive within 14 days. Google also points out that due to COVID-19, there may be delays in getting the letter.
You've already taken the first stage of customizing your Google My local Business SEO!
3. Optimize your Google My Business profile
If you want to stand out in Google's ranking system, you ought to take full advantage of their listing profile system, Google My Business:
Have accurate information entered for your name, address, phone number, and other important things that help users find you correctly.
Add as many useful images of your business as you can. Additionally, it would be good to add your business's products and/or services.
Put the informative company description with multiple keywords associated with your niche.
Optimize your description. Use keyword phrases that your potential clients could use when searching for you online. (This requires the assistance of a content marketing specialist).
Don't forget about the NAP data. Make sure that the business hours and NAP data you are listing there are matching the info on your website.
Don't forget to add reviews. Please, don't buy fake reviews, but try to motivate users to leave fair and good feedback on your products/services. You should also remember that 93% of potential customers will check reviews before choosing your company, among others.
For these reasons, you can always register your company on this page.
When making an account for your company, make sure that it has already been bound with the GMB base: start typing "Brand name," and if there is already a suitable one in the category listing, declare it yours. If there are no coincidences, register a brand. The easiest method to do this is to utilize a Gmail profile with access to GA and GSC. If there are none, register and receive a postcard with a confirmation code to the e-mail. Note that most postcards arrive within 14 days. Google also points out that due to COVID-19, there may be delays in getting the letter.
You've already taken the first stage of customizing your Google My local Business SEO!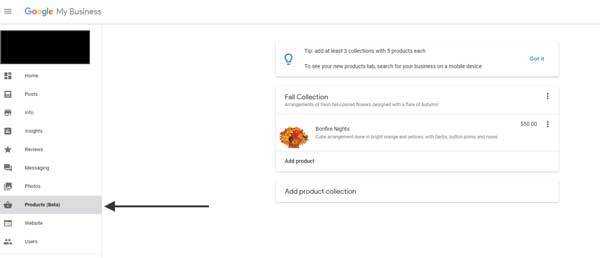 7. One of the most effective ways to optimize Google My Business is to increase backlinks. Quotes are their source, so try to target prestigious resources and maintain brand mentions up-to-date.
4. Optimize your website for local search and mobile usage
Google lists three factors they take into account in local rankings: relevance, distance, and prominence. This means that, firstly, if you'd like to be ranked high in local search results, your website needs to be relevant (well-optimized) to a user's search query.
Secondly, your business must be located in close vicinity to the user that does the search.
And, finally, your business should be well-known to customers and have high authority both online and offline (here is why you need to acquire more positive reviews).
Last but not least, your website should be perfectly optimized for mobile users. As we mentioned above, the Google Local Map 3-Pack was created especially for higher mobile usability - so you shouldn't forget about it as well.
The site adapted for search-relevant information on smartphones will be awarded high places in the SERP. Google My Business optimization for SEO is also about working with keywords: track the terms that get to the top and embed them on your website.
E.g., examine the competitors' keywords, modify, and use them to develop. The importance of local SEO is evident here: crawlers will link your site to a specific area.
How to Optimize the Google Map Pack: Rules You Need to Follow
Getting into the Google Map Pack isn't as difficult as you may think. We've created a small list of simple rules you need to stick to:
Use the right features;
Make sure your site is mobile-friendly;
Provide accurate information about your website;
Improve your website user experience;
Provide as many photos of the business/company as you can;
Encourage your customers to leave more positive reviews;
Use Google My Business to optimize for local search;
And of course, offer top-notch services/products to stay popular among your customers and get positive feedback.
Very often, when being impressed by any product (okay, a very delicious snack), I run to my laptop and search for shops that sell it near me. Most of the time I stop at the first three results and don't search anymore. That's exactly what your target customers do, and that is exactly why you should do all you can to appear in the local 3-pack.
Google Maps Pack is one of the most efficient methods to achieve local prospects. This relates closely to SEO as you'll definitely need to optimize your site to match the users' search queries. As mentioned above, customer reviews, business information, and pictures are the essential steps on your way to the local 3-pack.
All in all, when your site/business appears in the Google Map Pack, your income and overall business prosperity may significantly rise. If you feel like you're ready to move to the next level, use SpySERP tools to make this happen even sooner!