One of the most effective ways to increase website leads is to implement search engine optimization. We live in digital epoch, and profitable business web resource is a must in running any commercial niche. To get ranked TOP and reach web-users search engine optimization is vital.
You can do your SEO by yourself or hire a freelance-expert, or even a company to succeed in this field. Of course, you need accurate tools for this and Google Webmaster is one of them. It includes different needful for webmasters tools, using it, you can improve different aspects of your website. These tools can help you gain more traffic to your site. They are easy in use and you shouldn't be an expert to work with them.
Google Webmaster Tools are free. Everything you need is to sign up and verify your account. The effectiveness of them is really high, though they are available for everybody.
Google Webmaster Tool and Its Benefits
First of all, you can correct errors on your website, which can cost you rankings in different search engine. We can track the mistakes, causing our web traffic decreasing. It's a real damage for any website, so to reduce these mistakes and their frequency, we need to use webmaster tools, Google offers to us.
Now, we'll consider two sections, where you can find errors: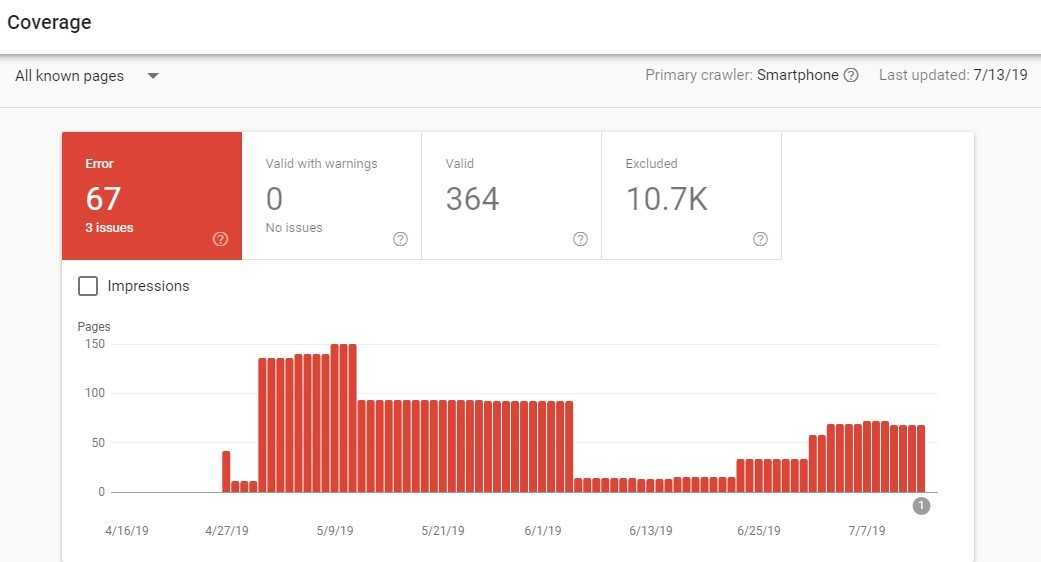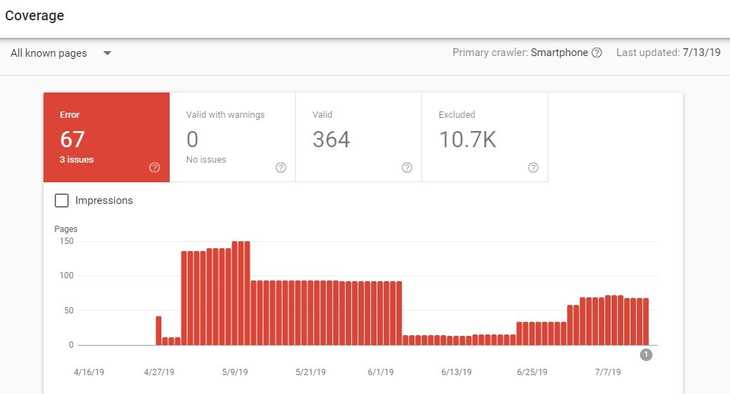 1. Coverage - indexing errors. If there were added some URLs to Sitemap or you added some URLs manually, but they are blocked by robots.txt or something wrong with them you'll see this type of the error. We shouldn't see 404 errors instead of the relevant URL. Let's consider typical errors:
The Submitted URL is marked as "noindex"
The Submitted URL is blocked by robots.txt
The Submitted URL not found (404)
The Submitted URL has crawl issue
Look at the screen and try to avoid similar errors in your optimization.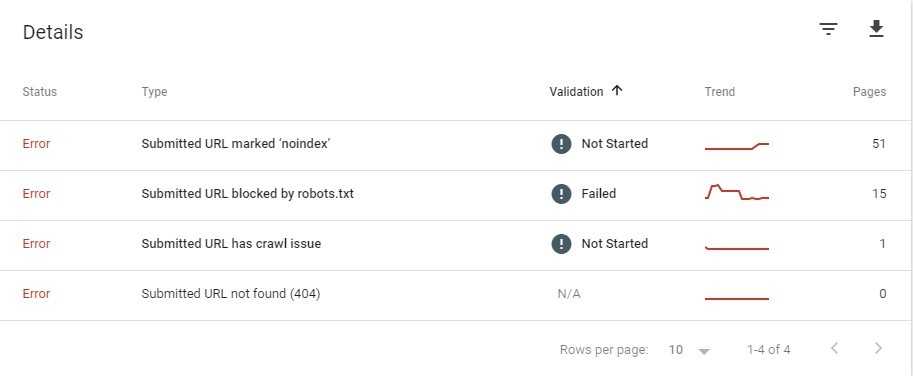 2. Mobile Usability – Google describes errors in mobile device optimization.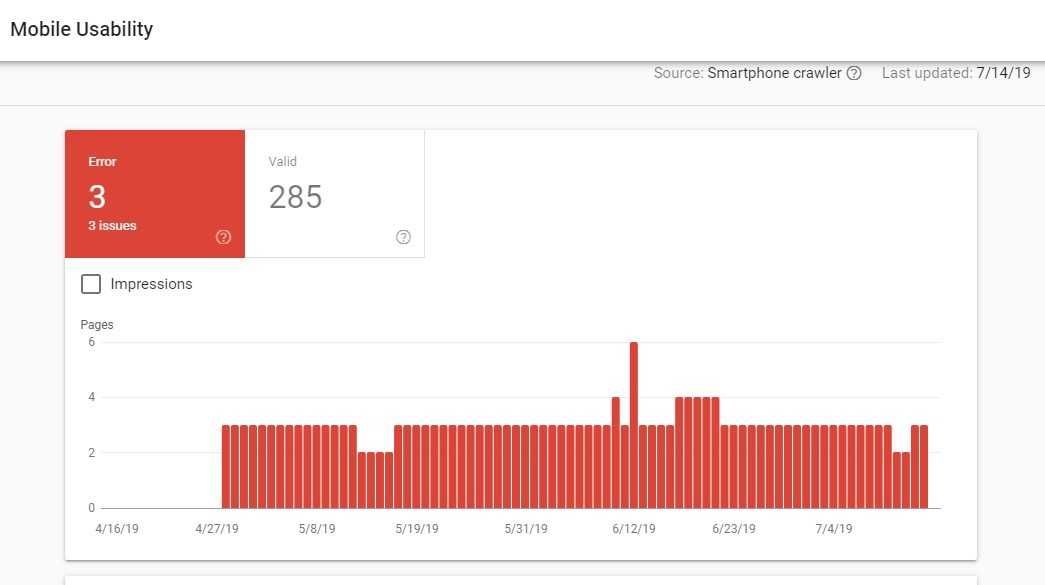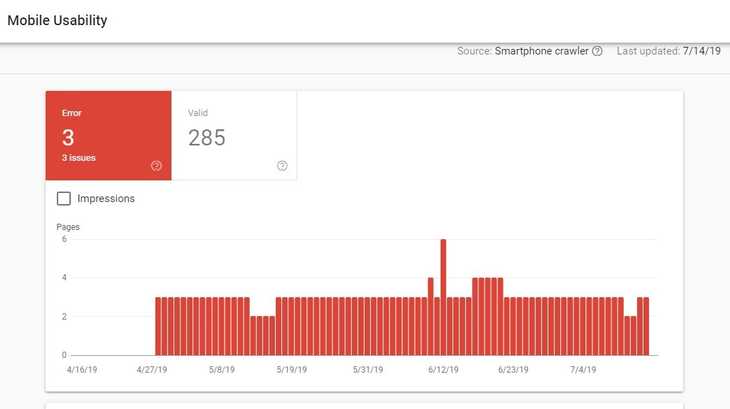 The errors of both types have influence on traffic.
As for the first type, if the page is forbidden in robots.txt, Google wouldn't index it.
As for the second type, not mobile-friendly sites decrease website rankings in Google mobile search. The competitors, who have mobile-friendly versions would receive higher rankings and will be higher in mobile search results.
Try to avoid the following errors and correct them if they happened to be:
Texts are too small to read
Content is wider than screen
Clickable elements are too close together .
Viewport isn't set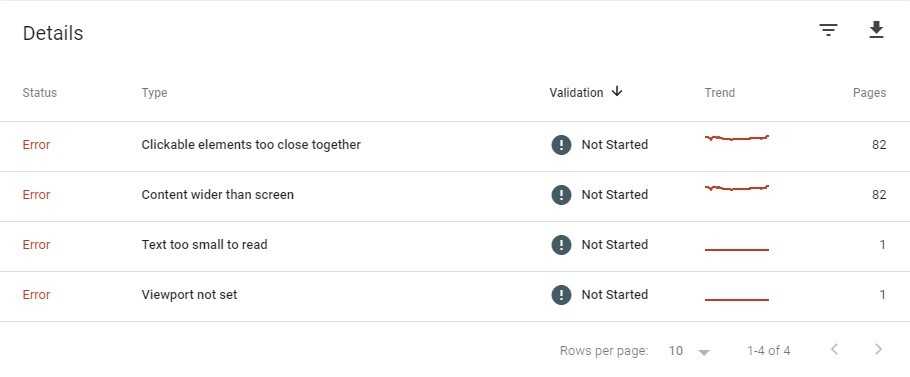 Google Webmaster Tools Rebrands as Google Search Console
Google Webmaster Tools were renamed to Google Search Console. It was announced by Google. The previous name has been in use for ten years. But now, Google has changed it, because as they say their tool is not only for webmasters, but also for other people. Everybody: designers, SEOs, app developers, amateurs, business owners, etc can use it. By this way we receive new Google search console.
The features of Google instruments are the same. No wonder, Google will be adding new features to its tools further on, as it has already been doing for years. But if we talk about the change of the name we should underline, that the instrument is the same, it has changed just the name.
We can't promote site without adding to the Webmasters as well as without using accurate SEO tools. Google page rank checker and Google tools are giving to you a ticket for organic traffic. This is the only easy way to tell a search engine that "Hey, hello! This is my website! Consider my extradition! " And the Webmaster is your only way to communicate with the search engine.
How to Find out Duplicate Content with Google Search Console
You would lose your rankings if search engines find duplicate content on your site. Especially Google, with its requirements to create high-quality content, will penalize your site for plagiarism. Avoiding duplicate content is one of the core points in web optimization. Using Google Webmasters Tools, you can easily spot duplicate content. Ensure that the post you submitted is original and enjoy your high rankings.
How to Track Traffic Using Google Search Console

Running correctly optimization strategies you generate more leads. It is important not only for your website but also for your business. The goal of the SEO strategy is to increase organic traffic. Using Google analytics and Search console, you keep the analysis of your traffic under control. Traffic monitoring is easy with Google tools.
You'd observe the progress of your website and receives an answer whether the methods you're implementing are working. On the basis of this analysis, you'd build your strategy by that way to gain more visitors to your website.
How Does Google See your Website?
Webmaster has to see a clear picture, how popular search engines see his site. Google Search Console shows to him a site picture from the point of view of Google.
For example, a webmaster can see the search queries and other important things to analyze deeply the situation with his website. Web traffic, backlinks, internal links will be also under webmaster's control. Of course, the needful for your site changes become clear for you.
Working with Google tools you prevent common SEO errors.
Google Webmaster Detects Viruses
You can identify malware on your website using Webmaster Tools. If your site has a virus it loses audience. You should prevent this damage. Check all vulnerable spots on your site to detect viruses. One of the effective tools for detecting is Google Webmaster.
It is also effective when you need improvements, but not only detecting errors. To improve site's HTML these tools will be also needful. As a result you can boost traffic and site's ranking.
Google Webmaster changed its name to Google Search Console, but it has all the same functions and options. It is open not only for webmasters but for anybody who wants to work with it. The tool can be used to detect different errors and improve website totally to reach higher rankings and higher traffic. The instrument is absolutely free and enough easy in use.