Plagiarism is a scorching problem that roses together with Internet development. The "content thieves" are constantly seeking the most exciting texts. It doesn't matter whether you're running business projects, checking students' papers, or working on a press release. The text uniqueness proved by a reliable duplicate checker is one of the key points when creating high-quality text materials. Before publishing anything, the writer must be sure the materials are unique and original to prevent copyright violation.
The employees of all educational institutions should compare articles and other scientific works, just as the webmasters need to compare web pages using a text similarity checker. So, in this article, we're making a short review of the top online plagiarism checkers.
By using unique content on your website, you both follow the copyright law and draw organic traffic, all while receiving extra users. It helps to get higher positions for your website in the search engines, including Yahoo and Google. To check the website positions in search engines, you can use a professional service SpySERP that provides accurate search engine ranking and offers detailed location indication. No doubt, unique content is essential for all webmasters!
In the Merriam-Webster dictionary, plagiarize indicates theft of an idea, a literary product, the results of another person's work, and making it look like it's your creation without revealing the source. This already existing product is introduced as something new and unique. It turns out that duplication is equal to fraud. This definition is relatively fair: you see, a series of actions of an offender may destroy other people's lives and careers. Even giving incorrect info about the source or neglecting links and citation rules is considered unobvious plagiarism.
American writer Wilson Misner wrote that copying from one source is plagiarism, but it's already a whole study when it comes to two. Indeed, if we write an article based on other people's arguments while not expressing our own opinion, can it consider as appropriation? Let's take a closer look at the classification of plagiarism. It'll be exciting and valuable to get acquainted with them.
Borrowing without specifying the source
The most predictable form of literary or academic theft is the so-called "Ghost Author". Everything is straightforward here: a work written by another person is positioned as their own. This phenomenon is a frequent visitor to online publications or agencies ready to write any work on demand. Its modifications are the following:
copying a significant portion of the text
using quotes from multiple sources and separating them with transient sentences
the content meaning remains the same, but the wording is changed
borrowing text from their own earlier works
Note: it's hard to check "stole from yourself" plagiarism, which is an entirely unexpected form. E.g., a student may submit the same work to different teachers. In such a case, the uniqueness expected from the work is violated.
Duplicate content negatively affects the website's SERP rating. Utilize the site rank checker to track your content relevancy.
Duplicate with an author indication
forgotten or misspelled link
missing quotes when posting
complex: quote paraphrasing + correct design of sources
publication of works filled with an abundance of citations, but without expressing their own opinion
It makes you wonder can the plagiarism checker recognize the implicit copying described above? Let's figure it out.
List of Top Plagiarism Checker Tools
Plagiarism check makes you respect other people's work, establish copyright rules, and protect personal internal documents. Therefore, we've created a list of the most rated tools for checking plagiarism.
At the end of the article, we'll share with you which website for checking plagiarism is the best. But don't just focus on it. Each of these services has different goals and is indispensable in the work of niche searches.
Manual check - the easiest dupli checker for quick review
Manual check is both fast and easy, but at the same time it is insecure.

For this method, we take a short text fragment and copy-paste it into any search engine system. It could be Google, Yahoo, or any other you prefer. In some time, you'll see the uniqueness of the chosen fragment. Of course, running a check this way is easy; you don't need any additional tools. However, there are disadvantages. You can't estimate the amount of plagiarism in the whole text, and you can't see the unique style of the text. Also, the text should be indexed before you check it with the chosen search engine. Otherwise, you get zero results.
SiteLiner – proper tool for websites to check for plagiarism
Using this online plagiarism checker, you can easily track the stolen content for free. You just enter a certain link and run this software viewing the percent of duplicated content. The user may choose both: see the unique content of the whole website as one single unit or only those pages which have duplicated content on them.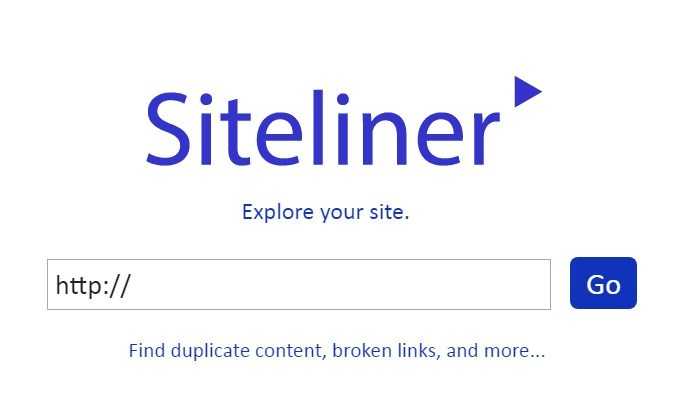 Pros: The service identifies non-unique content and provides a comparison between other web resources, and offers graphs.
Cons: Only 250 pages can be scanned for free. To scan more, the user should buy a Premium version.
Small SEO Tools Plagiarism Checker
This tool checks the text for its plagiarity and verifies the document content's integrity. If there are non-original sentences, the plagiarism checker determines the source of any non-original or plagiarized piece taken from the Internet. Online comparing using different search engines is quick. This service doesn't save content in its database.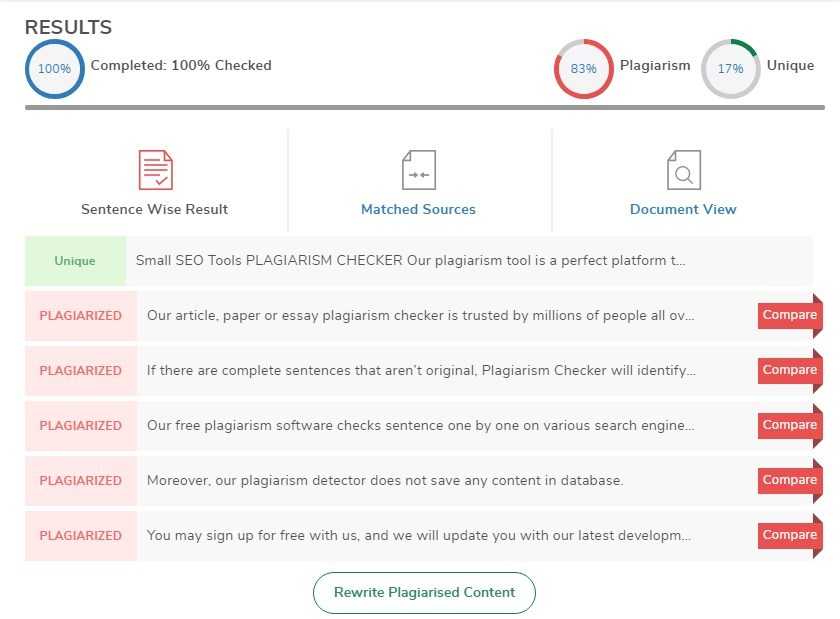 Users can sign up for free and be informed about all the improvements of this tool, and they can use the service without signing up. One important advantage of this tool is that all its features are open for free.

Grammarly.com (free trial/paid) duplichecker
At the first sign, the service is free, but if you'd like to make a thorough text check, you'd have to buy a full version or sign up for a trial one. The trial version lasts seven days. The subscription can be canceled before the trial period ends up. The subscription plan isn't free: nearly $30 for a monthly subscription, $60 quarterly, and $140 annually.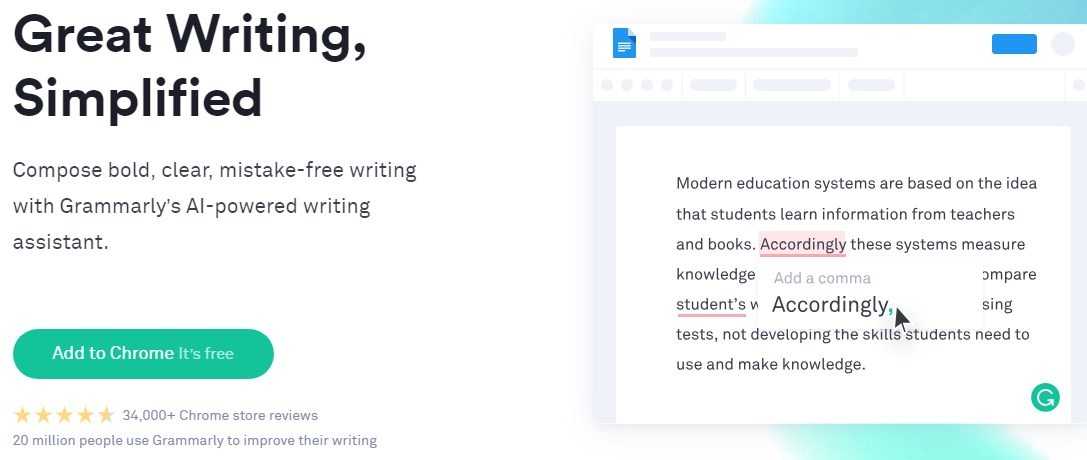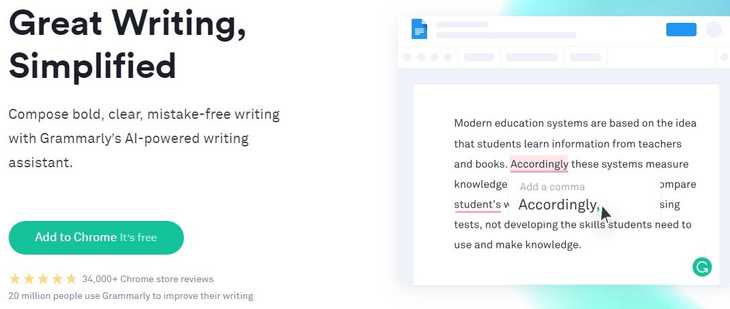 Pros: The data you receive is extensive. If you need detailed analysis, the service gives you the complete answer.
Cons: The service isn't free. It gives a lot of text details that you may not need at all. It demands strong knowledge to clarify the information you receive. If you're short on time and need shallow parsing, this service may be a not suitable choice for you.
Online Plagiarism Checker - Plagiarisma.net
Here how it works: the users choose the content they want to check and paste it into the box, selecting several search engines to start the copy check. When the checking is finished, the service offers a list of websites with plagiarized content. Plagscan is free to use. Users can observe both sites with plagiarized content and also that particular pieces of duplicated content. But a better free plagiarism checker could offer more accurate and more numerous results.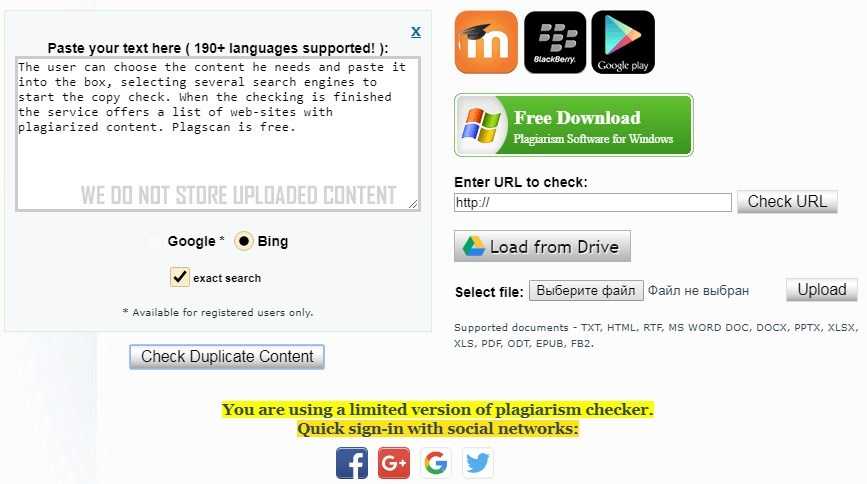 Pros: It's free and easy to use.
Cons: The results aren't so extensive as the user may need.
Dupli Checker Plagium.com
The user can scan the content for free, but the service asks for donations if the user really likes it. The donation is not obligatory! It's up to the user to pay or not.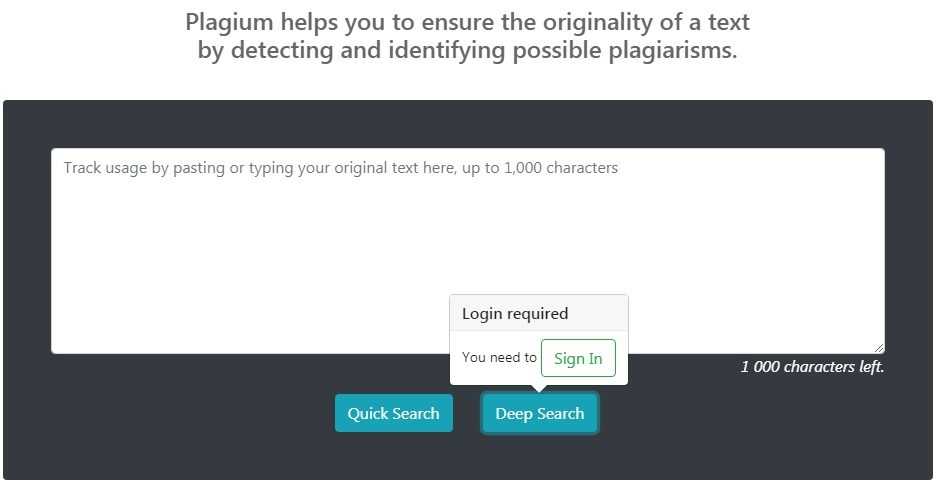 Pros: The service is absolutely free and understandable.
Cons: The analysis isn't too deep and not detailed enough.
Copyscape – may be the best website plagiarism checker
It is one of the most powerful services admitted by popular and well-known western bloggers. So, if you need to compare two texts for plagiarism or make a deep check for duplicated content, rely on this program without a doubt. If someone stole the text, the system would determine it easily. If other online plagiarism checkers can't determine the stolen content, Copyscape does it distinctly. If you're looking for a free tool, this service doesn't meet your requirements. Still, you can check the particular page uniqueness or the whole site totally for free.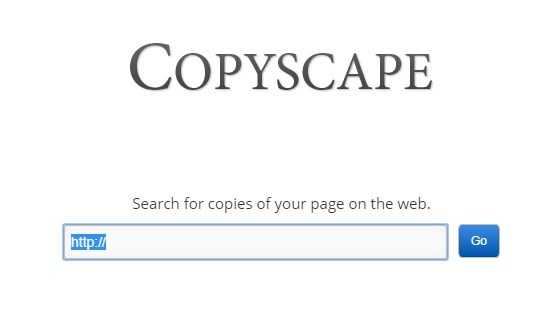 Pros: The full picture of any text fragment and its significance is maximum accurate. The given details and analysis are at a very high level.
Cons: Each copy check costs 3 cents.
Turnitin – paid service only
The service is paid only. To use it you should firstly sign up and select the package of services. The cheapest one is $9.97/month. Lots of students and employees of educational institutes use it to ensure that the materials they use are free from plagiarism or correct-cited. This site is geared towards university or college students who want to ensure their documents are accurate, well-cited, and free from plagiarism before sending them to a teacher. The content would be checked for quotes, phrases, and any incorrectly cited similarities against a huge database of scientific sources.


Quetext for searching copies on the Internet
That is the best plagiarism checker with a free trial for three documents (up to 500 words). Suppose you don't mind a $9.99 monthly subscription, which isn't as much compared to other programs. In that case, the service's algorithms will even discover implicit duplication when phrases are modified and sentences are paraphrased. You can't check plagiarism here as accurately as in powerful Grammarly and Scribbr - it only analyzes net sources and online books. E.g., when it comes to magazine articles, its power isn't enough. It's worth noting that Quetext often falsely triggers, and the reported plagiarism rate can be much higher. However, the site's usability is excellent: the detailed report provides sources and doesn't consider citations as copying.
Pros: free version allows you to evaluate the service before purchasing a subscription. It also has an integral quotation option so that you can put quotes in borrowed sentences.
Cons: unfortunately, this plagiarism checker isn't suitable for essays or scientific articles. In addition, it often mistakenly marks phrases as duplication.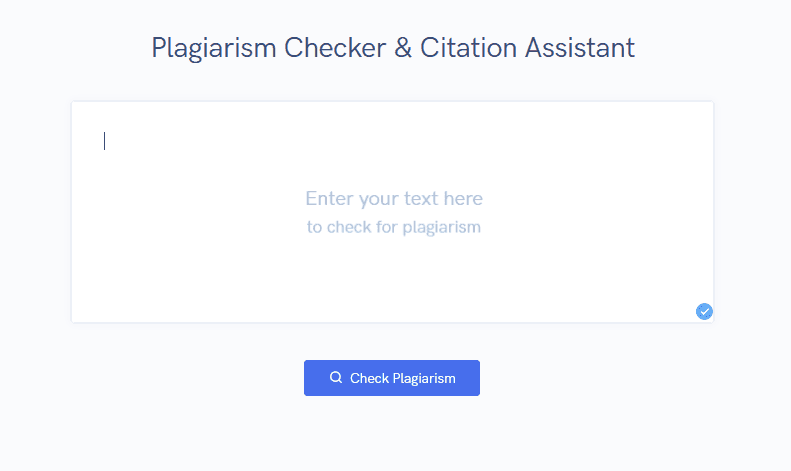 Scribbr for checking student papers
This tool certainly deserves attention, as it has an extensive database of scientific sources. The Scribbr plagiarism checker is one of the best similarity detectors: e.g., it accurately detects a little rewritten content. The program technology allows you to disregard bibliography and correct citation. On the contrary, many services swear at them and consider them as a duplication! The review of this best-paid plagiarism checker is extremely convenient and contains all the data you need. It informs about the duplication percentage, several links and provides a text copy with highlighted places of potential plagiarism.
Pros: admission to massive databases, correct reporting.
Cons: subscription costs $18.95 (up to 7,500 words). However, you have to pay for quality, so this price can be considered quite adequate.


Which Plagiarism Checker Is Best?
To understand which plagiarism checker for SEOs, marketing and writers is the most optimal, we studied many resources. Also, we've measured the popularity of each position in Google Trends and are in a hurry to inform you that the best plagiarism checker 2021 is ... Keeping intriguing. So, there are three programs that, according to users' requests, are the most in-demand. And these are Grammarly, Scribbr, and Turnitin plagiarism checkers. By the way, the latter hasn't lost its ratings for two decades. Each of the services provides functionality adapted to specific requirements; their databases vary, and the search algorithms work differently. To assess your text's quality and complexity level, you can also apply for the most reasonable writing assistant extensions. Plus, keyword-rich content could get better with these apps' recommendations.
Why is plagiarism bad?
Earlier, we said that plagiarism is a form of theft, only not material but intellectual property. It's tantamount to deception - the publication of other people's products on their behalf leads to the devaluation of someone else's work and the impossibility of confirming their qualifications.
How to avoid plagiarism?
The best way to prevent yourself from using copying is to be aware of what it's made of. Try to write in your own words and use citations to resources. In any case, you can always use the free online plagiarism checker. The secret is not to indulge in the temptation of duplicate content but rather to allocate enough time to plan your work and study the materials.
To prevent duplicate content from affecting the site's ranking, use semantic clustering in the SpySerp tool.
What is the percentage of plagiarism allowed?
According to Quora, research papers and reports must be original because diligent writers know how to reproduce their own words. That category of work should be published with a "0" percentage of duplication. As for other jobs, a 5% estimate is considered acceptable, from 5 to 10% is a good indicator, and above 10% already causes specific difficulties.
How does a plagiarism checker work?
Duplication checkers compare two documents, one of which is a custom file. Machine learning analyzes the smallest bits of resource data. For the scanning to occur correctly, the detectors split the entered content into sentences or fragments.
Is Plagiarism Checker accurate?
To understand how accurate the content uniqueness checker works, it's essential to know how extensive the database is and the scanning algorithms work. If it's clear with the first factor, then you'll find the answer to the second one in each presented service review or on the website. Some of them detect direct plagiarism and some patchwork.
What are the consequences of plagiarism?
They can be very different. In educational institutions, this promises low grades, disciplinary punishment, and even expulsion. There are also severe consequences for an offender's career: e.g., victims often use the plagiarism checker for legal confirmation of copyright infringement.
What is the difference between plagiarism and copyright?
Copyright is a kind of intellectual property when the owner has the right to duplicate content for a specific time and adhering to limitations based on public interest considerations. In any case, authors violating the law are defined by plagiarism writing checkers.
What do teachers use to check for plagiarism?
Often, teachers choose a highly specialized plagiarism checker for students' work. For instance, most colleges are using the free Turnitin plagiarism checker with percentage for decades. It carefully scans each document and compares it to a global database.
Content checker is an important tool. It provides either free or paid plagiarism comparison. Before choosing it, the user should clarify for him: what is the purpose? If you need more instructions and a deeper analysis, you'd better choose paid tools. If your purpose is just comparing two documents for plagiarism or similar, you don't need to pay for this. Free tools offer limited options; however, their variety is limited too. Consider this before making your choice!
Many people copy each other's content. If they do it in terms of the copyright law, it is okay, but when they break authors' rights - the tools we described above can help you put them to justice for the stolen content.