General Overview: Ahrefs Vs. Sistrix
Ahrefs is definitely one of the most popular SEO tools nowadays, every junior SEO specialist at least heard about it. The platform contains a large variety of features that are focused on helping you do thorough research on your own website, as well as gives you an opportunity to conduct competitor research. The goal of the tools presented by Ahrefs is to help you grow the organic traffic your website. There are several companies that take advantage of the SEO tools offered by Ahrefs. Some noteworthy names are Adobe, Facebook, Tripadvisor, Netflix, and LinkedIn.
Ahrefs also gives you the ability to do a thorough analysis of your website and track specific keywords that your web pages are ranking for. You can see what rankings have already been achieved and add custom keywords for tracking.
Sistrix is another SEO platform that has gained recognition in the last couple of years. The tool is aimed at SEO professionals who are already experienced in optimizing websites and link building. At the same time, the tool aims to be as simple as possible and uses a module-based platform to give you maximum control.
Sistrix is used by a list of companies that includes the world's biggest online marketplace Amazon, as well as DHL and Bosch.
Several modules are presented to you when you sign up on Sistrix for the first time. You can choose which modules you need to optimize your campaigns – any extra tools can be removed from the dashboard to give you access to only those settings and features that you want to focus on.
Each of the platforms we are looking at comes with its own set of features. This is why it can be difficult to choose between the two. While Ahrefs tends to include the majority of features immediately, Sistrix rather lets you choose the tools you want to work with and hides those you do not need.
We take a closer look at the features offered by each tool below.
Site Audit
This tool is aimed to analyze your website performance by detecting the most common technical SEO errors.
Audit allows you to detect:
problems with traffic growth in organic search;
problems that decrease your sales or conversions;
reasons why visitors leave your site;
technical errors.
The goal is to fix all existing issues on the site, improve the site for both search engines and site visitors.
Site Audit Tool crawls all the pages of your website and provides you with an overall SEO report.
To begin scanning you should specify a domain name or URL-path, choose URL sources you plan to start crawling from and click "Next". You'll almost instantly get a detailed report with SEO data describing the main critical issues of your website.
The tool provides you site technical report that includes: server settings, robots.txt files status, internal pages performance, HTML tags, social tags, content quality metrics, localization issues, incoming and outcoming links status, website speed, images size, site structure, external pages profile. Apart from that, it also supplied with the best practices which you can carry out to fix on-site errors in an effective way. The analysis visualizes key data in charts.
Site Explorer
A significant part of the platform, giving you insight into your website's current performance in search engines, including Google. The service lets you get an in-depth look at the organic traffic and backlink profile of any URL, website folder or the entire website.
In this report, you can see an overview as to how well any URL, domain, subdomain or folder is performing in organic and paid search, and cutting-edge SEO and backlink metrics.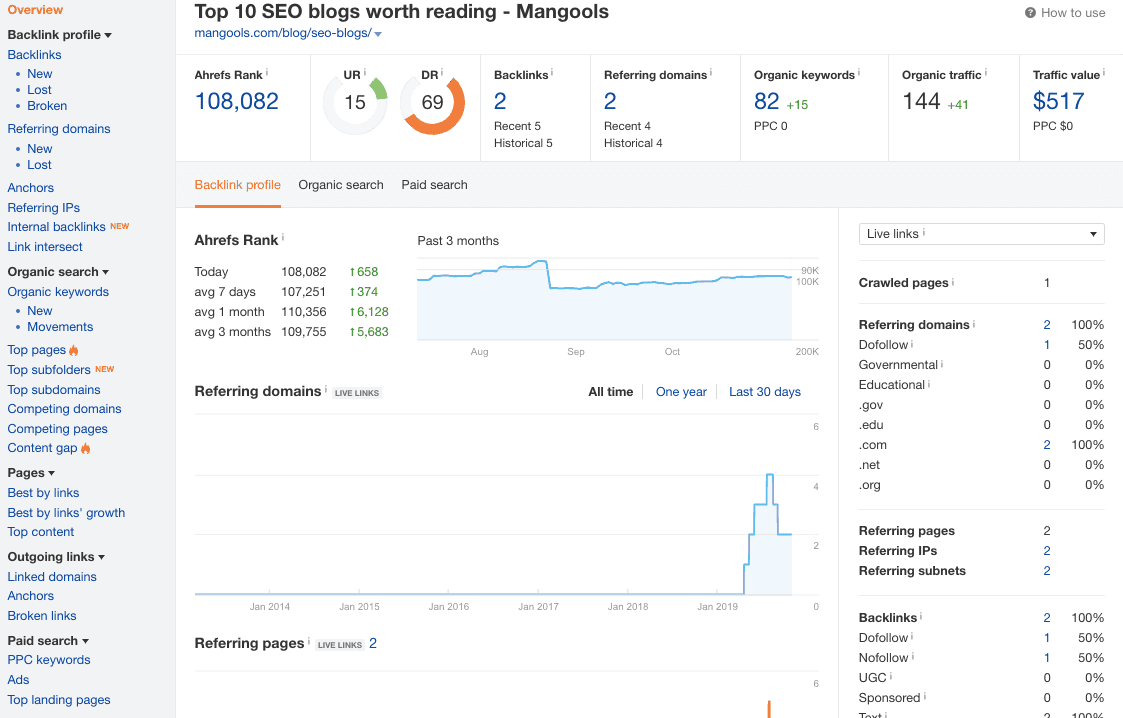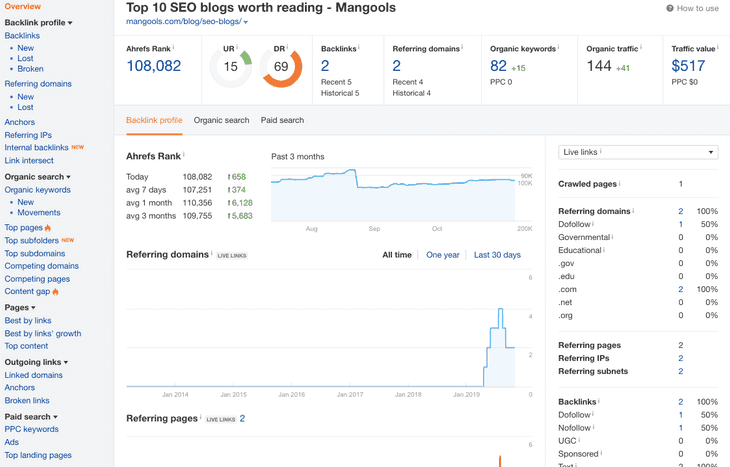 You can also see the percentage traffic shared by country and filter it by time periods.
The service will help you spy on your competitors' websites, allowing to analyze quality of their backlinks, giving a progression overview of their backlink profile and traffic resources.
As a bonus, you get the Paid search tab with keywords your competitors are bidding on to see what kind of ads they use.
Keyword Explorer
With impressive base of 3 billion keywords, this tool provides you with thousands of relevant keywords ideas. Accurate keyword analysis gives you valuable insights on Search volume, Keyword difficulty score and advanced metrics like Clicks, Return rate and Parent topic.


The functionality of the feature is quite simple, you can enter from 1 to 250 keywords (or import them from a text file) and use this list for your further researches.
The analysis let you see the total frequency of the queries, the estimated number of clicks for the region, SERP for each keyword, CPC data and other useful info. Keyword difficulty indicator is the main filter for choosing the best keys for promotion.
Content Explorer
Content Explorer tool will help you quickly find new trending content in the region you need only using relevant keywords. You can search for any word or phrase and get relevant pages with useful SEO and social metrics. Just type your keywords in a search bar and find the most recent content for that keyword. The tool makes it easy to search and analyze the most viral and trending content in your niche.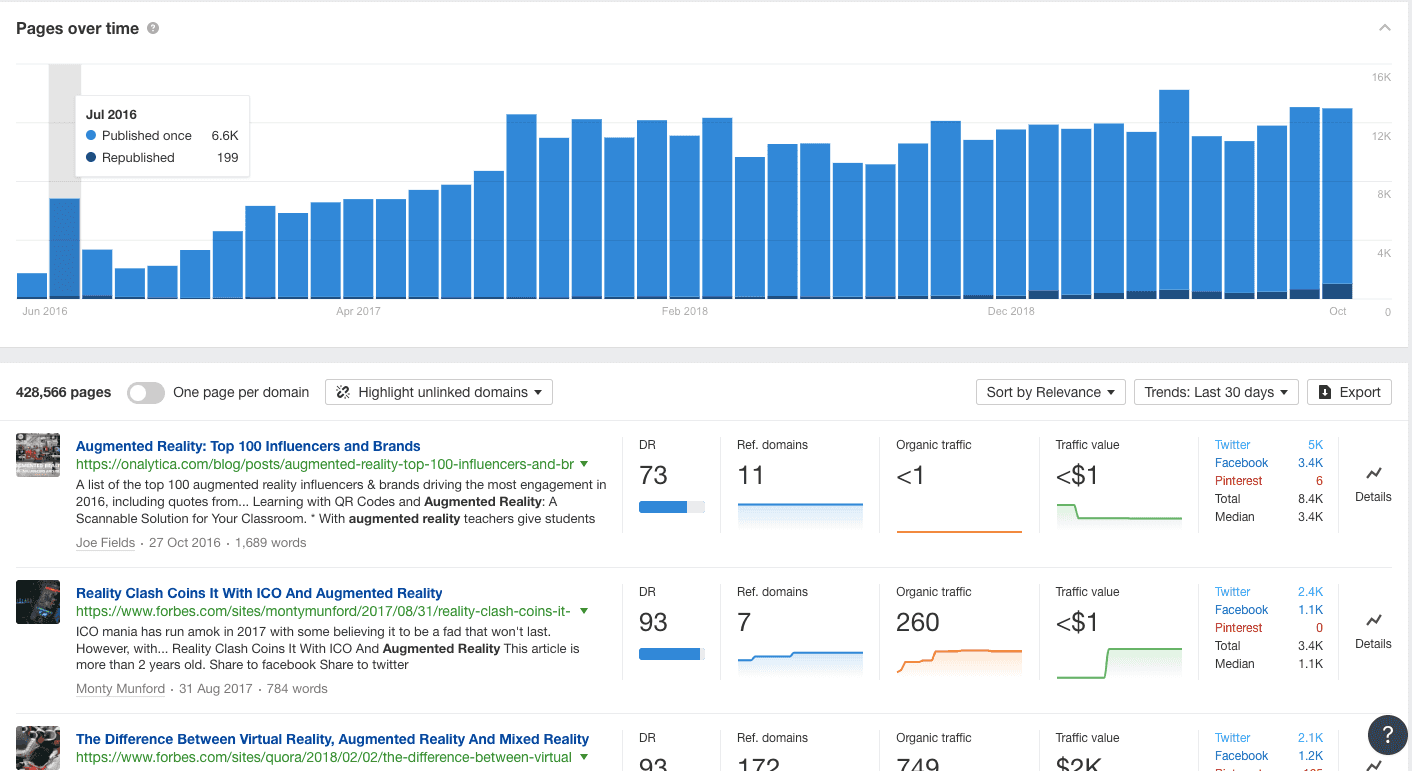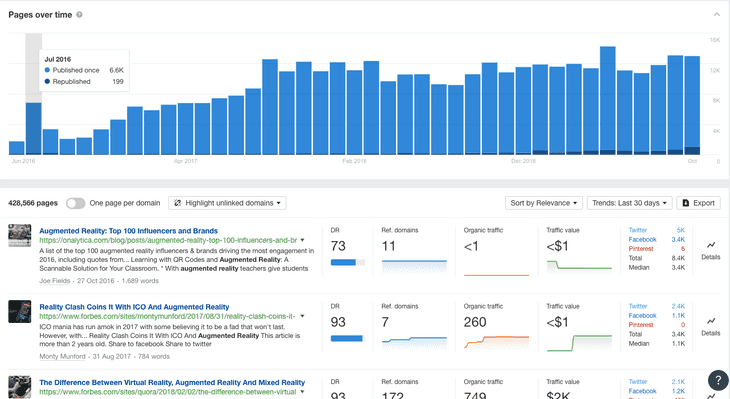 The final result is displayed below and contains the following data:
- article snippet and image preview;
- date of publication of the content;
- domain rating;
- number of links to the new domain;
- expected traffic for new content
- social metrics (the number of tweets, links from Facebook, LinkedIn and Pinterest).
Domain Comparison
If you need to make a detailed comparison of several domains, Ahrefs is the right choice. You can choose up to five domains, and the tool will compare their most important SEO metrics providing you with a comprehensive visualized reports.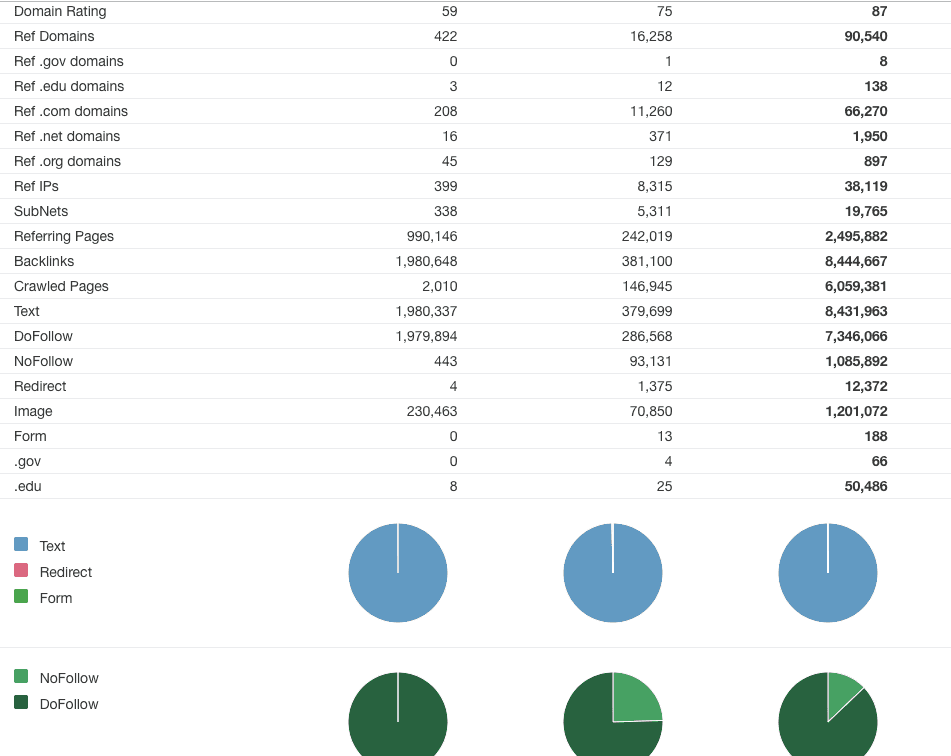 The displayed results will contain a comparison of referring domains and IPs, backlinks, backlink types, and graphs of changes for each domain.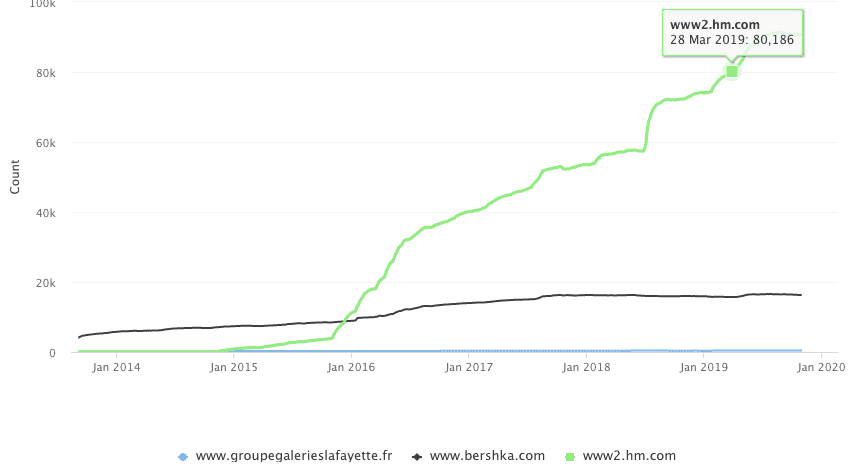 Batch Analysis
Batch Analysis allows you to quickly check important SEO metrics for up to 200 URLs or domains.
For that, you should simply enter the list of URLs and click Analyze.
This report will show you the number of backlinks and referring domains, URL Rating (UR) and Domain Rating (DR), estimated organic traffic and the number of backlinks per type.You can sort and export this data easily.
The service is definitely better than the majority its competitors.


SEO Toolbar
Ahref's SEO Toolbar enables you to get instant metrics for any web page you visit and analyze Google SERPs. It displays all the necessary metrics, without requiring the user to open the Ahrefs website, what makes the process very simple and convenient.
You can basically see all the most important SEO & keyword metrics at the drop of a hat without leaving the search results. This makes Ahrefs SEO toolbar an excellent time-saver for SEO professionals.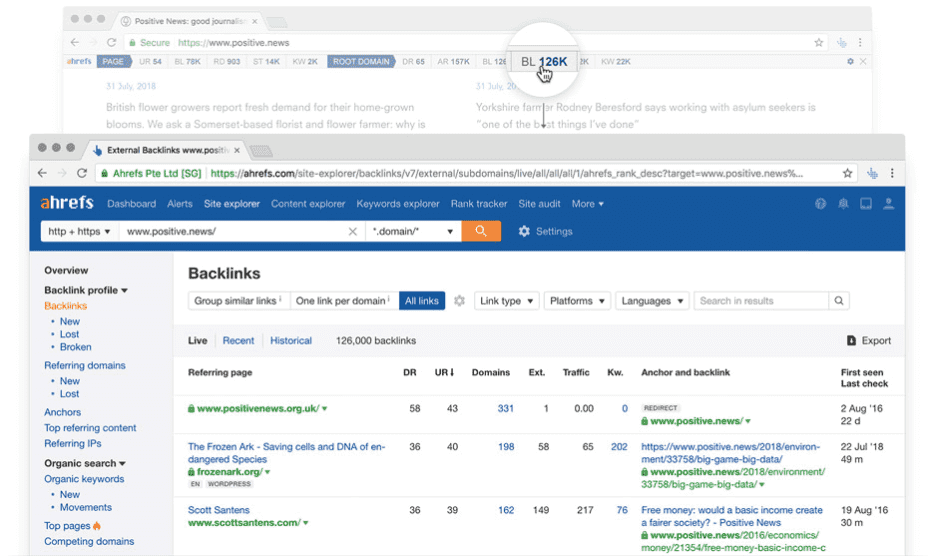 Rank Tracker
The tool lets you add your website and track keyword rankings in real-time.
The tool offers:
- Tracking visibility and website positions online;
- Dynamics and history of site rankings;
- Evaluation of average positions for monitored keywords.
You can also add and explore up to 5 competitors for tracking.
In the metrics tab, you can analyze important metrics for the keywords you target:
- Position in SERP;
- KD - Keyword Difficulty parameter, which compares the number of documents on the network and the number of backlinks for this key to the total number of requests for it. A kind of comparison of supply and demand. It is measured in %, where, the lower the indicator, the easier the keyword for promotion in SEO;
- Cost-per-click in google Adwords;
- Traffic;
- Clicks forecast;
- CPS – shows how many pages from one query are opened by an average user;
- Parent Topic is the recommended cluster for keywords.
It is also worth highlighting another important advantage of the service - it can monitor mobile organic search on Google, which no other tool does.
However, to do that, you will have to choose a higher price plan.
The Sistrix platform is based on several plug-in modules that you can use to optimize your campaigns and find new opportunities.
SEO Module
The main part of your Sistrix subscription, giving you access to SEO data for your domain, as well as competitors data. You get a complete visibility index with this tool.
Compared to Ahrefs, this service offers much fewer metrics for analysis. We can see that, unlike Ahrefs, Sistrix has no such parameters as: keyword difficulty, clicks, cost per click, clicks per search, return rate, parent topic and SERP features.
Sistrix's SERP analysis is much more simplified and much less detailed.


Optimizer Module
A module that lets you determine strategies to optimize your website and digital marketing campaign for faster and higher rankings.
The tools lets you see the keyword overview, track ranking changes and distribution, analyze the URL's structure, check SERP competitors and snippets, and trace social signals. Besides, it provides you with the Link Toolbox visualizing the backlink structure, history, anchor texts, broken pages and referring domains. Ads Module toolbox enables you to analyze the campaigns of your competitors, chosen formats, websites and links they use.
This module also offers in-depth SERP-Features data on competitors snippets, representing it in a comprehensive and all-inclusive way.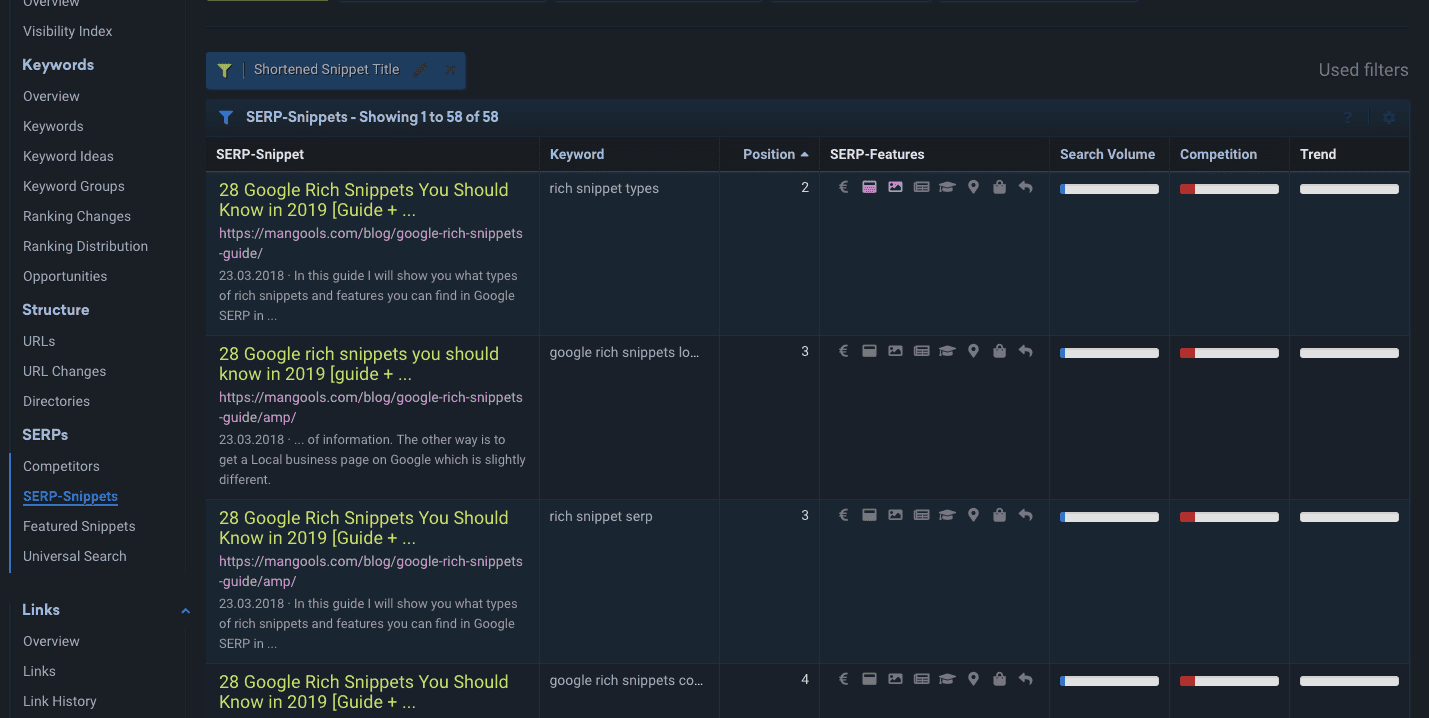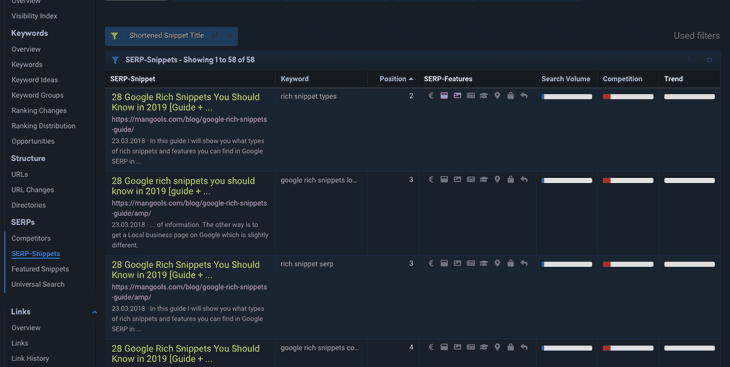 Links Module
An analysis of links that point to your domain, as well as external links that point away from your domain. Here you can check strengths and weaknesses of your backlinks profile with combined Majestic and Sistrix data and a real-time assessment tool. The functionality of the service:
Domain analysis with links rating evaluations;
Link sources visibility rankings;
Broken links analysis;
Link types summary with text, image, canonical
Historical data of link building;
Quick overview of new links;
Competitor domains analysis;
The service supports extended data export functionality (PNG, CSV, PDF), possibility to generate lists, reports and dashboards. Extended filtering and sorting features makes the whole process easy and user-friendly.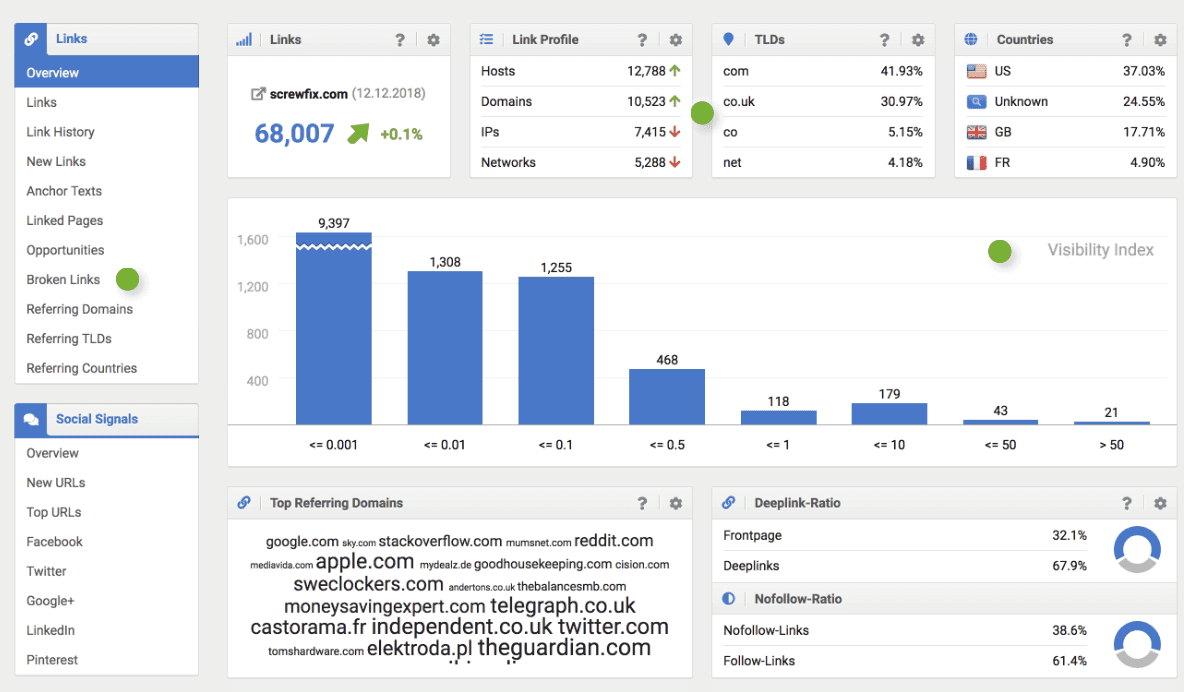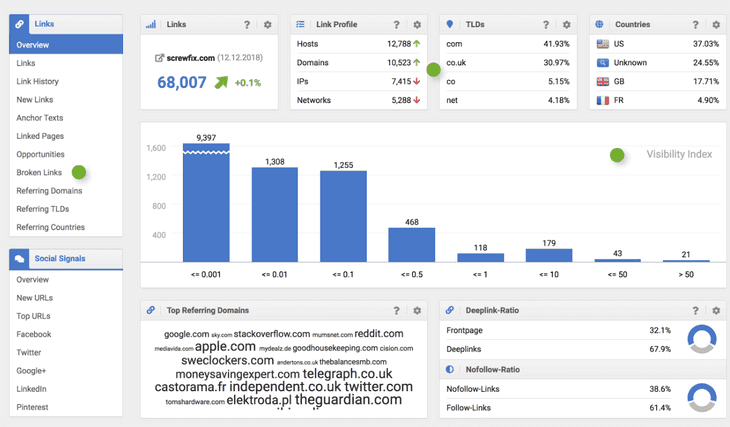 Ads Module
This tool that helps you set up ads on Google and other networks with a focus on helping to improve your CTR.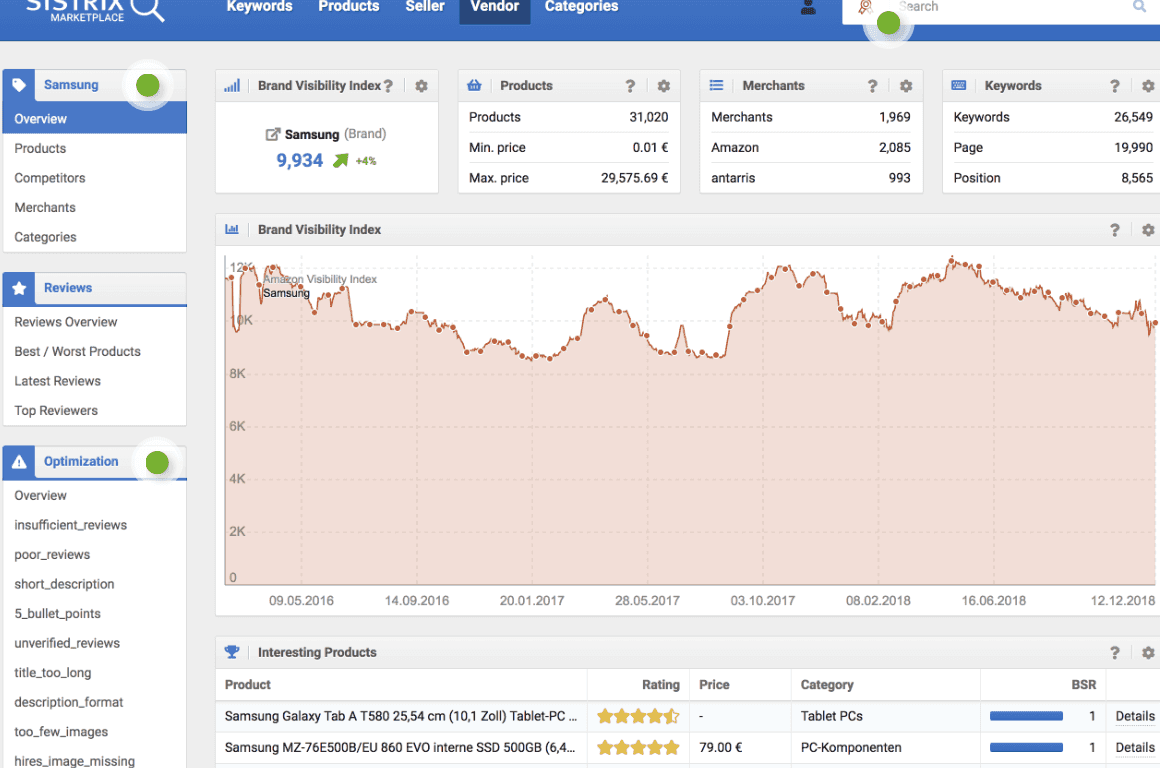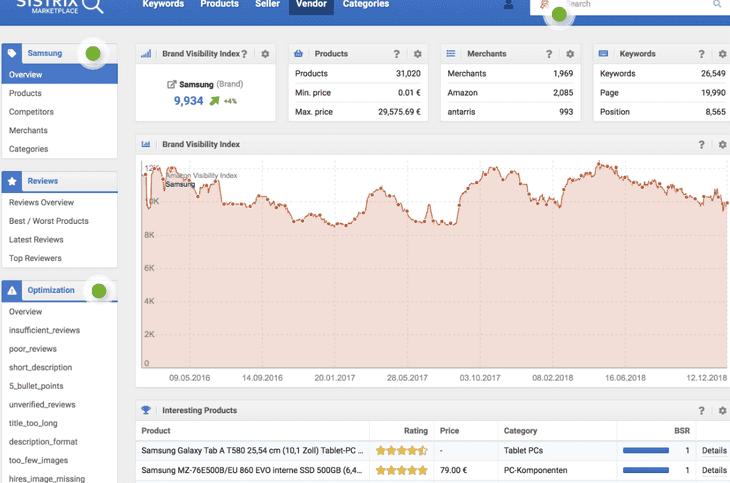 Sistrix Ads Module represents keyword and domain-oriented data enabling users to view Google's Ads, Google Display Network and Google Shopping sources, track their destination and check the positioning across any domain around the world. By using the Ads data you can easily get the metrics on your competitors Ads Campaigns, visualize the Mobile and Desktop data, spy on their CPC expenditure and track re-targeted ads. The main benefit – fully unlimited access to all domains in the historical database.
Social Module
Here you can track the social shares and visibility of your website and brand in real-time, and discover new opportunities for growing your presence on Facebook and other social platforms. The Social Module Tool lets you discover the best-performing social media content, locate audiences and view the latest content for any website. Signals captured contain comments, likes and shares data from Facebook, Pinterest, LinkedIn, Twitter and Google+.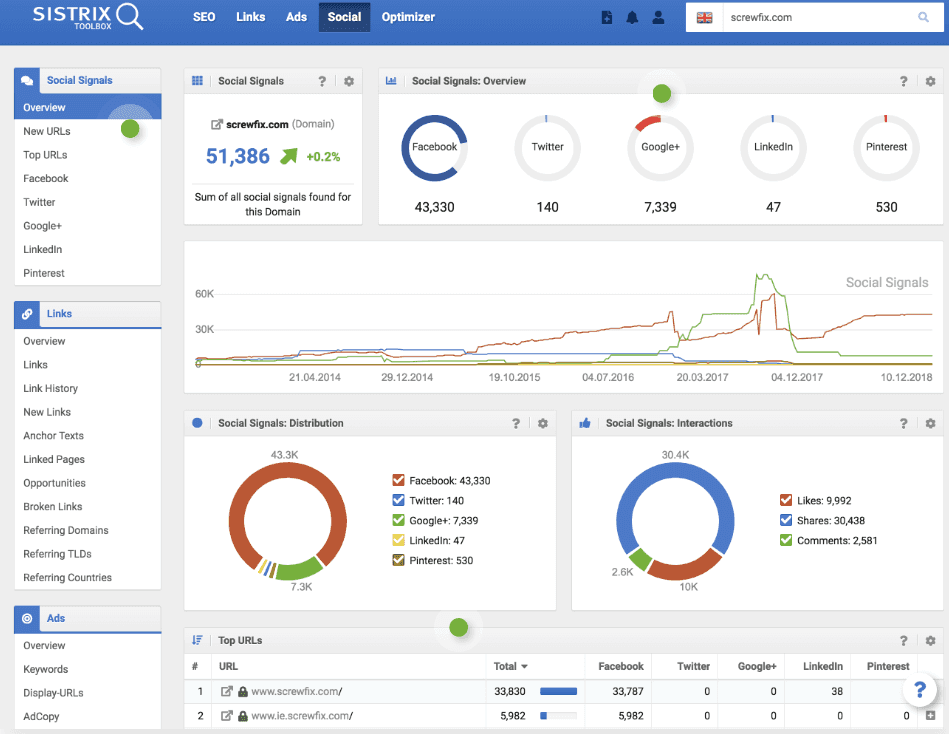 Marketplace Module
A useful module for Amazon business activities that provides you with product data and tools for the research and optimization. The Visibility Index offers a wide range of performance metrics for products, merchants and stores. The tool analyzes tons of data to evaluate your visibility in the marketplace and present optimization recommendations, based on a variety of ranking factors. Moreover, it enables you to spy on your competitors market outcome data to get a valuable insight for further promotion.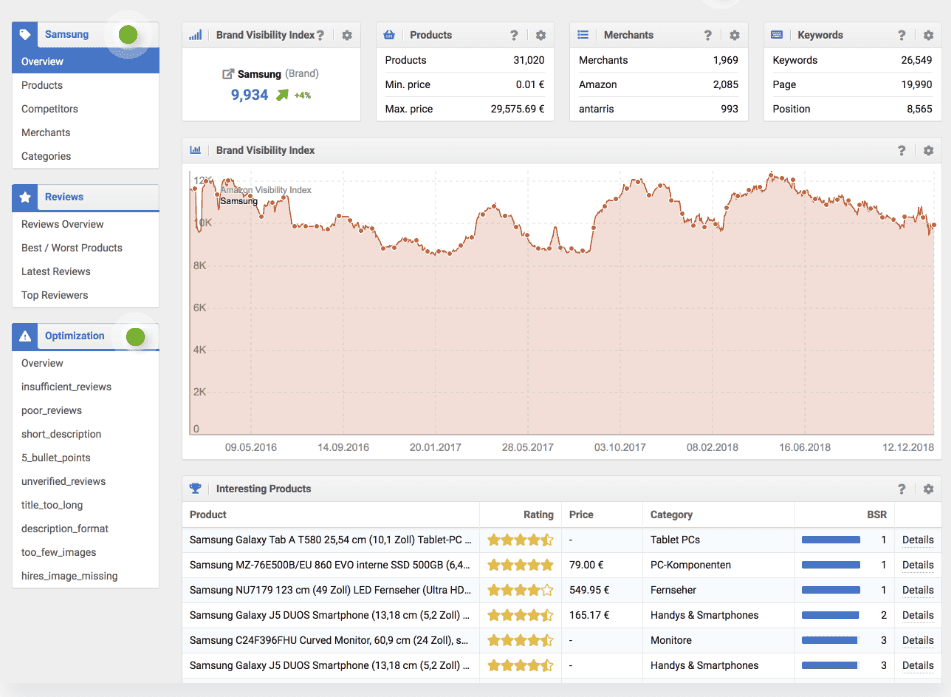 Pricing comparison Ahrefs vs Sistrix
The pricing of Ahrefs and Sistrix is quite different. Each option also comes with a useful trial that allows you to test the product before you make a significant investment.
Ahrefs Pricing
Ahrefs gives you access to a seven-day trial offer, but you will need to pay a fee of $7 to gain access. You also need to enter your credit card information, and the trial will automatically renew to the plan of your choice. Pricing for a paid monthly plan starts at $99 per month for the lite plan and goes up to $999 for an agency plan.
Sistrix Pricing
Sistrix offers a free 14-day trial that does not automatically renew, which means there will be no unexpected charges on your credit card.
Pricing at Sistrix is based on the modules that you plan to use. Each module will cost you 100€ per month, but you are offered a discount if you choose to subscribe to multiple modules.
Both Ahrefs and Sistrix offer a lot of useful features that digital marketers can take advantage of.
If simplicity is a priority, then you might want to take advantage of the customizable platform offered by Sistrix. This service enables users to pick the tools they want to use, quite flexible solution. Sistrix provides actionable analysis, profound and exhaustive statistics with all the necessary SERP indicators, though, the service is simple.
Ahrefs is one of the most powerful tools in the SEO optimization arsenal. This tool is best known as a backlinks analysis service. It offers accurate rank tracking overview and explicit reporting system. When it comes to advanced features that allow you a more in-depth look at keywords, your own website, and the strategies you want to initiate, then Ahrefs is a great option.
We would choose Ahrefs the winner here. But if you are more willing to analyze PPC performance, obtain an into-depth analysis of your eCommerce project on Amazon or get social media recommendations, Sistrix will certainly be a better option.